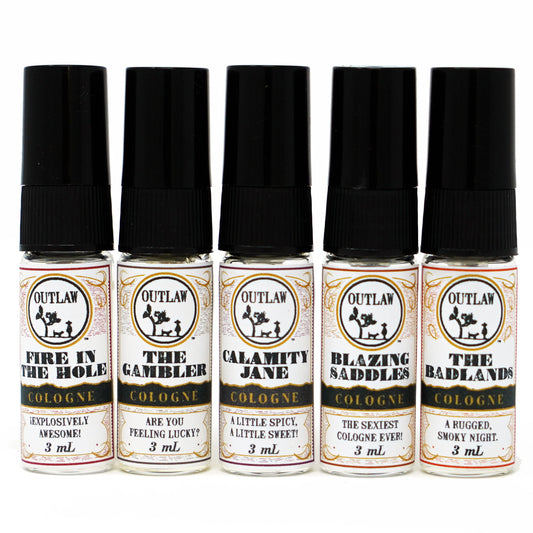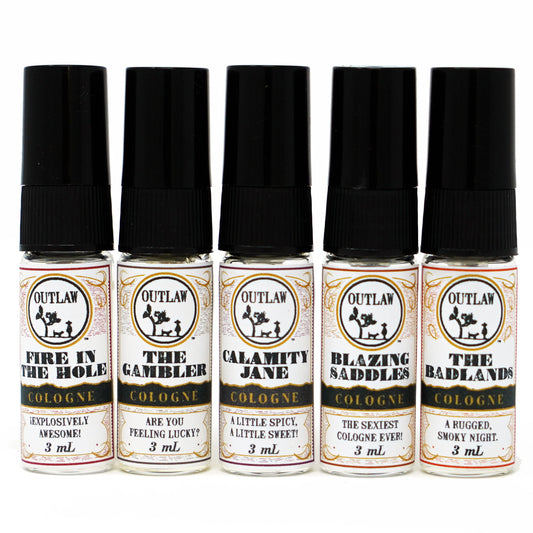 Try the best hop-along spray cologne in the West!
View Details
Show Me
Regular price
From

$40.00
Sale price
From

$40.00
Regular price
$40.00
Unit price
per
Show Me
Sale price
$40.00
Regular price
$40.00
Unit price
per
Sale
Sold out
Saddle up your sniffer for samples of Outlaw cologne
In our top 5 scents, travel-ready for every adventure
NOW: This cologne sample set comes with a $30 store credit toward whatever Outlaw cologne scent you love the best!
Wondering which of our scents will work best for you? Is it Blazing Saddles, the Scent of the American West? Or will it be the explosively awesome Fire in the Hole Campfire Cologne? Or how about the smoky, Rich Bourbon Scent of The Gambler? The sweet and spicy Calamity Jane? Or will you cozy up to our smoky and woody Badlands?
Now, you can try all five of our most beloved Outlaw scents and decide for yourself!
Each sample is in a 3 mL shot.
3 mL of this cologne lasts around 30 sprays of powerful scent, (depending on your use), which is a darn fine bargain for smelling so amazing.
3 oz of liquid goodness.
What does this kind of outlaw smell like?

+

-

An Outlaw smells like bold, rugged adventure.
How to use

+

-

Spray on your pulse points and enjoy your amazing life
Ingredients

+

-

Organic Alcohol & Fragrance.
Shipping & Returns

+

-

Most orders ship within a few business days and arrive within 5 business days. Situations outside of our control sometimes interfere, but we do our absolute best.

If you don't love what you ordered, please reach out to us and we'll either replace your product for free, or we'll give you a refund. If your items cost more than $100, we will issue a return label.
View full details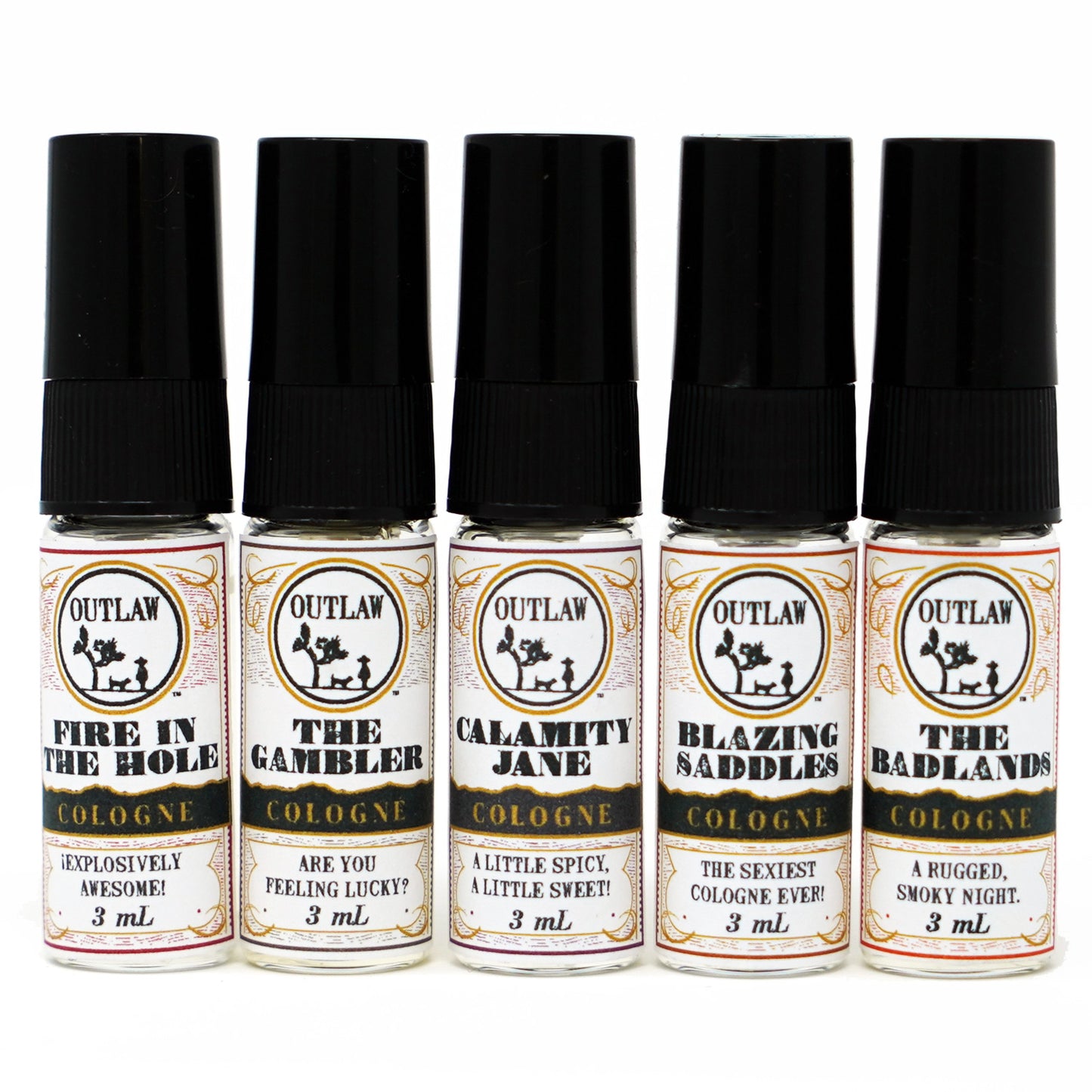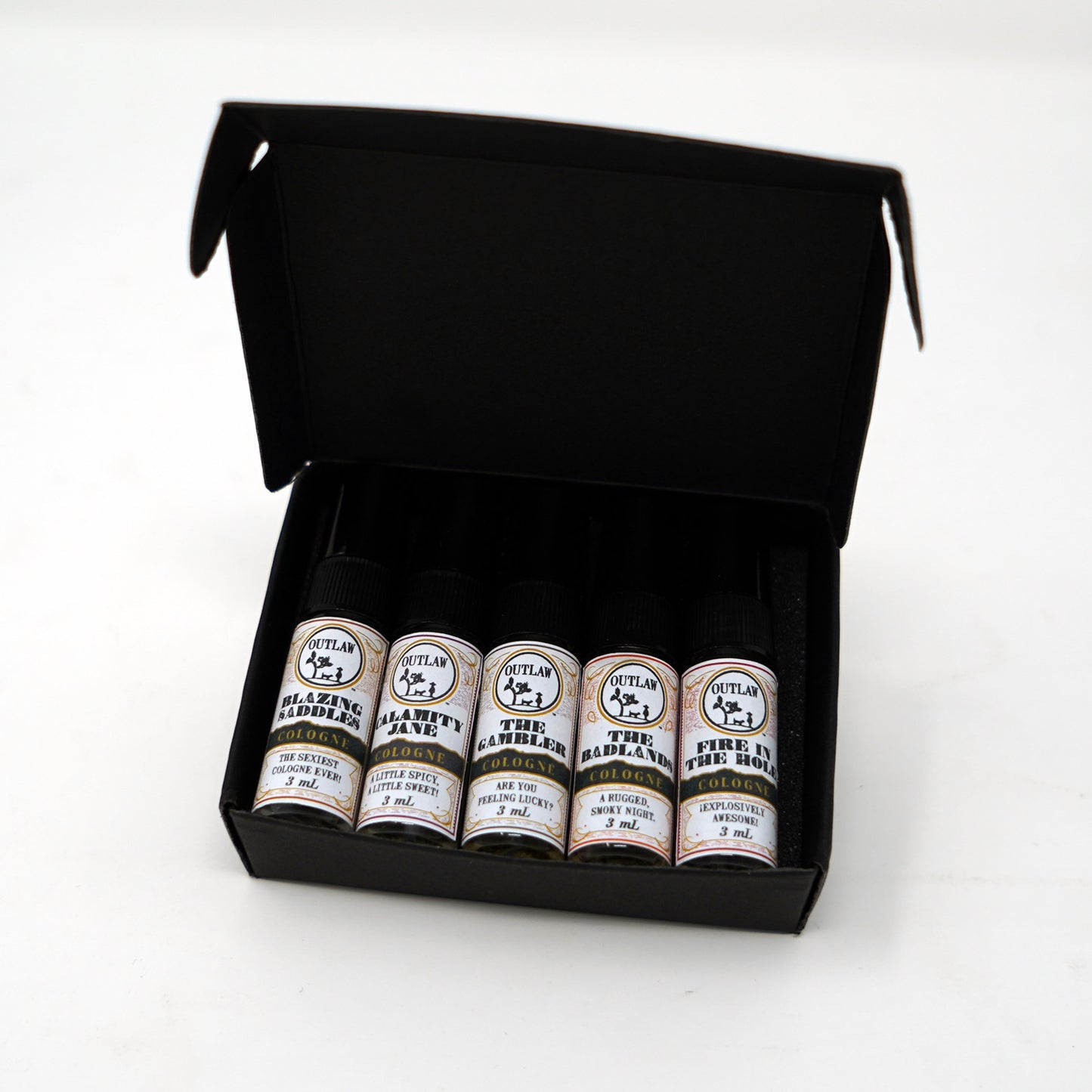 Amazing look into their scents
If you aren't sure which scent seems to be the best choice, I'd definitely start with this to get a feel for it. They're all amazing, but it's perfect to find your favorite.
Not Great
It's not bad, but also I don't want to smell them consistently. They all have an overwhelming fake leather scent. I'm sure other people like it but it's not for me.
Fire In the Hole
This so far is his favorite fragrance. Mine too!
Love these scents
I have bought sample colognes so I have tried many of these scents. They smell amazing! Subtle and wonderful. I let all the women at work try the scents and they loved them too! Thanks Outlaws for your amazing scents and fun to shop website.
Manly man
I asked my mom if they smell good she said yea not manly enough for me
Not manly smelling
I was expecting these to be a more manly smelling like a traditional man's cologne. Some are more appropriate to be a women's perfume and others remind me of room spray. Don't buy if you want to smell like a man.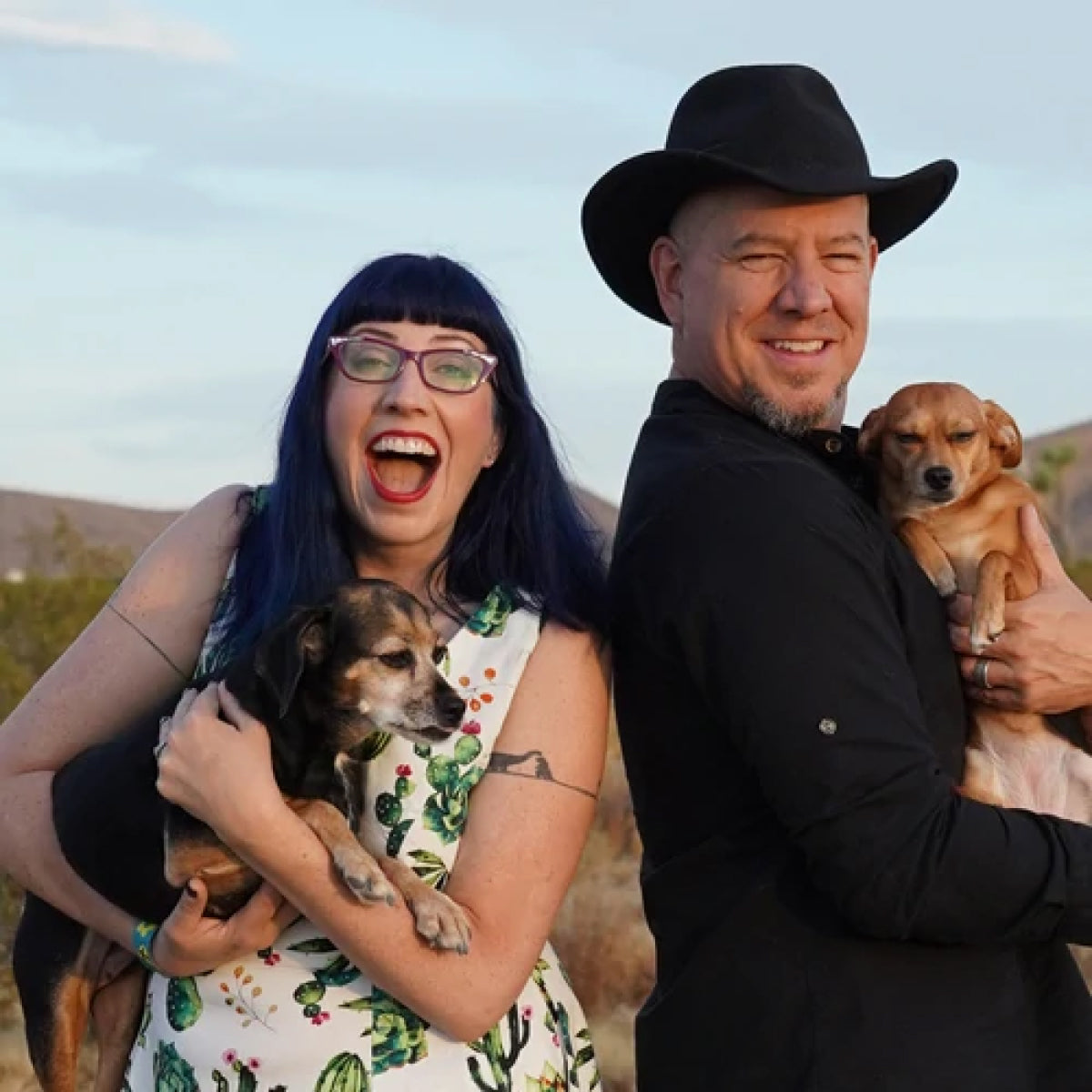 Who are the Outlaws?
We're Danielle & Russ Vincent, and we started Outlaw because we wanted to make a different kind of company.
We believe that good value doesn't mean cheaper, it means better quality, longer lasting, and more enjoyable to use.
We believe that good business practices don't have to be at odds with good social practices.
We believe that people do better when they feel better, and that good scents make people feel better.
We believe that a rising tide lifts all boats. We lift up other businesses every opportunity we get.
We believe that kindness costs nothing, but is worth more than gold.
We believe in the goodness of dogs.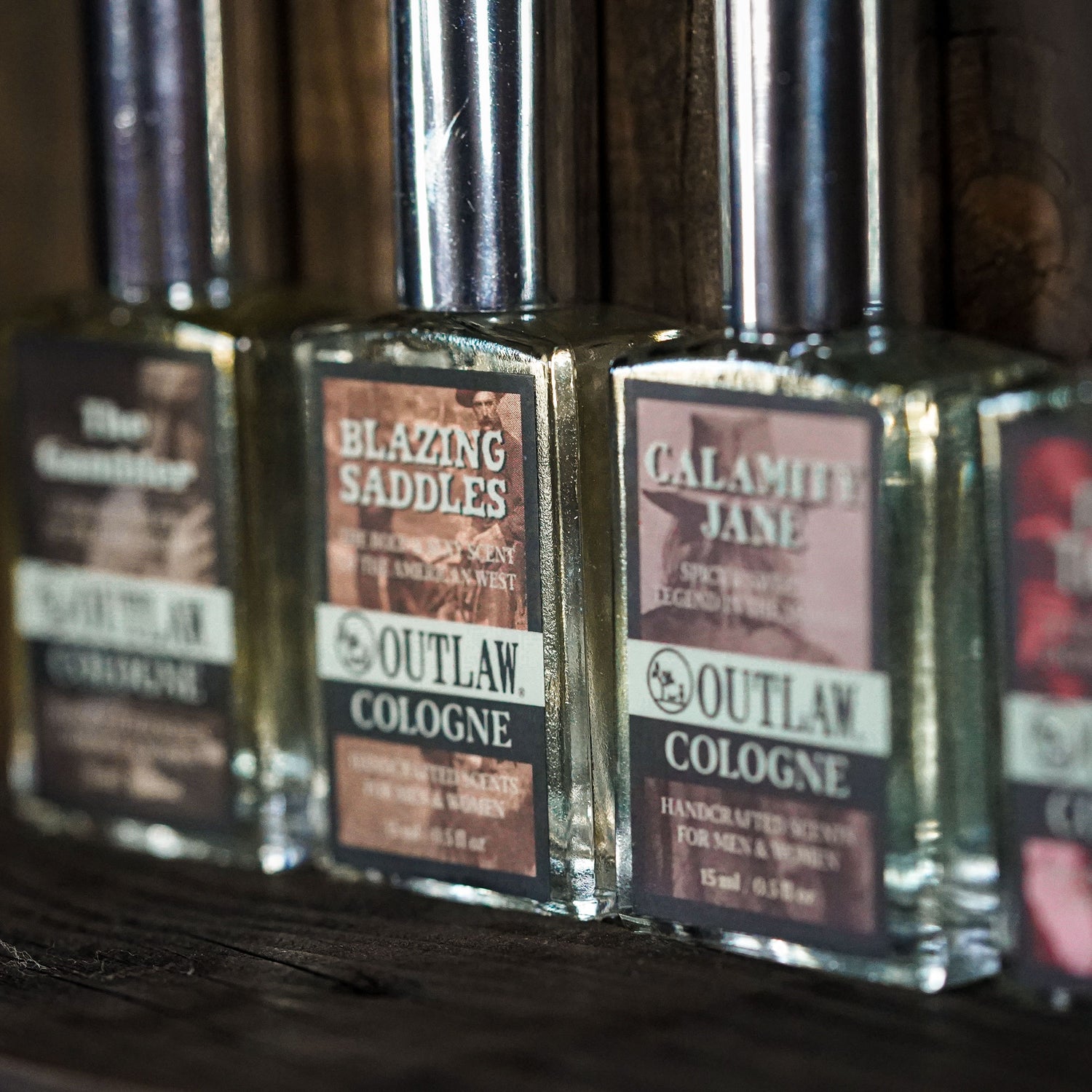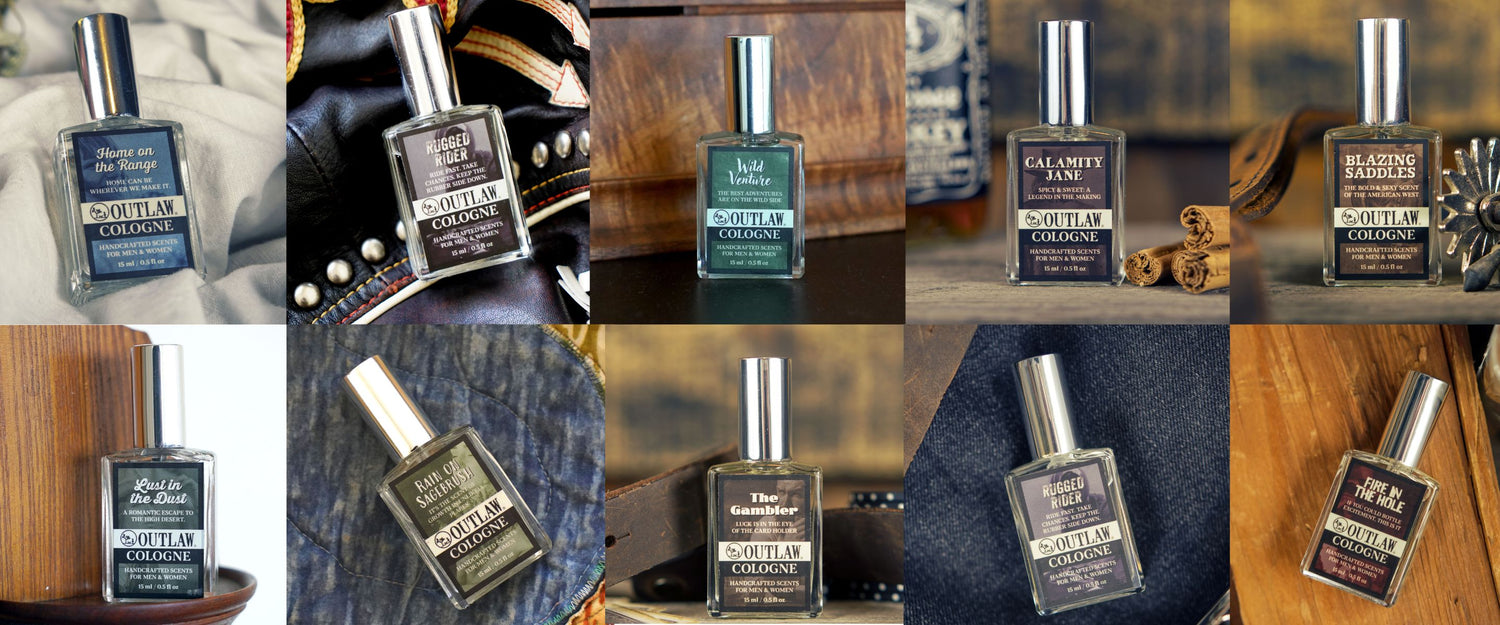 Do you love the smokey smell of campfire? How about the pungent scent of an aged whiskey? How about the peppery musk of gunpowder? Well, if you said hell yes to any of these three scents, then you need to look into the men's care products made by Outlaw.

Choosing a selection results in a full page refresh.