Smell like a Legend: Clove | Orange | Cinnamon | Whiskey
Smell like a legend!
Smells of orange, clove, cinnamon, ginger, and a kick of whiskey.
Doesn't smell like the actual Calamity Jane (who was known to drink until she passed out in the stable).
Made with love and laughter.
Makes you want to rewatch all three seasons of Deadwood.
Perky, spicy, crisp scent.
"If a girl wants to be a legend, she should just go ahead and be one." - Calamity Jane
Maybe my favorite quote of all time, from the mouth of a whiskey-soaked, leather-clad, foul-mouthed ruffian. And also, by many accounts, she didn't bathe at all.
When some history buffs hear that we made a scent inspired by Calamity Jane, they worry. Justifiably. I don't think even whiskey-soaked, leather-clad, foul-mouthed ruffians wanted to smell like Calamity Jane... and yet, here she was, too legendary to let lie.
So when we were thinking of this company, and of the legends we pay tribute to, we knew we had to dedicate a special place in our collection to Calamity Jane.
Jack Crawford wrote, "She was simply a notorious character, dissolute and devilish, but possessed a generous streak which made her popular." And that's what inspired her scent: a little spicy, a little sweet.
Calamity Jane smells like clove, orange, cinnamon, and a kick of whiskey (of course!). It's quickly growing in popularity as one of our most beloved scents, and no question why: It's great for both men and women, it's sweet with a kick.
3.3 oz of this cologne lasts between 6 - 8 months (or so, depending on your use), makin' this about $0.28/day, which is a darn fine bargain for smelling so amazing.
If you're not sure you'd like to commit to a full-size bottle of Calamity Jane cologne, try our sample set:

This collection is inspired by the American West – the quintessential things that make the Western landscape what it is: leather and gunpowder, campfire and sagebrush, everything beautiful and romantic about the Western experience.
Includes:
Blazing Saddles: Leather, gunpowder, sandalwood, and sagebrush
The Gambler: Bourbon, tobacco, and leather
Lust in the Dust: Sagebrush and sandalwood
Calamity Jane: Clove, orange, cinnamon, and whiskey
All our scents are skin-safe and long-lasting. Because we feel like scent is a personal thing to be shared between you and those literally closest to you, these are subtle scents. They will not overpower a crowded elevator or make you "that guy with all the cologne." They're designed to create an impression, not an impact.
If you want a corresponding cologne to conveniently travel with you throughout the day, try our Solid Cologne here.
Organic Alcohol & Fragrance.
3 oz of liquid goodness.
What does this kind of outlaw smell like?

+

-

A little spicy, a little sweet! Warm your senses with this combination of clove, orange, cinnamon, and, of course, whiskey! (We ARE talking about Calamity Jane, after all)
How to use

+

-

Spray on your pulse points and enjoy your amazing life
Ingredients

+

-

Made with Organic Alcohol & Natural and Artificial Fragrance.
Shipping & Returns

+

-

Most orders ship within a few business days and arrive within 5 business days. Situations outside of our control sometimes interfere, but we do our absolute best.

If you don't love what you ordered, please reach out to us and we'll either replace your product for free, or we'll give you a refund. If your items cost more than $100, we will issue a return label.
View full details
Not quite as good as the solid cologne version
I have used and loved the solid cologne version of Calamity Jane for a while, so I finally splurged and bought the liquid version. The packaging is top notch and the bottle is good sized for the price! Unfortunately, the way the liquid version 'settles' on my skin is *drastically* different than the solid - and not in a good way. With the solid, I enjoyed how the scent settled into a sweet orange-y note with a little backside spice to it, just like the description says. With this liquid version, it starts off with heavy cinnamon notes and quickly fades away into a sort of musk-like scent that reminds me of my grandma (or maybe grandpa?). All the sweet-and-spicy I'm looking for, that I get with the solid cologne, is just lost in this liquid. I hesitated to leave less than a 5* review because the product itself is great and so is the company - it was just a let down when I so LOVE the solid cologne, but the scents come out so different.
Rootin-tootin amazing!
Absolutely wonderful smelling cologne. I have the body wash and lotion, as well. It is a light, sweet yet crisp scent. It is not overly "perfumey" either. Great company to do business with! Return customer for life.
My fave
I'm sensitive to most scents, I get such a migraine from most perfumes/colognes/hair products/candles/you name it.
So Outlaw as a company overall has been an AMAZING find for me, I love so many of their scents, and very very few of them have bothered me at all, and even then it's never full migraine level.
I loved the Outlaw soaps I'd tried and got the solid cologne sampler set, and Calamity Jane was my very favorite, so I eventually got the beard/hair oil and this spray cologne as well. LOVE IT! Gorgeous scent. My husband thinks it smells a little too sweet by itself just sniffing the bottle, but when I'm wearing it he thinks it smells great on me, which is just a reminder that personal scents change a bit when they interact with your body chemistry. The smell doesn't linger forever (which is a perk for me, honestly) but I notice whiffs of it for at least the first 2 hours, and I can still smell it another hour or two directly on my wrist when I apply it there. So it's pretty much perfect for me, just right and never too strong. I usually spray it on my neck/hair, and sometimes I spray it on the inside of the jacket I'm wearing that day, love it!
Great smell
Love the smell of this. Came intact. Only thing is it only lasts a short time unless you smell right at where you put it on. Wish it would last longer.
Love it
I absolutely love the mix of scents for this guy! So many people pick up on the cinnamon. It also lasts really long; it's really nice to get whiffs later on during the day.
Calamity Jane: A True Legend and Outlaw
Absolutely LOVE this Scent!!! It is a harmonic blend of sweet orange and spicy cinnamon, that sparks memories of the holidays sitting around with family and friends drinking mulled cider and whiskey sours.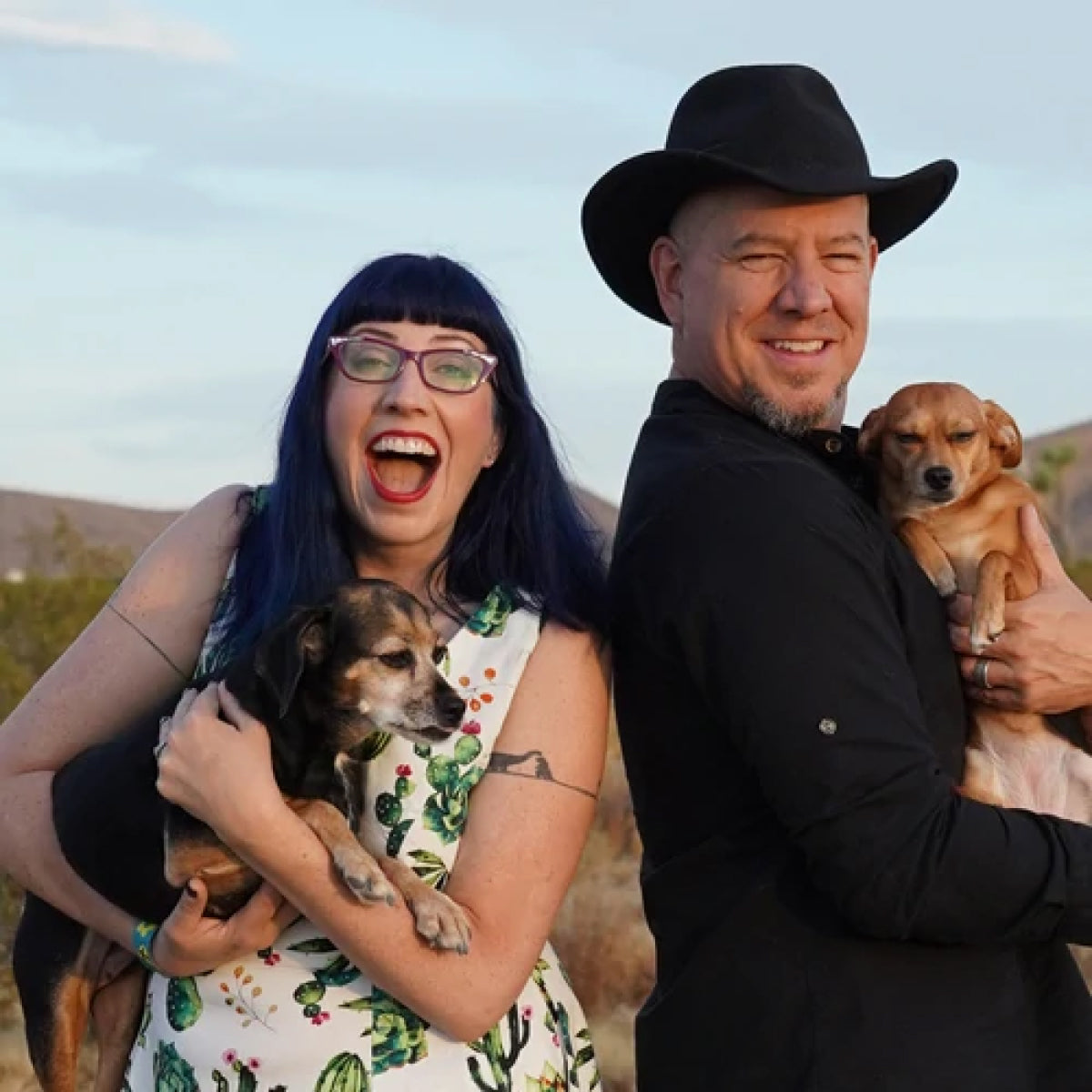 Who are the Outlaws?
We're Danielle & Russ Vincent, and we started Outlaw because we wanted to make a different kind of company.
We believe that good value doesn't mean cheaper, it means better quality, longer lasting, and more enjoyable to use.
We believe that good business practices don't have to be at odds with good social practices.
We believe that people do better when they feel better, and that good scents make people feel better.
We believe that a rising tide lifts all boats. We lift up other businesses every opportunity we get.
We believe that kindness costs nothing, but is worth more than gold.
We believe in the goodness of dogs.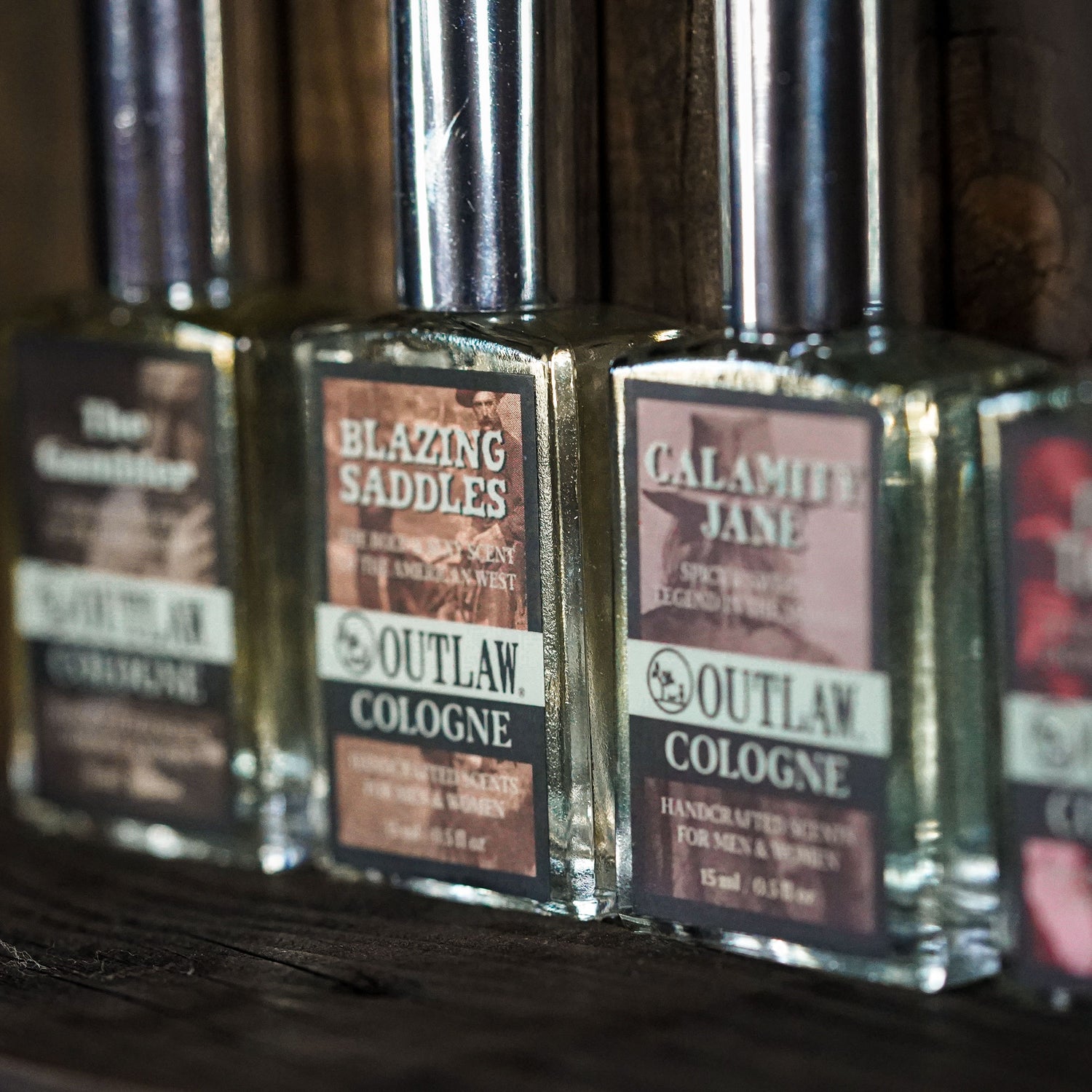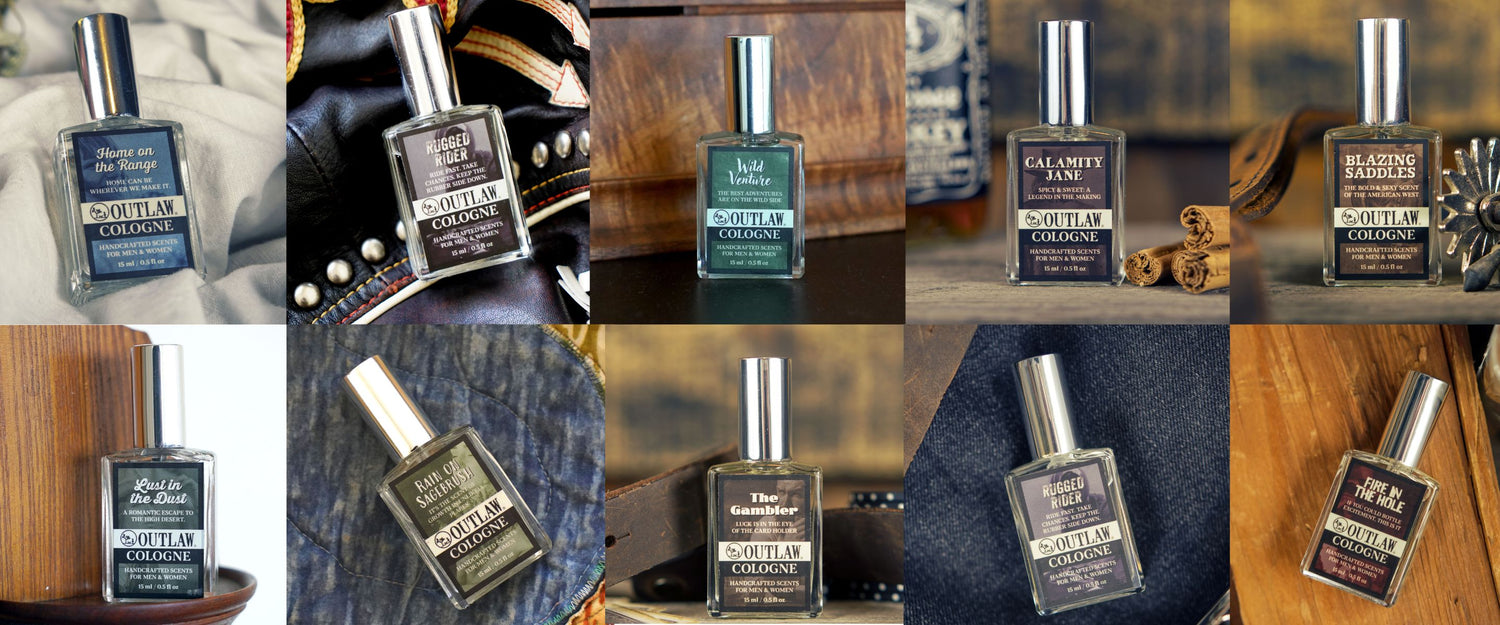 Do you love the smokey smell of campfire? How about the pungent scent of an aged whiskey? How about the peppery musk of gunpowder? Well, if you said hell yes to any of these three scents, then you need to look into the men's care products made by Outlaw.

Choosing a selection results in a full page refresh.