The Desert Western Romance Everywhere You Go: Sagebrush | Sandalwood | Campfire
View Details
Show Me
$60.00
Sale price
$60.00
Regular price
$0.00
Unit price
per
Lust in the Dust Cologne
The Desert Western Romance Everywhere You Go: Sagebrush | Sandalwood | Campfire
Lust in the Dust Cologne
Show Me
$60.00
Sale price
$60.00
Regular price
$0.00
Unit price
per
Sale
Sold out
Just one spray of Lust in the Dust Cologne and you'll be transported into a desert romance.
It's going to be a hot day. You're taking advantage of the cool morning air to get miles between you and the last town. No one travels across the Mojave after eleven o'clock, not even the US Marshal.

The breeze is already warming up, carrying the desert's heat with it. The next town may be a good place to stop.

The hotel is a fancy number, but you've got plenty of cash. As you walk in, you feel the manager's eyes on you. It's your old flame from home, all grown up, and in this middle-of-nowhere desert town. The heat between you rivals the sun rising outside. You set down your saddlebags.
It's time to come clean.
If you're not sure you'd like to commit to a full-size bottle of Lust in the Dust cologne, try our sample set:
"Smells like Adventure"
This collection includes our scents of the outdoors, celebrating the spirit of exploration – whatever is just beyond that hill over there! (it's just a little further… aren't you curious?) This set inspires you to get outside and smell the clean air and wilderness.
Includes:
Fire in the Hole: Campfire, gunpowder, sagebrush, and whiskey
Blazing Saddles: Leather, gunpowder, sandalwood, and sagebrush
The Badlands: Campfire and cedar
Lust in the Dust: Sagebrush and sandalwood
All our scents are skin-safe and long-lasting. Because we feel like scent is a personal thing to be shared between you and those literally closest to you, these are subtle scents. They will not overpower a crowded elevator or make you "that guy with all the cologne." They're designed to create an impression, not an impact.
3.3 oz of this cologne lasts between 6 - 8 months (or so, depending on your use), makin' this about $0.28/day, which is a darn fine bargain for smelling so amazing.
See all of Outlaw's Lust in the Dust High Desert-inspired sundries, including cologne, soap, lotion, and more
3 oz of liquid goodness.
What does this kind of outlaw smell like?

+

-

If you could somehow capture the high desert breezes, rich with the scent of sagebrush and sandalwood, and blend it with feelings of open-hearted love, you'd approach the feeling of being enveloped in Lust in the Dust.
How to use

+

-

Spray on your pulse points and enjoy your amazing life
Ingredients

+

-

Made with Organic Alcohol & Natural and Artificial Fragrance.
Shipping & Returns

+

-

Most orders ship within a few business days and arrive within 5 business days. Situations outside of our control sometimes interfere, but we do our absolute best.

If you don't love what you ordered, please reach out to us and we'll either replace your product for free, or we'll give you a refund. If your items cost more than $100, we will issue a return label.
View full details
with thanks from Japan
How exhilarating!
Thank you for this perfume encounter from faraway Japan. It is a pity that it is not available in Japan. It is so fascinating that I would like to tell everyone about this unknown scent.
Lust in the Dust is so alluring.
I have both the Cologne and Lotion and wear them every day. I can best describe the fragrance as spicy, earthy, and intoxicating. Bonus, it's not overpowering and lasts all day! My husband and 15-year-old both like it as well. All and all, it's a great fragrance for anyone to wear. A note for the owners: Please make a Lust in the Dust Deodorant!
My favorite
I had to order extra because it is my absolute favorite. Not overbearing, just right! I love how from one day the sandalwood will be over the sagebrush but the next it may be the opposite or just campfire. I think it just depends on my body chemistry. Regardless, it's always exactly what I need.
For the Mrs.
Admittedly, this was a purchase for my wife... So, kinda also for me! LOL
She likes this one and Calamity Jane, and I'm not sure she's picked a favorite yet. Time will tell. Glad to bring her on board the Outlaw train.
She can't resist it
Name says it all... She will make the first move
Oh. My. Goodness. 😎
Is sniffing my wrists the first 24hrs an indication? I opened the box and was spritzed & smitten immediately. 🥰
Don't like
Didn't like the Lust or the Smell 🥱⁉️🤙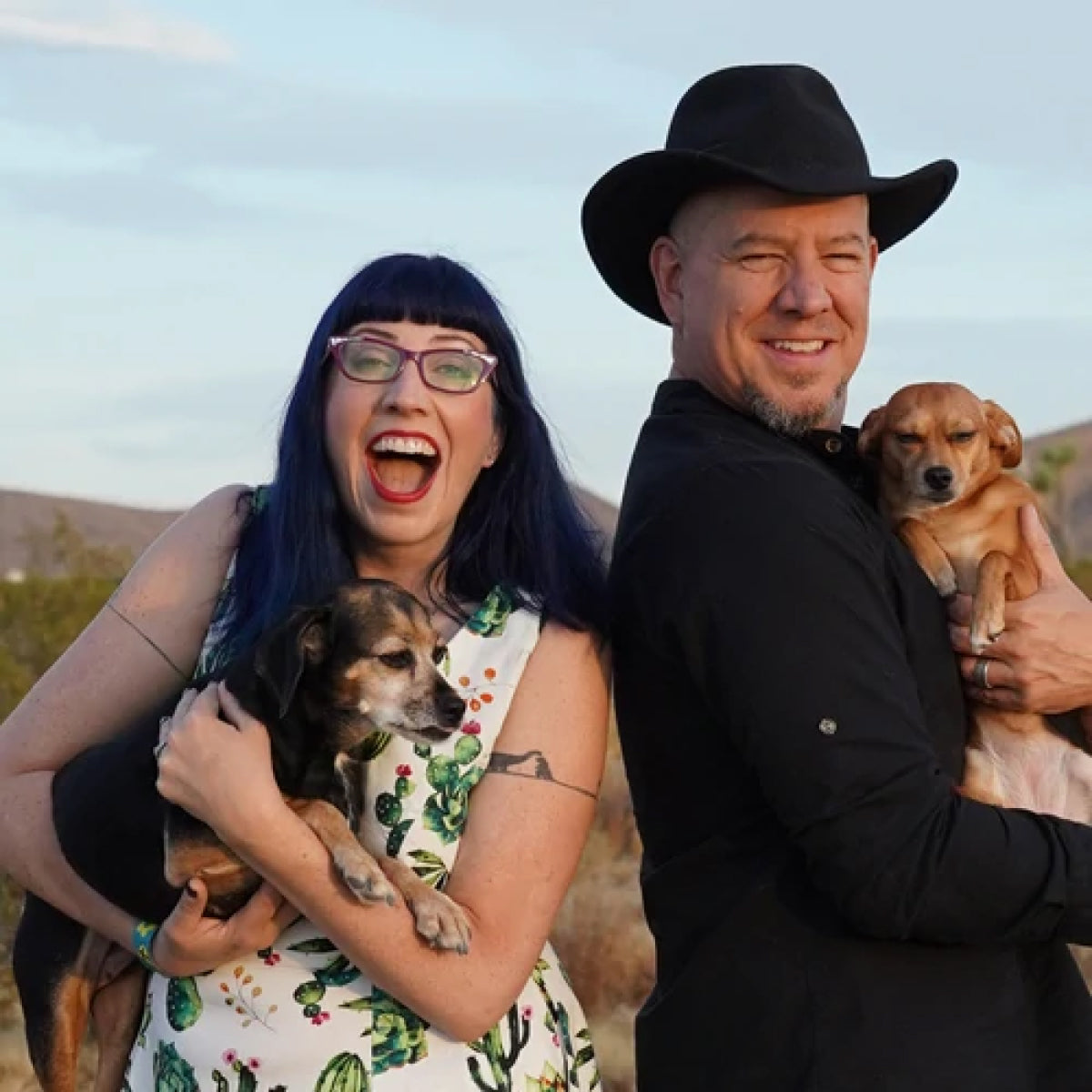 Who are the Outlaws?
We're Danielle & Russ Vincent, and we started Outlaw because we wanted to make a different kind of company.
We believe that good value doesn't mean cheaper, it means better quality, longer lasting, and more enjoyable to use.
We believe that good business practices don't have to be at odds with good social practices.
We believe that people do better when they feel better, and that good scents make people feel better.
We believe that a rising tide lifts all boats. We lift up other businesses every opportunity we get.
We believe that kindness costs nothing, but is worth more than gold.
We believe in the goodness of dogs.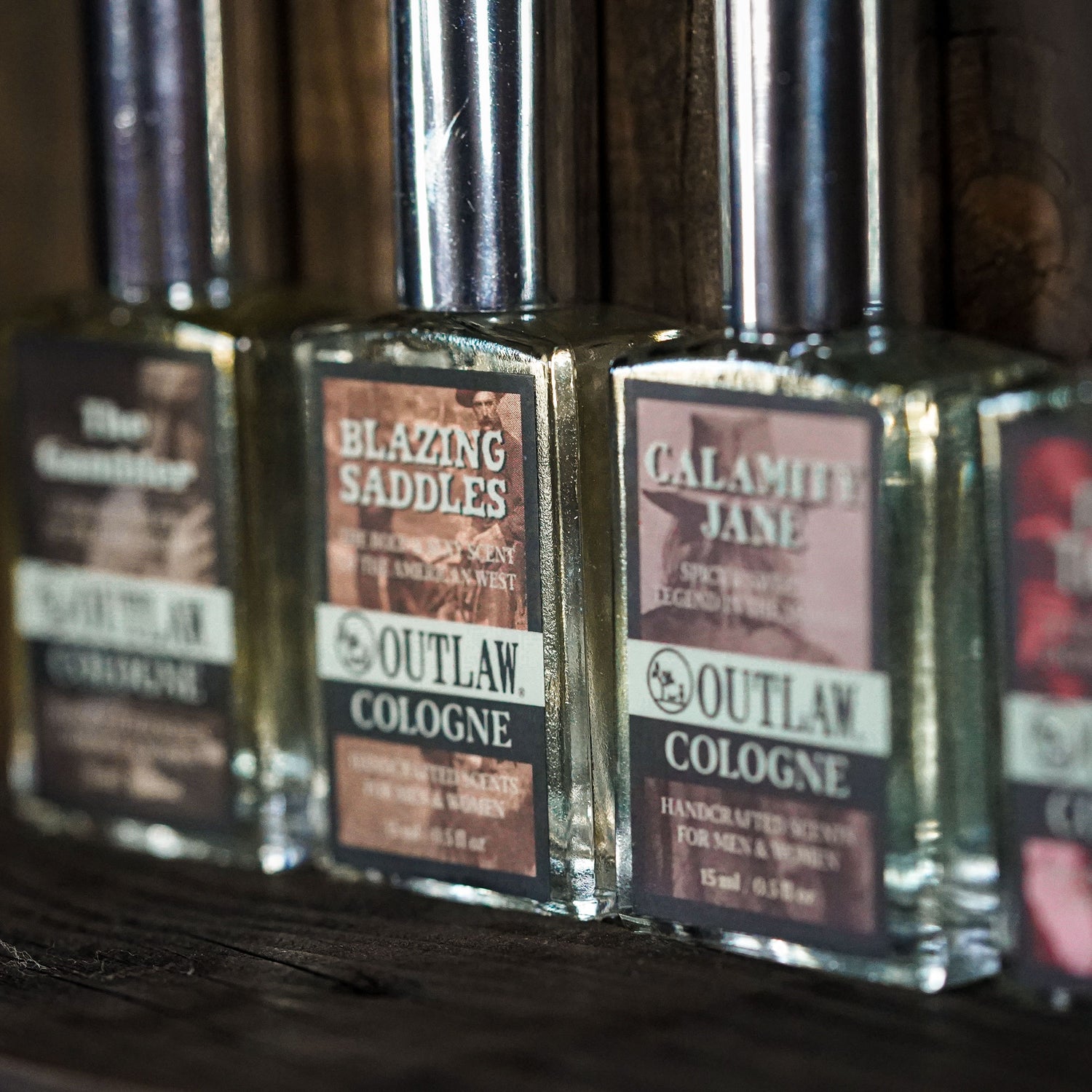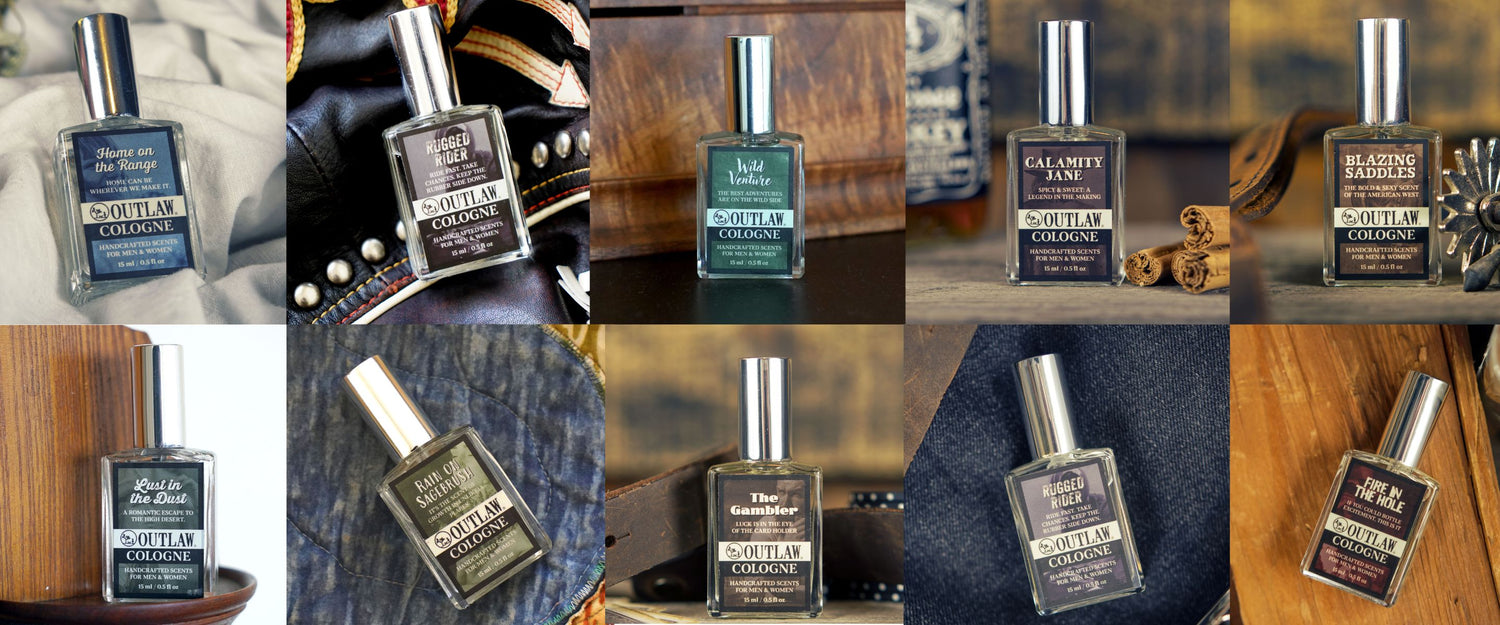 Do you love the smokey smell of campfire? How about the pungent scent of an aged whiskey? How about the peppery musk of gunpowder? Well, if you said hell yes to any of these three scents, then you need to look into the men's care products made by Outlaw.

Choosing a selection results in a full page refresh.