Four travel-perfect colognes in the scents you'll love!
View Details
Show Me
Sale price
$51.95
Regular price
$0.00
Unit price
per
Show Me
Sale price
$51.95
Regular price
$0.00
Unit price
per
Sale
Sold out
 It's not a gamble if you pick your own cards! With our new (and highly giftable) cologne sample set, you can pick one of two (3rd coming in Spring) scent collections you think will best fit your life.
Pick the scent family that sounds most interesting to you:
Smells like the West
This collection is inspired by the American West – the quintessential things that make the Western landscape what it is: leather and gunpowder, campfire and sagebrush, everything beautiful and romantic about the Western experience.
Includes:
Blazing Saddles: Leather, gunpowder, sandalwood, and sagebrush
The Gambler: Bourbon, tobacco, and leather
Lust in the Dust: Sagebrush and sandalwood
Calamity Jane: Clove, orange, cinnamon, and whiskey
Smells like Adventure
This collection includes our scents of the outdoors, celebrating the spirit of exploration – whatever is just beyond that hill over there! (it's just a little further… aren't you curious?) This set inspires you to get outside and smell the clean air and wilderness.
Includes:
Fire in the Hole: Campfire, gunpowder, sagebrush, and whiskey
Blazing Saddles: Leather, gunpowder, sandalwood, and sagebrush
The Badlands: Campfire and cedar
Lust in the Dust: Sagebrush and sandalwood
The Cologne for People Who Aren't "Cologne People"

Outlaw's been called "the cologne for people who don't like cologne" because of our incredible variety of real-life-inspired scents: leather, campfire, fresh-cut grass, clove, and even whiskey!

We believe that the best scents in life are from real life. We don't believe in drenching people in strange musk-based "pheromone" concoctions (those aren't real, by the way). We believe that the people who are right for you will be attracted to your own scent in your most natural state.
Whether riding a horse across the plains of the Yellowstone Ranch (Rip, we're looking at you) or sitting in a beautiful, worn leather armchair, sipping a very fine bourbon, Outlaw's scents are designed to pair perfectly with your already-awesome life.
Coming in February: Smells like Happiness
This collection is inspired by sunshine, fresh grass, orange, sagebrush, and everything bright in the world.
Includes:
Calamity Jane: Clove, orange, cinnamon, and whiskey
Rolling in Sunshine: Grass, sunshine, and lavender
Lust in the Dust: Sagebrush and sandalwood
Zephyr Ride: Cedar, sagebrush, and rain

Satisfaction Guaranteed!
If you don't find the scent you are looking for, we'll help you find your right scent (as long as it's one of our scents). Whichever sent collection you choose, you're making the right choice with Outlaw.
About Outlaw Cologne
There aren't a lot of companies doing what we're doing because (let's be honest) not everyone wants to smell like campfire or leather. But we think real-life scents are the best scents around.
As we often say, "We'd rather be one person's shot of whiskey than everyone's cup of tea."
We also know our colognes aren't the cheapest on the market, but you don't want to smell like every Tom, Dick, and Mary anyway. Our scents aren't made by massive brands like Tom Ford or Calvin Klein or created by huge fragrance houses.
We're just a little band of Outlaws living our (and hopefully YOUR) dreams in the foothills of the Sierra Mountains in lovely Sparks, Nevada.
Our cologne is made in small batches, individually (by hand), by people who love their jobs and want you to be happy.

We use a combination of natural and synthetic fragrances to bring the most interesting scents to you in the most sustainable, ethical, and safest way possible.
What does this kind of outlaw smell like?

+

-

An Outlaw smells like bold, rugged adventure.
How to use

+

-

Each sample is its own wonderous experience of a shifting blend of adventurous scents. We recommend that you use each for one day (so you don't get too far away from the first ones) and then order your favorite immediately!
Ingredients

+

-

Made with Organic Alcohol & Natural and Artificial Fragrance.
Shipping & Returns

+

-

Most orders ship within a few business days and arrive within 5 business days. Situations outside of our control sometimes interfere, but we do our absolute best.

If you don't love what you ordered, please reach out to us and we'll either replace your product for free, or we'll give you a refund. If your items cost more than $100, we will issue a return label.
View full details
Unique
Great sized samples. Arrived quickly and well packaged. I can't decide which one I want to purchase a big one of but I'm leaning towards the badlands. It has a smoky and spicy smell without being heavy and over powering. There's also something crisp about it. The size of the samples allows me to try for a while before deciding.
Very nice selection
I have enjoyed this sample set, i have enjoyed the different scents. It makes it hard to decided which full size to get. I think I like the Outlaw scent the best
Perfect Valentine Gift
My husband loved the scents and the packaging elevated the gift opening.
3 out of 4
I like 3 of the 4 scents very much (except Bazing Saddles). I just wish the scents lasted longer. They fade really fast.
Cologne
Damn good set a must have
Sample colognes
Easy to carry around in a pocket in case of the need for a shot or 2!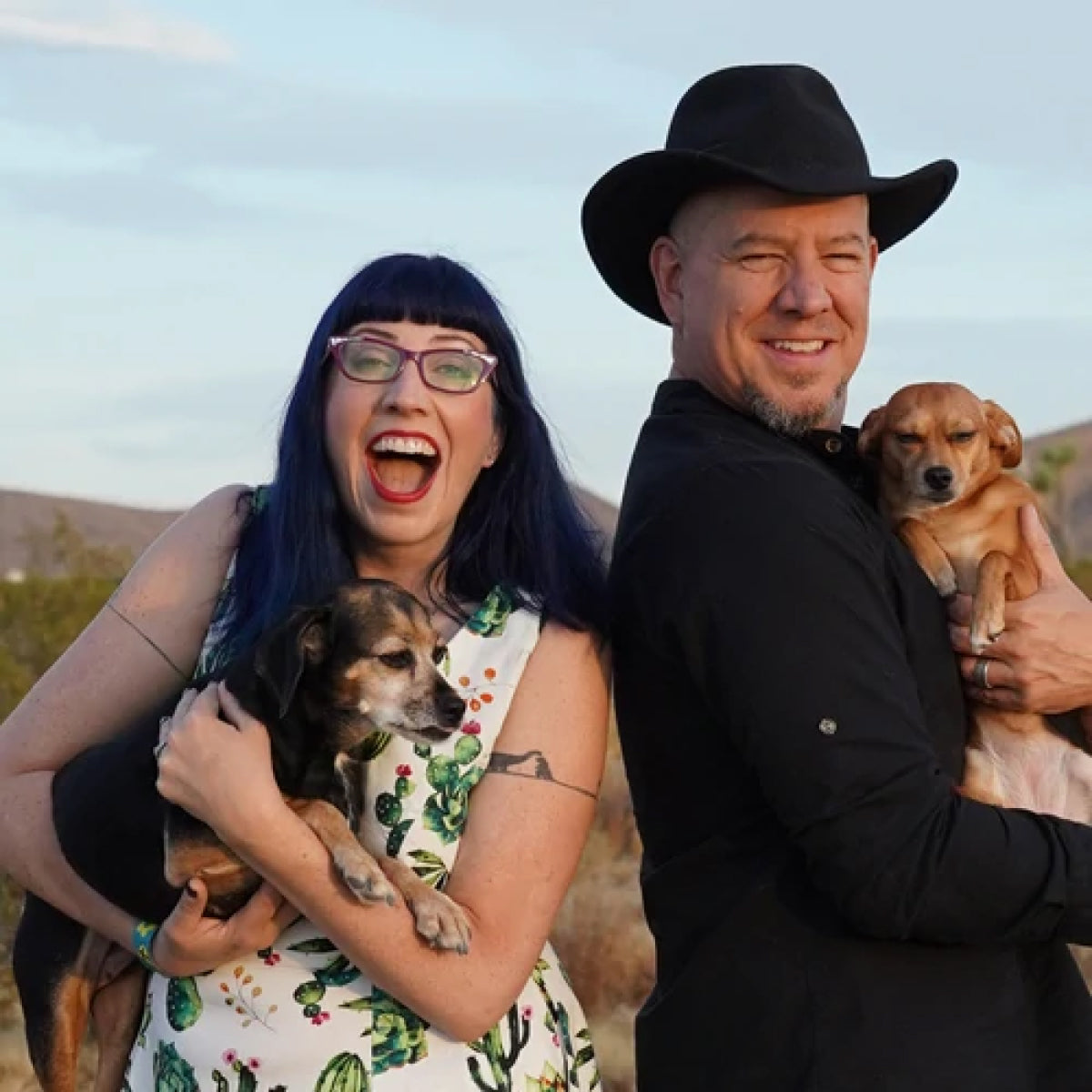 Who are the Outlaws?
We're Danielle & Russ Vincent, and we started Outlaw because we wanted to make a different kind of company.
We believe that good value doesn't mean cheaper, it means better quality, longer lasting, and more enjoyable to use.
We believe that good business practices don't have to be at odds with good social practices.
We believe that people do better when they feel better, and that good scents make people feel better.
We believe that a rising tide lifts all boats. We lift up other businesses every opportunity we get.
We believe that kindness costs nothing, but is worth more than gold.
We believe in the goodness of dogs.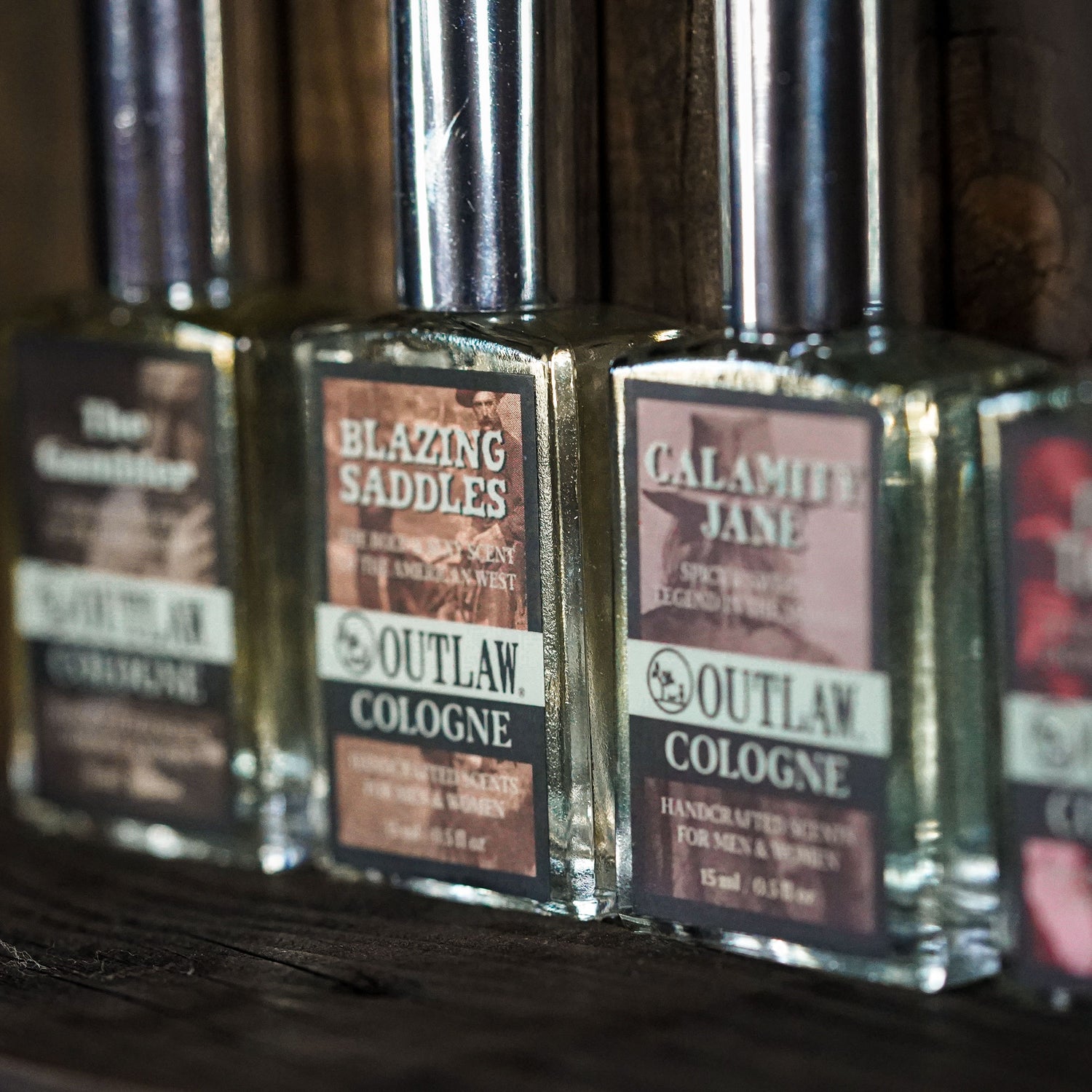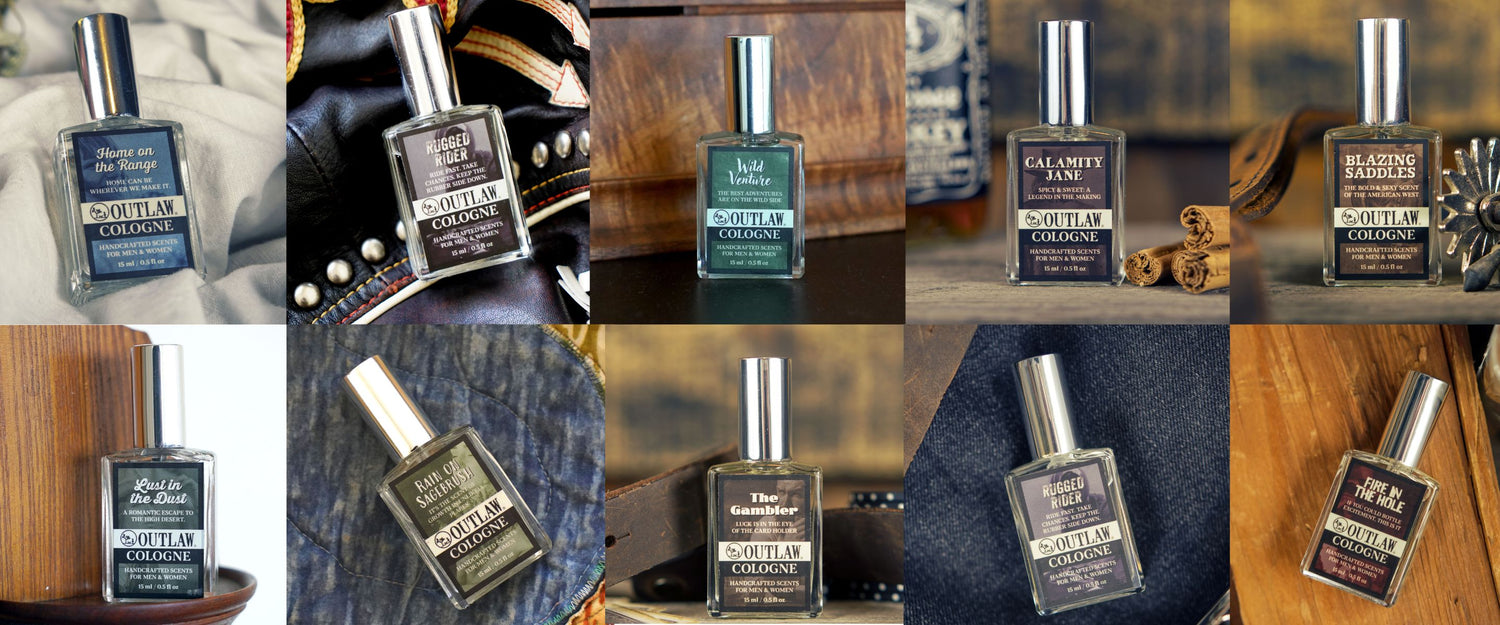 Do you love the smokey smell of campfire? How about the pungent scent of an aged whiskey? How about the peppery musk of gunpowder? Well, if you said hell yes to any of these three scents, then you need to look into the men's care products made by Outlaw.

Choosing a selection results in a full page refresh.