The Desert Western Romance Everywhere You Go: Sagebrush | Sandalwood | Campfire
The desert Western romance everywhere you go.
What does it smell like? This quick-absorbing bottle of awesome smells of desert sage, sandalwood, and a lightly smoky campfire.
What is this beard elixir? Soothes even the wildest bird nest of scraggly beard, while smelling absolutely divine.

Is it good for head hairs? YES!!! Can be used as beard oil, but also makes a great hair oil for both women and men. It is the pinnacle of grooming products for both genders (pinnacle-ness not guaranteed.) Feels like you're camping (without the nighttime wombat attacks.)
What if I don't love it?All our products are 100% satisfaction guaranteed. We're emphatic about your happiness. All scents are different, and they interact with your personal body chemistry, so what smells great on one person might smell like a hot mess on another person. If you don't love it, we'll offer you another scent or give you a refund. All we ask is that you give it a try.
Can I get "insert favorite scent" in your Magic Beard & Hair Elixir? This is a darn fine question and one we get a lot. And because we LOVE our customers we sometimes bend to demand, especially for such a dang fine scent as Lust in the Dust, get it while it's here.
Is this oil worth it?Ultimately, as with everything, it comes down to your personal preference and how you want to live your life... and I can't tell you that, my friend. Only you know how to live your life. But I will say that if you decide you made a mistake, don't sweat it, just write our customer satisfaction enthusiasts.
Who are we and what are we doing in your bullet points? We are Outlaw, a tiny little company in Sparks, Nevada, in the foothills of the Sierra Nevada Mountains. We live fast and take chances but keep our rubber sides down. And we wanted to make your life better, so we started this company dedicated to unique scents in peerless products.
It's time to come clean.
It's going to be a hot day. You're taking advantage of the cool morning air to get miles between you and the last town. No one travels across the Mojave after eleven o'clock, not even the US Marshal.

The breeze is already warming up, carrying the desert's heat with it. The next town may be a good place to stop.

The hotel is a fancy number, but you've got plenty of cash. As you walk in, you feel the manager's eyes on you. It's your old flame from home, all grown up and, in this middle-of-nowhere desert town. The heat between you rivals the sun rising outside. You set down your saddlebags.
This beard and hair elixir is truly a miracle oil.
To say it is a "beard oil" is vastly under-selling its charms. It can be used on any hairs. Yes, it will delightfully smooth and condition even the crinkliest beards... but why does it have to stop there?
My hair is a matted disaster from years of bleaching and coloring. This jojoba and hemp seed oil-based elixir soothes and smooths my angry, frizzy mess.
This desert-inspired balsam brings the outdoorsy scents of desert sage, sandalwood, and campfire, and mixes with your own scent to surround you with a real western loving good time.
3 oz of handmade beardy goodness.
What does this kind of outlaw smell like?

+

-

If you could somehow capture the high desert breezes, rich with the scent of sagebrush and sandalwood, and blend it with feelings of open-hearted love, you'd approach the feeling of being enveloped in Lust in the Dust.
How to use

+

-

Put a few drops in your hand. A little goes a long way. Rub your hands together like a villain hatching a plan. Work your fingers through your beard and/or hair with bold yet sincere appreciation for your lovely God-granted locks. Savor the brilliant scent of your hatch-primed plan. Hatch plan.
Ingredients

+

-

Simmondsia Chinensis (Jojoba Oil), Cannabis Sativa (Hemp) Seed Oil, Cocos Nucifera (Coconut) Oil, Persea Gratissima (Avocado) Oil, Essential & Fragrance Oil.
Shipping & Returns

+

-

Most orders ship within a few business days and arrive within 5 business days. Situations outside of our control sometimes interfere, but we do our absolute best.

If you don't love what you ordered, please reach out to us and we'll either replace your product for free, or we'll give you a refund. If your items cost more than $100, we will issue a return label.
View full details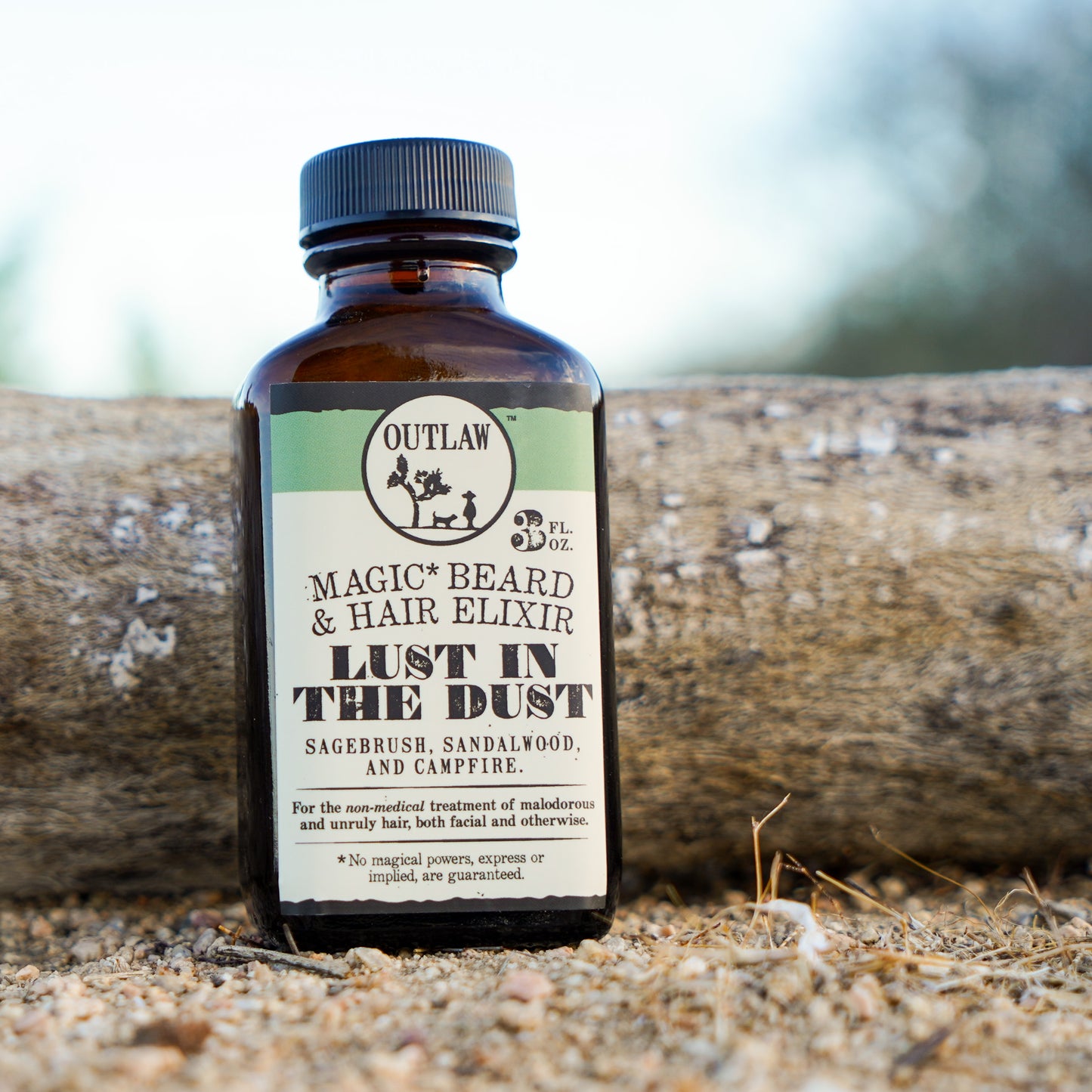 Great scent
I loved the aroma of this oil. It stays with you for quite a while.
First-time order and I'm in love!
I am in awe by this amazing beard oil and its scent. I just got this today(as of 03/30/23) and immediately fell in love. It's so amazing and comforting to find a brand that actually makes products with scents that smell like the thing they are trying to convey. Too many highfalutin' brands say something like "this scent was inspired by the high desert and arid expanses" then proceed to produce a scent that smells basically either like a perfume a grandma would wear(no disrespect to grandmas) or a smell that you could imagine a college douchebag reeking of as he hits on highschoolers(we all know the type) and yet this scent of Lust in the Dust subverts that expectation and actually smells like I'm hiking near one of my favorite campsites on a warm late spring day with a nice breeze - smelling sagebrush and the warm scents inherit with walking in a desert as I walk on God's beautiful creation. It truly is a subtle, mature, and distinguished scent. On top of the scent, the moisturizing capacity is doing wonders for my beard already. Normally with other brands of beard oil that I used to use, I found that they all-too-often worked counterintuitive to moisture and my face ended up actually getting dried out, yet I'm not experiencing that with this beard oil(normally I can tell if it will do that in about an hour.) It's amazing to have folks like Danielle and Russ producing such amazing quality products and loving what they do - you can really tell by how the products, as well as the emails/updates come out. I was skeptical at first, but now I'm hooked(Outlaw Gold Canoe, I'm comin' for ya!) I would strongly recommend this product!
Works great
I think I soaks in fast and smells great
A real hit with my wife
I need beard oil. Life without it is not a possibility. My beard is wiry and unmanageable without some oil.
Problem was, none of the beard oil I found suited me. The smell was simply terrible. One day I stumbled on a scent I liked very much. But I still had two problems. First, they wanted a princes ransom for a tiny bottle of the stuff. Now the scent was heavy on the oil, leather, and two stroke exhaust scent, so I was willing to pay a pretty penny for it, but my wife always complained it was too strong immediately after I put it on. So, that caused some issues every time I showered in the evening right before bed.
Then I discovered Outlaw beard oil. And this scent in particular my wife absolutely loves. It smells like the outdoors we love so much, but the scent is just the perfect level to not knock the little wife senseless when I crawl into bed.
I have finally found the oil that will work for me and my wife. 🧔🏻
Holds up to the ruggedness of working outdoors.
I ordered this along with "The Badlands" cologne. This by far has a much more pleasing aroma. If only they made a cologne like this, I would certainly be on board. I really enjoy the way it makes my beard feel, other beard oils seem to not hold up to the elements when I'm working (Water well driller), they often need reapplied to keep my hair soft and moist. But this "Magic" Elixir really holds up to the harsh winds and Temps when working outside. I would certainly recommend this tonic, in this fragrance.
Nice scent and works well. Kept the buzzards away.
You get three ounces for the price, and the scent pleases my wife. The oil kept my beard healthy for another day crossing the desert. With added beard life, the buzzards ignored me.
Scent
Not as strong or as long lasting as I'd hoped.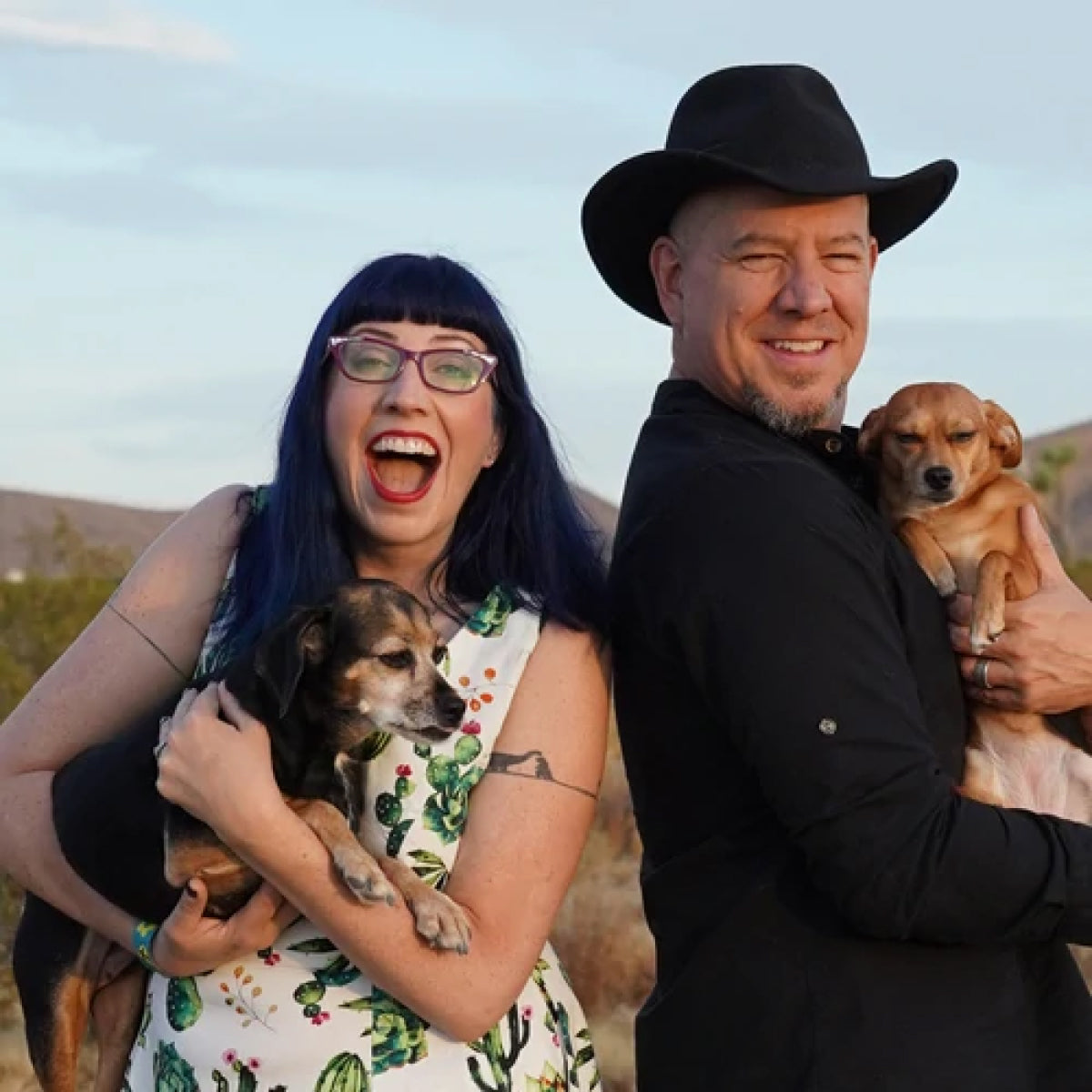 Who are the Outlaws?
We're Danielle & Russ Vincent, and we started Outlaw because we wanted to make a different kind of company.
We believe that good value doesn't mean cheaper, it means better quality, longer lasting, and more enjoyable to use.
We believe that good business practices don't have to be at odds with good social practices.
We believe that people do better when they feel better, and that good scents make people feel better.
We believe that a rising tide lifts all boats. We lift up other businesses every opportunity we get.
We believe that kindness costs nothing, but is worth more than gold.
We believe in the goodness of dogs.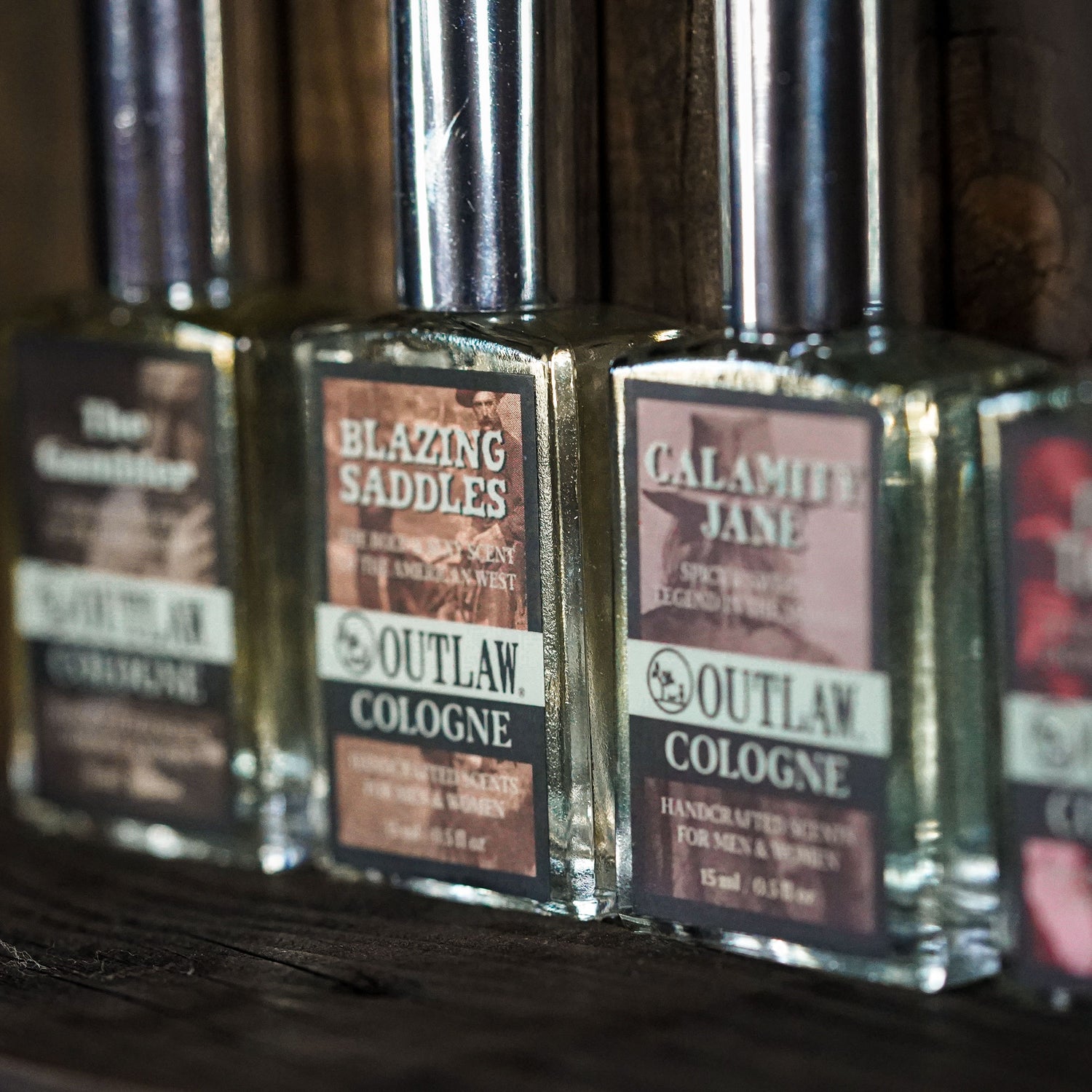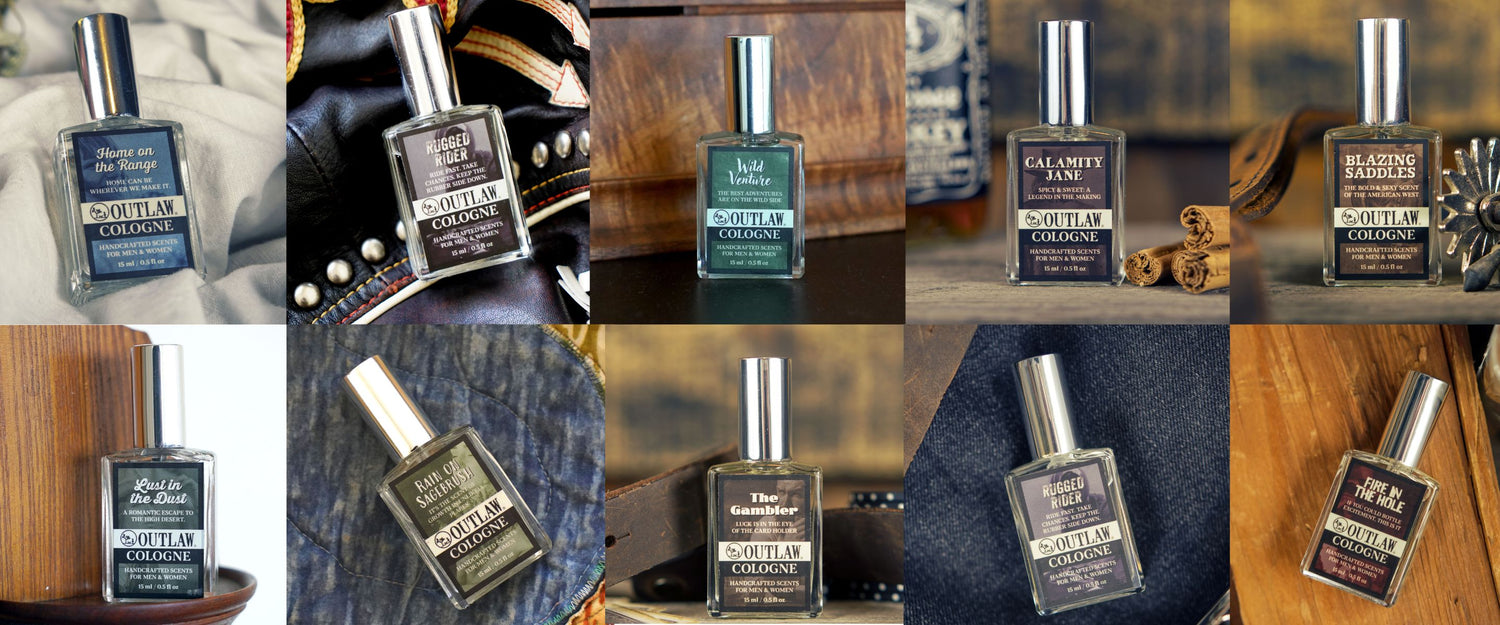 Do you love the smokey smell of campfire? How about the pungent scent of an aged whiskey? How about the peppery musk of gunpowder? Well, if you said hell yes to any of these three scents, then you need to look into the men's care products made by Outlaw.

Choosing a selection results in a full page refresh.