There's No Place Like Home: Blackberries | Fresh Laundry | Fresh Cut Grass
View Details
Show Me
$40.00
Sale price
From

$40.00
Regular price
Unit price
per
Home on the Range Cologne
There's No Place Like Home: Blackberries | Fresh Laundry | Fresh Cut Grass
Home on the Range Cologne
Show Me
$60.00
Sale price
$60.00
Regular price
Unit price
per
Sale
Sold out
There's no place like home... until now.
Smells of juicy blackberries, fresh laundry, and just-cut grass.
No paperwork!
Actualize your true human potential!
Could change your life!
Your boots in the grass. A light breeze guides you on your way. And yet there's nowhere in particular to be. The comforting scent of laundry wafts across the yard. You pick some late-season berries, so ripe and juicy.
It's your day.
It's where you belong.
And it's all okay.
Enjoy a limited release of one of our Outlaw favorites while supply lasts.
All our scents are skin-safe and long-lasting. Because we feel like scent is a personal thing to be shared between you and those literally closest to you, these are subtle scents. They will not overpower a crowded elevator or make you "that guy with all the cologne." They're designed to create an impression, not an impact.
Looking for the 15 ml size?

We sold all the solo 15 ml Home on the Range colognes in an absolute flash. If you'd like to try the scents of the month in a sample cologne, we recommend the Scent Soundtrack Subscription.
What does this kind of outlaw smell like?

+

-

Bright and fresh, Home on the Range will bring happiness and peace to your world. All is right when you're home with Home on the Range. It smells like laundry hanging in the sunshine, freshly mown grass, and ripe blackberries.
How to use

+

-

Spray on your pulse points and enjoy your amazing life
Ingredients

+

-

A mix of natural and artificial ingredients.
Shipping & Returns

+

-

Most orders ship within a few business days and arrive within 5 business days. Situations outside of our control sometimes interfere, but we do our absolute best.

If you don't love what you ordered, please reach out to us and we'll either replace your product for free, or we'll give you a refund. If your items cost more than $100, we will issue a return label.
View full details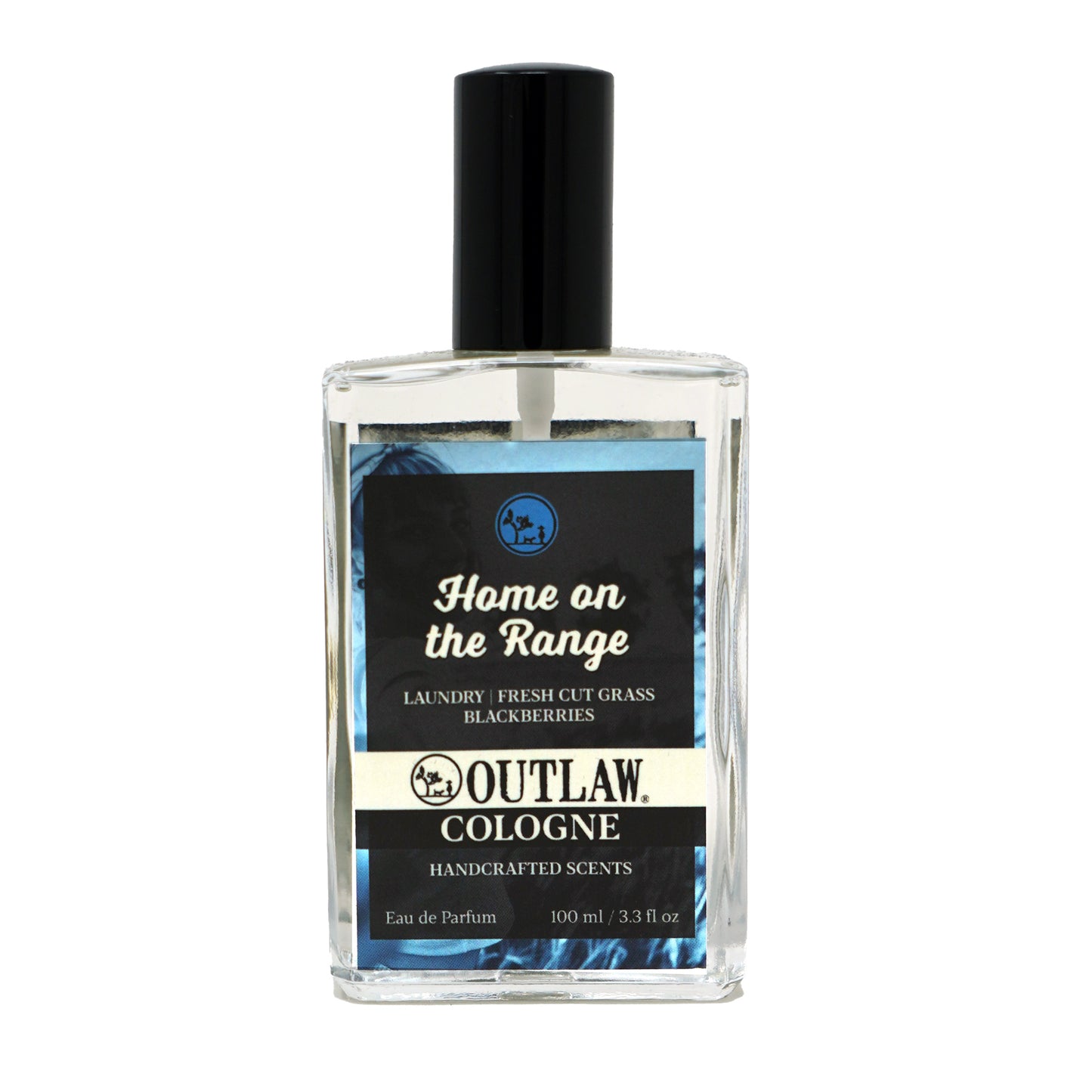 Home on the Range spray cologne
Smells different than the soap but still one of the best scents ever!
I love this stuff. I started off with the solid cologne sample kit and selected Home on the Range as the last option because the scent description didn't sound like something I would favor. That scent out of 5, was my favorite one. So, I bought the 100ml (3.3oz) bottle of cologne. I haven't purchased cologne in over 20 years because most of it gives me a headache. When I opened the box I was expecting to see the typical air bubble space in the bottle. Nope, this bottle was so full, I've used it three times already and still there's no air bubble. The only thing that I don't like is the sprayer. It kind of just sprays a mist right in front of the bottle. You have to put it really close to your body for it to get on you and it's only in a small area. I'm used to my BOD spray where it's 2 feet away and sprays my entire shirt. As a wrap up, buy you some Outlaw products, we need to keep this company around so we can smell good for years to come.
After trying the sample pack, I knew this one was going to be my first go-to. It's the perfect blend of outdoorsy and sweet, I love it!
THE best summer scent. Period.
I have a very sensitive nose....so just like the bottle says I am hit with line dried laundry, fresh cut grass, and blackberries!This fragrance reminds me of what I remember in my childhood and young adult years during summer! I smile when I put it on!
Amazing!
This smell reminds me of home in all the best ways. My new signature scent and does not die down quick either. Have been complimented many times while wearing the cologne. I love outlaws!
Clean goodness
If you're not into flowery or citrusy scents, you should give this one a try. It has a fresh, clean smell. I will admit, the cologne is my least favorite of the soap, body wash, and lotion. It doesn't have quite the same pure clean scent to my nose. It is strong. I do not apply it directly to my skin. I spray in the air and lean into it. The scent lasts all day for me. I spray it on in the morning and can still smell it at the end of the day. I kind of wish Outlaw would offer a body spray type product, something that would be a little less strong that could be spritzed on throughout the day.
Sunshine!
Bright and refreshing, this summery scent lingers. A nice change of pace to mix it up from my favorite Badlands/Cursed Cowby/Calamity Jane trio.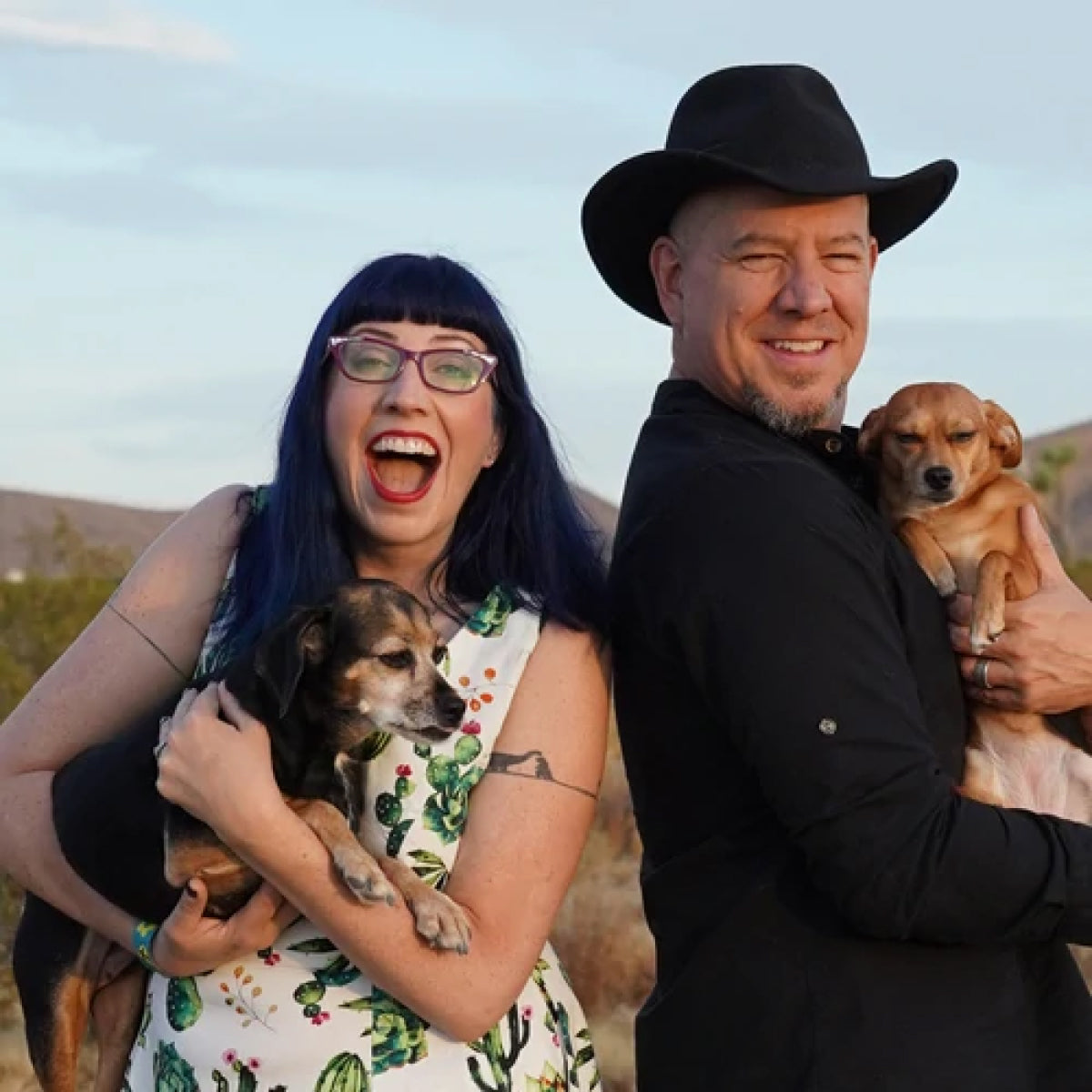 Who are the Outlaws?
We're Danielle & Russ Vincent, and we started Outlaw because we wanted to make a different kind of company.
We believe that good value doesn't mean cheaper, it means better quality, longer lasting, and more enjoyable to use.
We believe that good business practices don't have to be at odds with good social practices.
We believe that people do better when they feel better, and that good scents make people feel better.
We believe that a rising tide lifts all boats. We lift up other businesses every opportunity we get.
We believe that kindness costs nothing, but is worth more than gold.
We believe in the goodness of dogs.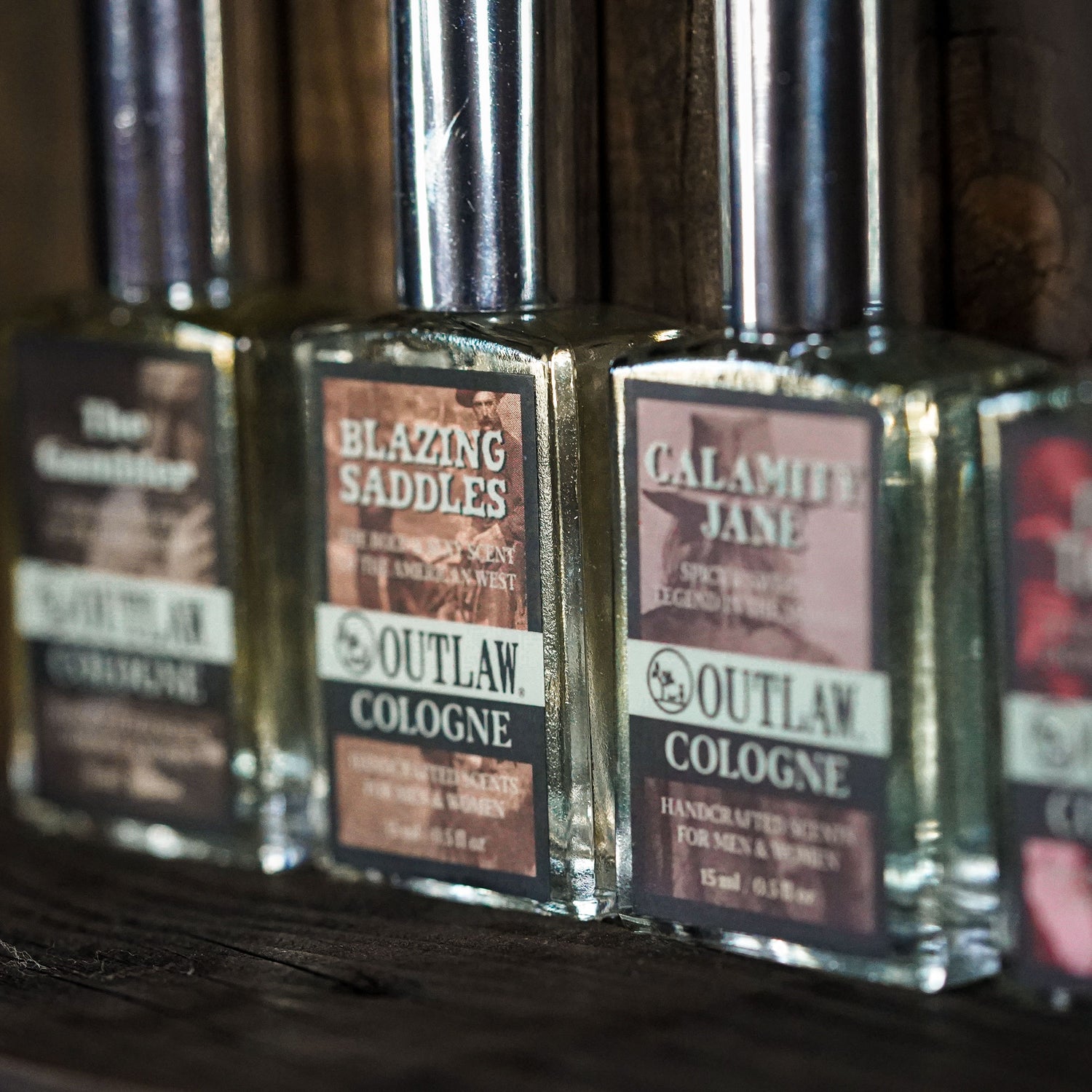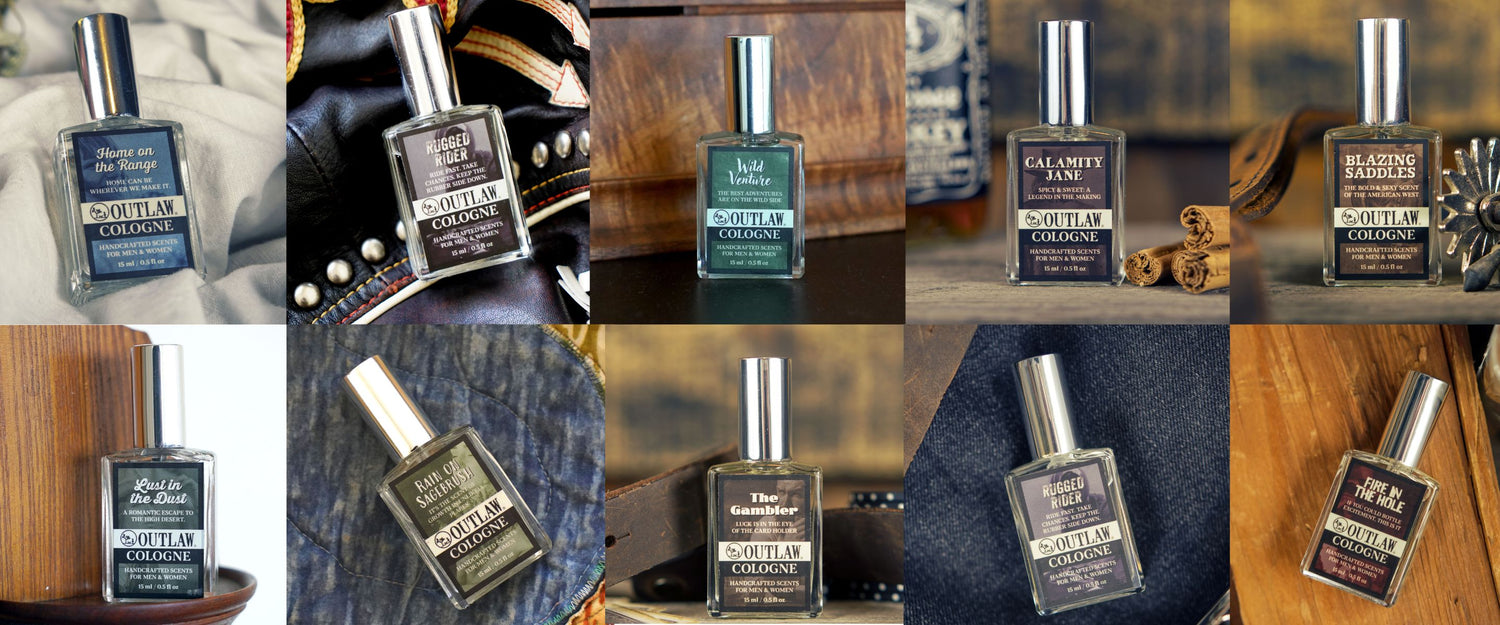 Do you love the smokey smell of campfire? How about the pungent scent of an aged whiskey? How about the peppery musk of gunpowder? Well, if you said hell yes to any of these three scents, then you need to look into the men's care products made by Outlaw.

Choosing a selection results in a full page refresh.