The perfect way to experience Outlaw's scents of the month (and a great gift, too)
View Details
Show Me
$30.00
Sale price
$30.00
Regular price
Unit price
per
Show Me
$30.00
Sale price
$30.00
Regular price
Unit price
per
Sale
Sold out
Ready to embark on a journey of olfactory adventure? HECK YEAH you are!

Experience never before seen (or smelled) scents with our newest Scent Soundtrack Subscription! With our rotation of scents each month, you'll be able to explore new aromas to tantalize your senses. It's like music to your nose!

These soap scents are typically exclusive to our 2-Bar Soap of the Month Subscription and our Badass Body Wash Subscription Box, so if you're a cologne enjoyer, you can have both!
YOUR FIRST ORDER
Your first order will arrive in a few days, complete with one bar of handmade soap (or body wash if you prefer) and a matching cologne of the month (15 ml size)!
Your Outlaw Ever After
Every month after that (on the 15th of the month), you'll get one of Outlaw's world-famous, natural soaps (or body wash) and a bottle of cologne in Outlaw's scent of the month!

You can skip, change, or cancel your subscription whenever you want (just go to your subscription page), so if you're anxious about commitment, don't worry, so are we (it's kind of an Outlaw thing).
Note: Once your subscription has shipped, we can't stop your shipment or take refunds. Please let us know in advance of your shipment on the 15th if you'd like to cancel.
What does this kind of outlaw smell like?

+

-

A wild adventure, and we are all eager for you to EMBARK!
How to use

+

-

Sit back and relax in the knowledge that you're the smartest hombre on your block. All these Outlaw goods make their way to you automagically. A fricken' miracle!
Ingredients

+

-

Aloe Barbadensis (Aloe) Leaf Juice, Cocos Nucifera (Coconut) Oil, Potassium Hydroxide, Olea Europaea (Olive) Fruit Oil, Glycerin, Helianthus Annuus (Sunflower) Seed Oil, Cyamopsis Tetragonoloba (Guar) Gum, Rosmarinus Officinalis (Rosemary) Leaf Extract, Butyrospermum Parkii (Shea Butter), Citric Acid, Fragrance
Shipping & Returns

+

-

Most orders ship within a few business days and arrive within 5 business days. Situations outside of our control sometimes interfere, but we do our absolute best.

If you don't love what you ordered, please reach out to us and we'll either replace your product for free, or we'll give you a refund. If your items cost more than $100, we will issue a return label.
View full details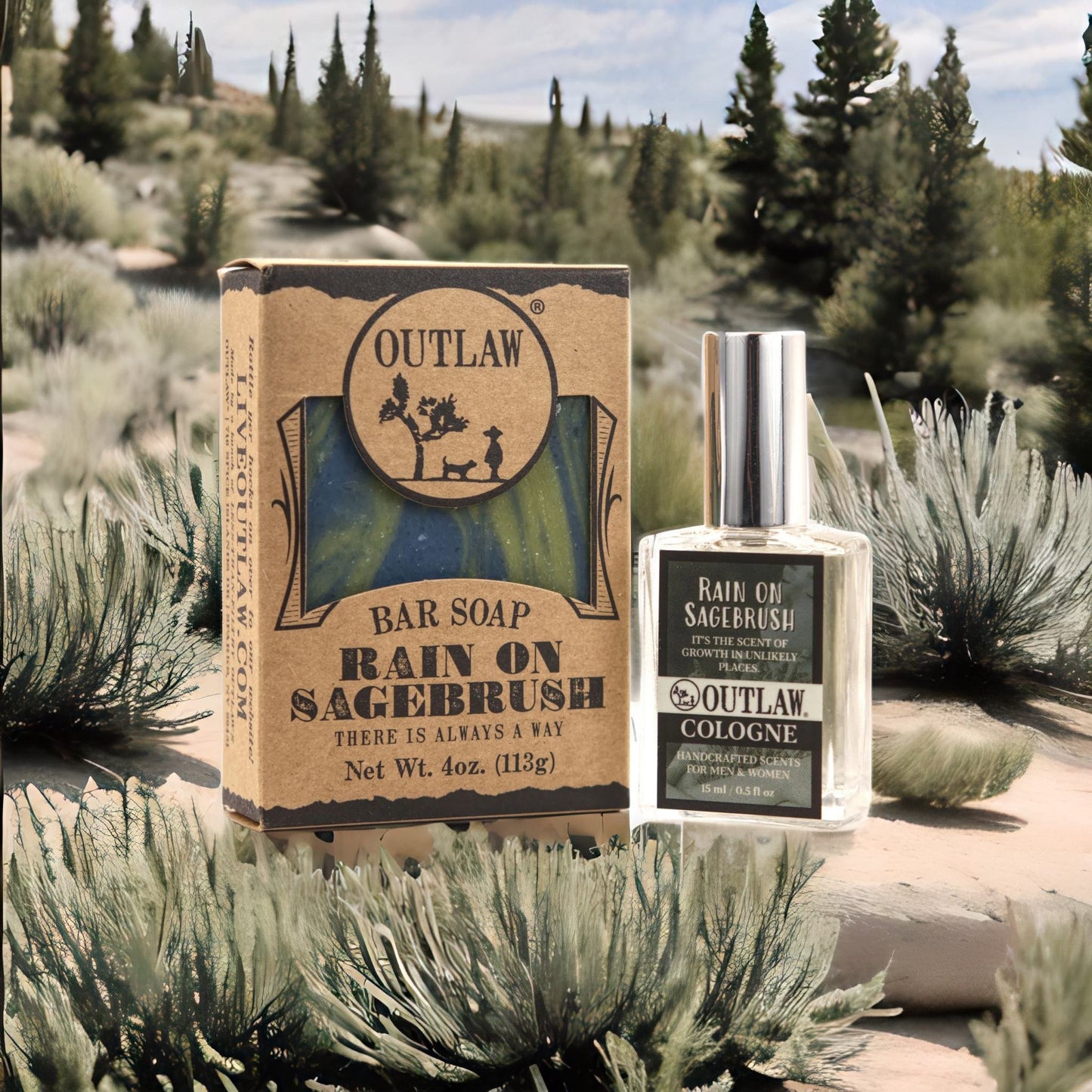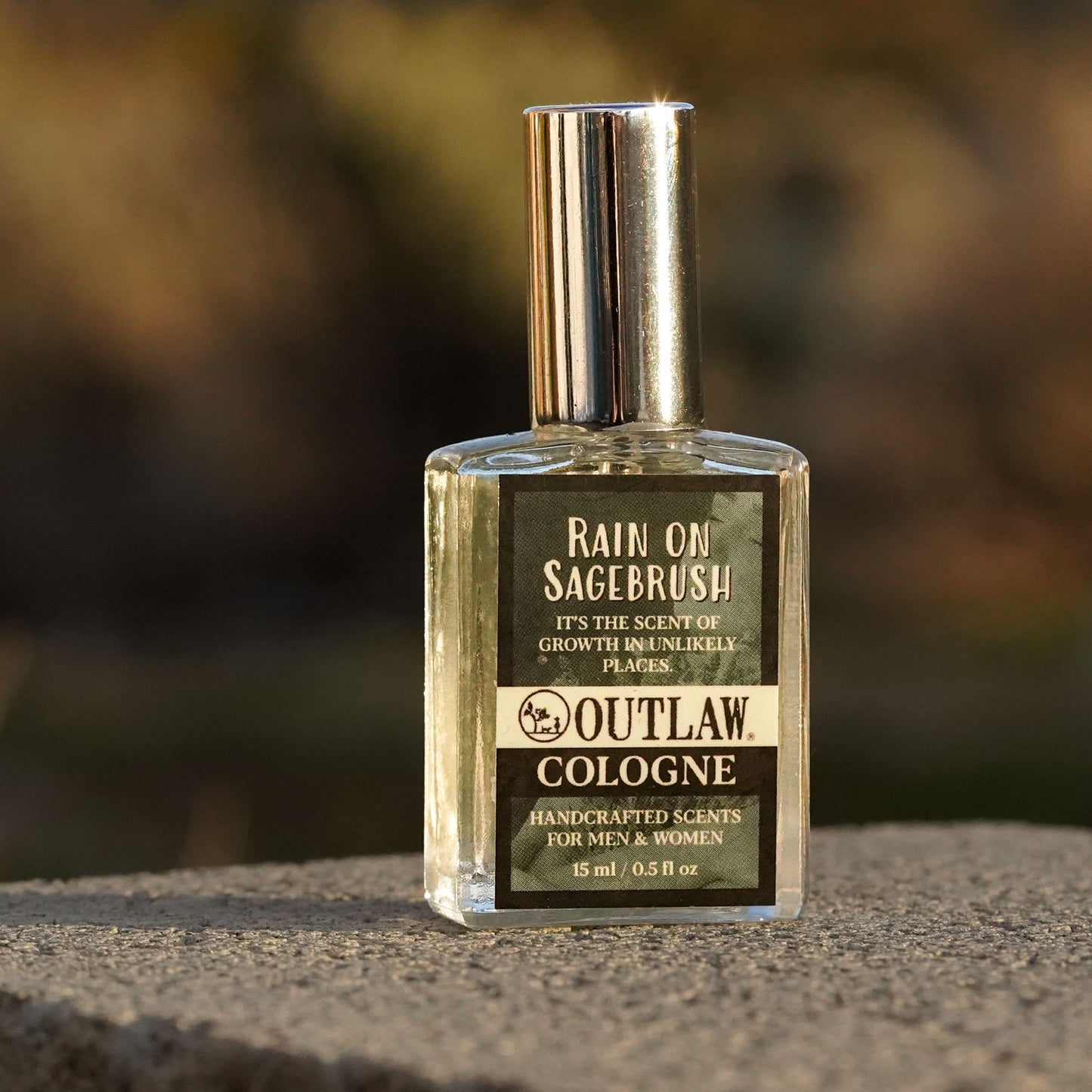 Not MY favorite scent
The cologne "Rain on Sagebrush" is, well, mediocre at best. The scent itself is neither terrible nor amazing. It's a blend of rain-soaked earth and sagebrush, but it lacks the complexity and depth you might expect from a high-end cologne.
The longevity of this fragrance is good however, it changes dramaticallythroughoutthe day. The initial, pleasant smells turn to somethingmore chemical.
While some might appreciate its simplicity, it lacks the unique and captivating elements that make a cologne memorable. Overall, "Rain on Sagebrush" doesn't leave a lasting impression, making it a rather forgettable addition to your fragrance collection.
All time favorite scents...
My two favorite scents of all time (so far) are Rain on Sagebrush and Forest Communion. Just ordered a full sized bottle of Forest Communion and want a larger size of Rain on Sagebrush. I would love to have these two scents in lotion also!
Love so much
I've enjoyed every last one of the shipments I've received in my scent soundtrack subscription. Least favorites so far are rolling in sunshine and hecks angels. Favorites which have been awesome have been forest communion, digging deep, And rain on sagebrush. I'm incredibly sad to get digging deep will never be available again, truly. Such a unique scent with nice earthy depth. Forest communion is quite nice, reminds me of an old body wash I used to get in Italy. Nice pine first smell to it, good job.
Not my favorite
As someone who enjoys trying out new colognes, I recently decided to give The Scent of the Month in both Cologne and Handmade Soaps a shot. I had high hopes for this fragrance, given the intriguing name and the promise of a refreshing and nature-inspired scent. Unfortunately, my experience with this cologne was rather lackluster, and I found it to be rather average at best.
Upon spraying the cologne, I was greeted with a burst of scent that did resemble a combination of rain and sagebrush, which was a pleasant surprise. The initial notes were quite refreshing and unique, making me hopeful for a memorable olfactory journey. However, that initial burst eventually faded away, leaving behind a milder, somewhat generic fragrance.
Furthermore, the overall composition of the fragrance didn't stand out from other colognes I've tried in the past. There was nothing particularly distinctive or memorable about it after the initial spray. While it wasn't unpleasant, it didn't leave a lasting impression either.
As for the reactions from others, I didn't receive any compliments or inquiries about the cologne, which is usually a good sign that the fragrance isn't leaving a strong impact on people, unlike a majority of their other colognes.
In conclusion, Rain on Sagebrush cologne falls short of delivering an exceptional experience. While the initial burst of the fragrance was promising, and the overall composition lacked originality. If you're looking for an average cologne that won't break the bank, this might be an option, but if you seek a more remarkable and enduring scent, you might want to explore other options in their arsenal.
Great stuff!
I've seen people ask if this stuff is for men. This stuff is for humans. It reminds me of my childhood adventures and I'm really enjoying it on my grown up ones. It smells like outside when outside was clean and fresh. It smells like playing in leaves, rolling down grass covered hills, tromping through the woods, digging for worms, campfires, and the best parts of visiting my grandparents - pie and whisky (not that I was allowed to drink whisky as a kid). I love that it doesn't smell like chemical flowers like so much other stuff out there.
I love the energy of this company. I kinda hope that it keeps being wildly successful… but… I kinda hope it stays small and unique and doesn't become mainstream. I like having something that is a good representation of so much that I love.
Best way to always smell amazing!!
My girlfriend loves the way I smell, and has even gotten a few bottles of cologne out of the deal for herself!! Love the variety, keep up the great work yall!!!!
Love, love, love
Ok, so Hmmm, I love these scents, all of them. I have my favs but they may not be your favs so I'll spare you the list, you'll just have to try them all. The descriptions pretty much give you an idea, but unless you've experienced them for yourself you'll never know. You won't be disappointed.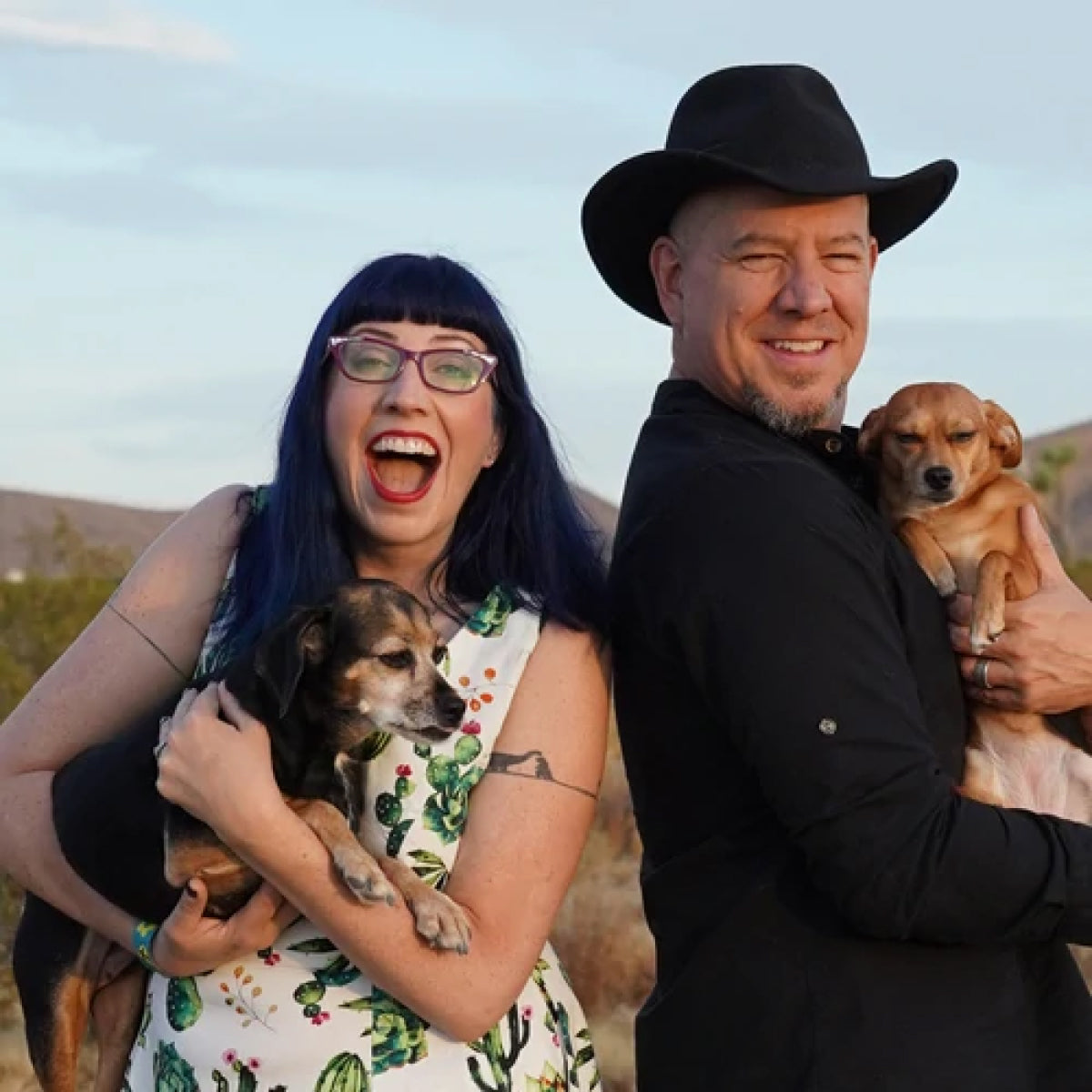 Who are the Outlaws?
We're Danielle & Russ Vincent, and we started Outlaw because we wanted to make a different kind of company.
We believe that good value doesn't mean cheaper, it means better quality, longer lasting, and more enjoyable to use.
We believe that good business practices don't have to be at odds with good social practices.
We believe that people do better when they feel better, and that good scents make people feel better.
We believe that a rising tide lifts all boats. We lift up other businesses every opportunity we get.
We believe that kindness costs nothing, but is worth more than gold.
We believe in the goodness of dogs.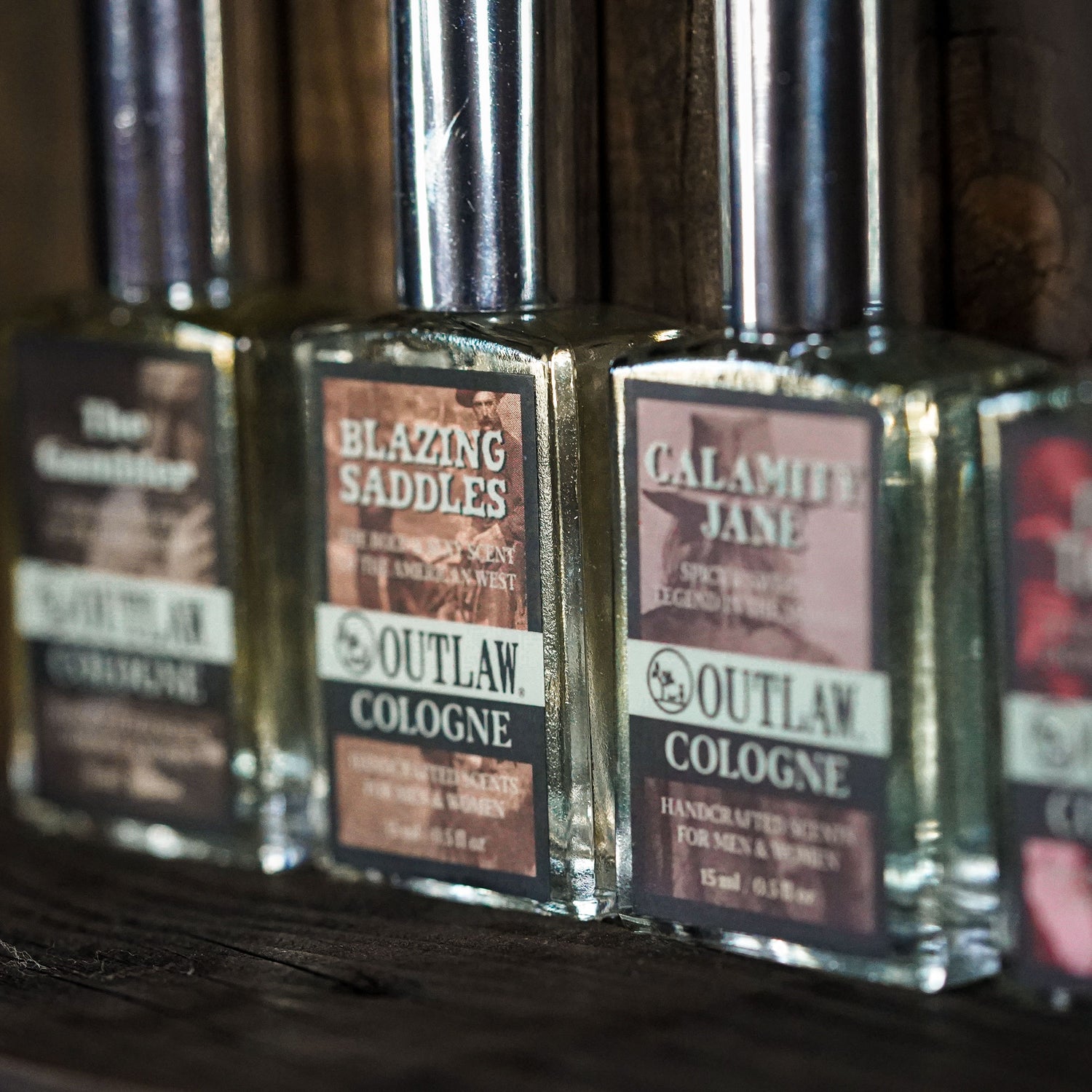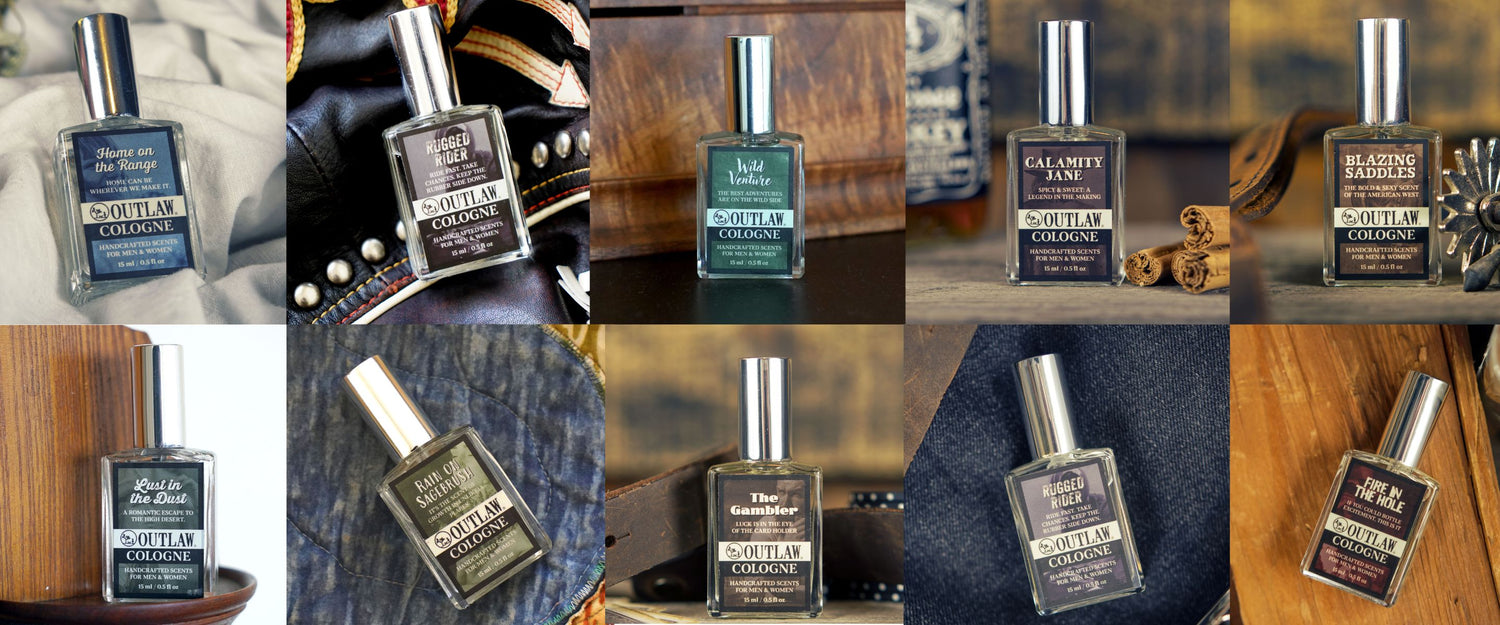 Do you love the smokey smell of campfire? How about the pungent scent of an aged whiskey? How about the peppery musk of gunpowder? Well, if you said hell yes to any of these three scents, then you need to look into the men's care products made by Outlaw.

Choosing a selection results in a full page refresh.