View Details
Show Me
Regular price
From

$50.00
Sale price
From

$50.00
Regular price
Unit price
per
Show Me
Sale price
$50.00
Regular price
Unit price
per
Sale
Sold out
OMG THESE ARE SEXY GIFT CARDS

Usually "sexy gift cards" aren't words used in that order, but TODAY'S THEIR (AND YOUR, AND EVERYONE'S) LUCKY DAY!

Get your friends, family, and anyone who you know would love some Outlaws these incredible gift cards.
They come with a sidekick of solid cologne samples, so your favorite Outlaw can make an educated decision about what scent they'd like to splurge on.

That's right, FREE solid cologne samples when you purchase a gift card!

SEE? I TOLD YOU THEY WERE SEXY!

Available in $50, $100, and $150 increments, usable worldwide, beloved by Outlaws and In-laws alike.

Each $50 order gets you a 5-pack of our solid colognes in their best-selling scents..
What does this kind of outlaw smell like?

+

-

An Outlaw smells like bold, rugged adventure.
How to use

+

-

Each sample is its own wonderous experience of a shifting blend of adventurous scents. We recommend that you use each for one day (so you don't get too far away from the first ones) and then order your favorite immediately!
Ingredients

+

-

Theobroma Cacao (Cocoa) Seed Butter, Cera Alba (Beeswax), Vitis Vinifera (Grape) Seed Oil, Ascorbic Acid (Vitamin C), Alpha Tocopherol (Vitamin E), Rosemary Seed Extract, and Fragrance Oil.
Shipping & Returns

+

-

Most orders ship within a few business days and arrive within 5 business days. Situations outside of our control sometimes interfere, but we do our absolute best.

If you don't love what you ordered, please reach out to us and we'll either replace your product for free, or we'll give you a refund. If your items cost more than $100, we will issue a return label.
View full details
Amazing deal!
Spock would say that there are only 2 logical reasons not to go for this deal.
1. You are planning on spending less than $50. On this website.
2. You plan to spend $100 or more and want to get the free spray cologne samples with the $100 gift card.
Looking to try out solid cologne? Perfect, you get 5 samples to try free and a $50 gift card to spend on your favorite or something else if the solid stuff doesn't turn out to be your thing.
Spending $50 here anyway, why not get some free Cologne? Even if you don't use cologne, these would make a great gift and you would be exposing more people to these great scents.
Be like Spock.
This is the best way to sample liveoutlaw.com!
I loved the fact that i could get free samples with an investment of $50 so i could get a better idea of what i wanted before placing a larger order.... and I WAS BLOWN AWAY! Beholding their unique scents was like western dessert paradise!
These ambrosia-like scents induced nostalgic memories from my youth, & everytime i camped in mountains and desserts out here in Utah. I am.... Super impressed! The scents at first can be wierd at first but they definately do their magic after absorbing on your skin and they make me happy breathing them in all day at work. I kinda feel like they dont last as long as id like, but you can always re-apply, as they are such a convenient size for the 5th pocket. Because i liked them so much i used the $50 giftcard to buy the $100 giftcard and get the sample of spray colonge! Calamity Jane and The Gambler are my top 2 favorite. But the rest are all very unique. May not be for everyone but if you like strong scents i think you'll like these!
Julie
I've already used the gift card! Couldn't wait to order more products after sampling the scents. I do wish the scents were more pronounced when applied.
Gift pack
Great value,gives you a chance to see ( smell) the fragrance you like.Only complaint "cursed cowboy" was not in the samples and that's the one I liked the most...lol.
The absolute best; super-fast shipping.
My new favorite cologne. I cannot express how much I love these scents. Now I have to figure out what to use the gift card on. I want to try everything you're selling. Definitely made a forever-customer out of me.
So worth it!
The solid cologne samples go a long way making this really worth the price. I found that I like all of the scents and this is a great way to have a bit of each.
Smells Great!
Great way to sample them all!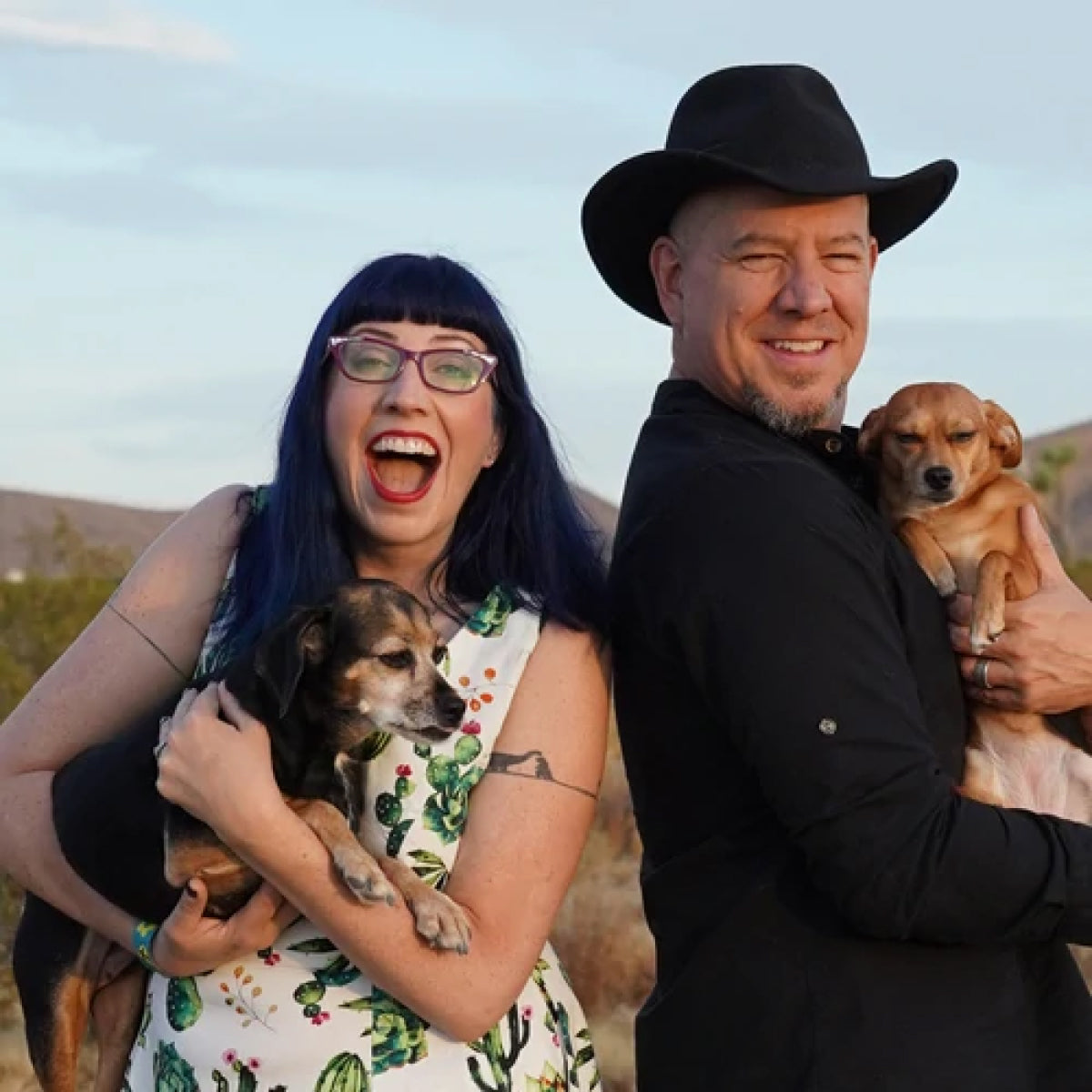 Who are the Outlaws?
We're Danielle & Russ Vincent, and we started Outlaw because we wanted to make a different kind of company.
We believe that good value doesn't mean cheaper, it means better quality, longer lasting, and more enjoyable to use.
We believe that good business practices don't have to be at odds with good social practices.
We believe that people do better when they feel better, and that good scents make people feel better.
We believe that a rising tide lifts all boats. We lift up other businesses every opportunity we get.
We believe that kindness costs nothing, but is worth more than gold.
We believe in the goodness of dogs.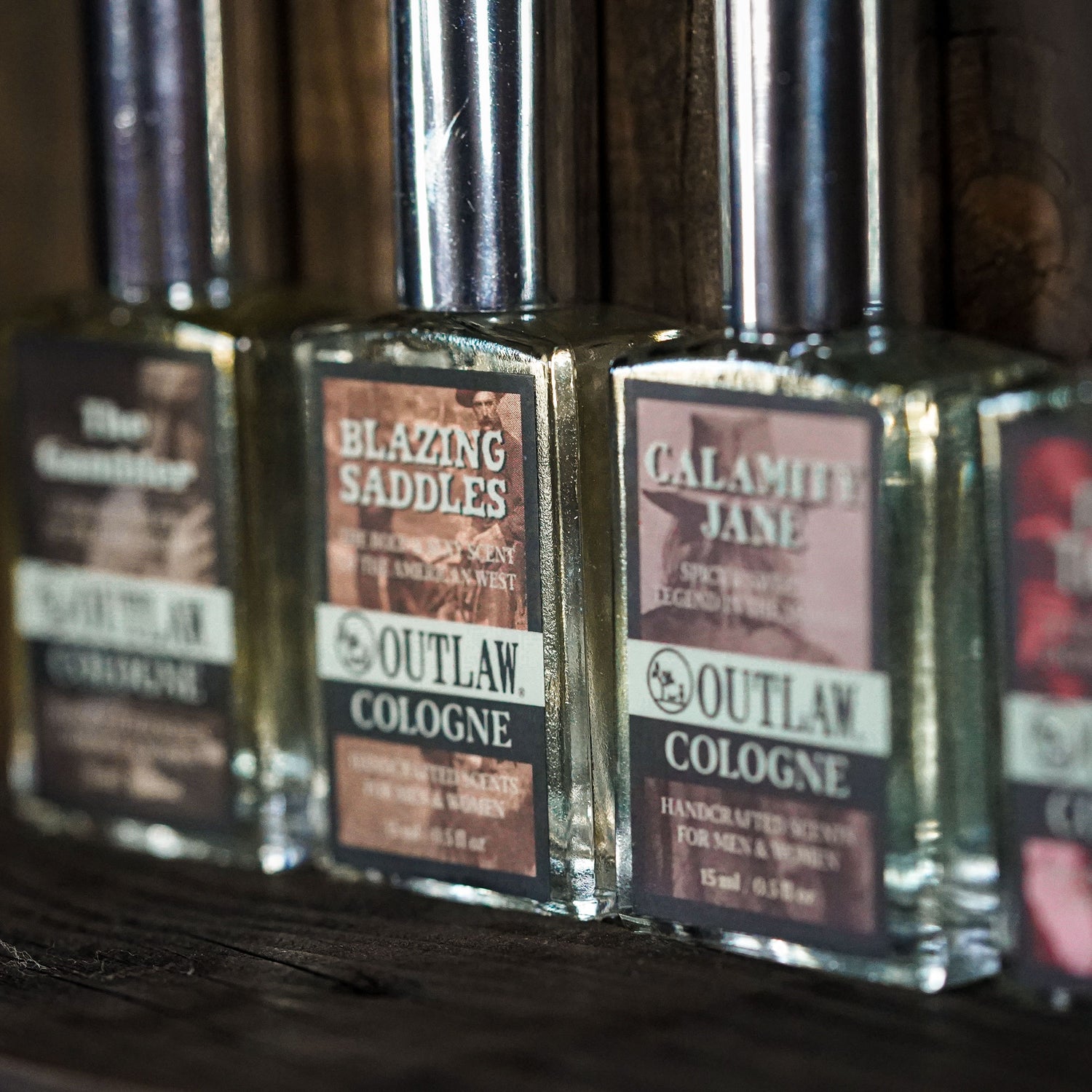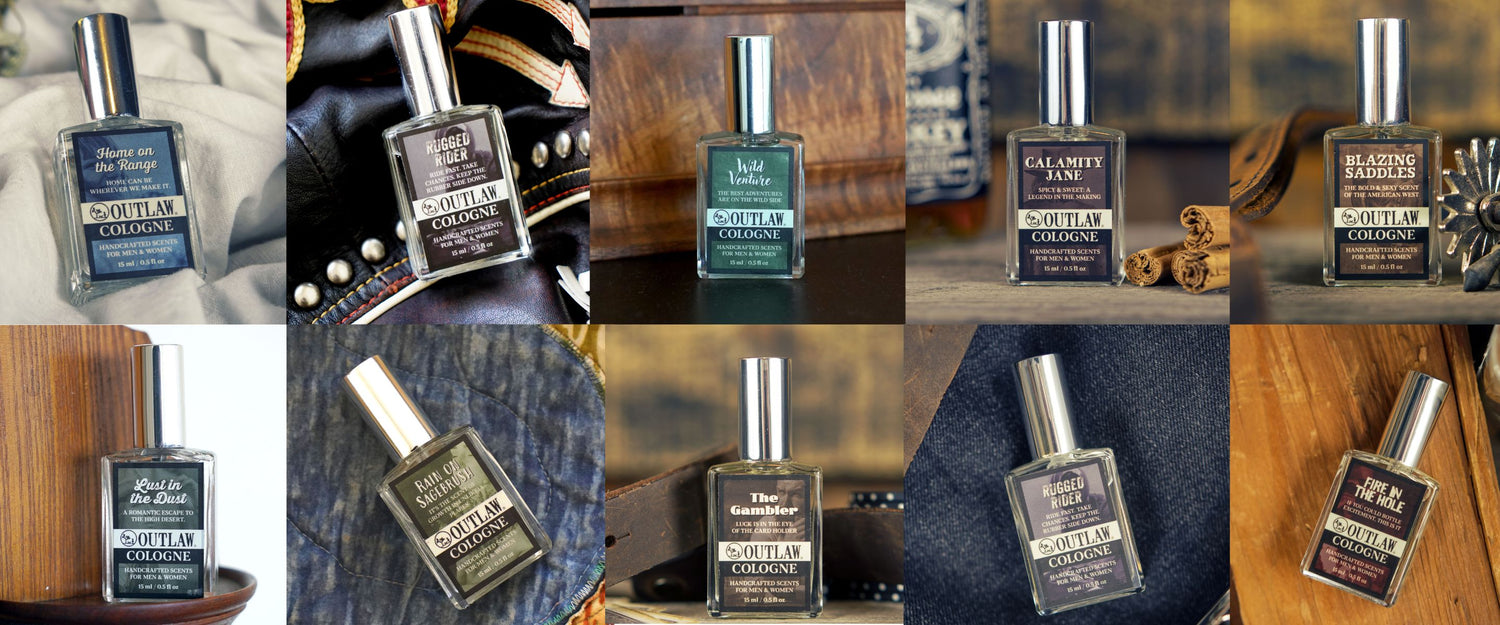 Do you love the smokey smell of campfire? How about the pungent scent of an aged whiskey? How about the peppery musk of gunpowder? Well, if you said hell yes to any of these three scents, then you need to look into the men's care products made by Outlaw.

Choosing a selection results in a full page refresh.