The Luckiest Scent Around: Bourbon | Tobacco | Leather
Sit down, shuffle up, and deal me in with this elixir that is truly a miracle oil...
This quick-absorbing oil of jojoba smells of good bourbon, old-fashioned tobacco, and a hint of leather.
You'll look refined as hell. This soothes even the wildest bird nest of scraggly beard while smelling absolutely divine.
Can be used as beard oil, but also makes a great hair oil for both women and men. It is the pinnacle of grooming products for both genders (pinnacle-ness not guaranteed.)
Handcrafted, with love and laughter, in small batches with high-quality ingredients for maximum amazingness by the fine folks at Outlaw Soaps, a tiny little soap company in the Silver State, Nevada, by people who love their jobs.
Suitable gift for outlaws AND in-laws.
You might pour yourself a tumbler of good bourbon. With every sip, you feel yourself slipping deeper into smoky, rich reflection.
And yet, your head is still clear as ever. Cunning and resourceful, you're quite familiar with wheelin' and dealin' to get exactly what you want. And what you want is to smell down-to-the-bone authentic — exuding the rugged scents of bourbon, tobacco, and leather — unlike the others in the room who are sweatin' bullets from your undeniable charm. No need to take your chances here — it's the secret trick to smelling sharp that you'll never give away.
To say it is a "beard oil" is vastly under-selling its charms. It can be used on any hairs. Yes, it will delightfully smooth and condition even the crinkliest beards... but why does it have to stop there?
My hair is a matted disaster from years of bleaching and coloring. This jojoba and hempseed oil-based elixir soothes and smooths my angry, frizzy mess.
The Gambler Beard & Hair Elixir is the luckiest beard and hair elixir around*. With our bold but sweet scent of fine tobacco, smooth bourbon, and subtle leather, your life is about to start coming up sevens!
*Not a legally binding contract if you lose your shirt at the craps table, however, if you win the lottery we hope you see fit to sending some of that our way!
3 oz of handmade oily goodness.
What does this kind of outlaw smell like?

+

-

You'll smell down-to-the-bone authentic — swaggering with the rugged scents of bourbon, tobacco, and leather — unlike the others in the room who are sweatin' bullets from your undeniable charm. No need to take your chances here — The Gambler's your secret trick to smelling sharp (that you'll never give away).
How to use

+

-

Trust your instincts. You're wiser than you've been led to believe.
Ingredients

+

-

A mix of natural and artificial ingredients.
Shipping & Returns

+

-

Most orders ship within a few business days and arrive within 5 business days. Situations outside of our control sometimes interfere, but we do our absolute best.

If you don't love what you ordered, please reach out to us and we'll either replace your product for free, or we'll give you a refund. If your items cost more than $100, we will issue a return label.
View full details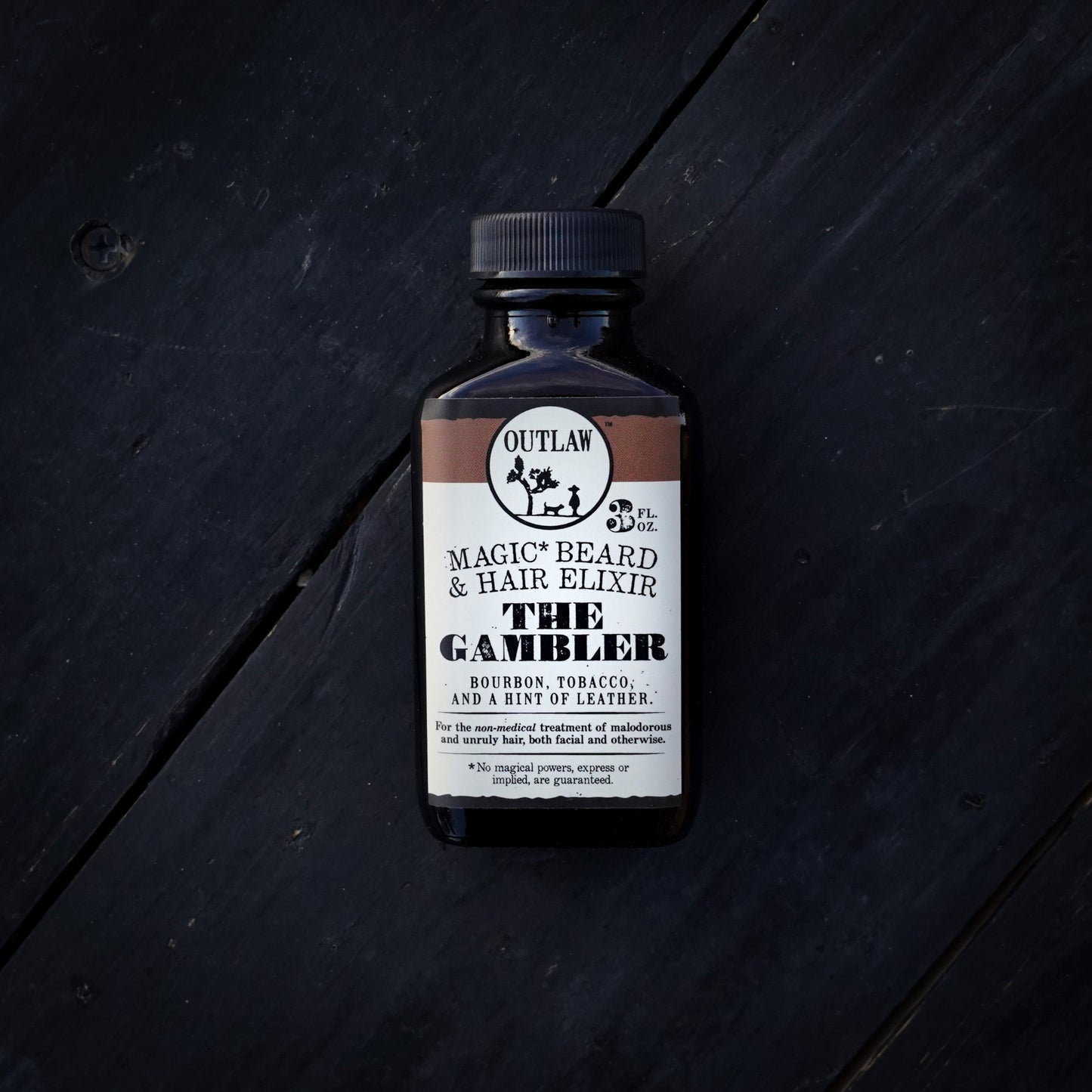 SWISS ARMY KNIFE!
Not only does this beard oil smell great, it may also be used in your beard, in your hair, on your skin, on your feet, and anywhere you want your skin to feel and smell great. High recommended! A++ top shelf stuff!
Smells really good.I like to use it when I don't need to fancy my hair up
Beard oil
This is definitely beard oil. I don't know if it's any better or worse that any other beard oil. My beard didn't fall out from using it. The description of the scent sounds good. That's why I bought it. But the actual scent of the product smells nothing like I expected it would after reading the description. I get no bourbon,tobacco, or leather from it. It's a strong cherry almond scent that gives me a headache after awhile.
The Gambler is not for sissies
I was out of pocket for a few days and came back to a box of Outlaw goodness waiting for me at the office. Opening up the box, I was greeted by a welcome note from The Outlaw crew and began to rummage through the cardboard saddlebag to get to my products. I have had a hard time finding a scent profile that includes leather, bourbon and tobacco without having to combine several products so I was especially eager to give these a try.
I cracked the seal on the lotion first off to give my hide a bit of moisturizing. I pumped a couple of squirts of this stuff into my palm and was greeted by the smell of leather right upfront. At first I was a little overwhelmed by how much leathery goodness this product delivers, but I went ahead and gave my arms and hands a thin coating of the stuff to see how it smells on the skin. The scent settled into a nice, warm saddle leather scent (which any cowpoke can tell you is much different than a new leather smell) and left my tanned worker arms and hands softer without a greasy feeling which I appreciated.
Next, I pulled out the beard oil and was welcomed by the same scent profile. I gave my beard a good dousing and now I smell like I belong more on the range than in the office...may be time for a trail ride soon. The scent seems to stay with you as well which I was happy about. Can't wait to try the shampoo and conditioner as well (for my beard-I'm bald as a cue ball), but I imagine I'll be just as pleased with them.
Overall, there is only one thing I'd change-and this is a personal preference-and that would be bringing the tobacco and bourbon scents up a notch to keep pace with that beautiful leather scent. Now all I need is this in a beard balm and deodorant and I'd be set. Going to give the soap/body wash a shot as well after my other brand's bars run out.
I like to give small, American companies my money and these guys will continue to see orders from me. May have to give the other scents a go as well (looking at you Hair of the Dog). Thank y'all for making an old country boy a happy man.
Smells just like the description.
The first thing I get is the leather, which reminds you of a just oiled baseball mitt. Close behind is the tobacco, like pipe tobacco which I love. Lastly the boozy bourbon aroma finishes out the profile. What I like the best is that the fragrance lasts a good amount of time. Overall wonderful masculine fragrance that reminds you of cowboys out on the range.
My new beard oil
Smells good I like it thank you
Another ace up the beard oil sleeve
The smell is great, the application is easy enough. Does well to maintain the beard through the work day, all and all, happy about this here product.
"I don't have a beard, but I do use this on my head. Love the smell and how soft my hair/head feels. It's a bottle of gold in my opinion." — John

"I've never used a beard/hair oil before and decided to give it a shot since Outlaw is my go-to for personal products. I feel like this is what Arthur Morgan smelt like." — Chris

"Keeps my beard hydrated and I've had no itching or dryness since using. I'm very satisfied and will be ordering again." — Eric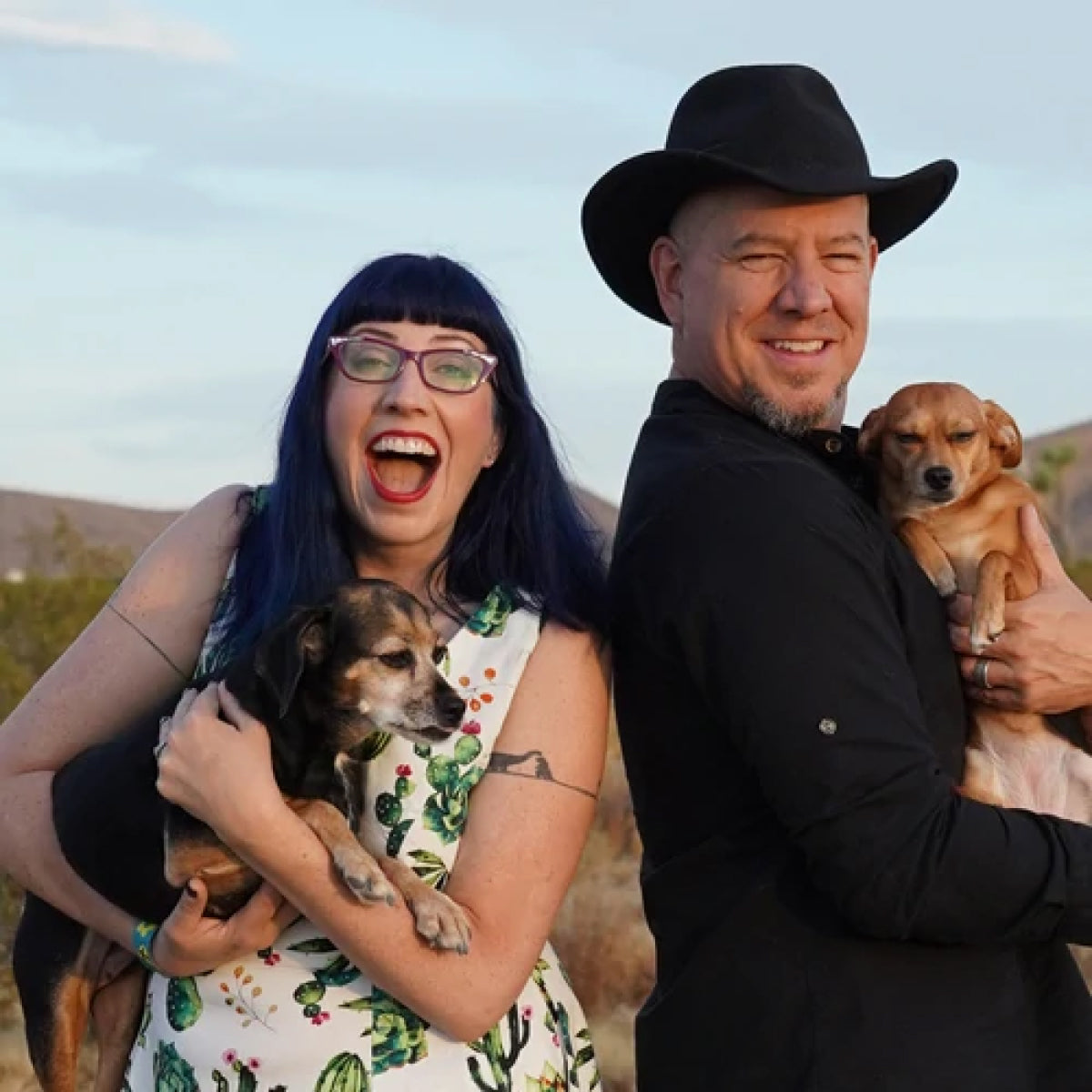 Who are the Outlaws?
We're Danielle & Russ Vincent, and we started Outlaw because we wanted to make a different kind of company.
We believe that good value doesn't mean cheaper, it means better quality, longer lasting, and more enjoyable to use.
We believe that good business practices don't have to be at odds with good social practices.
We believe that people do better when they feel better, and that good scents make people feel better.
We believe that a rising tide lifts all boats. We lift up other businesses every opportunity we get.
We believe that kindness costs nothing, but is worth more than gold.
We believe in the goodness of dogs.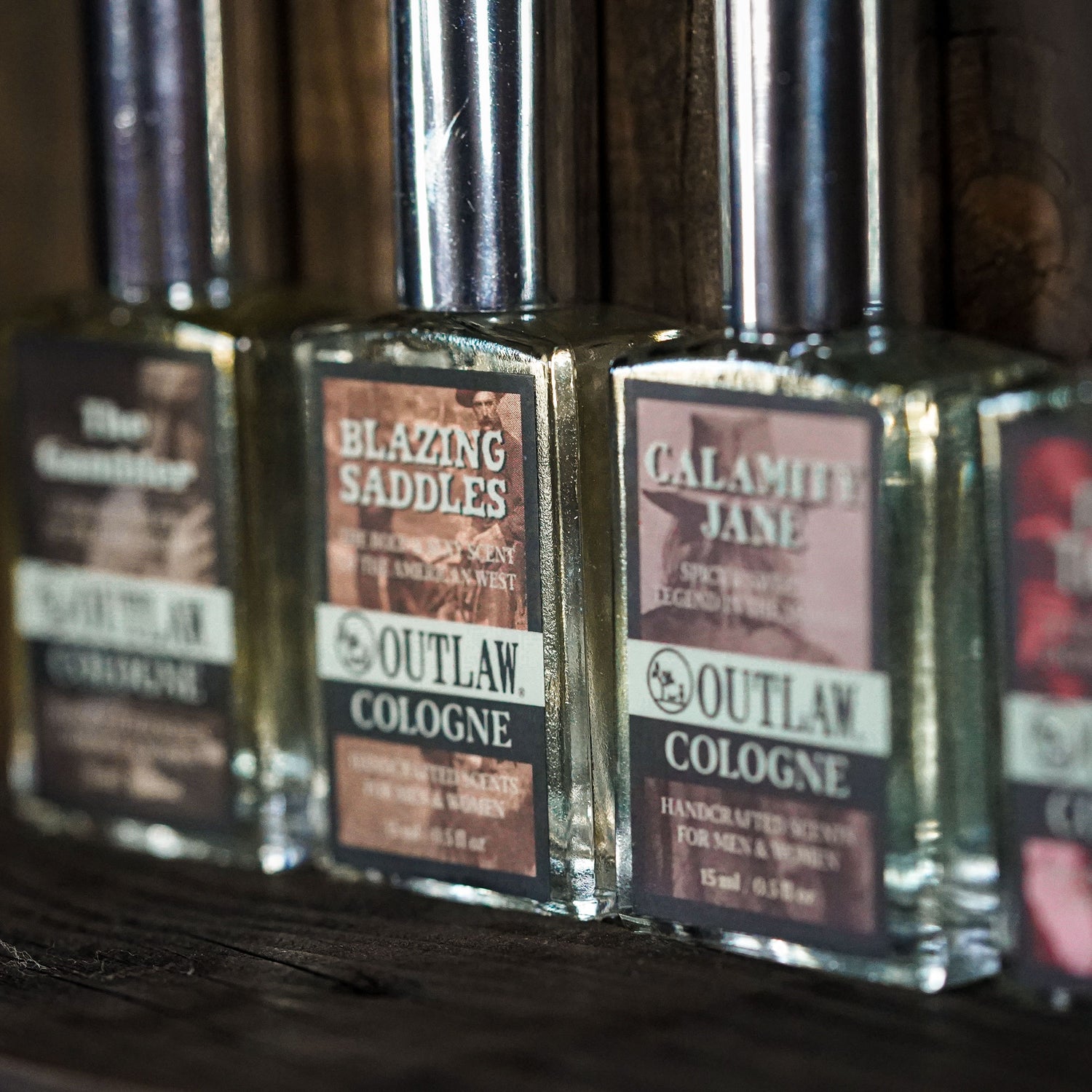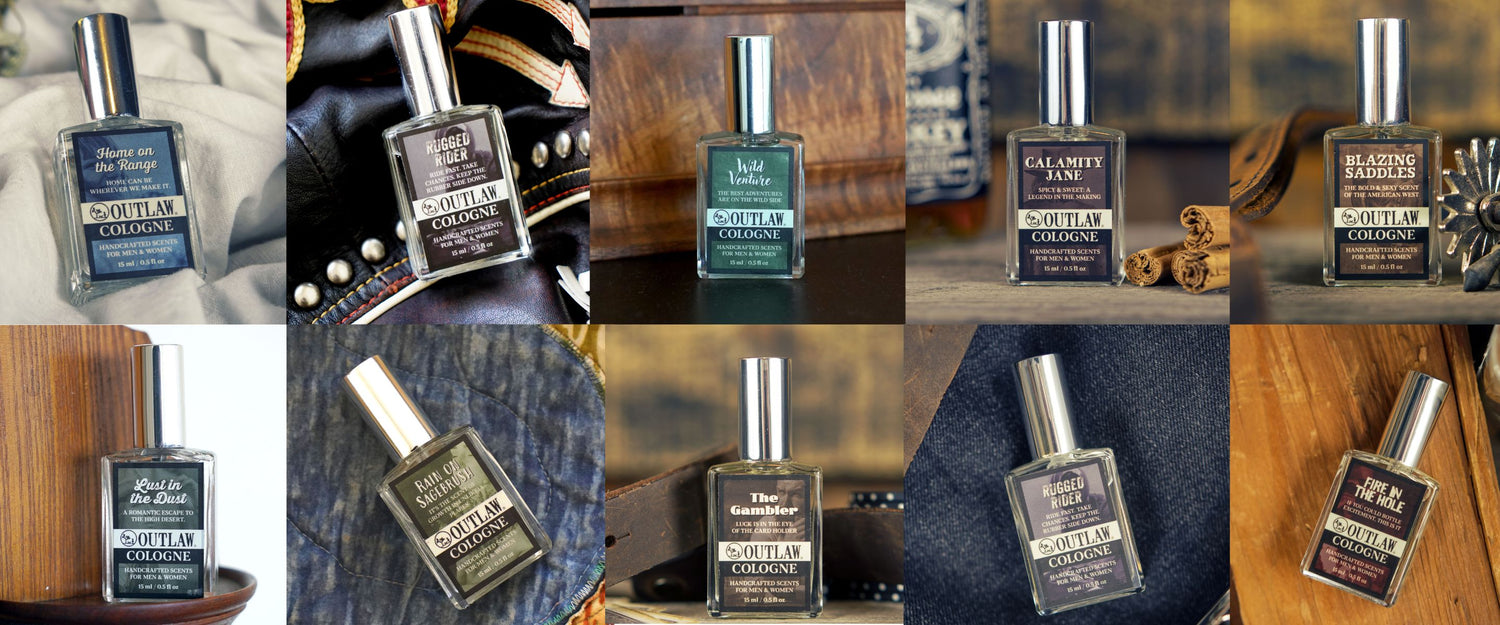 Do you love the smokey smell of campfire? How about the pungent scent of an aged whiskey? How about the peppery musk of gunpowder? Well, if you said hell yes to any of these three scents, then you need to look into the men's care products made by Outlaw.

Choosing a selection results in a full page refresh.