Start your engines with Leather, Musk, and Sandalwood
View Details
Show Me
$40.00
Sale price
From

$40.00
Regular price
Unit price
per
Show Me
$60.00
Sale price
$60.00
Regular price
Unit price
per
Sale
Sold out
Start Your Engine!

Top notes: Musk
Heart notes: Worn Leather
Base notes: Sandalwood

Just because the road's been rough doesn't mean it hasn't been worthwhile.
If anything, the roughness of the road has created the exact opportunity you needed to be the person you are today. You're ready for the ride no matter where it takes you.
The scent of the road is the one you wanna carry with you: leather, gasoline, and maybe a little musk (because you're a sexy beast).
Let's start your engine!
All our scents are skin-safe and long-lasting. Because we feel like scent is a personal thing to be shared between you and those literally closest to you, these are subtle scents. They will not overpower a crowded elevator or make you "that guy with all the cologne." They're designed to create an impression, not an impact.
What does this kind of outlaw smell like?

+

-

This scent is designed for the adventurous and daring person who loves to explore the outdoors (preferably while wearing leather and going very fast). The Rugged Rider scent is a shockingly alluring (trust me, it's ... SHOCKINGLY ALLURING) blend of leather, sandalwood, and musk notes.
How to use

+

-

Spray on your pulse points and enjoy your amazing life. WARNING: don't spray in yer eyes like a darn fool
Ingredients

+

-

Made with Organic Alcohol & Natural and Artificial Fragrance.
Shipping & Returns

+

-

Most orders ship within a few business days and arrive within 5 business days. Situations outside of our control sometimes interfere, but we do our absolute best.

If you don't love what you ordered, please reach out to us and we'll either replace your product for free, or we'll give you a refund. If your items cost more than $100, we will issue a return label.
View full details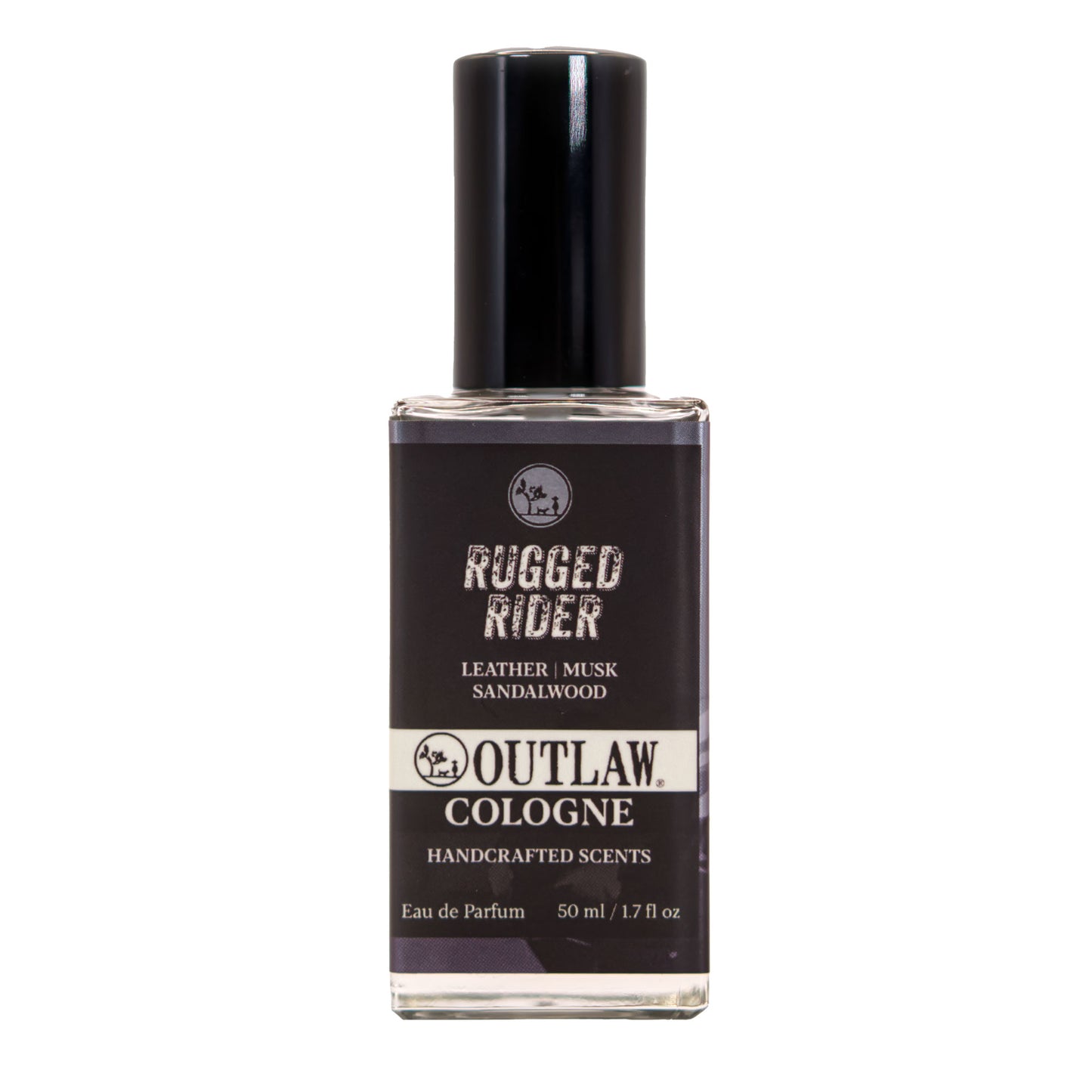 Perfect for my favorite cowboy!
I bought this cologne for my lovely boyfriend about a month ago after finding the company in an ad on Facebook and have waited to review it so I could give a better review on it. We love it! At the first opening and few wears we only got the smell of the worn leather, not much of the other scent profiles, but since he loves the leather smell it wasn't much of a complaint. However, he soon realized that if he rubbed it in, which he was not doing before, it opened up more and we got the musk scent but I'm not sure if we smell the sandalwood at all. He felt a bit silly after realizing that he needed to rub it in, haha! He delivers furniture for a living and also has his own lawn care business. He sweats like nobody's business when he works, but at the end of the day, against all odds, I still feel like I can smell it on him when I get close. Of course, it's not strong, but the fact that I still smell it at all after his long day is actually quite impressive. Safe to say, this was a great purchase and was worth the risk to buy without being able to smell it beforehand. I have since bought the Calamity Jane scented cologne and am anxiously awaiting its arrival! I will, of course, be rubbing that in, haha! Thank you Outlaw Soaps!
Not received
Did not receive my last order. Home on the range and blazing saddles. Enough of the emails saying it is late leaving the safe house. Give me a damn refund! That is a lot of money to waste. Do not steal for me.
Great everyday scent
This scent is heavy masc. at the top but as is opens up it stays musky and warm. It kind of reminds me of laying on a country crossroads after a bright hot day under a single lamp post. The heat of the day warming my back with the feral smell of grasshoppers soaking up the remainder of the days heat as they clatter and jump across my clean powder soap washed white cotton t. Weird, I know, but if you've ever smelled a grasshopper they have an acidy acrid smell, like old tar and the scratchy-ness of hot grass or corn husk.
Best One Yet
Please make this a permanent offering with a larger sized option. I love this scent!
A Cologne For Badasses
Leather and musk are two of my favorite scents ever, so when I saw y'all were releasing this cologne, I knew I had to get my hands on it. Sadly I didn't get it in time for the 100mL bottles, so I have one of the 50mL, but I'm hoping it becomes popular enough to join the main lineup. It's a very subtle scent, the leather and musk coming out on top with the hint of sandalwood and a little asphalt. It's one of those colognes that you need to be close to the person to smell, but that's nice because it's an alluring and sort of intimate scent. Regardless of who you're trying to attract, if they like a person whose rough on the outside but affectionate on the inside, this will surely do the trick.
Cologne
Smells pretty decent. Took a while for my fiance to get used the scent though, but she enjoys it now.
Ooh ooh that smell
Every time I'm around someone I get compliments on how I smell, male and female. Men ask me what cologne is that, I tell them I get it from a couple of outlaws . Then I give them the information.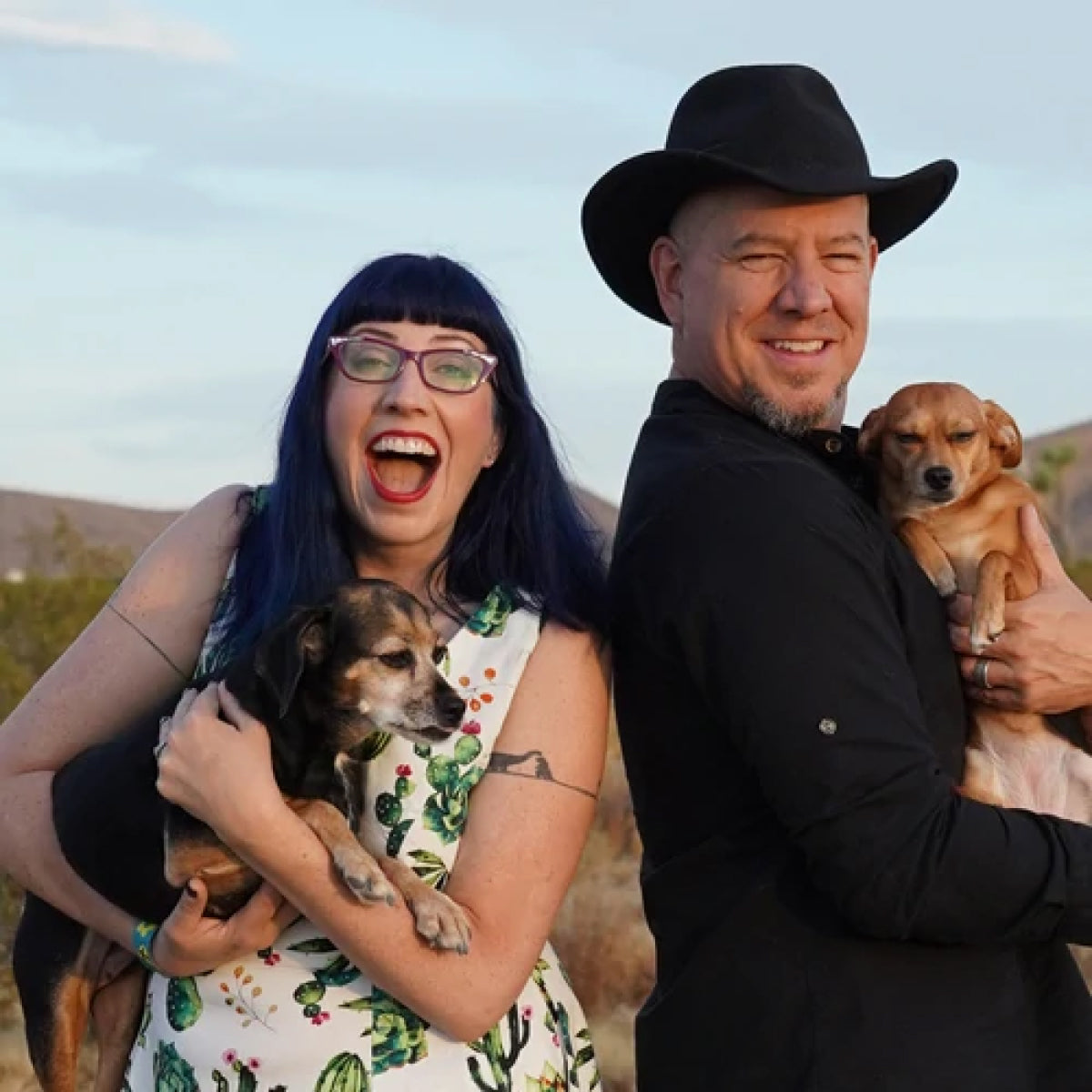 Who are the Outlaws?
We're Danielle & Russ Vincent, and we started Outlaw because we wanted to make a different kind of company.
We believe that good value doesn't mean cheaper, it means better quality, longer lasting, and more enjoyable to use.
We believe that good business practices don't have to be at odds with good social practices.
We believe that people do better when they feel better, and that good scents make people feel better.
We believe that a rising tide lifts all boats. We lift up other businesses every opportunity we get.
We believe that kindness costs nothing, but is worth more than gold.
We believe in the goodness of dogs.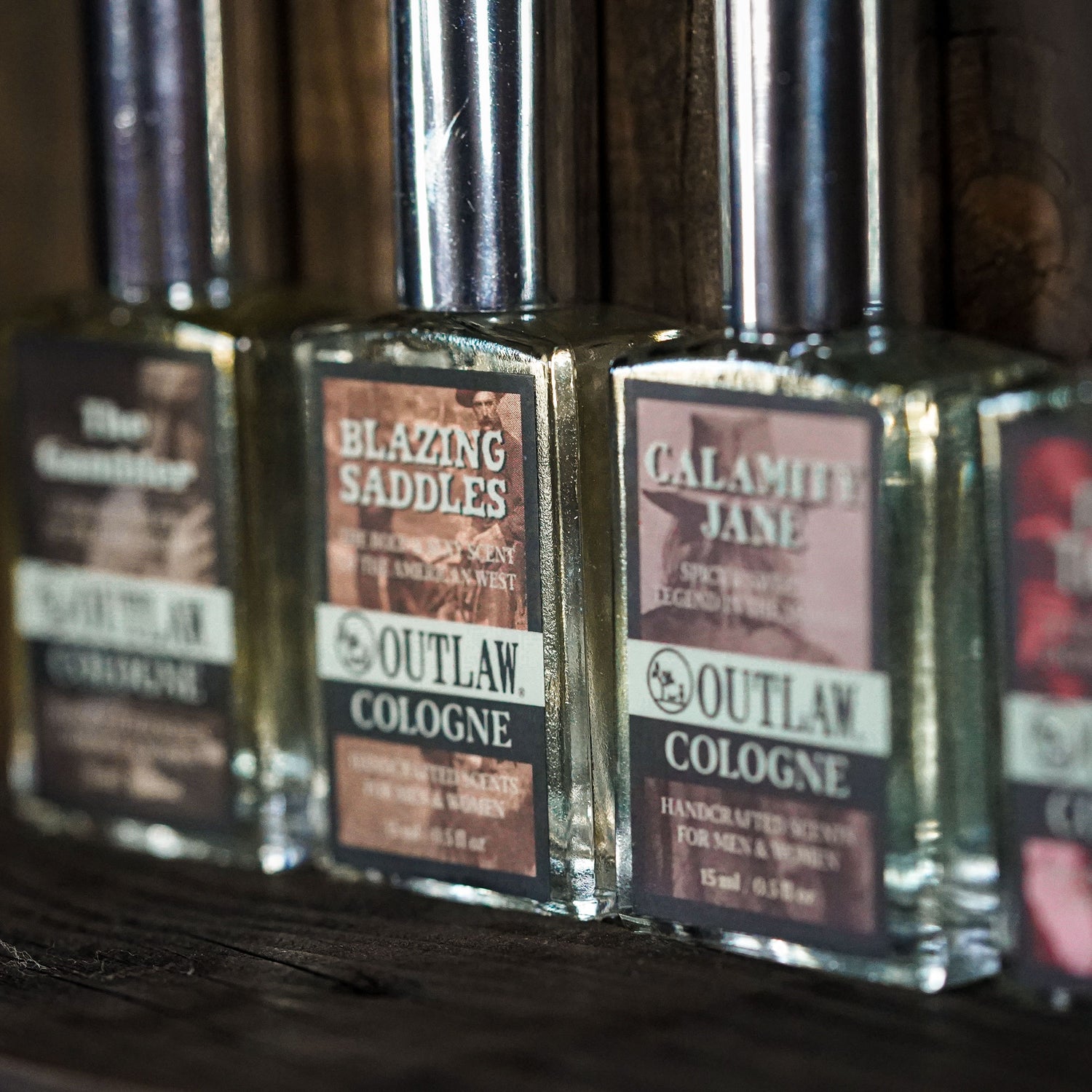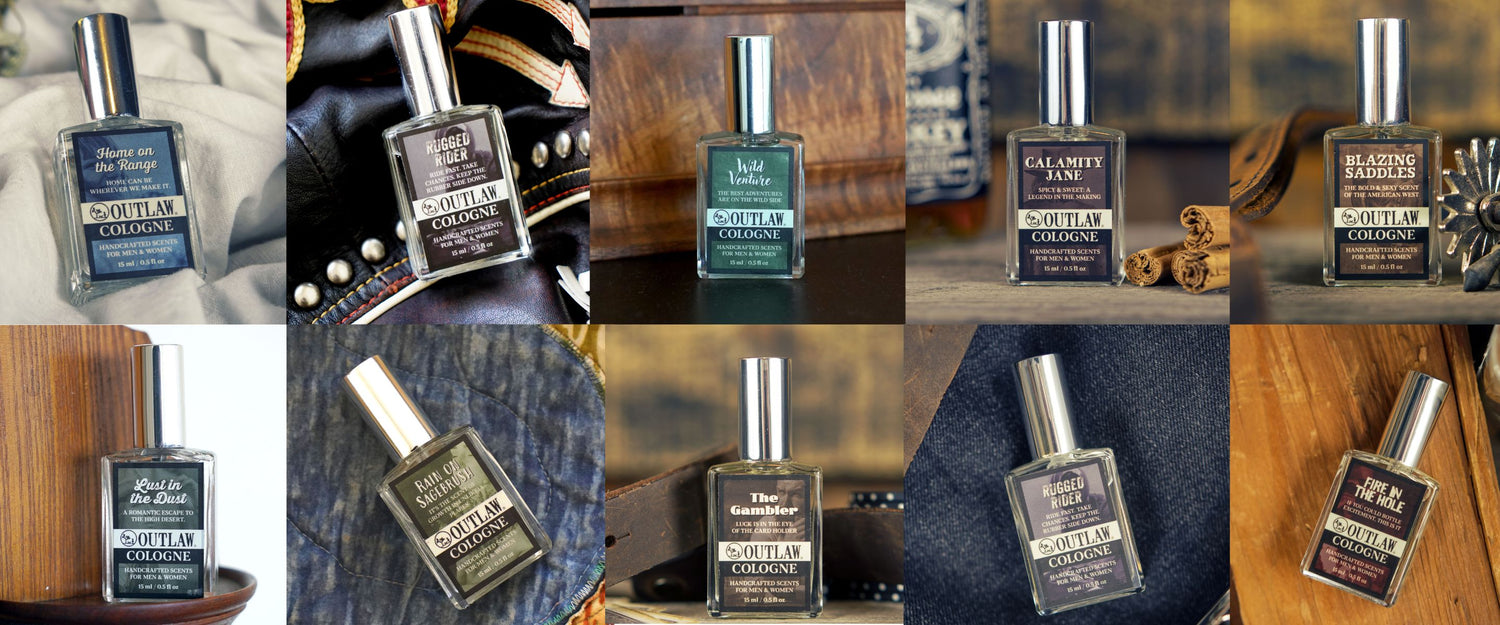 Do you love the smokey smell of campfire? How about the pungent scent of an aged whiskey? How about the peppery musk of gunpowder? Well, if you said hell yes to any of these three scents, then you need to look into the men's care products made by Outlaw.

Choosing a selection results in a full page refresh.