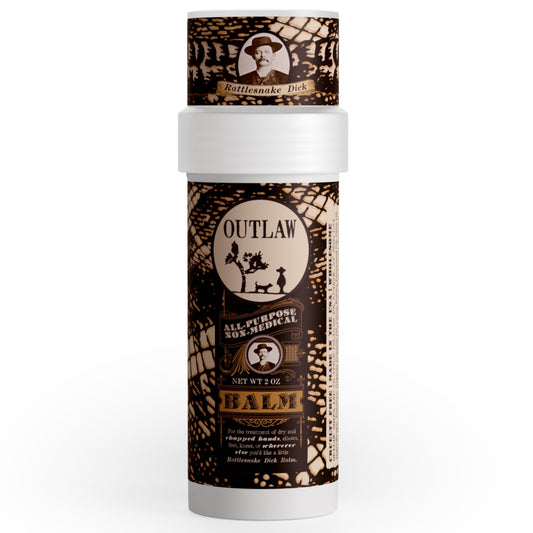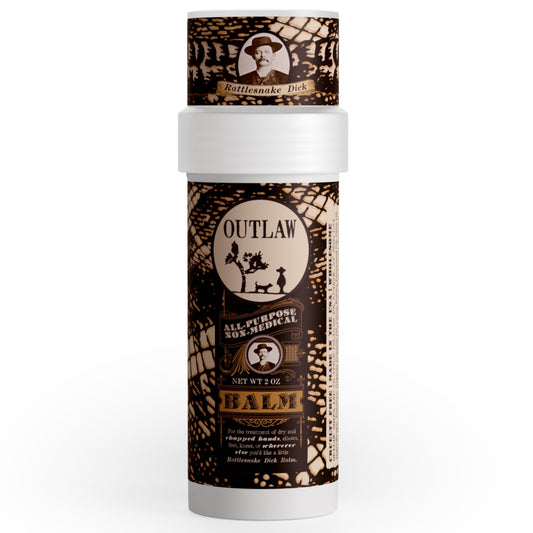 View Details
Show Me
Sale price
$15.00
Regular price
Unit price
per
Show Me
Sale price
$15.00
Regular price
Unit price
per
Sale
Sold out
If you'd like to watch our Facebook Live Video launching Rattlesnake Dick Balm, it's worth watching.
Even hardened Outlaws need soft hands: Spread Dick's Balm on dry, rough, ragged skin.

It's all-purpose! Use it on your hands, elbows, feet, knees, or wherever else you need a little moisturizing Dick balm.

Make your skin silkier than a city slicker with an addiction to calfskin gloves. 

Keep it in your pocket, purse, car, or desk for a handy job whenever you feel the urge. You'll feel better just having it around.

May lubricate squeaky hinges. We haven't tried it, but it seems like Dick's Balm would do that job fine, too.
In this germy time, it's best to keep your Dick Balm to yourself. Get friends, family, and even strangers (folks who wash their hands a lot love Dick's Balm) their own tube.
"We are rough men and used to rough ways." - Bob Younger

The Legend of "Rattlesnake" Dick Barter

The old West was indeed a time for rough men, and "Rattlesnake" Dick was ROUGH… Rough and hungry for the abundant gold being shipped all over the Sierra Nevada mountains.
When Dick got a tip on a big ol' gold shipment, he couldn't resist: He and his Outlaw associates held up a gigantic gold shipment near Nevada City (which is a bustling town in California, not Nevada, because the Wild West was a wild place).
The robbery was a success! Rattlesnake Dick made off with $40,000 in gold (which would buy 2,000 lotion sticks, if you'd like to know). Gold's mighty heavy stuff, so Dick hid his ill-gotten gains in the forest, thinking he'd come back for it later.

He died in a gunfight before revealing the location of the gold.
Legends say there's a stash of Rattlesnake Dick's gold, ready to shower wealth upon whoever discovers it… today, that $40,000 in gold is worth more than one million dollars!
Perhaps Dick was distracted by his awfully rough hands, and this led to his premature end. It's hard to know. Dick's secrets were buried with him.
The moral of the story?
DON'T BE A DICK.
Use "Rattlesnake" Dick's Twist-Up Balm.

Beeswax, Organic Coconut Oil, Cocoa Butter, Grapeseed Oil, Olive Oil, Refined Hempseed Oil, Vitamin C, Vitamin E, Rosemary Seed Extract, Essential or Fragrance Oils, (Non-Nano) Zinc Oxide.
2 oz.
What does this kind of outlaw smell like?

+

-

A wild adventure, and we are all eager for you to EMBARK!
How to use

+

-

Trust your instincts. You're wiser than you've been led to believe.
Ingredients

+

-

A mix of natural and artificial ingredients.
Shipping & Returns

+

-

Most orders ship within a few business days and arrive within 5 business days. Situations outside of our control sometimes interfere, but we do our absolute best.

If you don't love what you ordered, please reach out to us and we'll either replace your product for free, or we'll give you a refund. If your items cost more than $100, we will issue a return label.
View full details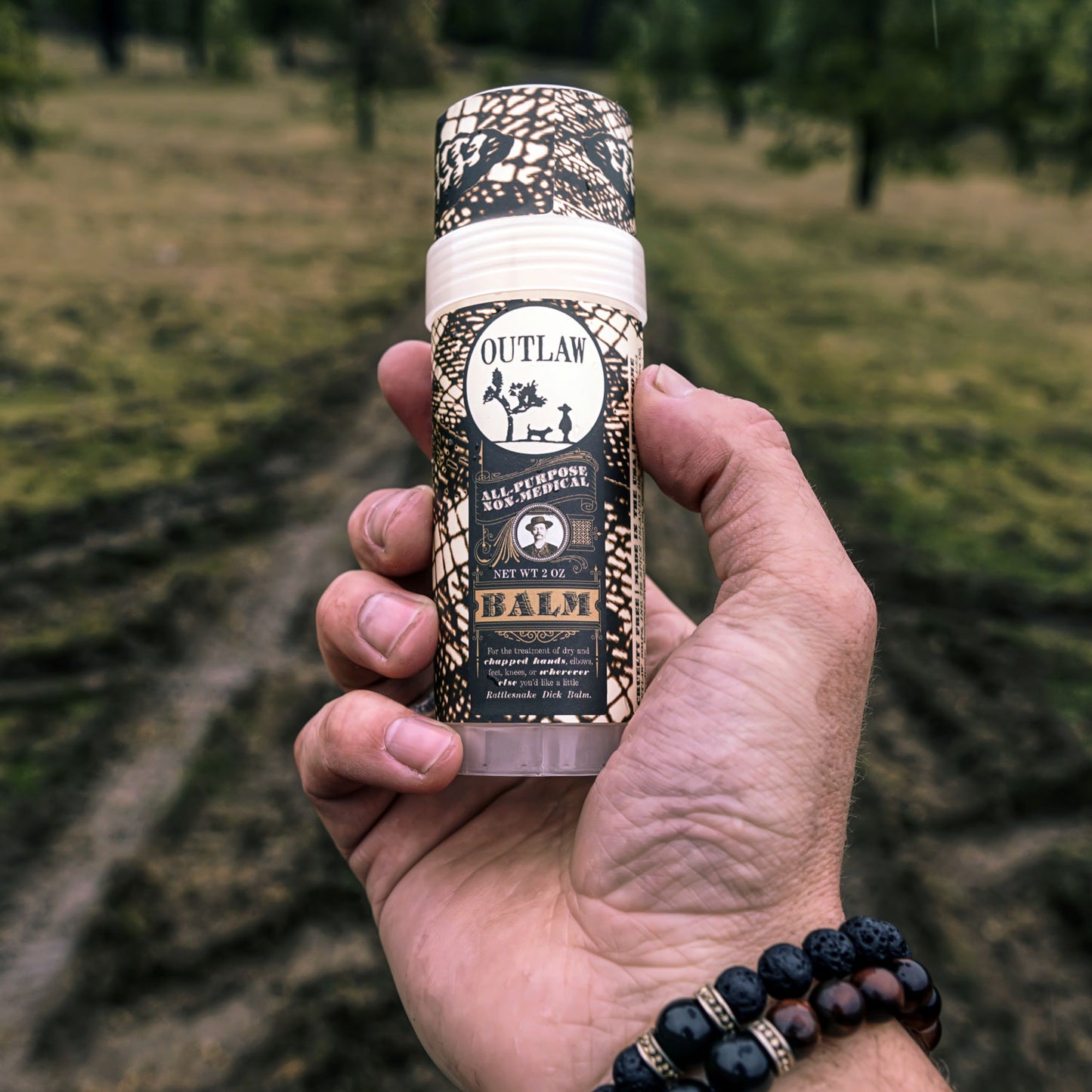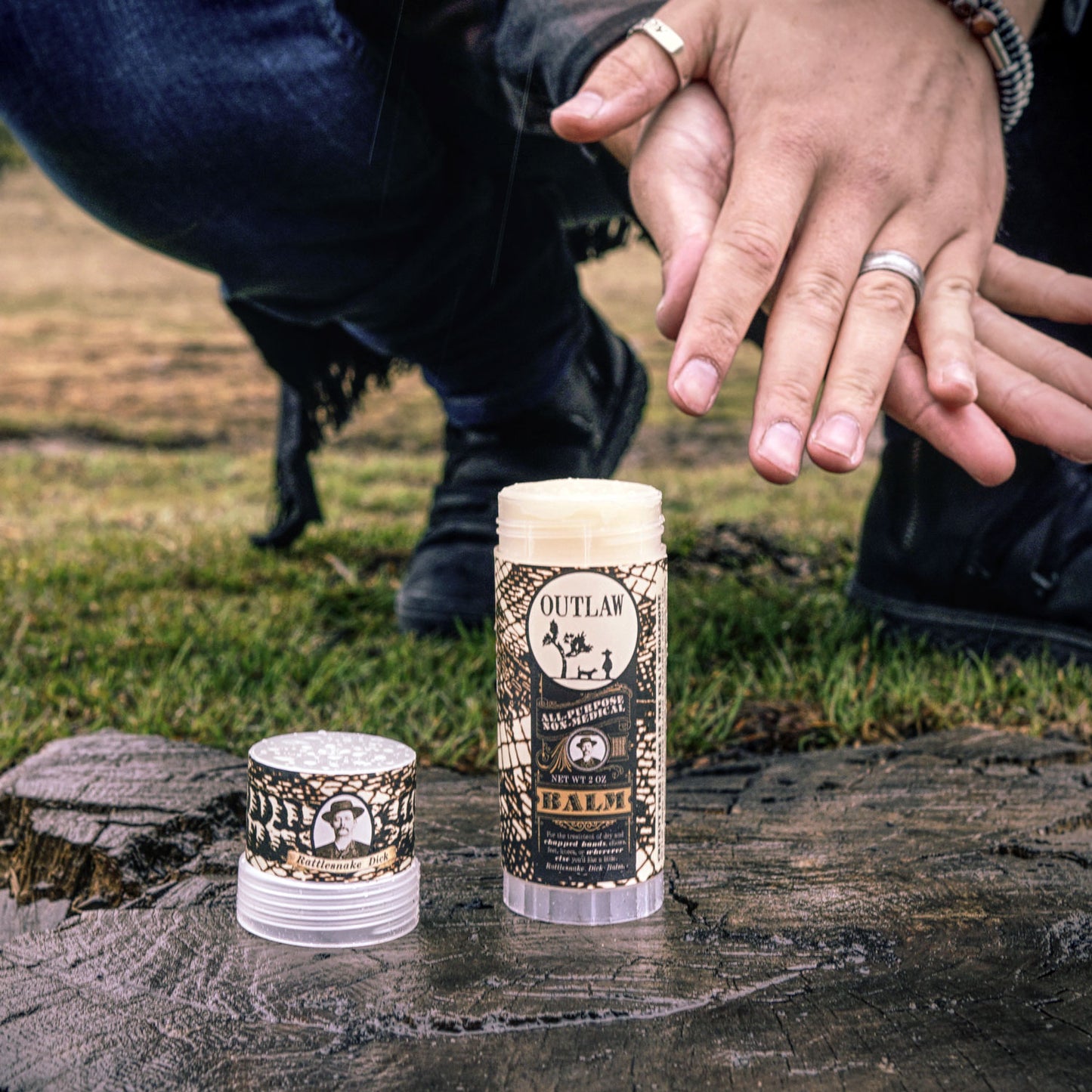 You had me goin' there
I figured it must be a penile product and I would have a Hard time figuring out how to use it. But then rattlesnakes have dicks but couldn't use it since they don't have hands with which to apply it. A hand cream for male and female humans with an interesting fragrance….
Smooths rough skin
The name is what brought this to our attention. Look at the video for this, it will make you chuckle!
This product smooths rough skin, plus we've found that it's made a huge difference with preventing cracked skin related to cold and cruddy NY winters. Thanks Outlaw Soaps! 😊
Rattlesnake Dick Balm awesome!
The scent (which I think would go with any of your signature scents), the texture-everything is perfect. I stocked up until the next time you offer it.
Not so rough, no mo
The Midwest fall/winter can be very hard on your hands, even if you aren't outside all the time. I have used this for a few times and my hands aren't all scaly like a horny toad anymore. My wife likes it too and bought 2 more so she wouldn't steal all mine. I really like how it doesn't leave your hands greasy and the scent will stay around even with repeated hand washing. This is another fine product I now have in my safehouse cache.
Miracle balm!
This stuff is AMAZING! Not only does it make my feet silly soft (and let me tell ya…they take a beating!), it smells great! It's ruined me for anything else.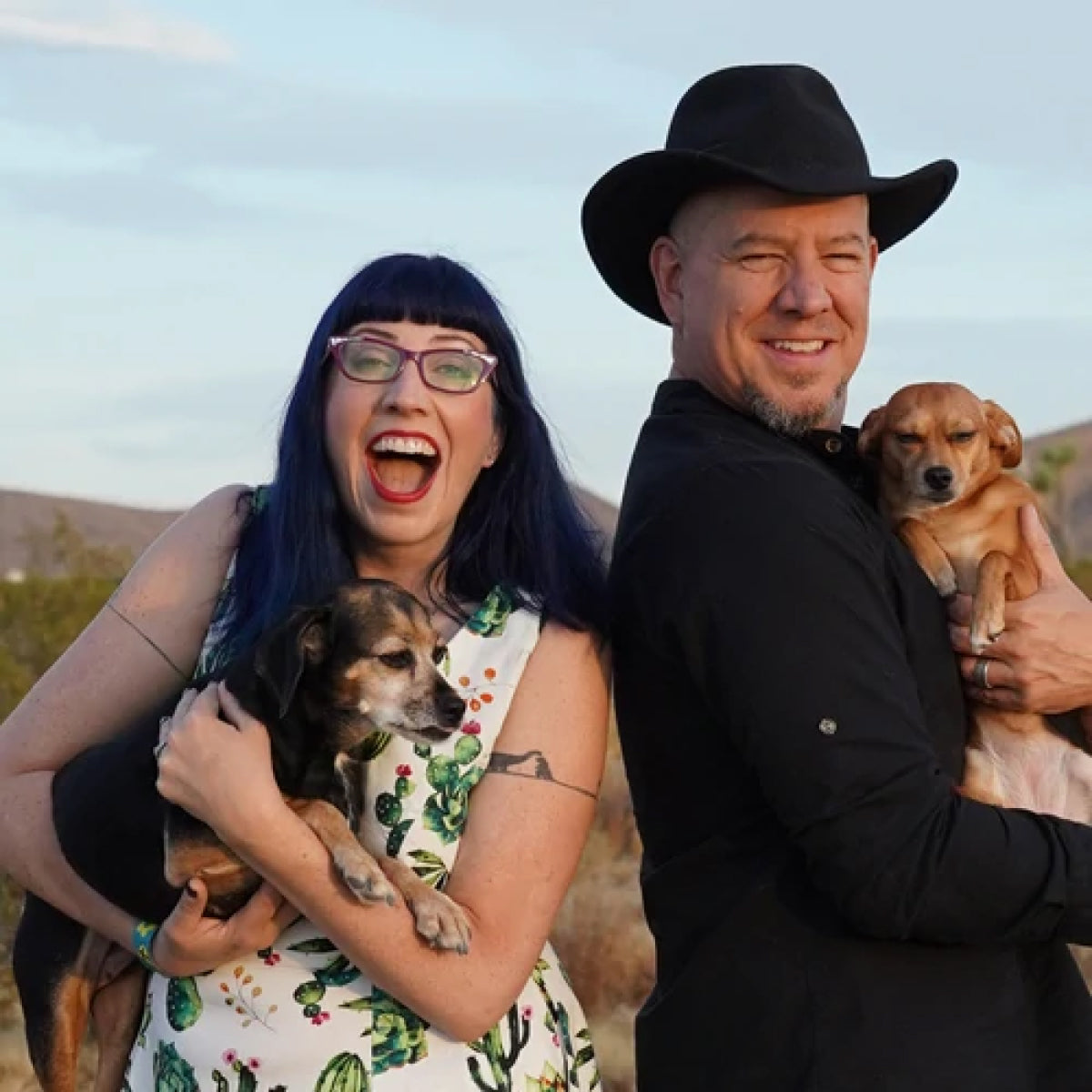 Who are the Outlaws?
We're Danielle & Russ Vincent, and we started Outlaw because we wanted to make a different kind of company.
We believe that good value doesn't mean cheaper, it means better quality, longer lasting, and more enjoyable to use.
We believe that good business practices don't have to be at odds with good social practices.
We believe that people do better when they feel better, and that good scents make people feel better.
We believe that a rising tide lifts all boats. We lift up other businesses every opportunity we get.
We believe that kindness costs nothing, but is worth more than gold.
We believe in the goodness of dogs.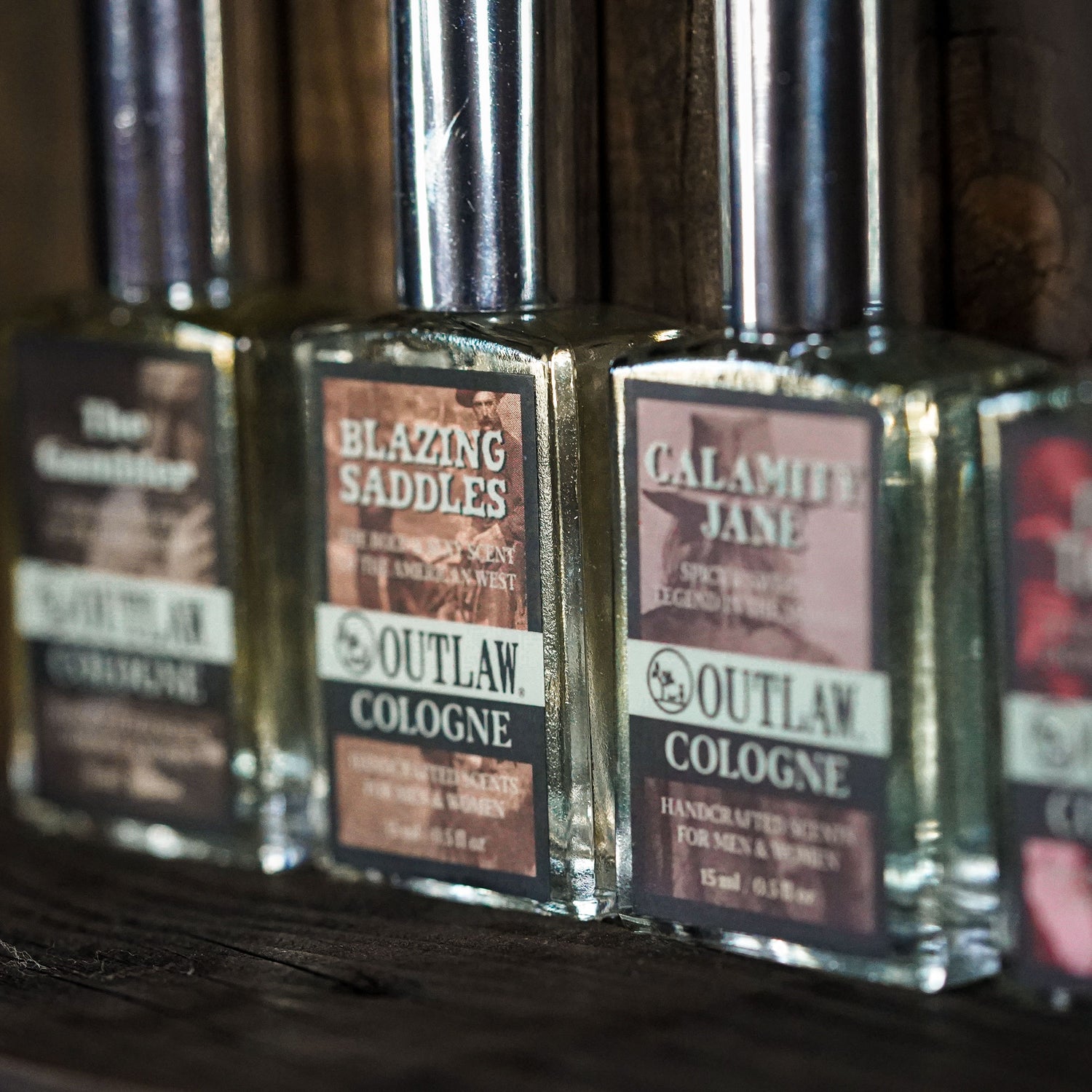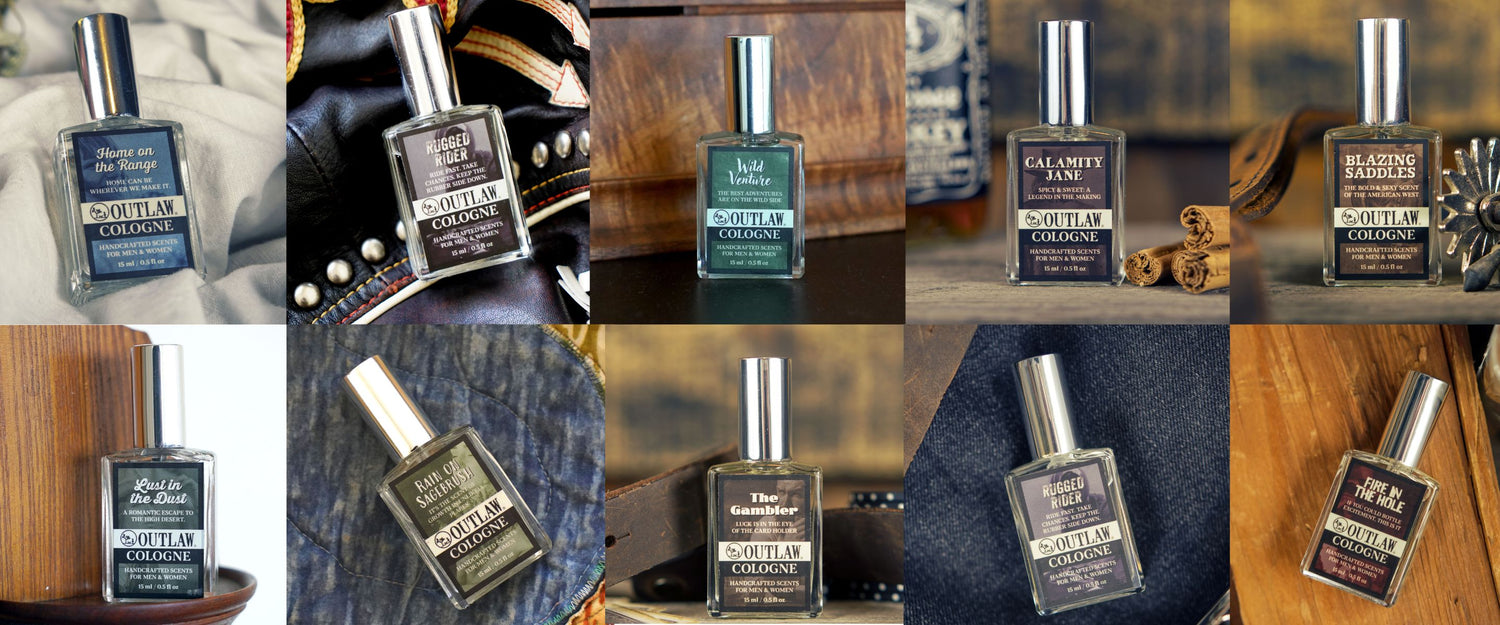 Do you love the smokey smell of campfire? How about the pungent scent of an aged whiskey? How about the peppery musk of gunpowder? Well, if you said hell yes to any of these three scents, then you need to look into the men's care products made by Outlaw.

Choosing a selection results in a full page refresh.