View Details
Show Me
Sale price
$15.00
Regular price
$30.00
Unit price
per
Show Me
Sale price
$15.00
Regular price
$30.00
Unit price
per
Sale
Sold out
You're on the run, and the best place to hide is up the mountain.

Smells of pine trees, pine cones, campfire, and damp earth.
Provides an everyday hideaway from HR's BS.
Like taking a wonderful walk through the woods, but with fewer attack squirrels.
Made with love and laughter (and other natural ingredients).
Cures cabin fever (and no copay!).
Rocky peaks and tree-studded paths smell of freedom and promise. A whiff of campfire on the breeze, the scent of pine, and cool stone clear your head. There's a little wet earth from recent rains...but not enough to leave a trace. When you're on the run from life, the best place to hide is always up the mountain.
Yes, you've reached your hideaway. And here at your mountain refuge, you're free.
All our scents are skin-safe and long-lasting. Because we feel like scent is a personal thing to be shared between you and those literally closest to you, these are subtle scents. They will not overpower a crowded elevator or make you "that guy with all the cologne." They're designed to create an impression, not an impact.
What does this kind of outlaw smell like?

+

-

An Outlaw smells like bold, rugged adventure.
How to use

+

-

Spray on your pulse points and enjoy your amazing life
Ingredients

+

-

Made with Organic Alcohol & Natural and Artificial Fragrance.
Shipping & Returns

+

-

Most orders ship within a few business days and arrive within 5 business days. Situations outside of our control sometimes interfere, but we do our absolute best.

If you don't love what you ordered, please reach out to us and we'll either replace your product for free, or we'll give you a refund. If your items cost more than $100, we will issue a return label.
View full details
Mountain Hideout is wonderful
I love the way it smells.
Great scent, wish it lasted longer
I love all of the scents I've purchased. They smell incredible but they just don't last very long.
TOP FLIGHT STUFF!!!!!
Being a proud cologneaholic, I'm skeptical of anything not considered a "classic" cologne. No problem. This is very much a CLASSIC cologne! Unlike anything I own -- in a good way! Fresh, well-balanced, long-lasting but not overwhealming, distinctive and relaxing, all at the same time! Pine, smoke, and maybe something in the neighborhood of hazelnut, giving it an outdoorsy vibe that makes me want to go outside and enjoy the experience of being there. Bottom line, this cologne is in my top five, which, given how many colognes I own, is really saying something. Buy it while you can!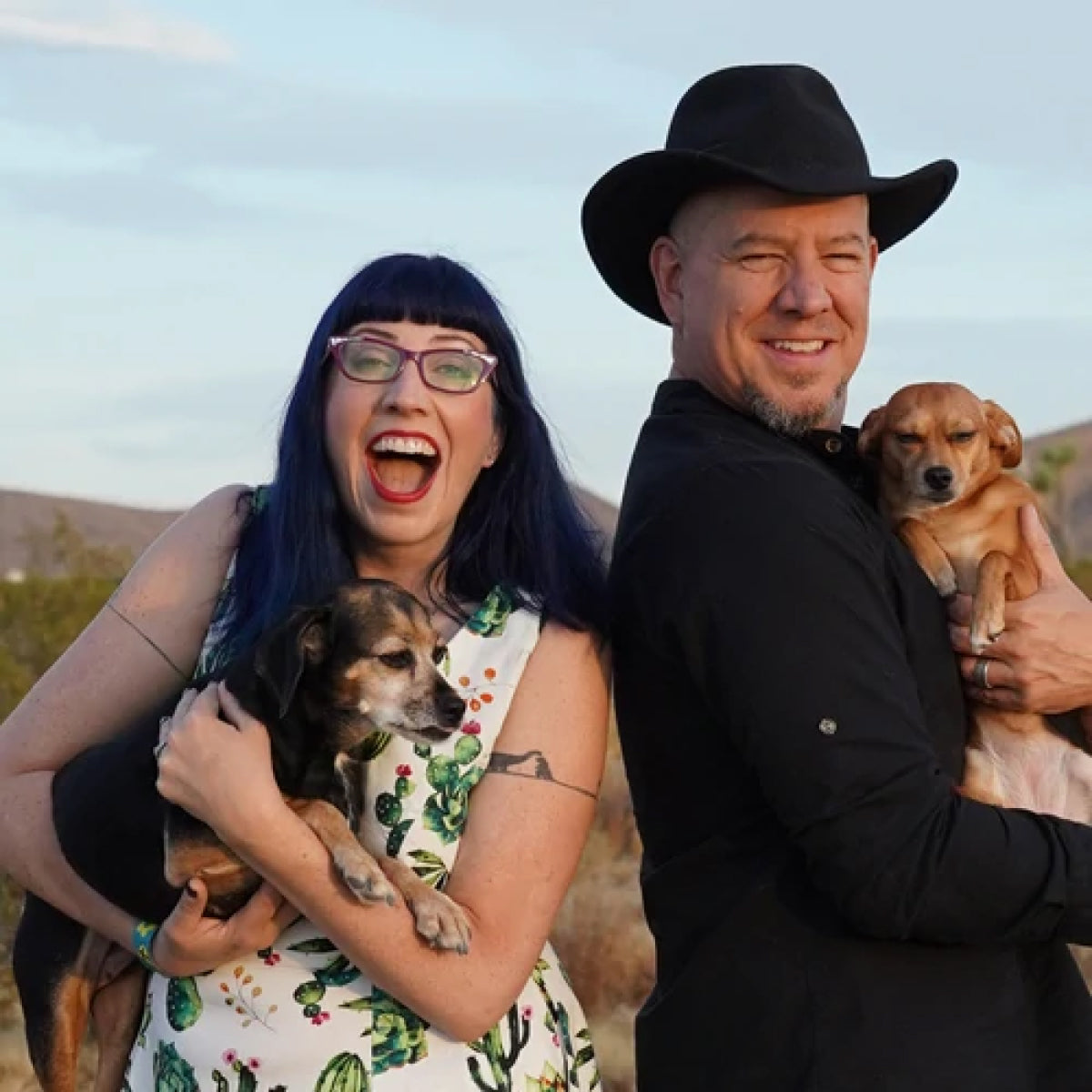 Who are the Outlaws?
We're Danielle & Russ Vincent, and we started Outlaw because we wanted to make a different kind of company.
We believe that good value doesn't mean cheaper, it means better quality, longer lasting, and more enjoyable to use.
We believe that good business practices don't have to be at odds with good social practices.
We believe that people do better when they feel better, and that good scents make people feel better.
We believe that a rising tide lifts all boats. We lift up other businesses every opportunity we get.
We believe that kindness costs nothing, but is worth more than gold.
We believe in the goodness of dogs.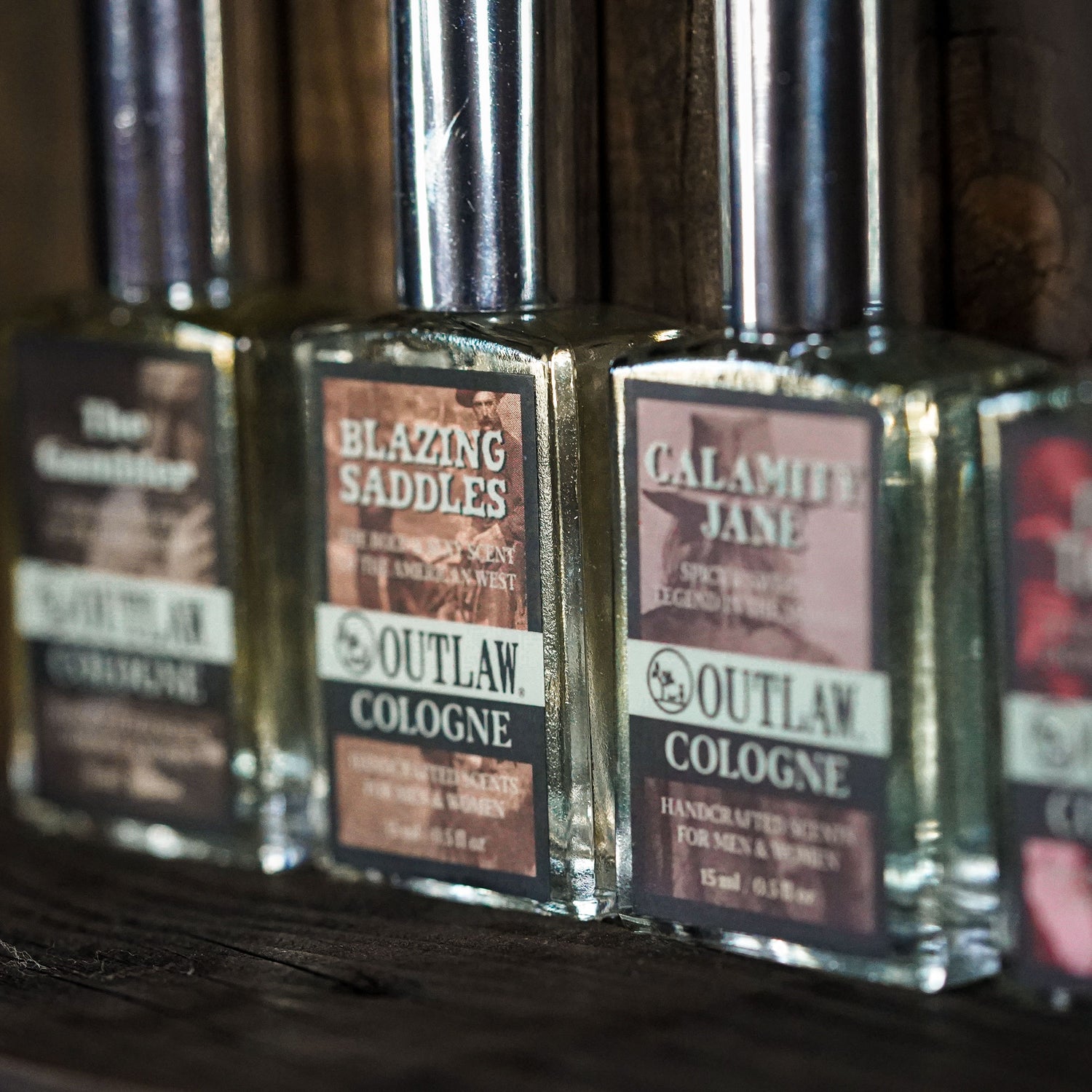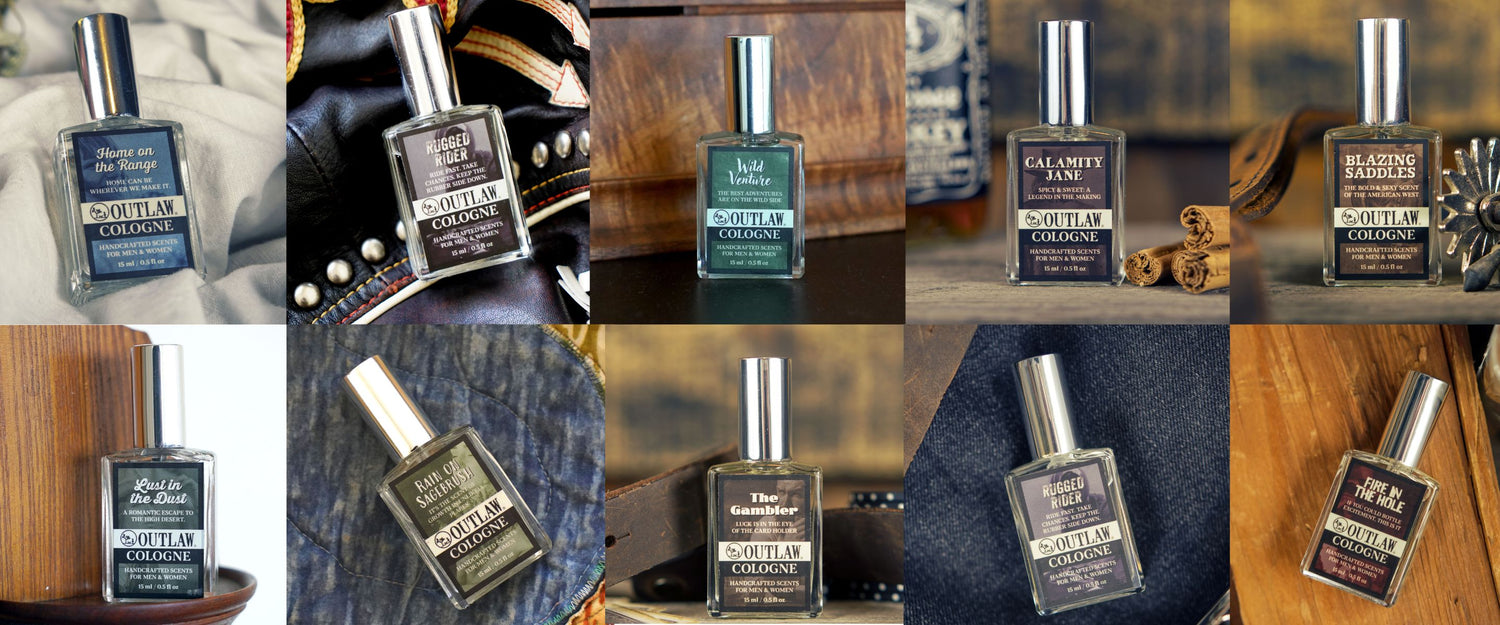 Do you love the smokey smell of campfire? How about the pungent scent of an aged whiskey? How about the peppery musk of gunpowder? Well, if you said hell yes to any of these three scents, then you need to look into the men's care products made by Outlaw.

Choosing a selection results in a full page refresh.