A little smoky, a little sweet. Just right.
View Details
Show Me
Sale price
$15.00
Regular price
Unit price
per
Show Me
Sale price
$15.00
Regular price
Unit price
per
Sale
Sold out
The desert Western romance everywhere you go.
Smells of desert sage, sandalwood, and a lightly smoky campfire.
In a super convenient, on the go tin that you can throw in yer pocket and bring everywhere you go.
Made with love and laughter (and all-vegan oils.)

Feels like a journey through the desert to a sultry oasis rendezvous.
It's going to be a hot day. You're taking advantage of the cool morning air to get miles between you and the last town. No one travels across the Mojave after eleven o'clock, not even the US Marshal.

The breeze is already warming up, carrying the desert's heat with it. The next town may be a good place to stop.

The hotel is a fancy number, but you've got plenty of cash. As you walk in, you feel the manager's eyes on you. It's your old flame from home, all grown up and in this middle-of-nowhere desert town. The heat between you rivals the sun rising outside. You set down your saddlebags.
It's time to come clean.
.25 OZ of sagebrush-y joy
What does this kind of outlaw smell like?

+

-

An Outlaw smells like bold, rugged adventure.
How to use

+

-

Each sample is its own wonderous experience of a shifting blend of adventurous scents. We recommend that you use each for one day (so you don't get too far away from the first ones) and then order your favorite immediately!
Ingredients

+

-

0.25 oz - Castor Seed Oil (Ricinus Communis), Organic Coconut Oil (Cocos Nucifera), Yellow Beeswax, Organic Jojoba Seed Oil (Simmondsia Chinensis), Fragrance
Shipping & Returns

+

-

Most orders ship within a few business days and arrive within 5 business days. Situations outside of our control sometimes interfere, but we do our absolute best.

If you don't love what you ordered, please reach out to us and we'll either replace your product for free, or we'll give you a refund. If your items cost more than $100, we will issue a return label.
View full details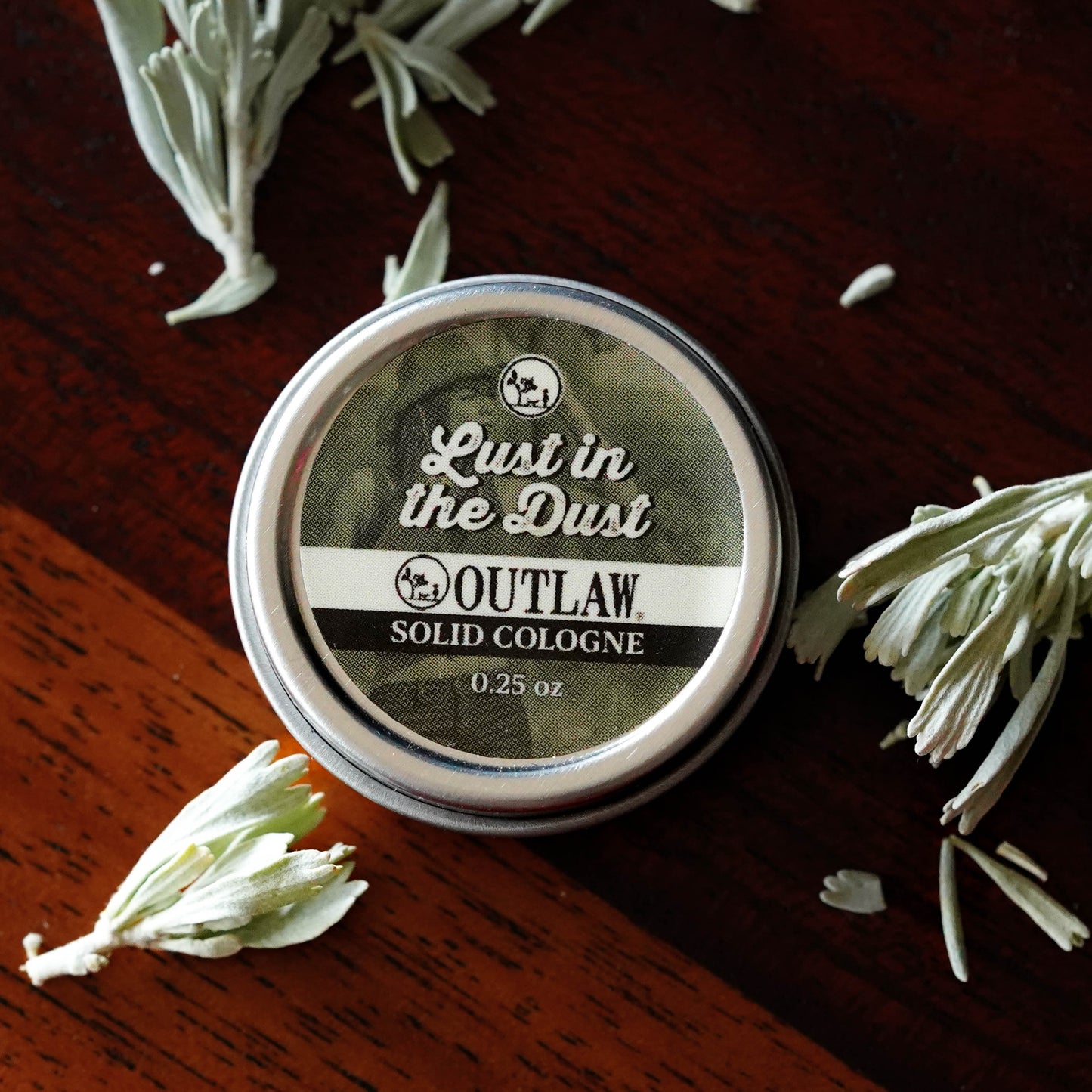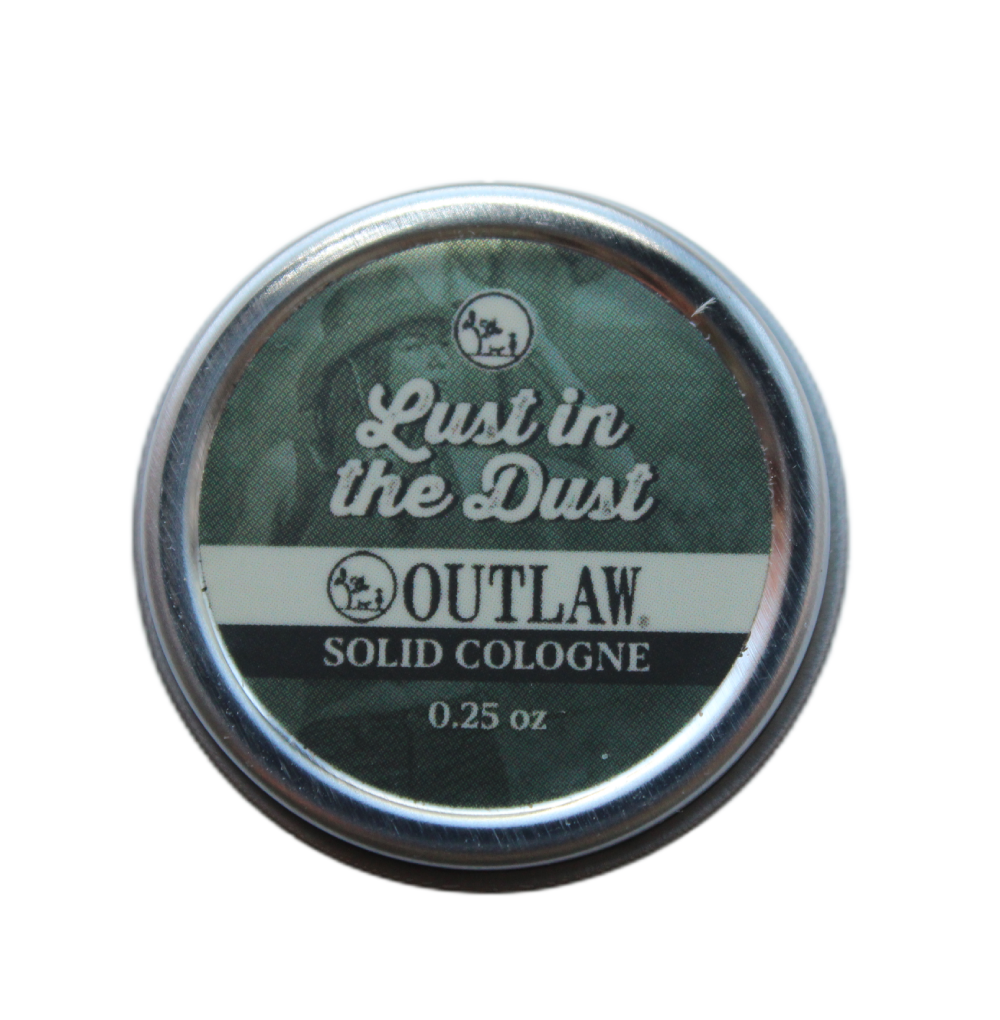 "My grandson rec'd his order and said "I like it...its cool grandma"...!!! Enuf said!!!" — Dollie

"I really enjoy the way this solid cologne instantly brings back happy thoughts of chillin' with my family and friends around a campfire on a cool night with a cold beer in hand while sharing stories." — Steve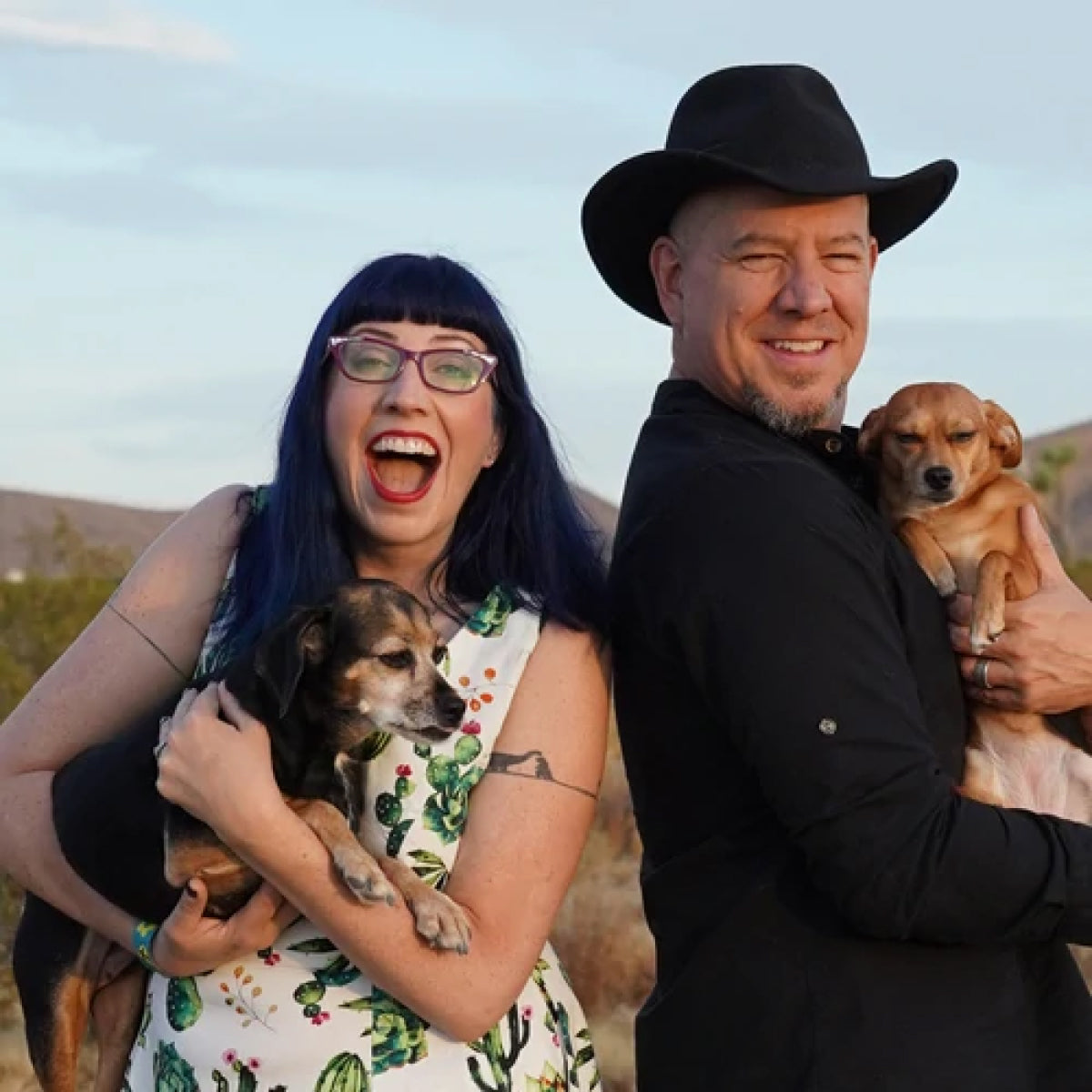 Who are the Outlaws?
We're Danielle & Russ Vincent, and we started Outlaw because we wanted to make a different kind of company.
We believe that good value doesn't mean cheaper, it means better quality, longer lasting, and more enjoyable to use.
We believe that good business practices don't have to be at odds with good social practices.
We believe that people do better when they feel better, and that good scents make people feel better.
We believe that a rising tide lifts all boats. We lift up other businesses every opportunity we get.
We believe that kindness costs nothing, but is worth more than gold.
We believe in the goodness of dogs.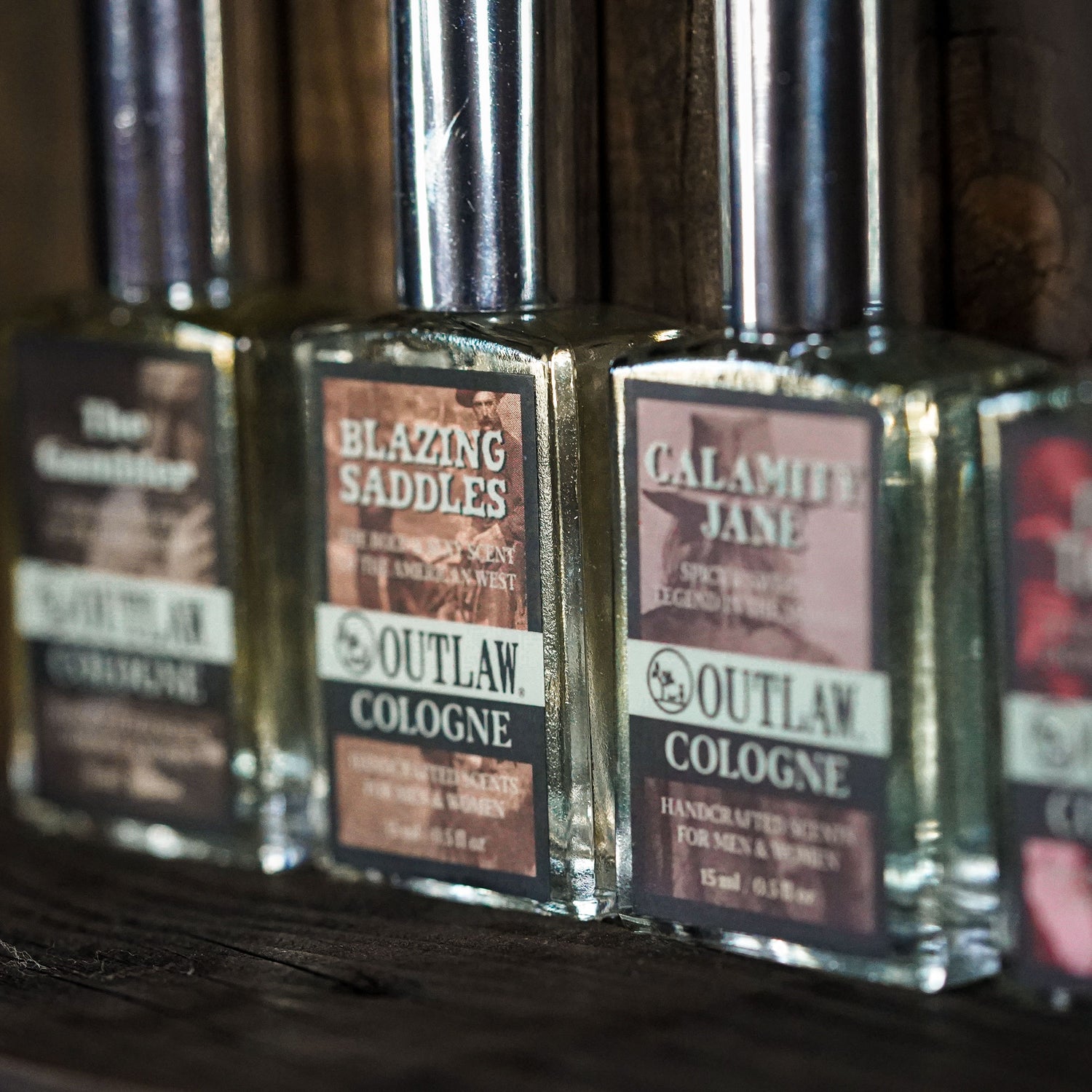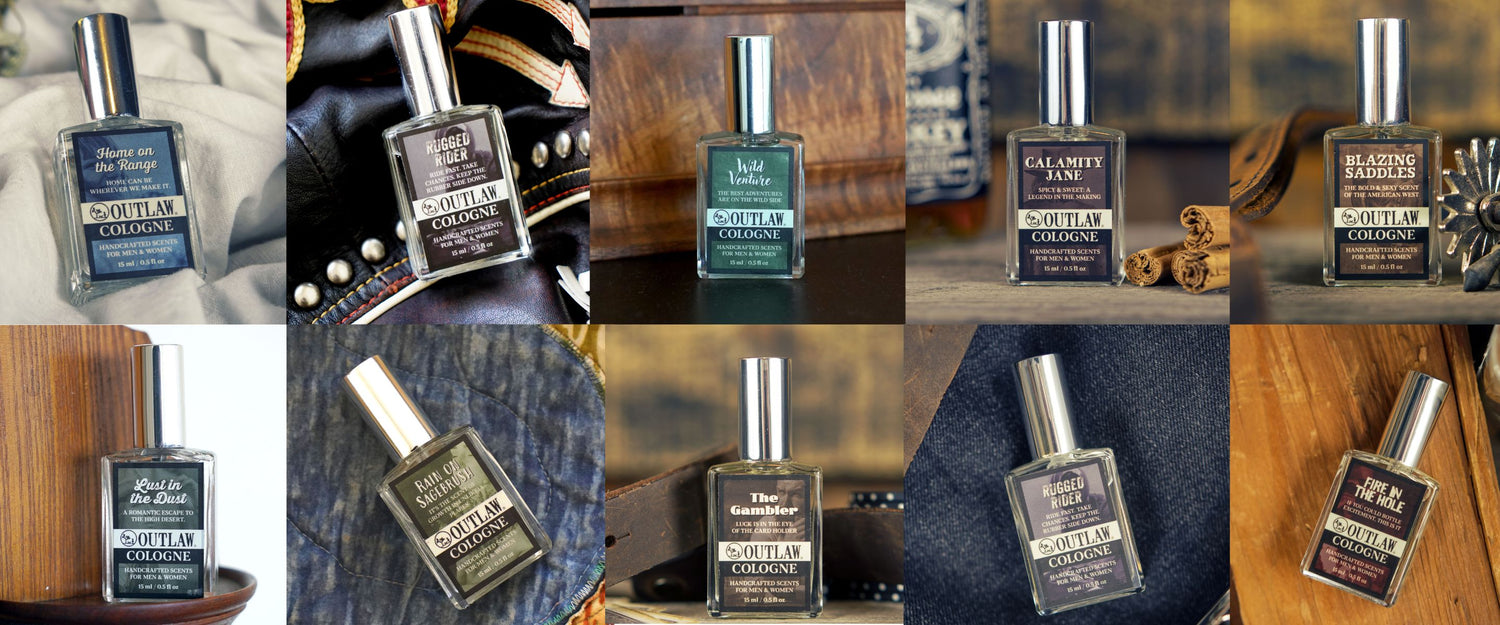 Do you love the smokey smell of campfire? How about the pungent scent of an aged whiskey? How about the peppery musk of gunpowder? Well, if you said hell yes to any of these three scents, then you need to look into the men's care products made by Outlaw.

Choosing a selection results in a full page refresh.