The Mojave Romance in your Shower
View Details
Show Me
$8.50
Sale price
$8.50
Regular price
Unit price
per
Show Me
$8.50
Sale price
$8.50
Regular price
Unit price
per
Sale
Sold out
"My wife loves the way I smell after a hot shower with Lust in the Dust. Nothing brings her closer, quicker than after a nice lathering with this soap." - Charles B, Thief of Hearts
Escape to the breathtakingly glorious high desert romance with Lust in the Dust Handmade Soap. You'll find yourself enveloped in the embrace of the Mojave with every sniff.
What does it smell like? If you could somehow capture the high desert breezes, rich with the scent of sagebrush and sandalwood, and blend it with feelings of open-hearted love, you'd approach the scent of this soap.
What is this soap? It's a bar of cold process, handmade soap made from sustainably produced natural oils, natural colors, and a blend of natural and lab-made scents. We crafted it from basic ingredients, cut the bars, cured them for 30 days, and then boxed them for your delight.
Is it amazing? It is the best soap you've ever used, or your money back. We made this delightfully rich and deeply-scented satin of suds to bring your best things in life to an elevated shower experience!
Outlaw cold-process, handmade, natural soap is handcrafted in Sparks, Nevada using vegan, cruelty-free, ethically sourced oils. We've picked special oils for exactly the right amount of lather and moisturizingness (is that a word? it is now!). This makes Outlaw soap both delightfully sudsy in the shower and silky smooth after the shower.
4ish oz of this cold process, natural, handmade soap lasts a few weeks (depending on your body hair).
What does this kind of outlaw smell like?

+

-

If you could somehow capture the high desert breezes, rich with the scent of sagebrush and sandalwood, and blend it with feelings of open-hearted love, you'd approach the feeling of being enveloped in Lust in the Dust.
How to use

+

-

Work yourself into a lather. No, really! That's how you use it! These handmade soaps are specifically designed to produce a fun, bounteous lather, while also having a stable lather worthy of shaving. And they're gentle enough to use in your hair!
Ingredients

+

-

Cocos Nucifera (Coconut) Oil, Water, Olea Europaea (Olive) Fruit Oil, Persea Gratissima (Avocado) Oil, Sodium Hydroxide, Ricinus Communis (Castor) Seed Oil, Fragrance (Parfum), Natural Color.
Shipping & Returns

+

-

Most orders ship within a few business days and arrive within 5 business days. Situations outside of our control sometimes interfere, but we do our absolute best.

If you don't love what you ordered, please reach out to us and we'll either replace your product for free, or we'll give you a refund. If your items cost more than $100, we will issue a return label.
View full details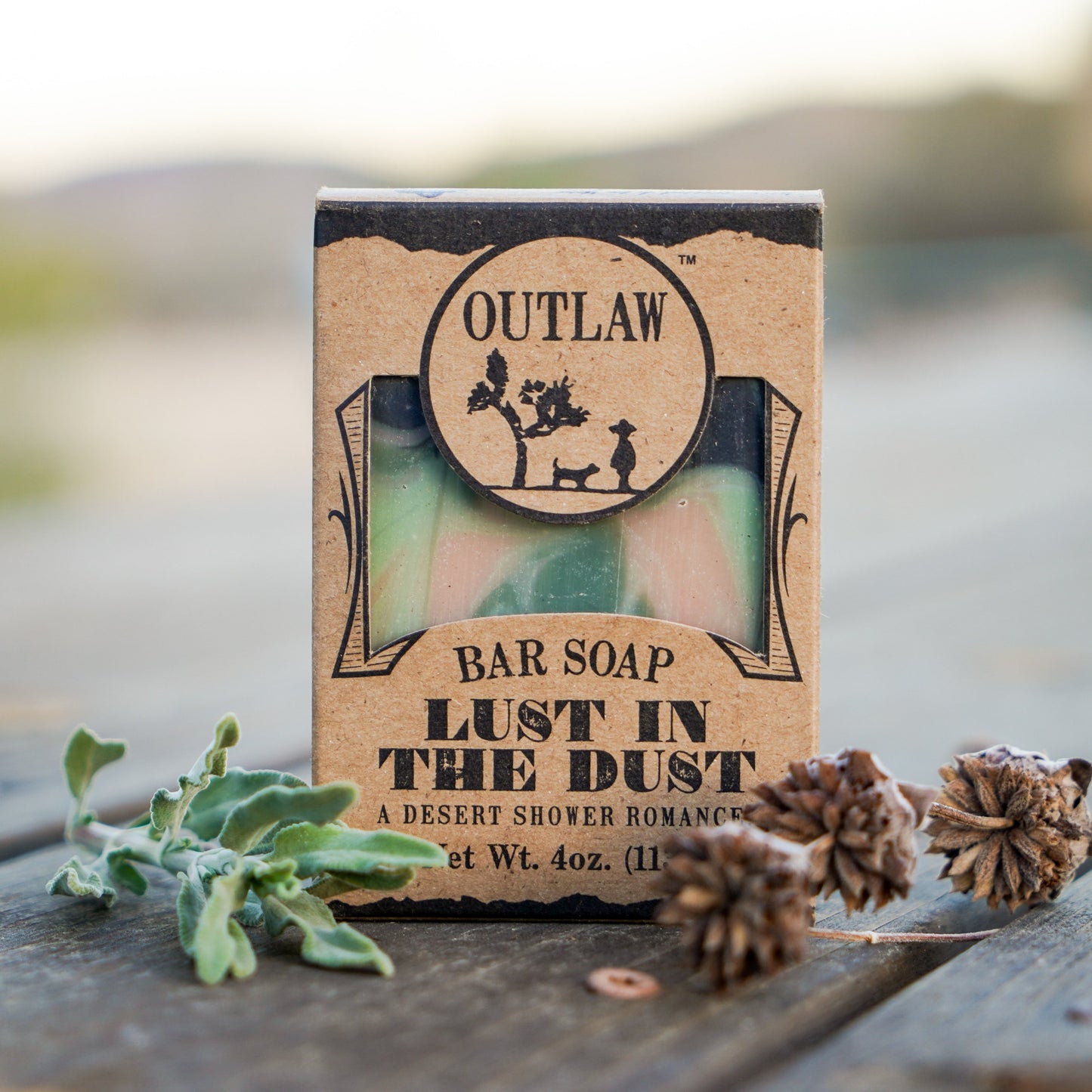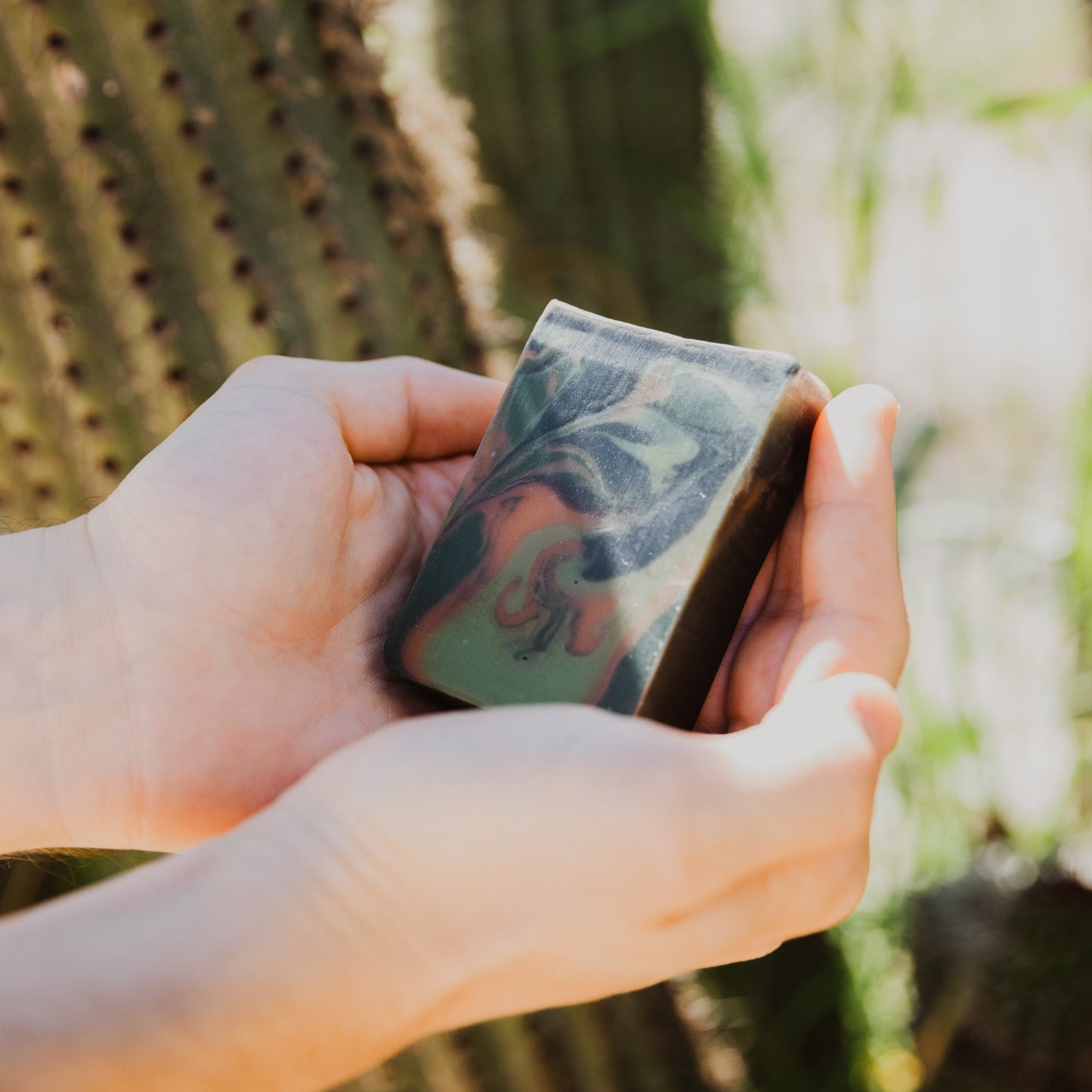 Just can't get enough of these soaps!
Love the soaps! Hoping for shaving cream and after shaves in these scents.
I love the smell of sagebrush, so took a chance on this. I smelt it as soon as I opened the mailbox and was very happy with my purchase. I have several soaps, but this one is my favorite right now. It's refreshing, relaxing, and puts me in a good mood. I use it after stressful days when I need a little olfactory therapy session. I'll be buying the cologne and beard oil soon. Would be nice as an air freshener and/or deodorant, too.
Lust in the Dust is Magick
I've been using Outlaw's Lust in the Dust hand made soap for quite a while now. It leaves my skin clean without drying me out. The scent is light and refreshing. I buy several bars at once and store them in my drawers, where they subtly scent my clothes. Also gives the soap a bit more curing time. And recyclable packaging that's made from recycled material to boot! Customer for life as long as I can get this scent.
Lust in the Dust is Magick
My all time favorite scent, I have Lust in the Dust soap, body lotion, hair oil and cologne. I smell fresh and wild. My witch friends love it. I'm not a flowers or food person when it comes to scents. I love the herbals, and Lust in the Dust fills that purpose. I stock up on the handmade soap well in advance of need, and store it in my chest of drawers letting the soap continue to cure, and also scent my clothing. My skin feels clean and never dried out, my hair is glossy and my curls are soft and smell wonderful. I have even used the beard/hair oil on my face and skin during this last oddly dry winter. The scent is soft and never overpowering, and suits my can't smell me unless in hug distance. But I can always sniff my arm or shoulder and rise the magick of sage and sandalwood.
Lust in Better in The Dust!!
I LOVE my Outlaw soap fragrances, the way they lather up, and just the overall Experience you get in the bath or shower while bathing with Outlaw products!! The Lust in the Dust leaves me refreshed and ready for my day! If you think they smell good in the box, just Wait til you are enveloped in a luxurious lather that feels as fresh as a spring day! I feel so much better about what I'm using on my body, because I Trust The Outlaws to deliver a great product! I'm an Outlaw for Life!
The only way I can describe this scent is that it smells like the inside of a home depot but like... in a sexy way. Anyway I love it😆
Oh No
Got two bars. Lust in the Dust and Home on the Range. I sure wish I liked them but I wouldn't use these if they were the last bars of soap on earth. I don't feel comfortable giving them away either as they smell bad....bad enough to make me and the wife nauseous. We pinned it down to mothballs and toilet cleaner. I don't understand how anyone would want to smell like this. It's extremely unpleasant.
"The lust in the dust is good quality soap and the outlaws know about customer service." — Travis

"To begin with, Lust in the Dust is gorgeous to look at. The scent transports me to the desert Southwest, earthy and sensual. Love it!" — Sharon

"The lust in the dust soap bar not only looks appealing, the scent it has is so refreshing and different. I've recently been using bar soap more and this one is the most unique." — Shane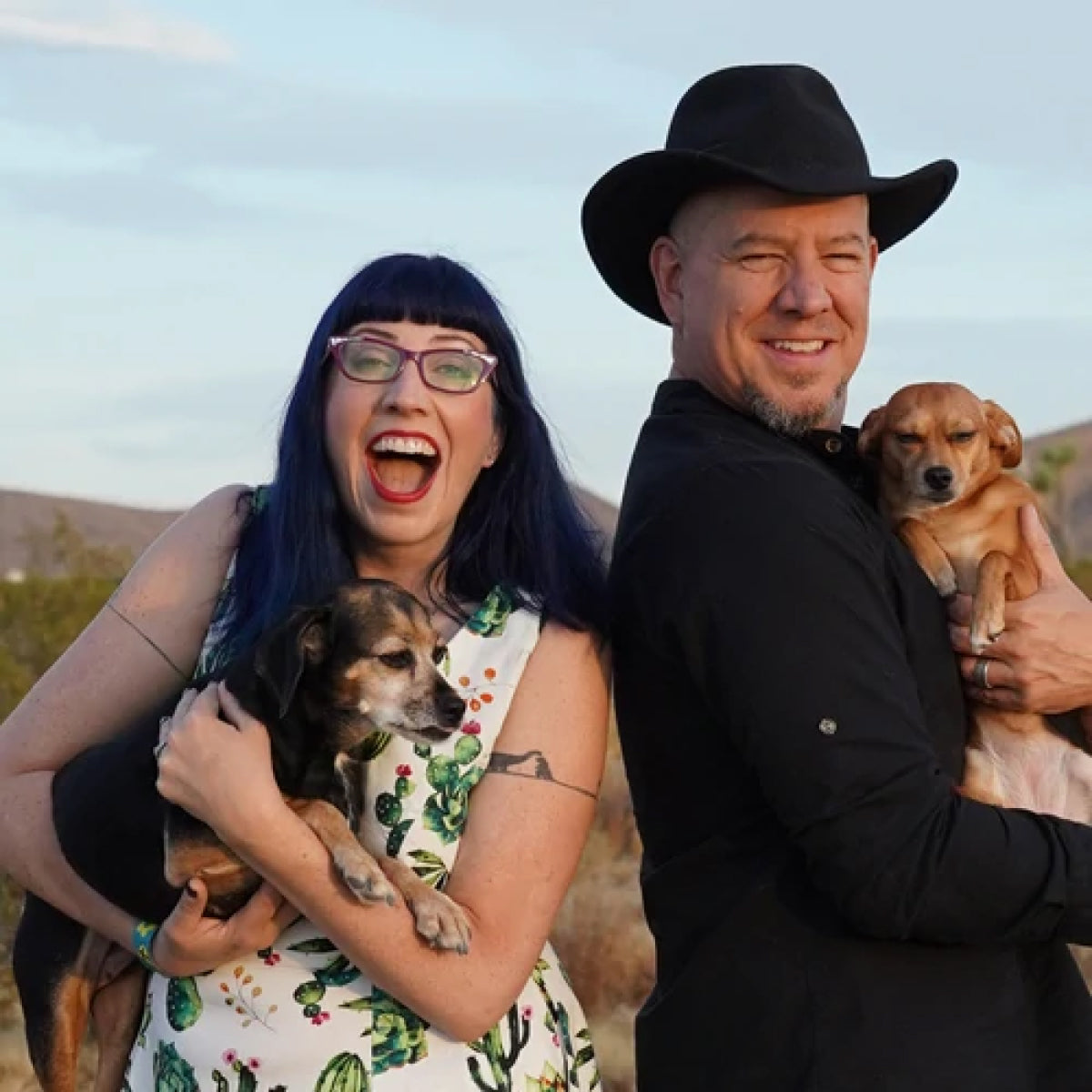 Who are the Outlaws?
We're Danielle & Russ Vincent, and we started Outlaw because we wanted to make a different kind of company.
We believe that good value doesn't mean cheaper, it means better quality, longer lasting, and more enjoyable to use.
We believe that good business practices don't have to be at odds with good social practices.
We believe that people do better when they feel better, and that good scents make people feel better.
We believe that a rising tide lifts all boats. We lift up other businesses every opportunity we get.
We believe that kindness costs nothing, but is worth more than gold.
We believe in the goodness of dogs.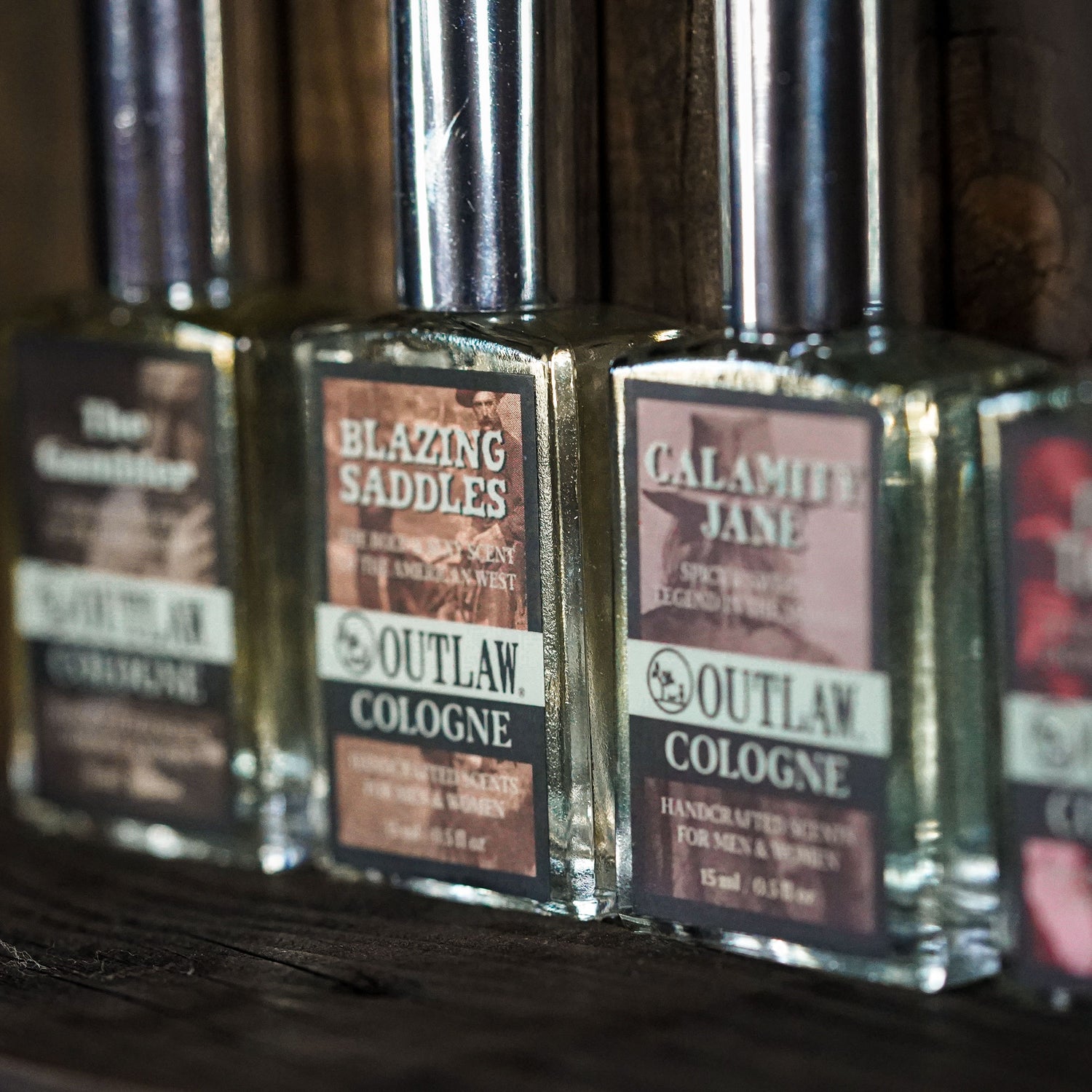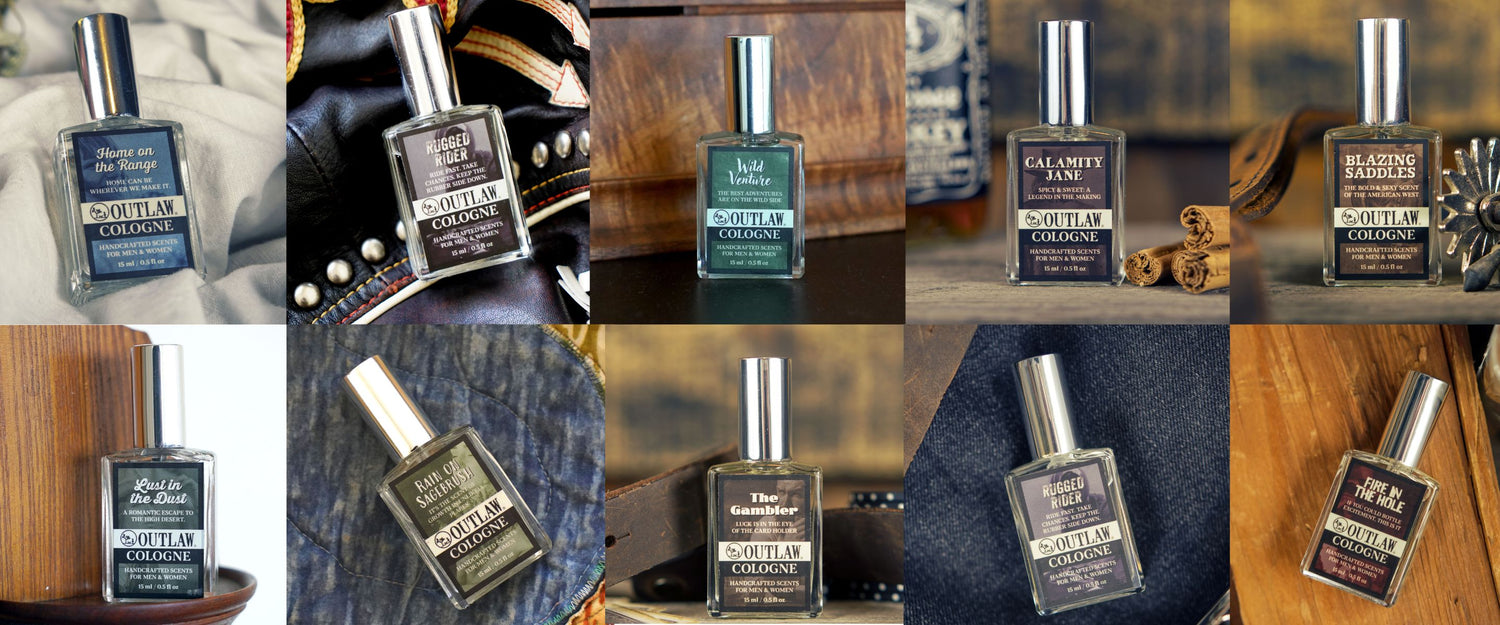 Do you love the smokey smell of campfire? How about the pungent scent of an aged whiskey? How about the peppery musk of gunpowder? Well, if you said hell yes to any of these three scents, then you need to look into the men's care products made by Outlaw.

Choosing a selection results in a full page refresh.