The Mojave Romance in your Shower
View Details
Show Me
Sale price
$6.75
Regular price
$9.00
Unit price
per
Show Me
Sale price
$6.75
Regular price
$9.00
Unit price
per
Sale
Sold out
Due to a production error, we under-poured some bars of our beloved Lust in the Dust Handmade Soap. Our mistake is your victory! While supplies last, get these slightly underweight bars for a mere $6.75!
What does it smell like? If you could somehow capture the high desert breezes, rich with the scent of sagebrush and sandalwood, and blend it with feelings of open-hearted love, you'd approach the scent of this soap.
What is this soap? It's a bar of cold process, handmade soap made from sustainably produced natural oils, natural colors, and a blend of natural and lab-made scents. We crafted it from basic ingredients, cut the bars, cured them for 30 days, and then boxed them for your delight.
Is it amazing? It is the best soap you've ever used, or your money back. We made this delightfully rich and deeply-scented satin of suds to bring your best things in life to an elevated shower experience!
Outlaw cold-process, handmade, natural soap is handcrafted in Sparks, Nevada using vegan, cruelty-free, ethically sourced oils. We've picked special oils for exactly the right amount of lather and moisturizingness (is that a word? it is now!). This makes Outlaw soap both delightfully sudsy in the shower and silky smooth after the shower.
4ish oz of this cold process, natural, handmade soap lasts a few weeks (depending on your body hair).
What does this kind of outlaw smell like?

+

-

If you could somehow capture the high desert breezes, rich with the scent of sagebrush and sandalwood, and blend it with feelings of open-hearted love, you'd approach the feeling of being enveloped in Lust in the Dust.
How to use

+

-

Trust your instincts. You're wiser than you've been led to believe.
Ingredients

+

-

A mix of natural and artificial ingredients.
Shipping & Returns

+

-

Most orders ship within a few business days and arrive within 5 business days. Situations outside of our control sometimes interfere, but we do our absolute best.

If you don't love what you ordered, please reach out to us and we'll either replace your product for free, or we'll give you a refund. If your items cost more than $100, we will issue a return label.
View full details
No misleading information, the scent described is exactly what I felt when I used this soap. Lust in the Dust is truly… aromatic!
"The lust in the dust is good quality soap and the outlaws know about customer service." — Travis

"To begin with, Lust in the Dust is gorgeous to look at. The scent transports me to the desert Southwest, earthy and sensual. Love it!" — Sharon

"The lust in the dust soap bar not only looks appealing, the scent it has is so refreshing and different. I've recently been using bar soap more and this one is the most unique." — Shane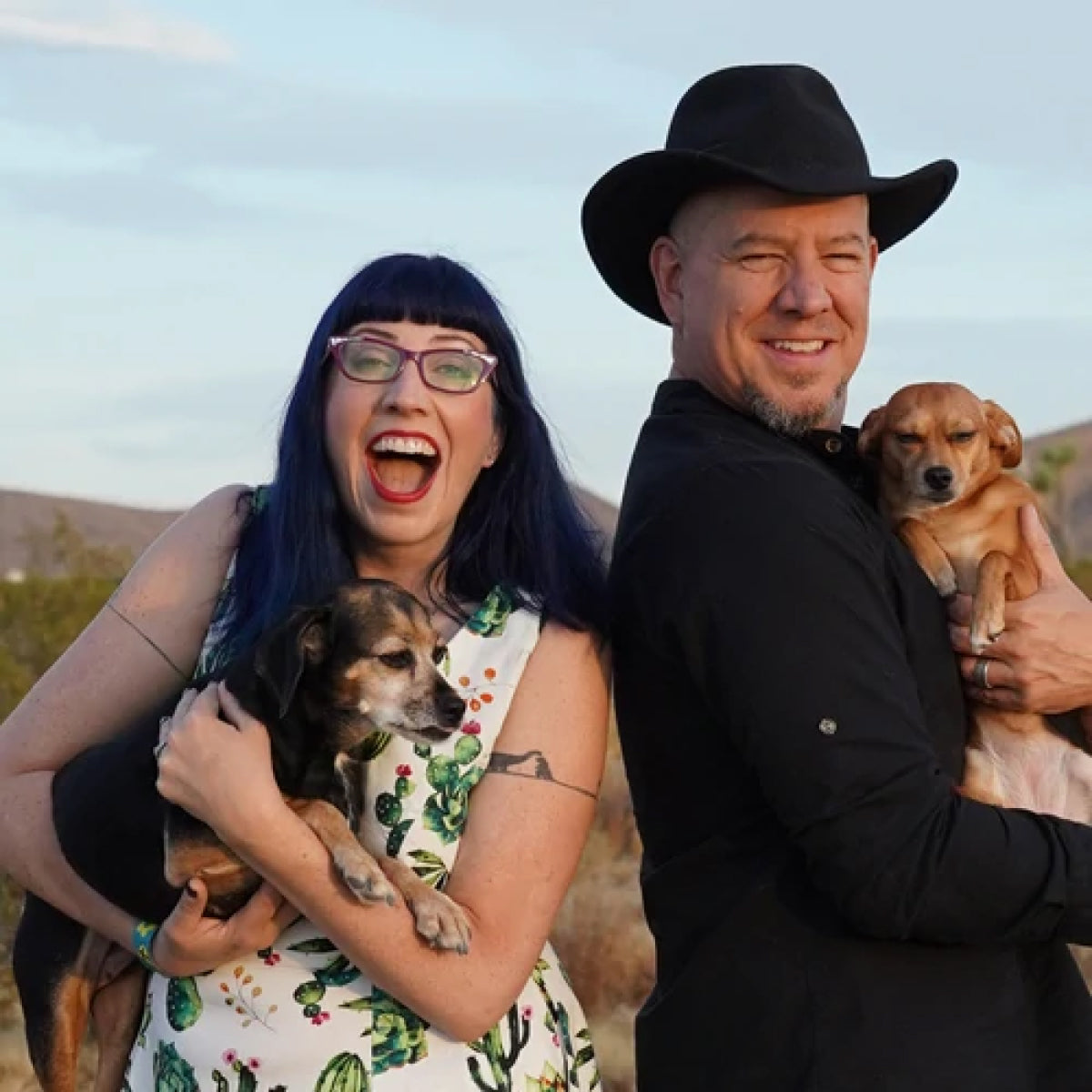 Who are the Outlaws?
We're Danielle & Russ Vincent, and we started Outlaw because we wanted to make a different kind of company.
We believe that good value doesn't mean cheaper, it means better quality, longer lasting, and more enjoyable to use.
We believe that good business practices don't have to be at odds with good social practices.
We believe that people do better when they feel better, and that good scents make people feel better.
We believe that a rising tide lifts all boats. We lift up other businesses every opportunity we get.
We believe that kindness costs nothing, but is worth more than gold.
We believe in the goodness of dogs.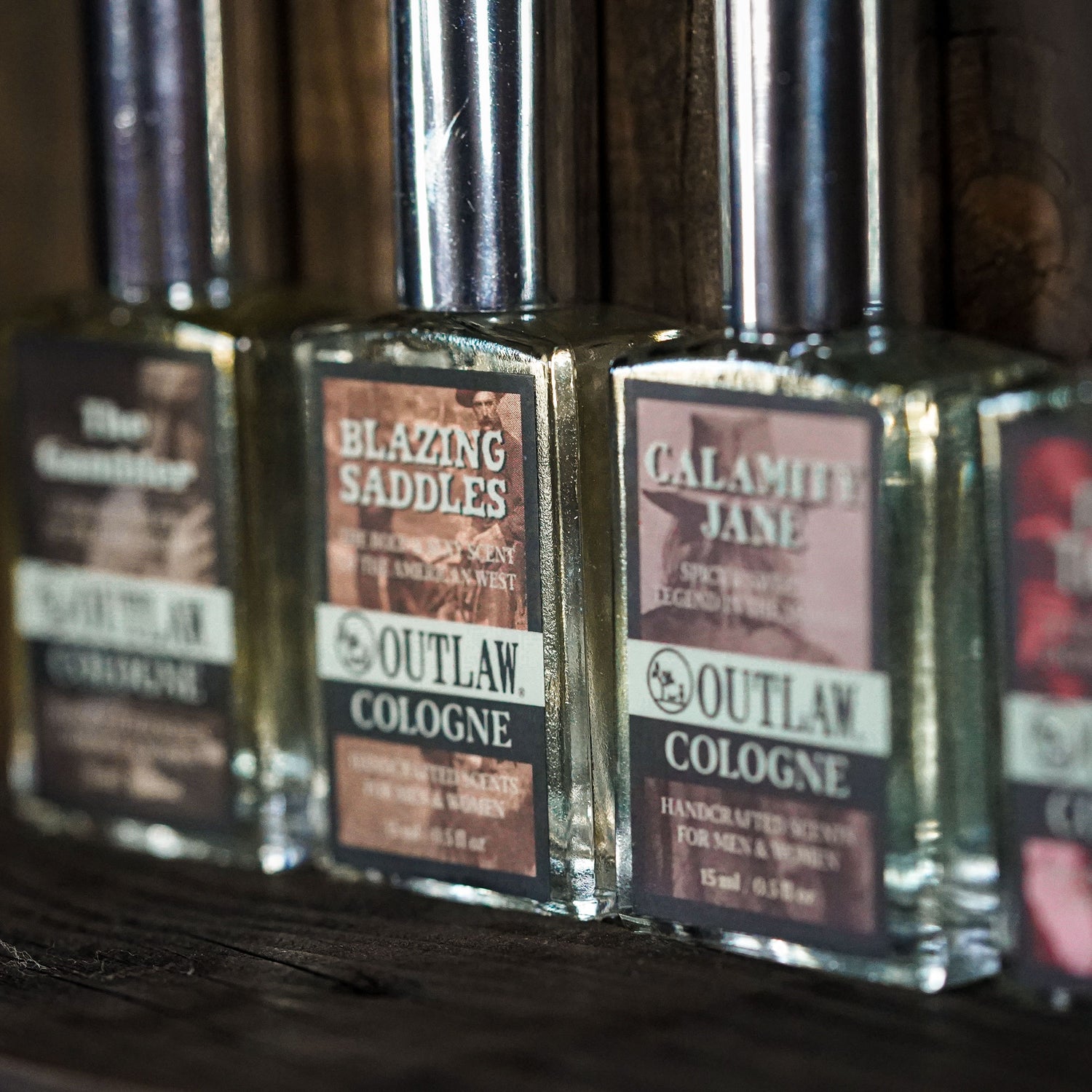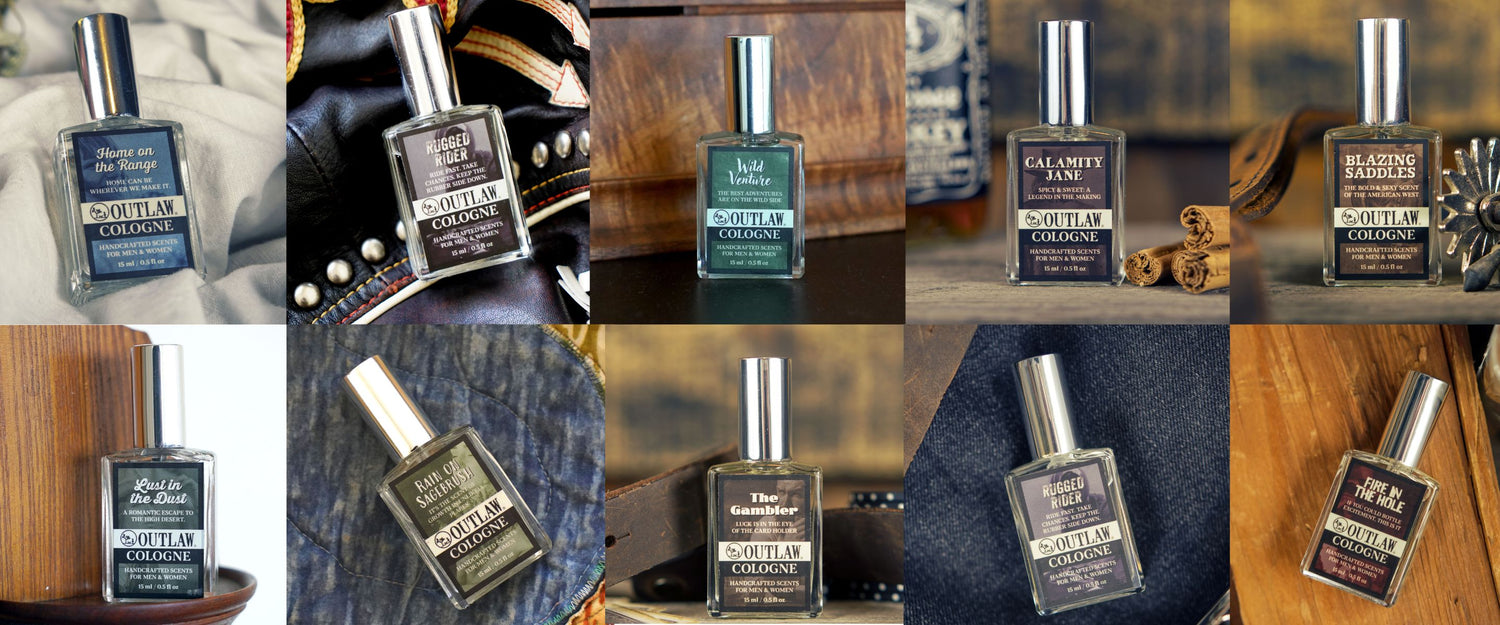 Do you love the smokey smell of campfire? How about the pungent scent of an aged whiskey? How about the peppery musk of gunpowder? Well, if you said hell yes to any of these three scents, then you need to look into the men's care products made by Outlaw.

Choosing a selection results in a full page refresh.