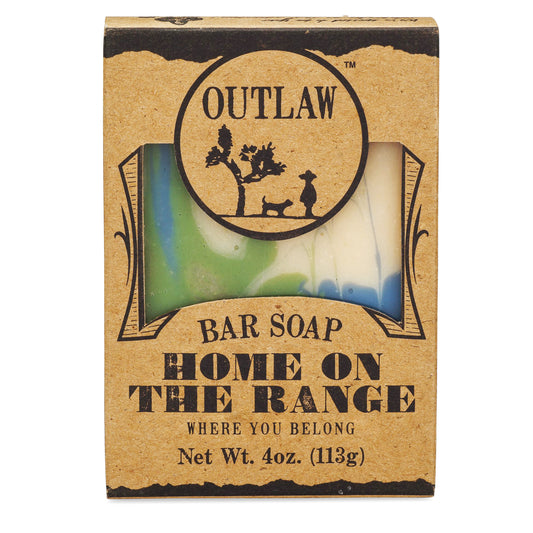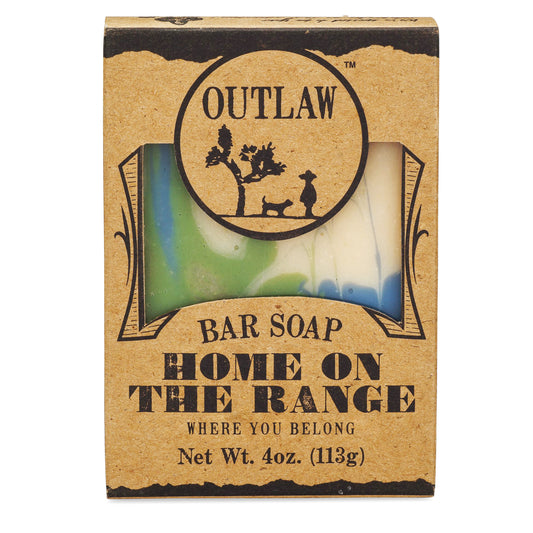 The Fresh Scent of Happiness & Summer Vacation
View Details
Show Me
$12.00
Sale price
From

$12.00
Regular price
Unit price
per
Show Me
$12.00
Sale price
$12.00
Regular price
Unit price
per
Sale
Sold out
"This bar smells exactly as described! It smells so fresh and feels so good on your skin. It leaves you feeling amazing and the scent on your skin lasts for hours! One of my favorite bar soaps I've ever used and I cannot recommend it enough!" - The Sudsy R, Clearly a Soap Expert
There's no place like home... until now. Your boots in the grass. A light breeze guides you on your way. And yet there's nowhere in particular to be. The comforting scent of laundry wafts across the yard. You're picking blackberries so ripe they fall off the vine into your hand.
What does it smell like? Home on the Range soap smells like happiness, sunshine, and nothing wrong in the world. It's sweet and fresh, with the scents of fresh-cut grass, blackberries, and line-fresh laundry.
What is this soap? This cold process, handmade soap is made from scratch using natural oils, natural colors, and a blend of natural and lab-made scents. It's packaged in a delightful, recyclable box you'll read in the bathroom (assuming you're one of those "read packaging in the bathroom" people).
Is it amazing? YES!!! It's a satin of suds for your shower that transcends all explanation (though we do our best)! This is the best darn bar of soap you've used or your money back.
If you long for a summer vacation, no matter what the season, it's no further than the nearest shower.
4ish oz of this cold process, natural, handmade soap lasts a few weeks (depending on your body hair).
Breaking all records of shower-filled enjoyment can be your personal victory for a mere $0.47/day, or just 0.0002380952381% of the cost of a single thoroughbred horse.
All of our soaps are handmade and, as a result, may have some minor cosmetic and weight differences.
What does this kind of outlaw smell like?

+

-

Bright and fresh, Home on the Range will bring happiness and peace to your world. All is right when you're home with Home on the Range. It smells like laundry hanging in the sunshine, freshly mown grass, and ripe blackberries.
How to use

+

-

Work yourself into a lather. No, really! That's how you use it! These handmade soaps are specifically designed to produce a fun, bounteous lather, while also having a stable lather worthy of shaving. And they're gentle enough to use in your hair!
Ingredients

+

-

Cocos Nucifera (Coconut) Oil, Water, Olea Europaea (Olive) Fruit Oil, Persea Gratissima (Avocado) Oil, Sodium Hydroxide, Ricinus Communis (Castor) Seed Oil, Fragrance (Parfum), Natural Color.
Shipping & Returns

+

-

Most orders ship within a few business days and arrive within 5 business days. Situations outside of our control sometimes interfere, but we do our absolute best.

If you don't love what you ordered, please reach out to us and we'll either replace your product for free, or we'll give you a refund. If your items cost more than $100, we will issue a return label.
View full details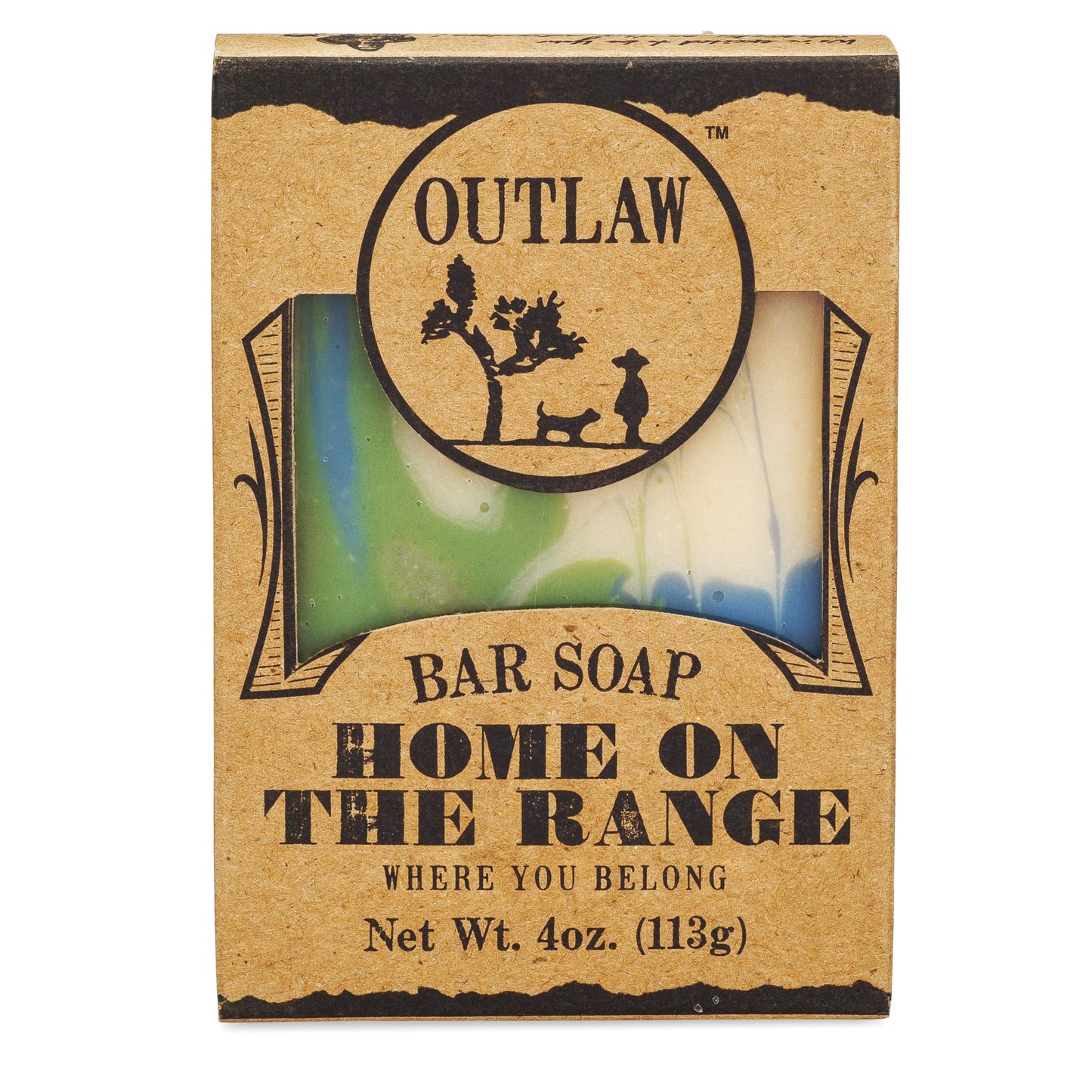 Girlfriend loves this one and her Calamity Jane bar.
Smells like dessert
But don't eat it...The Lotion,which is sold out,is what sold me on getting this.It so sweet smelling that I want to eat it.
I'm obsessed with this soap
Every scent I've tried has been delicious. Calamity Jane is my favorite, Blazing Saddles is a close second, and I adore the Life on the Mountain seasonals. They're all luxurious and smooth on my skin. I'm an Outlaw for life!
Unexpected Romance
I'll admit this is not something I would have chosen to order, but I got it in a sample box and well, it was love at first shower. The scent is easily one of the most invigorating and yet soothing of the whole Outlaw line up. Whether it's setting the tone for an incredible day full of opportunity in the morning or settling down in the evening, it's heavenly.
This is what I want to smell like after a shower!
I'm not good with scent notes. I just know if something smells good to me or not. This soap smells like clean. That's the only way I can describe it. Pure clean. This is exactly how I want to smell, like I just stepped out of the shower whether I did or not. Layered with the lotion the scent lasts for hours. Since I shower at night, this is perfect because I can still smell the scent on my skin as I drift off to sleep.
Awesome
It smells amazing. Definitely is one of my favorite soaps. Makes your skin feel smooth.
Ladies love it
I keep it next to the sink next to hair of the dog so ladies have something to use and they live it
"I delight in the freshness and summery air experience of this lovely soap." — Susan

"This soap is exactly like the description - smells like fresh laundry and berries. This is one of my favorites - so nice in the morning - a good wake-me-up soap." — Roberta

"I'm a huge fan of clean laundry, and of fresh blueberries, so as soon as I read the description of this soap, I knew it'd be the right one for me." — Chris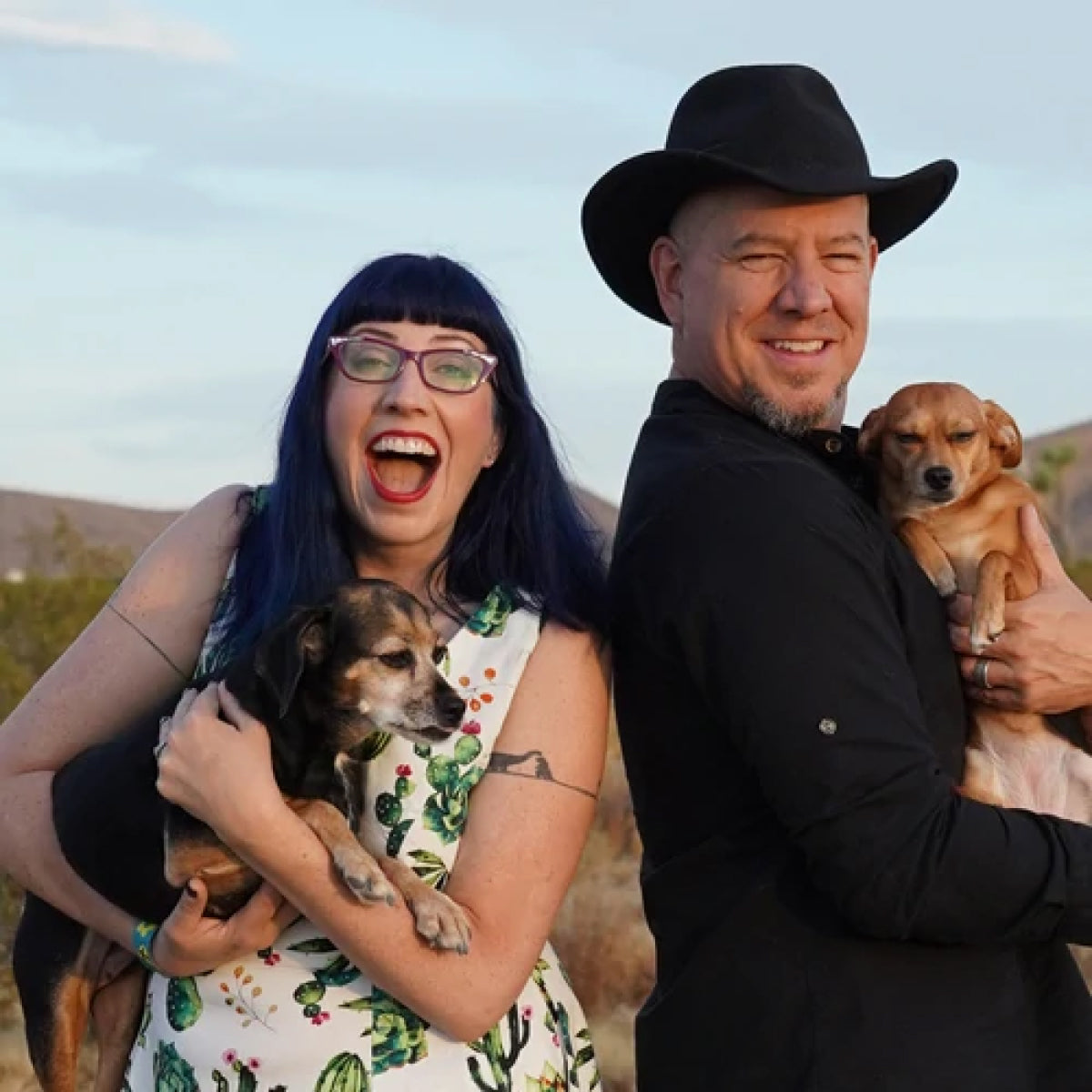 Who are the Outlaws?
We're Danielle & Russ Vincent, and we started Outlaw because we wanted to make a different kind of company.
We believe that good value doesn't mean cheaper, it means better quality, longer lasting, and more enjoyable to use.
We believe that good business practices don't have to be at odds with good social practices.
We believe that people do better when they feel better, and that good scents make people feel better.
We believe that a rising tide lifts all boats. We lift up other businesses every opportunity we get.
We believe that kindness costs nothing, but is worth more than gold.
We believe in the goodness of dogs.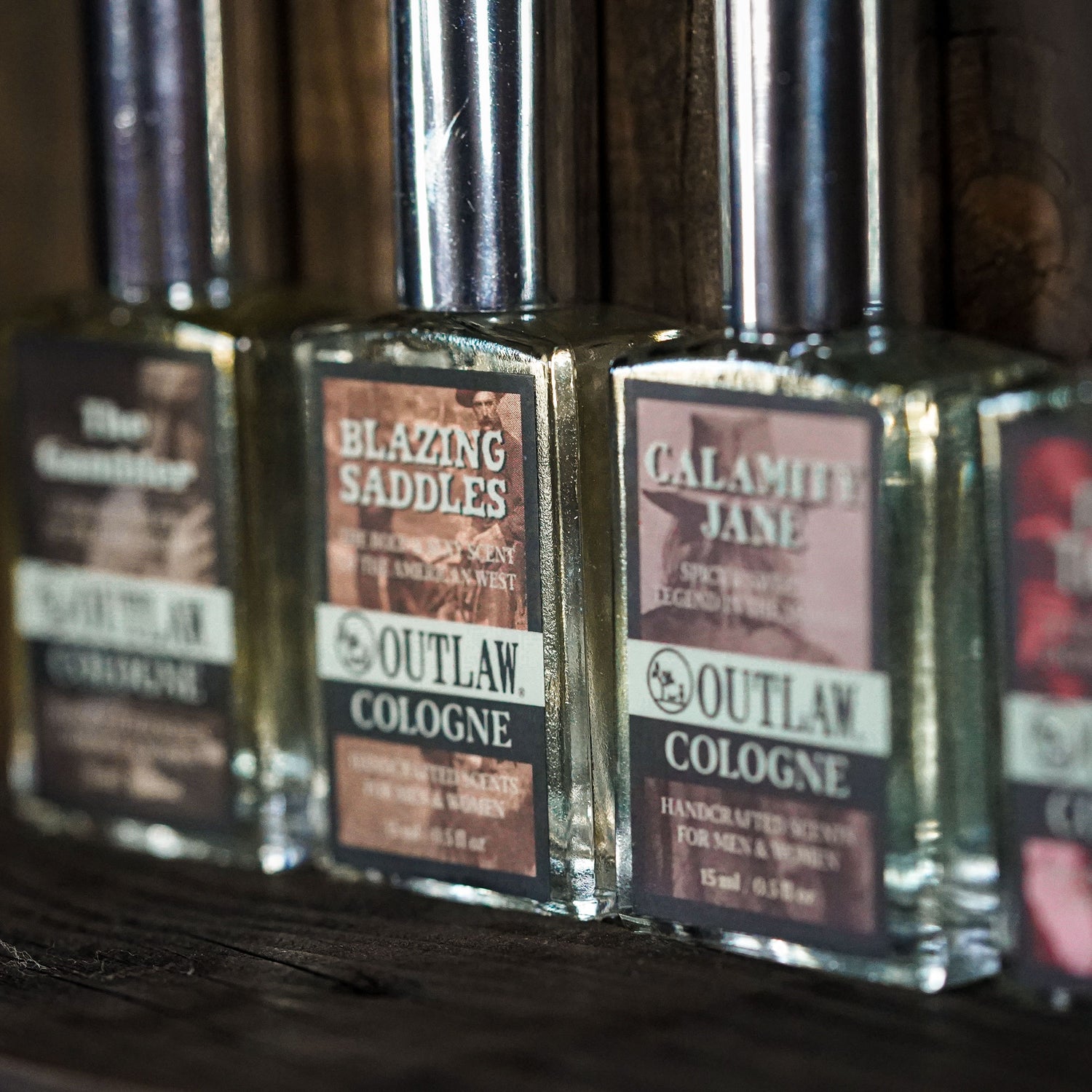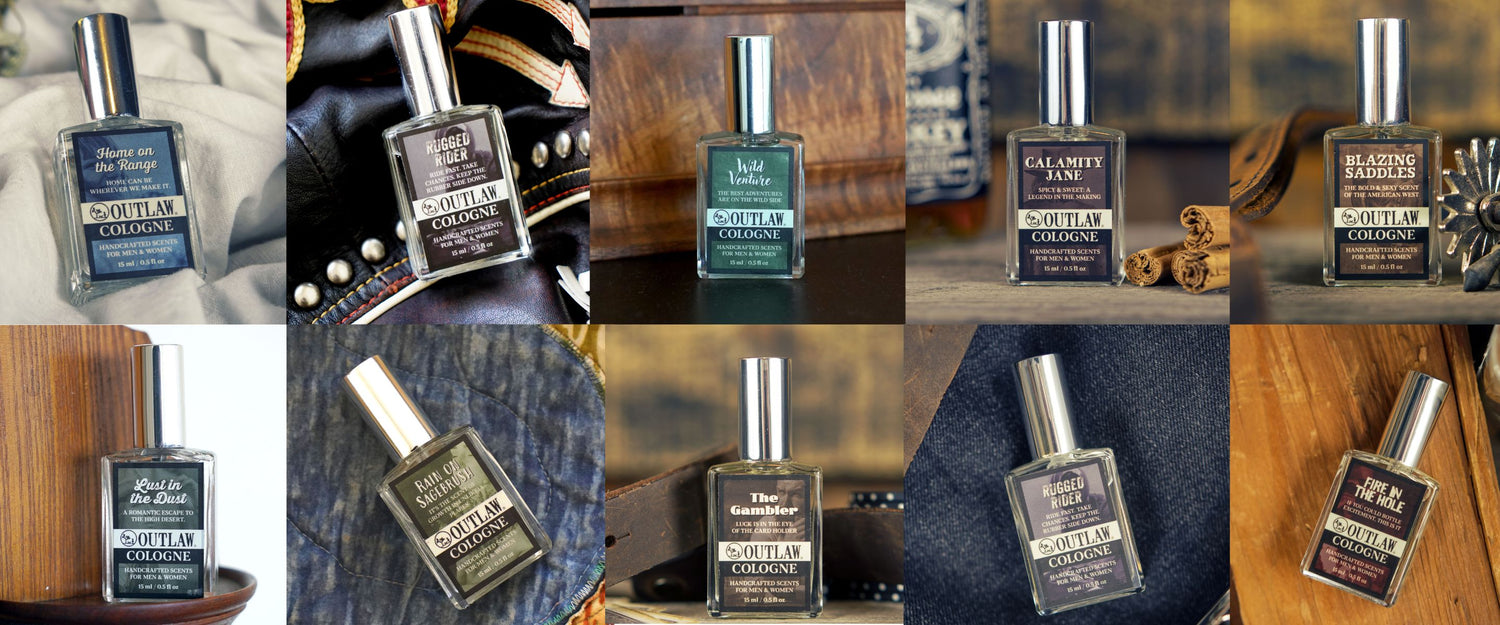 Do you love the smokey smell of campfire? How about the pungent scent of an aged whiskey? How about the peppery musk of gunpowder? Well, if you said hell yes to any of these three scents, then you need to look into the men's care products made by Outlaw.

Choosing a selection results in a full page refresh.