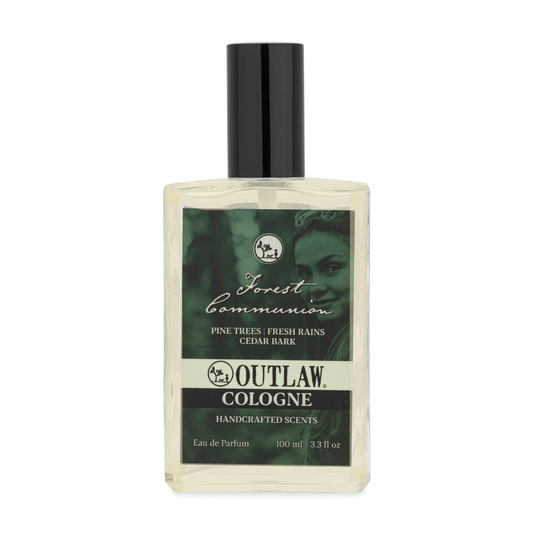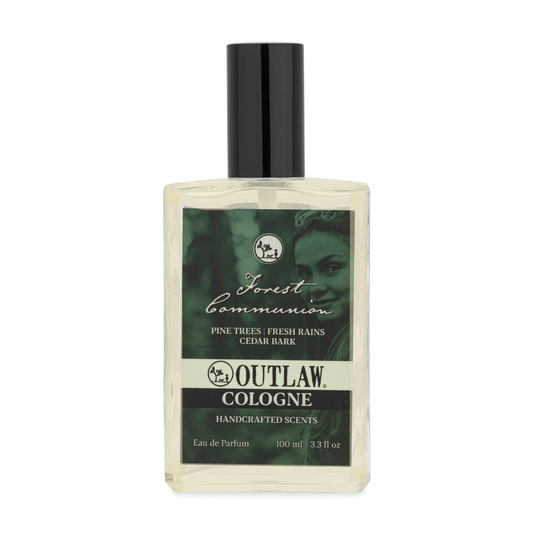 The most worthwhile adventures are on the wild side!
View Details
Show Me
Sale price
$65.00
Regular price
$70.00
Unit price
per
Show Me
Sale price
$65.00
Regular price
$70.00
Unit price
per
Sale
Sold out
When you're in the forest, you're among friends

On the trail, the trees are bending over you in a canopy. Are they are talking about you?
You get the feeling they're enjoying communion over your presence in the forest. The pine needles on the trail make a crunching sound under your feet. It feels like they were dropped to cushion your steps.
You hear them whispering. Sometimes the breeze gets stronger, and you almost hear sighs of laughter. They're glad you're here. They wonder what you're thinking. You should tell them.
Because you're among

our friends
Take a leisurely walk through the trees with the scents of pine, cedar bark, and recent rains.
Outlaw scents are skin-safe and long-lasting. Because scent is a personal thing to be shared between you and those closest to you, Outlaw cologne will not overpower a crowded elevator or make you "that guy with all the cologne." They're designed to create an impression, not an impact.
What does this kind of outlaw smell like?

+

-

A wild adventure, and we are all eager for you to EMBARK!
How to use

+

-

Spray on your pulse points and enjoy your amazing life. WARNING: don't spray in yer eyes like a darn fool
Ingredients

+

-

Made with Organic Alcohol & Natural and Artificial Fragrance.
Shipping & Returns

+

-

Most orders ship within a few business days and arrive within 5 business days. Situations outside of our control sometimes interfere, but we do our absolute best.

If you don't love what you ordered, please reach out to us and we'll either replace your product for free, or we'll give you a refund. If your items cost more than $100, we will issue a return label.
View full details
Holy pine trees Batman!!
This cologne is one of my favorites from outlaw. They all are honestly ,but pine smells hold a special place in my soul ,and oh lord does this one deliver. The cedar pops at first spray and marries well with the pine and fresh rain as it dries and evolves throughout the day. It's like strolling through a forest on a cool fall day as the leaves barely show signs of colors changing.
Amazing scent
So I'm in agreement with the other review they need to keep this one. Some of the others have been less than spectacular in my opinion. So this and the mountain hideout have been my two absolute favorites
PLEASE never stop making this!!!!!
Ok....I bought this for myself but my husband keeps using it. He says "yep, this is perfect, this is exactly what I want to smell like, this is exactly what I want...." so, today I'm buying him his own bottle! Forest Communion is deep woods perfection. Like I wandered far into a wet forest to cut down the biggest pine I see and it happens to fall onto several cedar saplings.
I want everything I own to smell like this!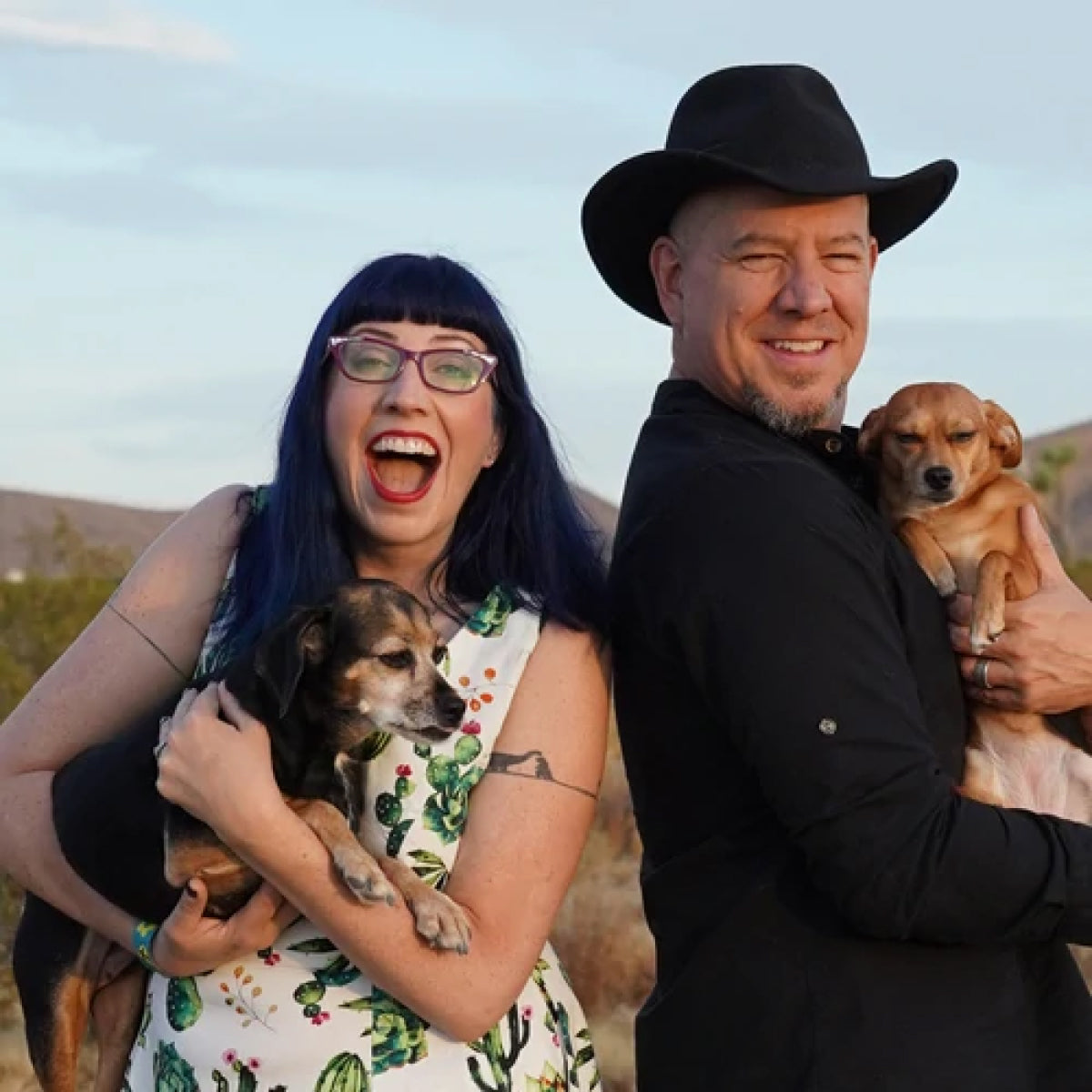 Who are the Outlaws?
We're Danielle & Russ Vincent, and we started Outlaw because we wanted to make a different kind of company.
We believe that good value doesn't mean cheaper, it means better quality, longer lasting, and more enjoyable to use.
We believe that good business practices don't have to be at odds with good social practices.
We believe that people do better when they feel better, and that good scents make people feel better.
We believe that a rising tide lifts all boats. We lift up other businesses every opportunity we get.
We believe that kindness costs nothing, but is worth more than gold.
We believe in the goodness of dogs.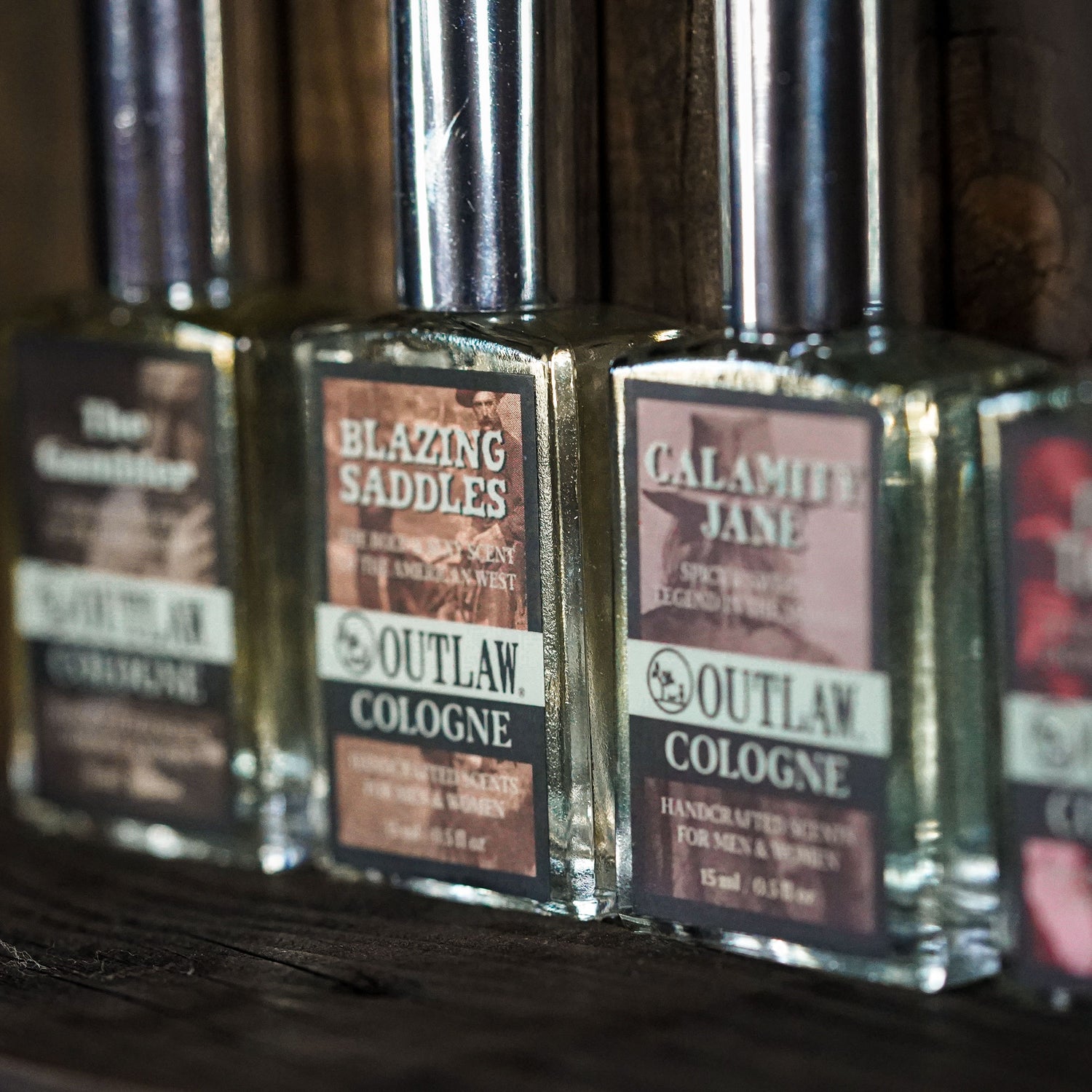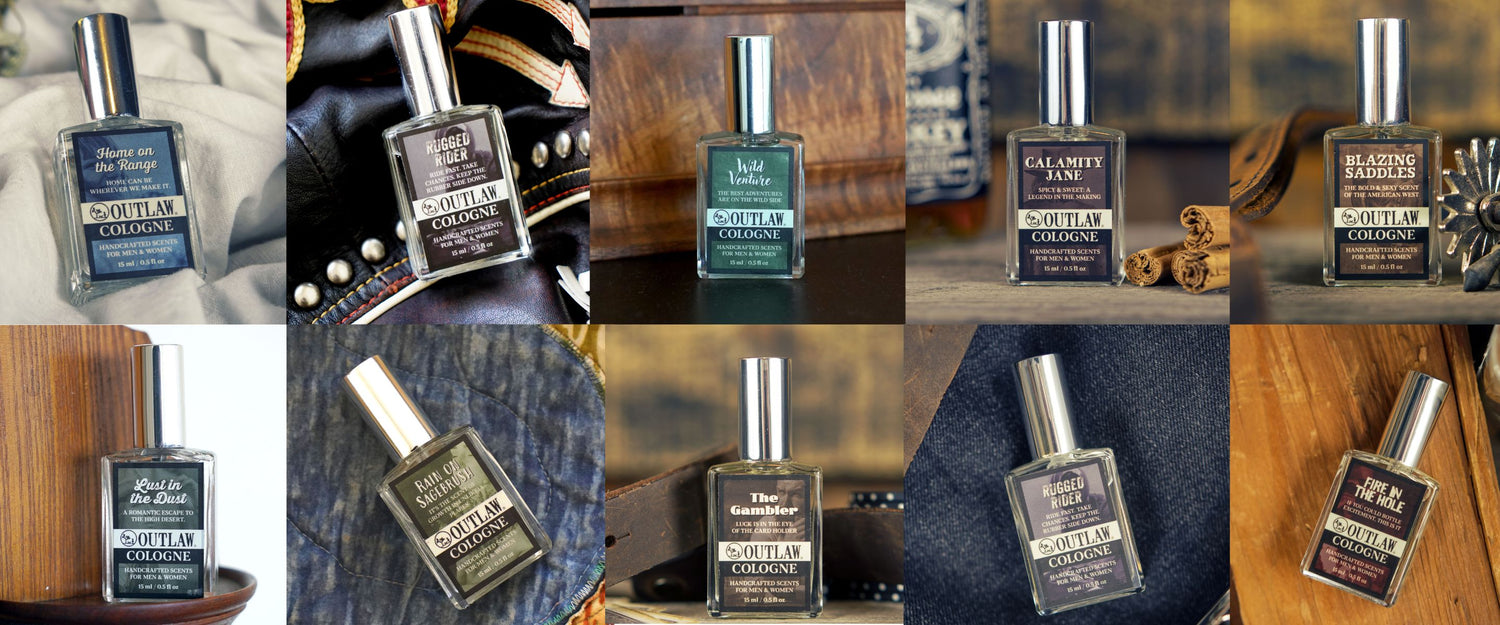 Do you love the smokey smell of campfire? How about the pungent scent of an aged whiskey? How about the peppery musk of gunpowder? Well, if you said hell yes to any of these three scents, then you need to look into the men's care products made by Outlaw.

Choosing a selection results in a full page refresh.