Spicy & Sweet: Know someone like that? Clove | Orange | Cinnamon | Whiskey
View Details
Show Me
Sale price
$51.30
Regular price
Unit price
per
Show Me
Sale price
$51.30
Regular price
Unit price
per
Sale
Sold out
The scent inspired by the legend herself!
⭐️ Smells of warm clove, sweet cinnamon, ginger, orange, and of course, a kick of whiskey.
⭐️ Doesn't smell like the actual Calamity Jane (who was known to drink until she passed out in the stable).
⭐️ Makes you want to re-watch all three seasons of Deadwood.
⭐️ Perky, spicy, crisp scent.
Includes these fine goods:
"If a girl wants to be a legend, she should just go ahead and be one." - Calamity Jane
One of our favorite quotes of all time, from the mouth of a whiskey-soaked, leather-clad, foul-mouthed ruffian. And also, by many accounts, she didn't bathe at all.
When some history buffs hear that we made a scent inspired by Calamity Jane, they worry. Justifiably. I don't think even whiskey-soaked, leather-clad, foul-mouthed ruffians wanted to smell like Calamity Jane... and yet, here she was, too legendary to let lie.
So when we were thinking of this company, and of the legends we pay tribute to, we knew we had to dedicate a special place in our collection to Calamity Jane.
Jack Crawford wrote, "She was simply a notorious character, dissolute and devilish, but possessed a generous streak which made her popular." And that's what inspired her scent: a little spicy, a little sweet.
Calamity Jane smells like clove, orange, cinnamon, and a kick of whiskey (of course!). It's quickly growing in popularity as one of our most beloved scents, and no question why: It's great for both men and women, it's sweet with a kick.
"This soap makes me want to wash my hands and shower constantly. But since there is a drought on I just walk by and sniff it every five minutes for a pick me up. Smells clean and deep with just the right amount of orange - the great spice bite wakes me up and leaves me feeling a little more energetic and a little more fancy. I'm in LOVE!" - Cindy
Ingredients:
Calamity Jane Solid Cologne - Made with Theobroma Cacao (Cocoa) Seed Butter, Cera Alba (Beeswax), Vitis Vinifera (Grape) Seed Oil, Ascorbic Acid (Vitamin C), Alpha Tocopherol (Vitamin E), Rosemary Seed Extract, and Fragrance Oil.
Calamity Jane Lotion - Made with Water, Prunus Amygdalus Dulcis (Sweet Almond) Oil, Butyrospermum Parkii (Shea Butter), Emulsifying Wax NF, Persea Gratissima (Avocado) Oil, Stearic Acid, Phenoxyethanol, Caprylyl Glycol, Sorbic Acid, Fragrance.
Calamity Jane Body Wash - Made with Aloe Barbadensis (Aloe) Leaf Juice, Cocos Nucifera (Coconut) Oil, Potassium Hydroxide, Olea Europaea (Olive) Fruit Oil, Glycerin, Helianthus Annuus (Sunflower) Seed Oil, Cyamopsis Tetragonoloba (Guar) Gum, Rosmarinus Officinalis (Rosemary) Leaf Extract, Butyrospermum Parkii (Shea Butter), Citric Acid, Fragrance.
Calamity Jane Handmade Soap - Made with Persea Gratissima (Avocado) Oil, Olea Europaea (Olive) Fruit Oil, Cocos Nucifera (Coconut) Oil, Ricinus Communis (Castor) Seed Oil, Water, Sodium Hydroxide, Fragrance (Parfum), Natural and Artificial Color.
What does this kind of outlaw smell like?

+

-

A little spicy, a little sweet! Warm your senses with this combination of clove, orange, cinnamon, and, of course, whiskey! (We ARE talking about Calamity Jane, after all)
How to use

+

-

What a lucky Outlaw indeed! These gift sets are suitable for gifting to your favorite Outlaw (even if that favorite Outlaw is yourself)!
Ingredients

+

-

A mix of natural and artificial ingredients.
Shipping & Returns

+

-

Most orders ship within a few business days and arrive within 5 business days. Situations outside of our control sometimes interfere, but we do our absolute best.

If you don't love what you ordered, please reach out to us and we'll either replace your product for free, or we'll give you a refund. If your items cost more than $100, we will issue a return label.
View full details
I didn't like the smell like the one I bought prior. List in the dust. The shampoo and cream rinse wasn't the best for lathering and the cream rinse doesn't make my hair soft.
Love the gift set!
Got the Calimity Jane gift set and absolutely love it! I have gotten so many compliments from men and women. I highly recommend!
Bought it for my wife. She absolutely loves it. She didn't think she would initially but quickly fell in love.
Love this scent!
Was VERY pleased with this set especially how fast it was delivered. The scent is refreshing & unique.
For the wild one gift set
smells and works great. Love the tiny rubber chicken. Came in good time and when I had a question I got a quick response. Good product from good people.
It's winter!
I bought this for a gift,,so don't know much,other then I bought her Calamity Jane Lotion,which she really liked! It was sent and arrived on one of our Coldest days,think it was frozen,as no liquid sound when shook,I'll let you know if it's No good,after she gets home and uses it!
Love the scent
Arrived on time, intact, great scent for the Jane in your life!
"The scent is warm and inviting. Brings a feeling of calm and peace!" — Victoria

"Five stars isn't enough. I've never loved a scent so much!" — Christa

"The scent reminds me of smoky sarsaparilla, and they are all wonderful on the skin." — Lori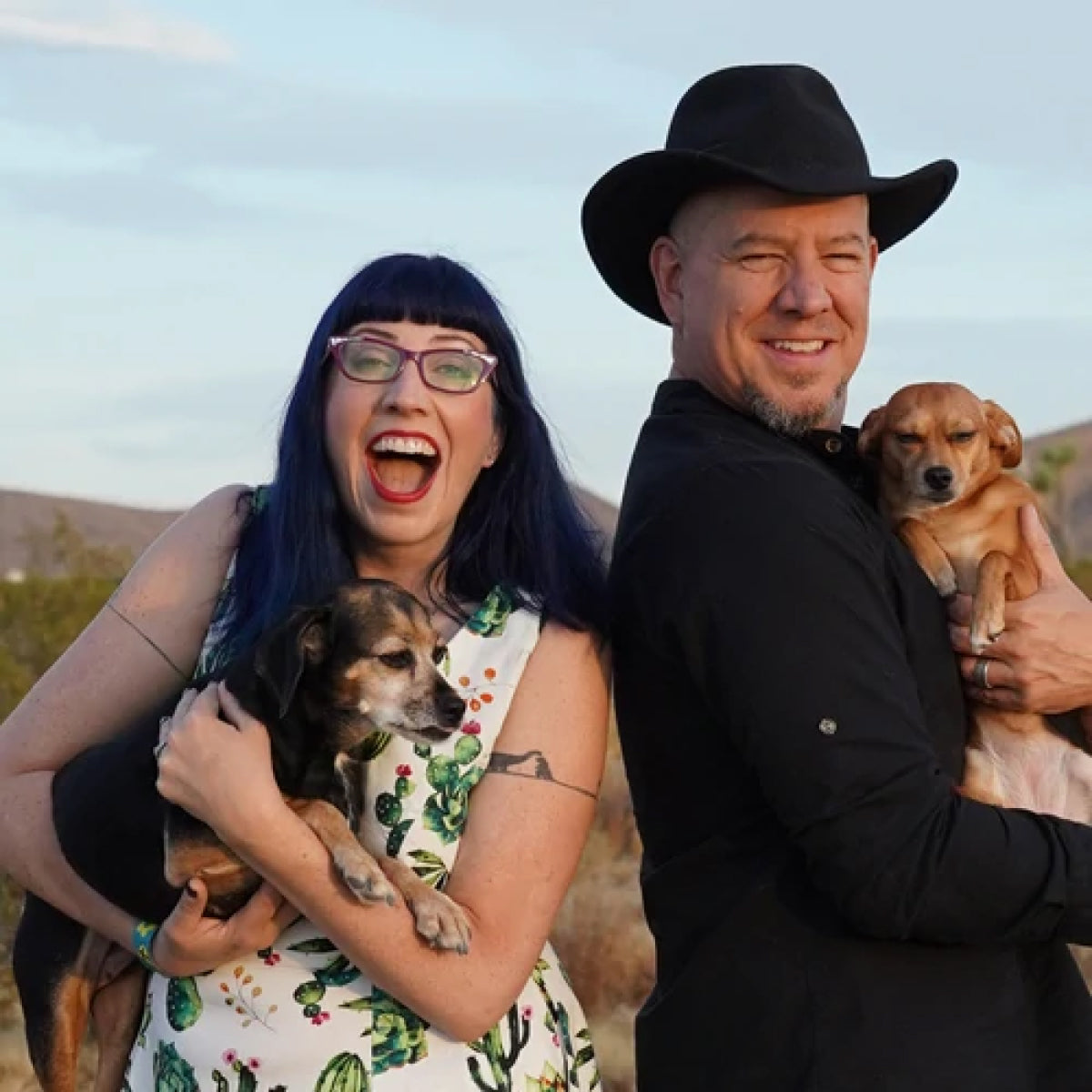 Who are the Outlaws?
We're Danielle & Russ Vincent, and we started Outlaw because we wanted to make a different kind of company.
We believe that good value doesn't mean cheaper, it means better quality, longer lasting, and more enjoyable to use.
We believe that good business practices don't have to be at odds with good social practices.
We believe that people do better when they feel better, and that good scents make people feel better.
We believe that a rising tide lifts all boats. We lift up other businesses every opportunity we get.
We believe that kindness costs nothing, but is worth more than gold.
We believe in the goodness of dogs.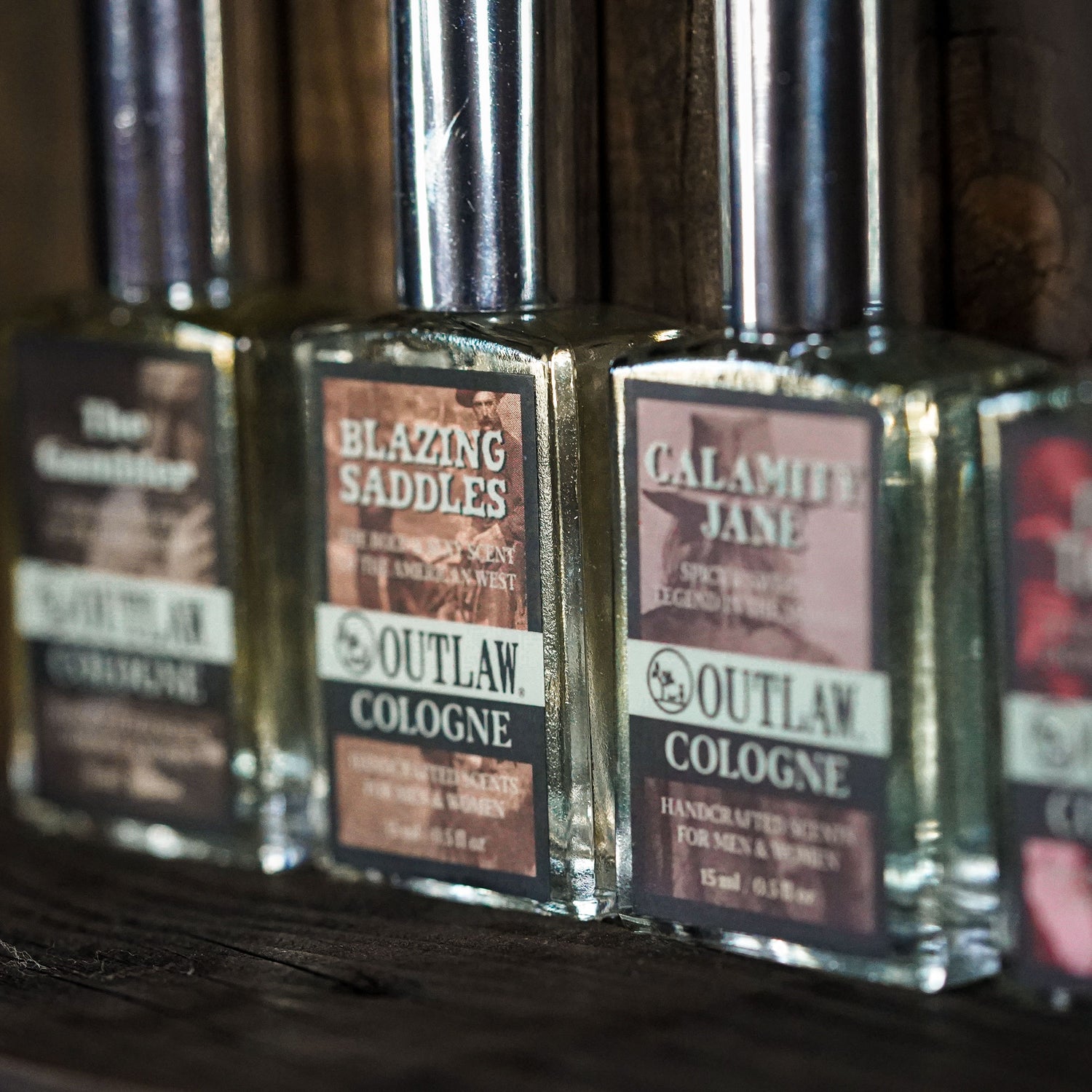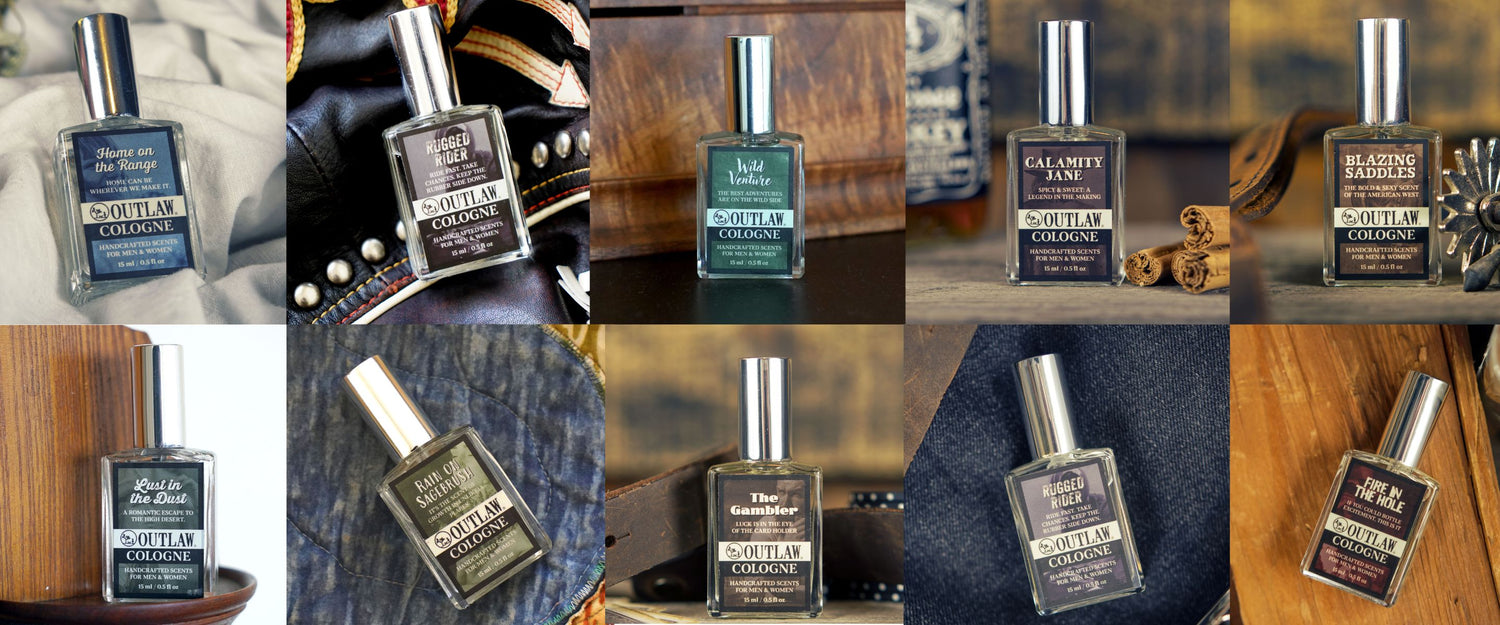 Do you love the smokey smell of campfire? How about the pungent scent of an aged whiskey? How about the peppery musk of gunpowder? Well, if you said hell yes to any of these three scents, then you need to look into the men's care products made by Outlaw.

Choosing a selection results in a full page refresh.