BRING THE BOLD CAMPFIRE GOODNESS!
View Details
Show Me
Sale price
$30.00
Regular price
Unit price
per
Show Me
Sale price
$30.00
Regular price
Unit price
per
Sale
Sold out
Do you love the bold scent of campfire?
Outlaw's Fire in the Hole Cologne brings the joy-inspiring scent of campfire, gunpowder, sagebrush, and whiskey (light on the whiskey) to an inspiring and unique spray cologne.
Leave your hum-drum, ho-hum, boring ol' cologne in a smoking rubble, and celebrate your daily adventure with the unmistakable scent of the best times of your life!
True story:
My friend was on a first date, and she leaned in to smell this handsome guy's cologne. "It smells... familiar. Is that...?" And with beaming pride, the extremely well-scented fella said, "It's Fire in the Hole Cologne by this little company..." My friend excitedly recounted their enthusiasm for the cologne and the Outlaws.

"But... most importantly, was he great?," I prodded. "Are you going to see him again?"
"Oh yeah," she said with a wink. "He's fun!"
The moral of the story is if you want to meet people who love adventures, smell like adventure with Fire in the Hole.
It attracts just the right sort of people: Outlaw people.

What does it smell like? This blend of the scents of campfire, gunpowder, whiskey, and the good ol' outdoors will set your mornings ablaze, giving you that fiery kick we all need to send us booming throughout our days. This scent is a celebration of your favorite camping trips and your most wild adventures.
What is this spray cologne? This natural, handcrafted, small-batch cologne is made with organic alcohol and a blend of natural and lab-made scents. It's packaged in a superior quality, American-made, durable box so you can carry it wherever your adventures lead.
Is it amazing? OH HELL YES! There's nothing quite like Outlaw's line-up of natural cologne inspired by real-life scents like campfire & gunpowder. And if you don't love it, we'll give you a full refund: Running with Outlaws is risk-free with our satisfaction guarantee!

Outlaw scents are skin-safe and long-lasting. Because we feel like scent is a personal thing to be shared between you and those closest to you, Outlaw cologne will not overpower a crowded elevator or make you "that guy with all the cologne." They're designed to create an impression, not an impact.
⭐️⭐️⭐️⭐️⭐️ "My favorite cologne of all!" - Shane, Perpetually Awesome-Smelling Outlaw
What does this kind of outlaw smell like?

+

-

An Outlaw smells like bold, rugged adventure.
How to use

+

-

Each sample is its own wonderous experience of a shifting blend of adventurous scents. We recommend that you use each for one day (so you don't get too far away from the first ones) and then order your favorite immediately!
Ingredients

+

-

A mix of natural and artificial ingredients.
Shipping & Returns

+

-

Most orders ship within a few business days and arrive within 5 business days. Situations outside of our control sometimes interfere, but we do our absolute best.

If you don't love what you ordered, please reach out to us and we'll either replace your product for free, or we'll give you a refund. If your items cost more than $100, we will issue a return label.
View full details
It's not Tom Ford, but it's good and affordable!
Outlaw Scents Rock
Great scents, as expected by Outlaw!
Smells Like A Fire
Bought a sampler and liked them all. However, this one is really, really pungent. It smells like you were drinking at a bonfire for hours. That's a little much. I brought it to work and left it in the men's bathroom. It was snatched up within 15 minutes.
It is exactly what I wanted.
This cologne was everything I was hoping for. It's got that warm, spicy, dangerous feel to it and ugh I'm so in love. As soon as I can afford it I'm buying myself a full bottle. I can't wait to try more or your scents!
Another winner
Outlaw, you are hitting the nail on the head. Man, what a great deal the sampler is. You get 4 amazing scents. Good luck picking a favorite
Explosively awsome
Smells great last pretty decent . Would recommend .
"Just two sprays to your neck (and one spray to each wrist if you want to smell extra crispy) and you're gold." — Brandon

"After a day of working around the cabin, clearing some brush, cleaning a pistol, conditioning a leather holster, and sitting by the fireplace at night my old flannel shirt has collected a lot of mountain smells. One spray of this magic potion and I am back there again." — John

"The smell is a combination of saloon gunfights and camping out while on the run from the law and you're feeling fine..." — Anthony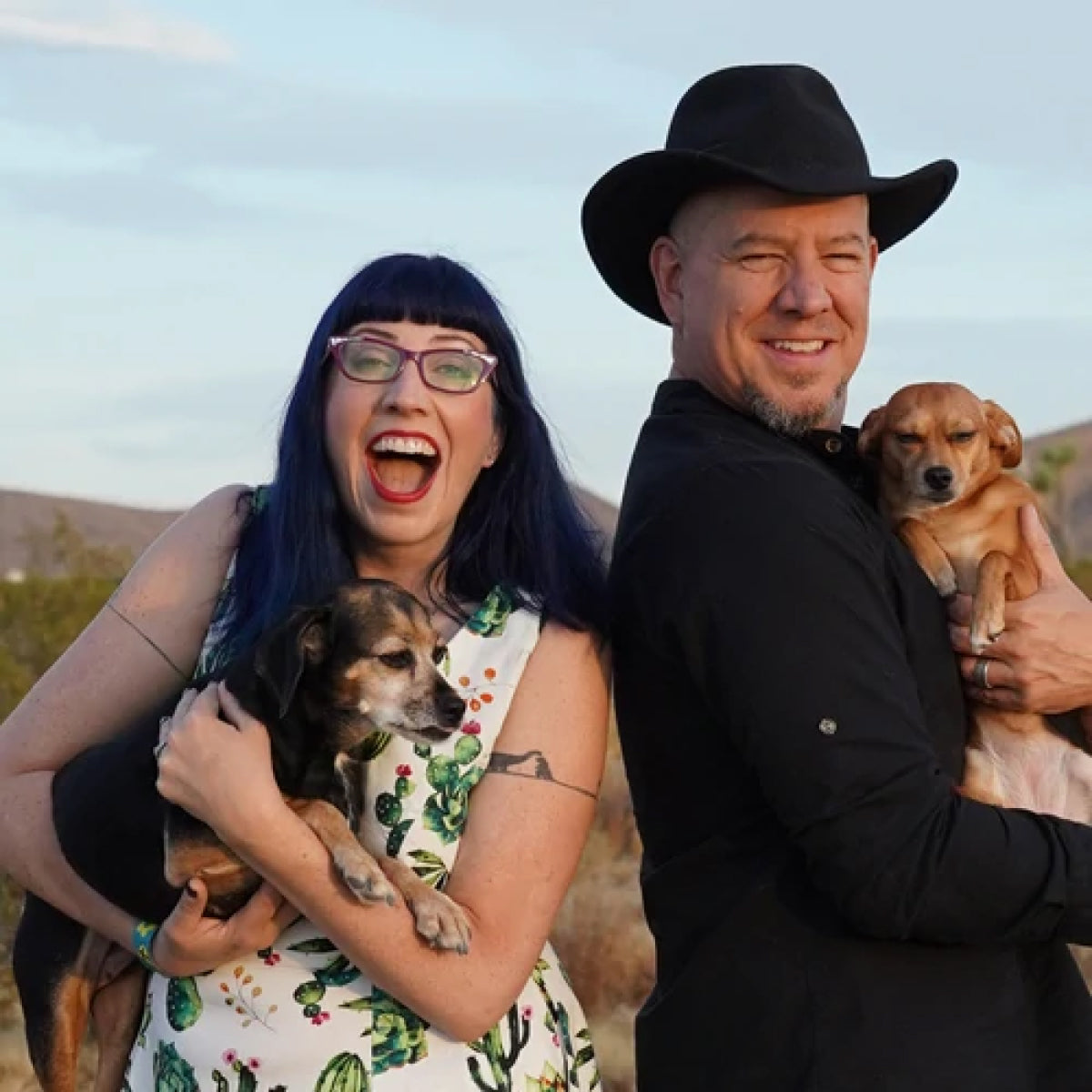 Who are the Outlaws?
We're Danielle & Russ Vincent, and we started Outlaw because we wanted to make a different kind of company.
We believe that good value doesn't mean cheaper, it means better quality, longer lasting, and more enjoyable to use.
We believe that good business practices don't have to be at odds with good social practices.
We believe that people do better when they feel better, and that good scents make people feel better.
We believe that a rising tide lifts all boats. We lift up other businesses every opportunity we get.
We believe that kindness costs nothing, but is worth more than gold.
We believe in the goodness of dogs.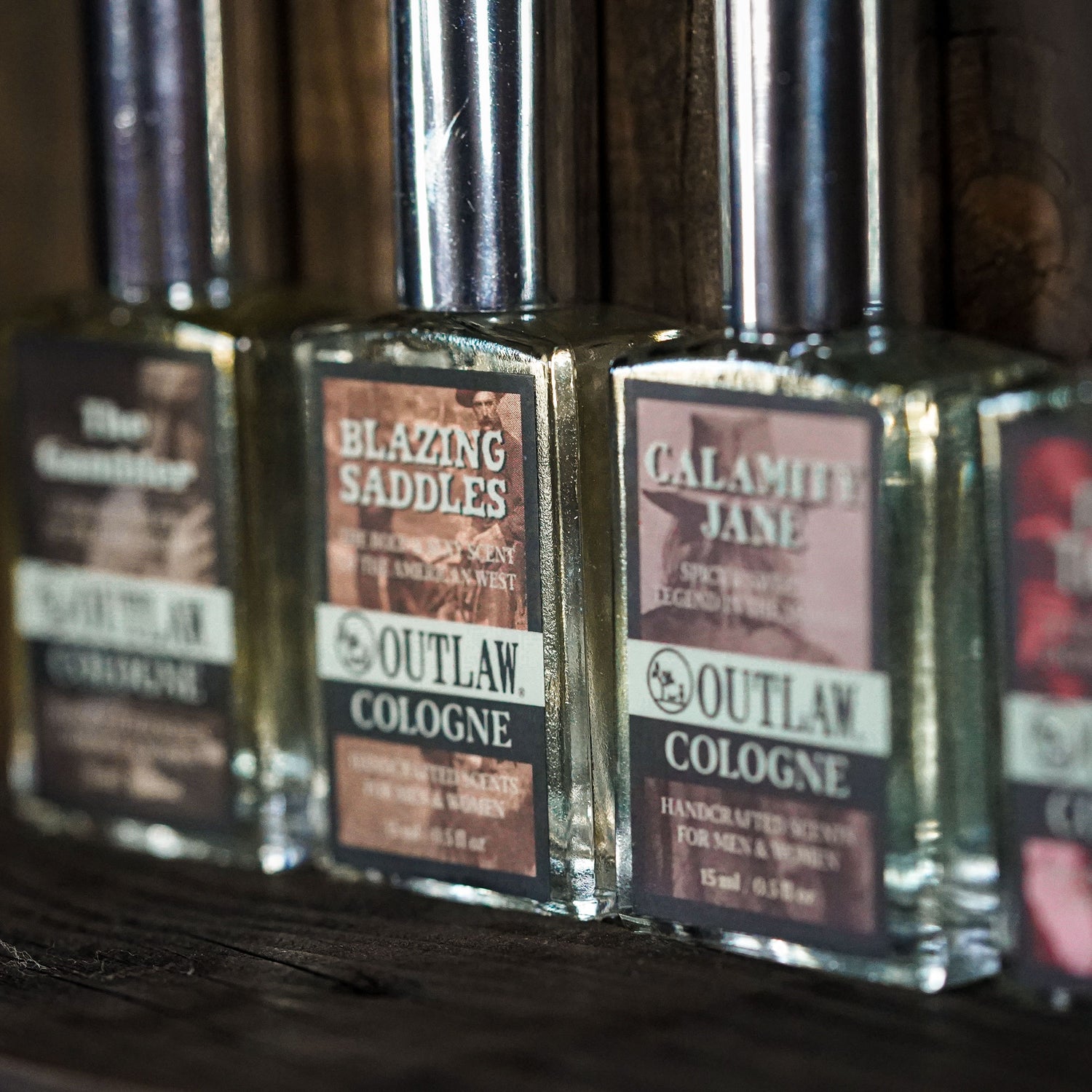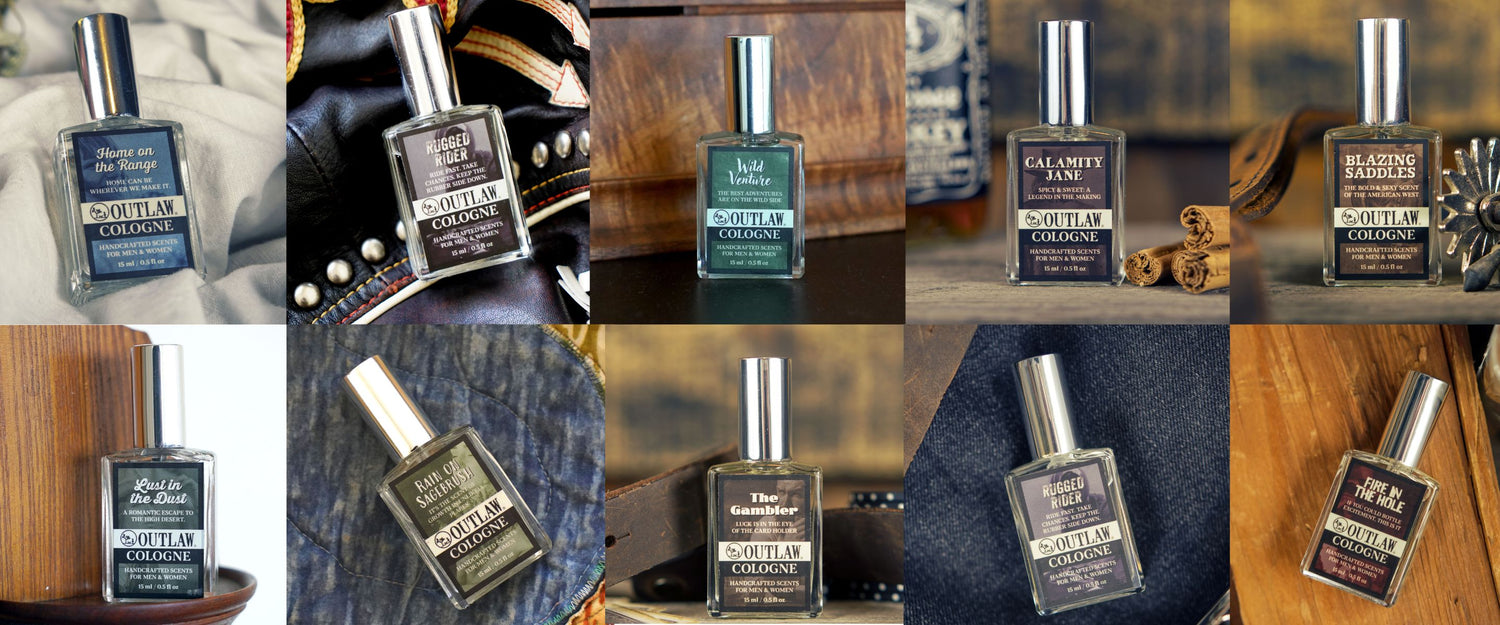 Do you love the smokey smell of campfire? How about the pungent scent of an aged whiskey? How about the peppery musk of gunpowder? Well, if you said hell yes to any of these three scents, then you need to look into the men's care products made by Outlaw.

Choosing a selection results in a full page refresh.