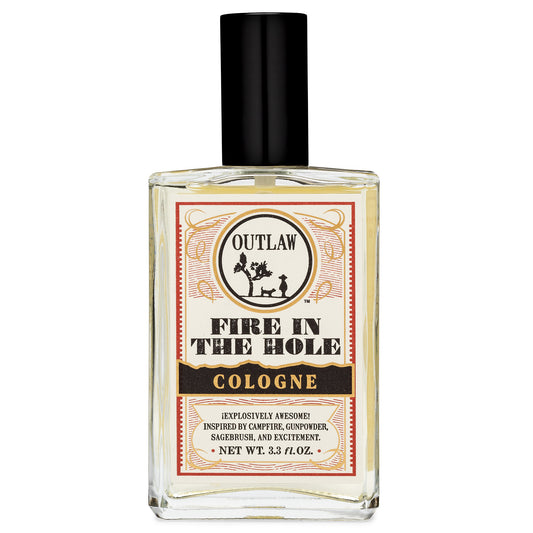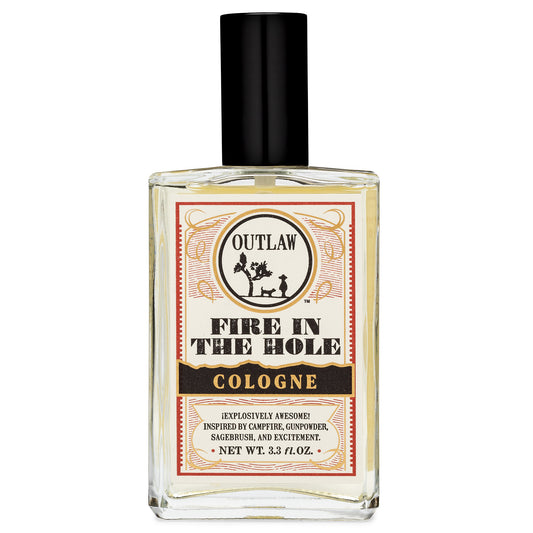 BRING THE BOLD CAMPFIRE GOODNESS!
View Details
Show Me
$60.00
Sale price
$60.00
Regular price
$0.00
Unit price
per
Show Me
$60.00
Sale price
$60.00
Regular price
$0.00
Unit price
per
Sale
Sold out
Do you love the bold scent of campfire?
Outlaw's Fire in the Hole Cologne brings the joy-inspiring scent of campfire, gunpowder, sagebrush, and whiskey (light on the whiskey) to an inspiring and unique spray cologne.
Leave your hum-drum, ho-hum, boring ol' cologne in a smoking rubble, and celebrate your daily adventure with the unmistakable scent of the best times of your life!
True story:
My friend was on a first date, and she leaned in to smell this handsome guy's cologne. "It smells... familiar. Is that...?" And with beaming pride, the extremely well-scented fella said, "It's Fire in the Hole Cologne by this little company..." My friend excitedly recounted their enthusiasm for the cologne and the Outlaws.

"But... most importantly, was he great?," I prodded. "Are you going to see him again?"
"Oh yeah," she said with a wink. "He's fun!"
The moral of the story is if you want to meet people who love adventures, smell like adventure with Fire in the Hole.
It attracts just the right sort of people: Outlaw people.

What does it smell like? This blend of the scents of campfire, gunpowder, whiskey, and the good ol' outdoors will set your mornings ablaze, giving you that fiery kick we all need to send us booming throughout our days. This scent is a celebration of your favorite camping trips and your most wild adventures.
What is this spray cologne? This natural, handcrafted, small-batch cologne is made with organic alcohol and a blend of natural and lab-made scents. It's packaged in a superior quality, American-made, durable box so you can carry it wherever your adventures lead.
Is it amazing? OH HELL YES! There's nothing quite like Outlaw's line-up of natural cologne inspired by real-life scents like campfire & gunpowder. And if you don't love it, we'll give you a full refund: Running with Outlaws is risk-free with our satisfaction guarantee!

Outlaw scents are skin-safe and long-lasting. Because we feel like scent is a personal thing to be shared between you and those closest to you, Outlaw cologne will not overpower a crowded elevator or make you "that guy with all the cologne." They're designed to create an impression, not an impact.
⭐️⭐️⭐️⭐️⭐️ "My favorite cologne of all!" - Shane, Perpetually Awesome-Smelling Outlaw
If you're not sure you'd like to commit to a full-size bottle of Fire in the Hole cologne, try our sample set:
"Smells like Adventure"
This collection includes our scents of the outdoors, celebrating the spirit of exploration – whatever is just beyond that hill over there! (it's just a little further… aren't you curious?) This set inspires you to get outside and smell the clean air and wilderness.
Includes:
Fire in the Hole: Campfire, gunpowder, sagebrush, and whiskey
Blazing Saddles: Leather, gunpowder, sandalwood, and sagebrush
The Badlands: Campfire and cedar
Lust in the Dust: Sagebrush and sandalwood
3.3 oz of this cologne lasts between 6 - 8 months (or so, depending on your use), makin' this about $0.28/day, which is a darn fine bargain for smelling so amazing.
What does this kind of outlaw smell like?

+

-

Kaboom! Know what that sound is? It's what you'll yell in your bathroom when you sniff this rowdy and rambunctious Fire in the Hole collection (maybe not literally, but it sure makes us jubilant). One of our most treasured scents, this mixture of campfire, whiskey and the good ol' outdoors will set your mornings ablaze, giving you that fiery kick we all need to send us booming throughout our days. This scent is truly a celebration of our favorite camping trips and our most wild adventures. So, imbibe freely, light some fireworks, and dare to pair that burning spirit with Outlaw's Fire in the Hole Campfire scent!
How to use

+

-

Spray on your pulse points and enjoy your amazing life. WARNING: don't spray in yer eyes like a darn fool
Ingredients

+

-

Made with Organic Alcohol & Natural and Artificial Fragrance.
Shipping & Returns

+

-

Most orders ship within a few business days and arrive within 5 business days. Situations outside of our control sometimes interfere, but we do our absolute best.

If you don't love what you ordered, please reach out to us and we'll either replace your product for free, or we'll give you a refund. If your items cost more than $100, we will issue a return label.
View full details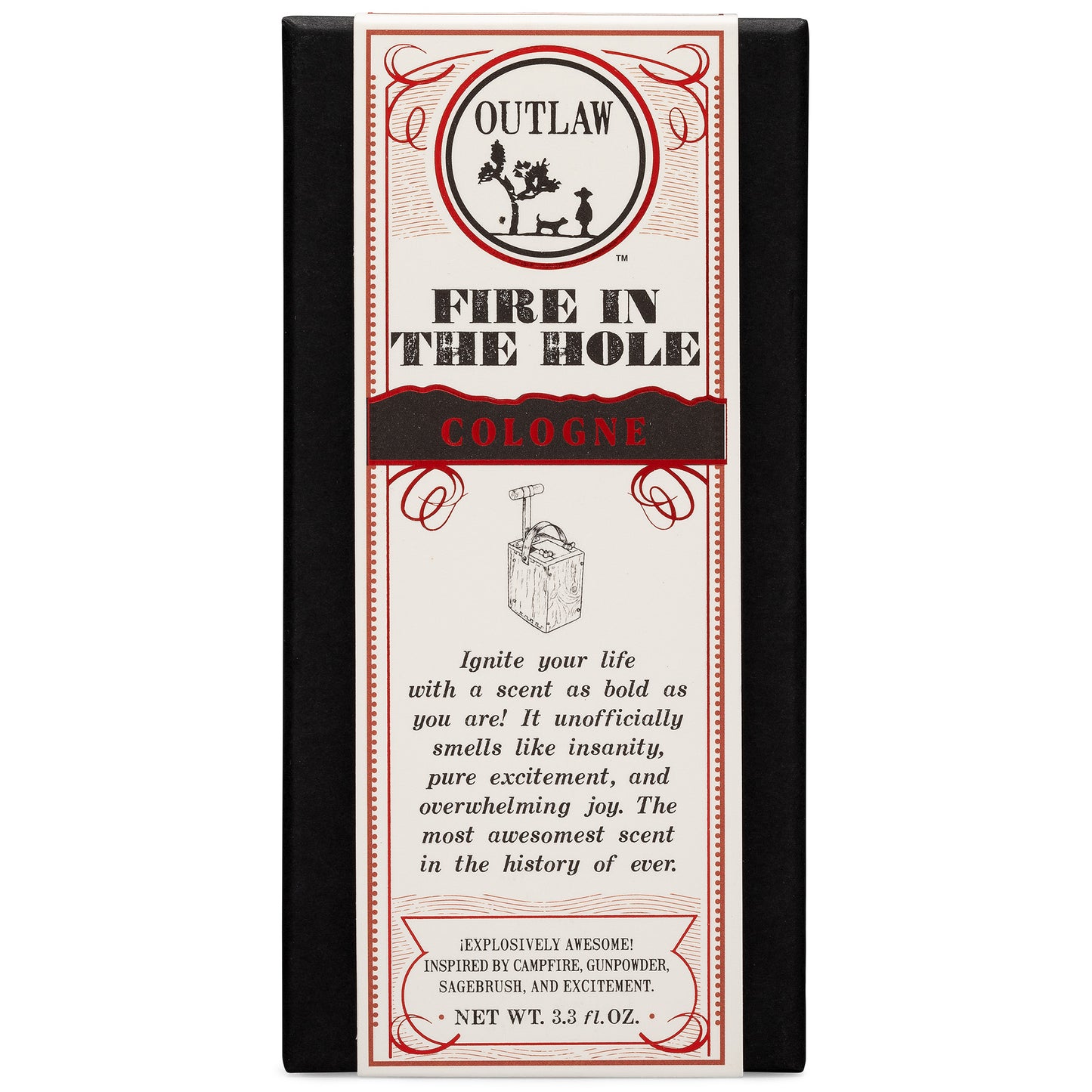 Amazing!
The bottle was bigger and the scent was better than I expected. I use it every day and will definitely order more.
Not what I was hoping for
It's supposed to smell like smoke and gun powder.. But it actually smells like dusty vanilla. I will not be wearing this $55 Cologne and I'm bummed about the lost money.
Great scent!
This is a really great smelling cologne!
I love it.
I love it. This is one of my favorite colognes ever.
Fantastic Cologne
This cologne is the perfect blend of smoke with that earthy, herbal smell of sage. It reminds me of visiting Joshua Tree desert with my wife to go camping, and all the great smells of the native plants. That smell of campfire that sticks to you after a few days of roughing it, from grilling steaks and going on hikes along the desert flower lined trails. It's wild, and I feel like I've found the smell that speaks to me. Thanks much Outlaw, your products are fantastic, and keep on doing what you're doing.
Good stuff.
If you are thinking of discontinuing this item - DON'T.
Great product
At first i didn't care for it but the more i was around it the more it grew on me! Its hard to put the scent into words but its a warm and almost sweet and smokey smell! which is hard to wrap my mind around
"Just two sprays to your neck (and one spray to each wrist if you want to smell extra crispy) and you're gold." — Brandon

"After a day of working around the cabin, clearing some brush, cleaning a pistol, conditioning a leather holster, and sitting by the fireplace at night my old flannel shirt has collected a lot of mountain smells. One spray of this magic potion and I am back there again." — John

"The smell is a combination of saloon gunfights and camping out while on the run from the law and you're feeling fine..." — Anthony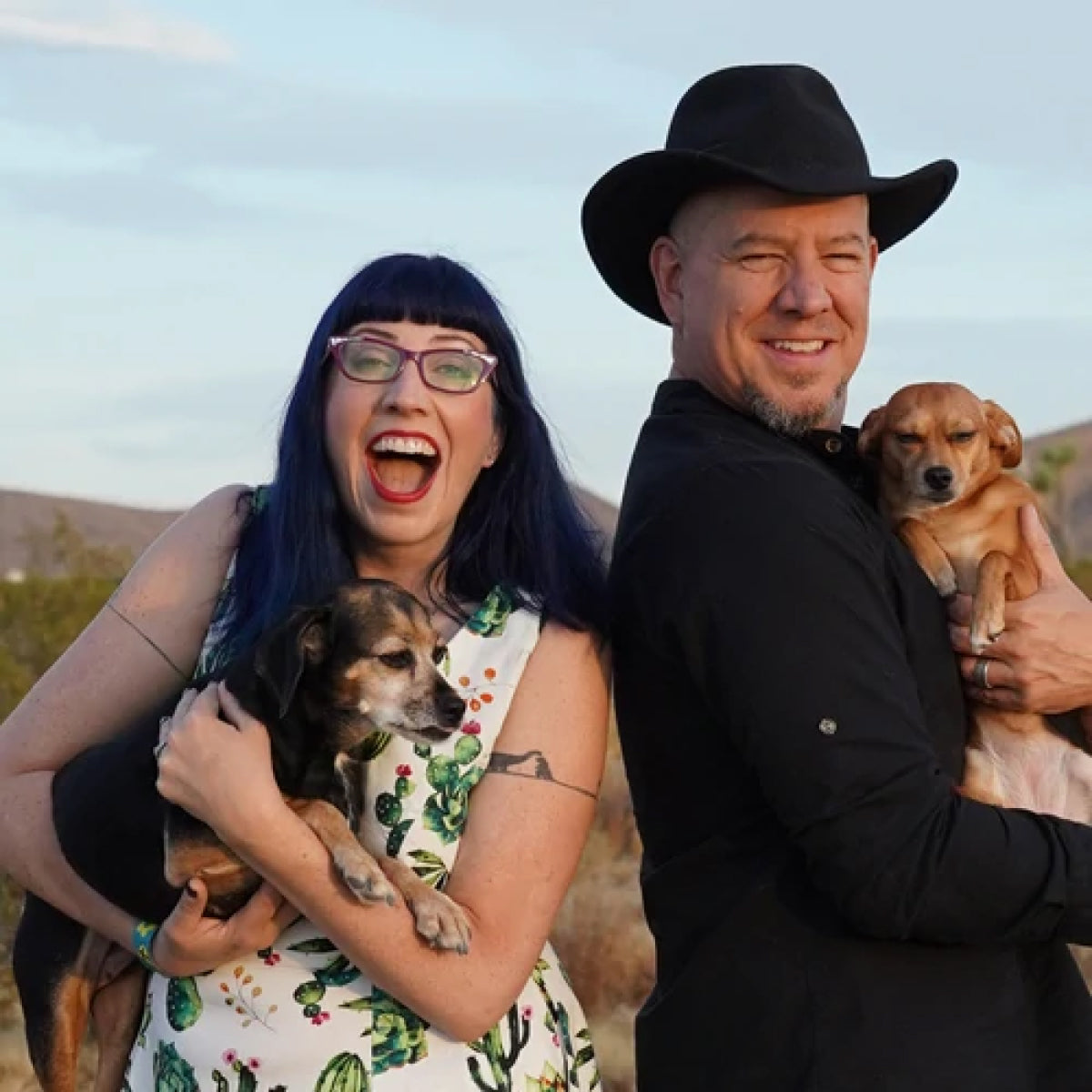 Who are the Outlaws?
We're Danielle & Russ Vincent, and we started Outlaw because we wanted to make a different kind of company.
We believe that good value doesn't mean cheaper, it means better quality, longer lasting, and more enjoyable to use.
We believe that good business practices don't have to be at odds with good social practices.
We believe that people do better when they feel better, and that good scents make people feel better.
We believe that a rising tide lifts all boats. We lift up other businesses every opportunity we get.
We believe that kindness costs nothing, but is worth more than gold.
We believe in the goodness of dogs.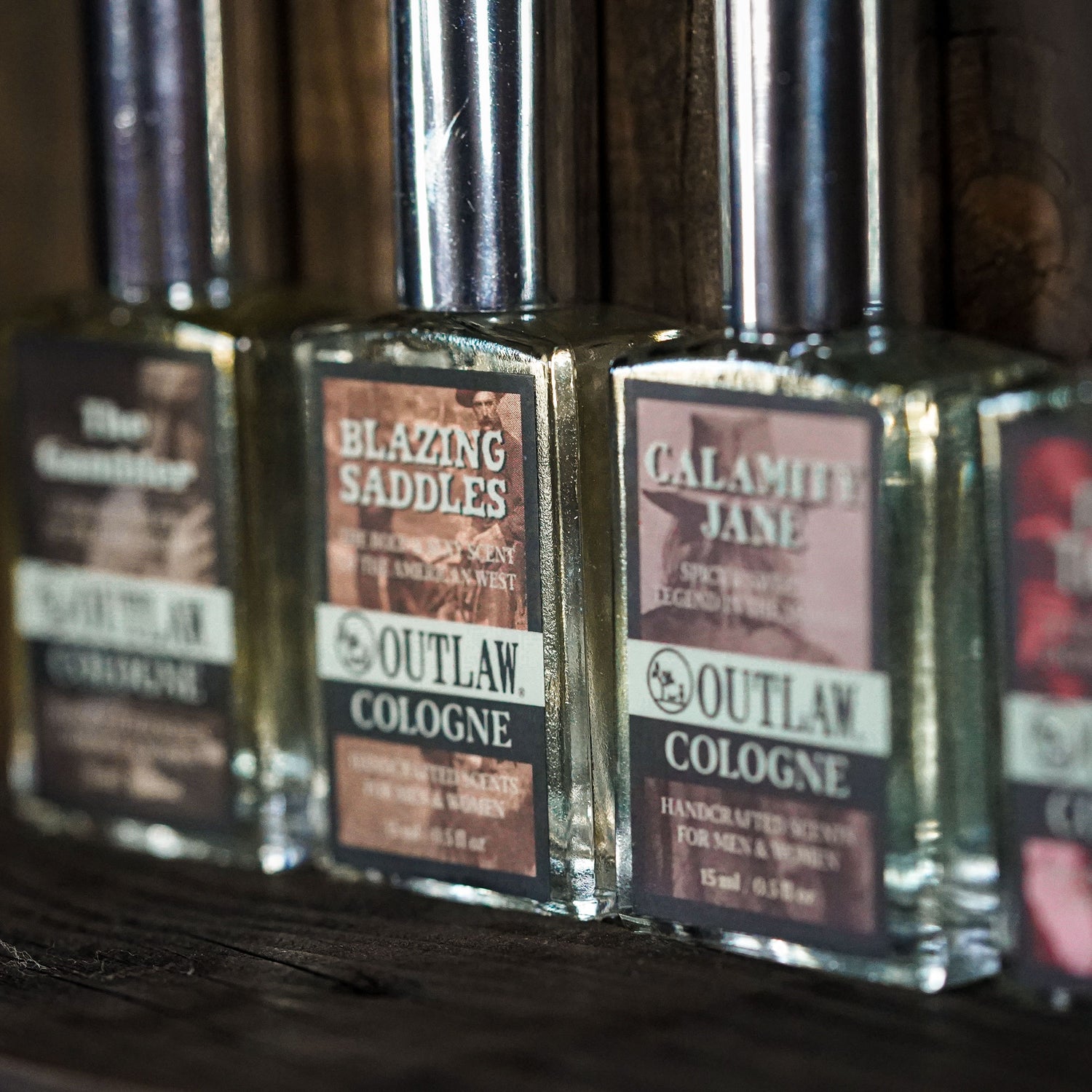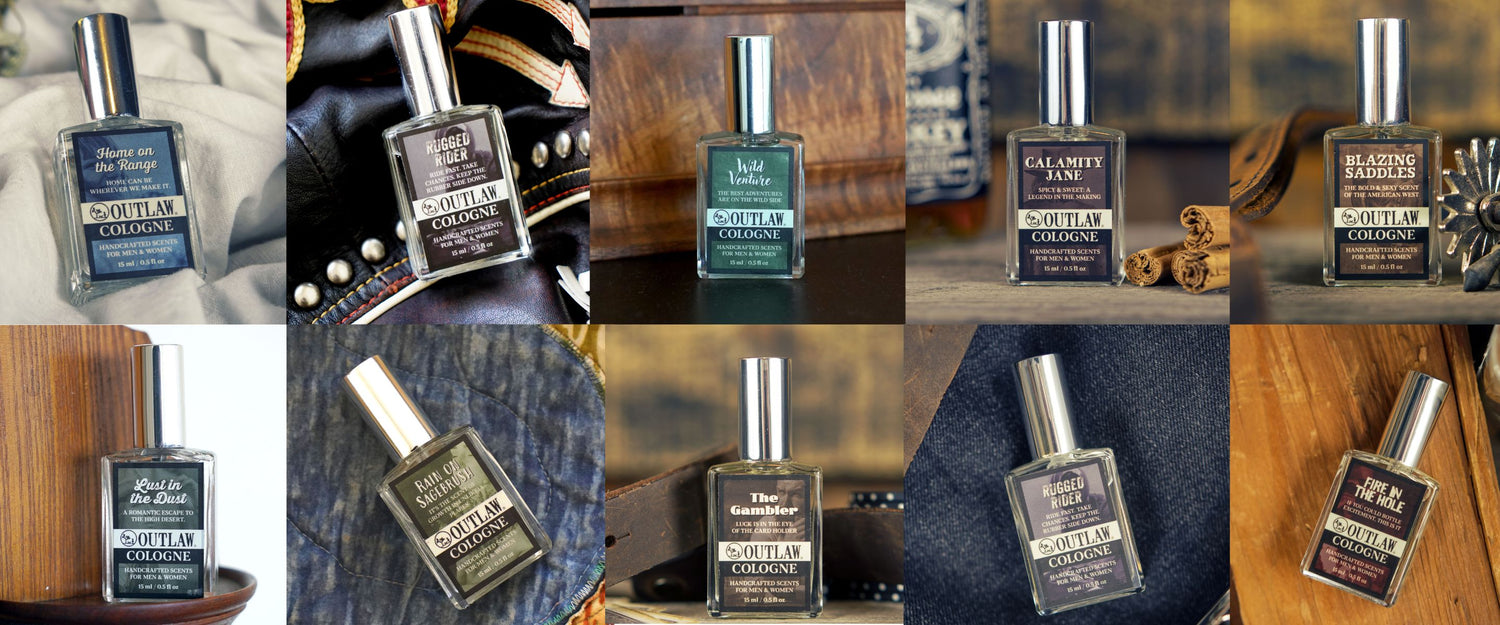 Do you love the smokey smell of campfire? How about the pungent scent of an aged whiskey? How about the peppery musk of gunpowder? Well, if you said hell yes to any of these three scents, then you need to look into the men's care products made by Outlaw.

Choosing a selection results in a full page refresh.