View Details
Show Me
Regular price
From

$15.00
Sale price
From

$15.00
Regular price
Unit price
per
Show Me
Sale price
$15.00
Regular price
Unit price
per
Sale
Sold out
You're never uprooted

When people say, "Get back to your roots," they mean get back to the foundation of what makes you you, of what makes you grounded.
And that's what Digging Deep is.
It's an earthy scent of your foundations - of what is at your core.
It's the rich earth beneath your feet. It's the rich earth in your hands. When you are digging deep, you're fundamentally who you are.
When you are
who you are
Relish in the scents of damp earth, sandalwood, and orange with a single spritz of Digging Deep Cologne.
Outlaw scents are skin-safe and long-lasting. Because scent is a personal thing to be shared between you and those closest to you, Outlaw cologne will not overpower a crowded elevator or make you "that guy with all the cologne." They're designed to create an impression, not an impact.
What does this kind of outlaw smell like?

+

-

A wild adventure, and we are all eager for you to EMBARK!
How to use

+

-

Spray on your pulse points and enjoy your amazing life
Ingredients

+

-

Made with Organic Alcohol & Natural and Artificial Fragrance.
Shipping & Returns

+

-

Most orders ship within a few business days and arrive within 5 business days. Situations outside of our control sometimes interfere, but we do our absolute best.

If you don't love what you ordered, please reach out to us and we'll either replace your product for free, or we'll give you a refund. If your items cost more than $100, we will issue a return label.
View full details
Great scent.
Another one of my favorites. The earthy, orange scent is balanced perfectly.
The very best to date
Seriously, this one was the very best you've made so far and I have bought a lot of your stuff over the years. It really does give reflections and the impression of an earthy forest floor but in a very good way, not overpowering and not nasty. Lasts all day.
An original scent
Some of the other scents, which are all great, would be better on a guy or a girl more than unisex (in my opinion), but this has a nice earthy orange smell that can be worn by anyone. One of my favorites.
Earthy yet sweet
I love this scent! It's earthy and the damp earth definitely comes through but it's perfectly balanced by the sweetness of the Patchouli and Sandalwood. It's also very long lasting. Definitely a unisex scent and would smell great on anyone.
I absolutely love this scent!!! Fair warning, its very strong on the patchouli, which I personally love but found out that my family does not 🤣 If you like earthy and patchouli, you will live Digging Deep!
A Fragrant Love Story!
This scent is a beautiful reminder of the magical moment when I first met my beloved wife. It instantly transports me back to that enchanting time, as it shares similarities with her captivating fragrance that captured my heart. With notes of sandalwood, patchouli, and ylang-ylang as she wore, it evokes the very essence of her alluring presence. The combination of sandalwood, damp earth, and orange in this fragrance strikes a chord of familiarity, reminiscent of the memories we created together. It's a scent that not only brings back those cherished moments but also stands on its own as an incredible olfactory experience. The fact that it holds such sentimental value while still smelling absolutely amazing compelled me to purchase it not once, but twice. This fragrance is a testament to the power of scent in evoking emotions and creating lasting memories. It's a true treasure that I will forever hold dear.
My favorite of all the scents
I have to admit, I've become a outlaw for life. Every scent is amazing and yes, there are some I like better than others but none of them have that omg what is that putrid smell.
But what they do have is amazing combinations of the best smells out there. And for me, the damp earth and sandalwood just work.my top 3 are Digging Deep, Fire in the Hole, and Rugged Rider. Blazing saddles isn't far behind and sometimes Wild Venture is a nice change up. But truly, none suck. It's all personal preference.
But if you like the smell of damp earth after it rains on the wood stack.... Well look no further.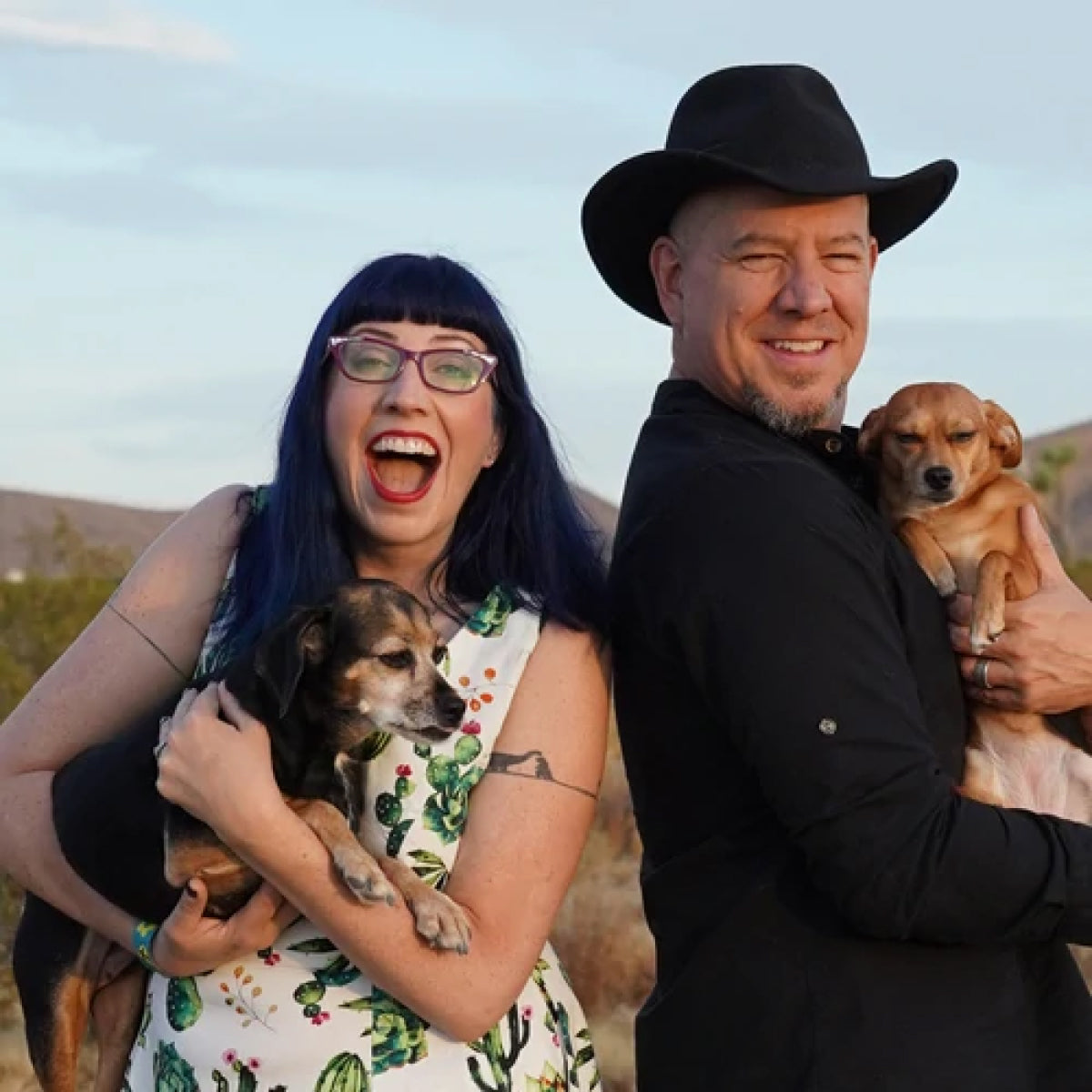 Who are the Outlaws?
We're Danielle & Russ Vincent, and we started Outlaw because we wanted to make a different kind of company.
We believe that good value doesn't mean cheaper, it means better quality, longer lasting, and more enjoyable to use.
We believe that good business practices don't have to be at odds with good social practices.
We believe that people do better when they feel better, and that good scents make people feel better.
We believe that a rising tide lifts all boats. We lift up other businesses every opportunity we get.
We believe that kindness costs nothing, but is worth more than gold.
We believe in the goodness of dogs.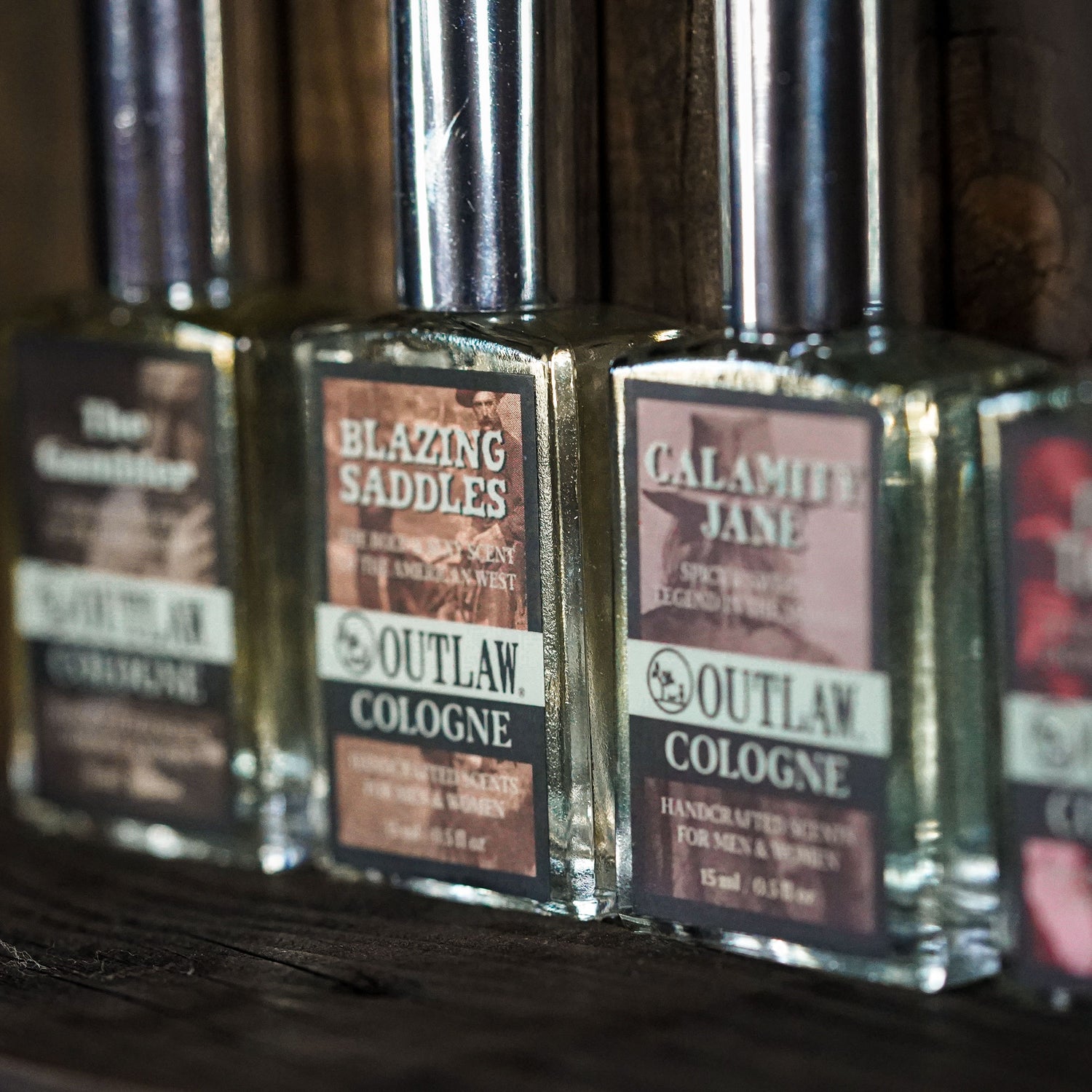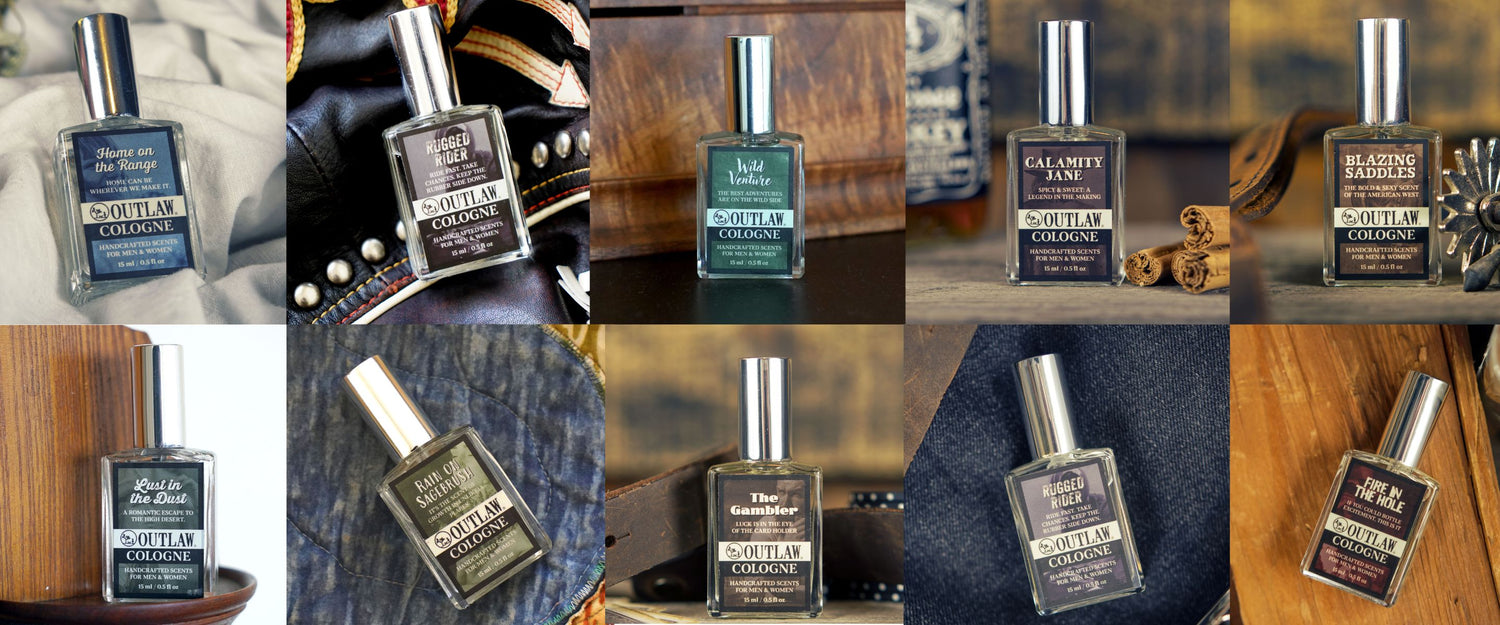 Do you love the smokey smell of campfire? How about the pungent scent of an aged whiskey? How about the peppery musk of gunpowder? Well, if you said hell yes to any of these three scents, then you need to look into the men's care products made by Outlaw.

Choosing a selection results in a full page refresh.