The legendary scent inspired by Calamity Jane: Clove | Orange | Cinnamon | Whiskey
View Details
Show Me
$8.50
Sale price
$8.50
Regular price
Unit price
per
Show Me
$8.50
Sale price
$8.50
Regular price
Unit price
per
Sale
Sold out
Smell like a legend!
Smells of orange, clove, cinnamon, ginger, and a kick of whiskey.

Doesn't smell like the actual Calamity Jane (who was known to drink until she passed out in the stable).

Made with love and laughter.
Makes you want to rewatch all three seasons of Deadwood.
Perky, spicy, crisp scent.
"If a girl wants to be a legend, she should just go ahead and be one." - Calamity Jane
Maybe my favorite quote of all time, from the mouth of a whiskey-soaked, leather-clad, foul-mouthed ruffian. And also, by many accounts, she didn't bathe at all.
When some history buffs hear that we made a scent inspired by Calamity Jane, they worry. Justifiably. I don't think even whiskey-soaked, leather-clad, foul-mouthed ruffians wanted to smell like Calamity Jane... and yet, here she was, too legendary to let lie.
So, when we were thinking of this company, and of the legends we pay tribute to, we knew we had to dedicate a special place in our collection to Calamity Jane.
Jack Crawford wrote, "She was simply a notorious character, dissolute and devilish, but possessed a generous streak which made her popular." And that's what inspired her scent: a little spicy, a little sweet.
Calamity Jane smells like clove, orange, cinnamon, and a kick of whiskey (of course!). It's quickly growing in popularity as one of our most beloved scents, and no question why: It's great for both men and women, it's sweet with a kick.
"This soap makes me want to wash my hands and shower constantly. But since there is a drought on I just walk by and sniff it every five minutes for a pick me up. Smells clean and deep with just the right amount of orange - the great spice bite wakes me up and leaves me feeling a little more energetic and a little more fancy. I'm in LOVE!" - Cindy
Since Calamity Jane Spice Soap contains clove oil, we do not recommend using it around your eyes or on abraised skin.

All of our soaps are handmade and, as a result, may have some minor cosmetic and weight differences.
4 or more oz of handmade soap goodness.
What does this kind of outlaw smell like?

+

-

A little spicy, a little sweet! Warm your senses with this combination of clove, orange, cinnamon, and, of course, whiskey! (We ARE talking about Calamity Jane, after all)
How to use

+

-

Work yourself into a lather. No, really! That's how you use it! These handmade soaps are specifically designed to produce a fun, bounteous lather, while also having a stable lather worthy of shaving. And they're gentle enough to use in your hair!
Ingredients

+

-

Cocos Nucifera (Coconut) Oil, Water, Olea Europaea (Olive) Fruit Oil, Persea Gratissima (Avocado) Oil, Sodium Hydroxide, Ricinus Communis (Castor) Seed Oil, Fragrance (Parfum), Natural Color.
Shipping & Returns

+

-

Most orders ship within a few business days and arrive within 5 business days. Situations outside of our control sometimes interfere, but we do our absolute best.

If you don't love what you ordered, please reach out to us and we'll either replace your product for free, or we'll give you a refund. If your items cost more than $100, we will issue a return label.
View full details
I am in love with this soap
I love all the soaps, in fact, but this is my favorite. It's always on my shelf, making my bathroom smell lovely.
A good, clean time
Not only does this soap smell fantastic, it also gets me cleaner than anything I can get from big brands. I always feel refreshed, sparkling clean, and like a million bucks after using this soap (and I didn't even have to rob a bank!).
Calamity Jane Soap, lotion, shampoo & conditioner
I love all the products just wish the fragrance lasted longer especially the shampoo and lotion.
Appreciated Gift
Bought the soap as a gift, at a local grocery store here in Lake Tahoe. The recipient smelled it and said he was going to use it every day and smell it in between washes, it smelled that good.
A Whirlwind of Sensuality!
This fragrance is an absolute game-changer when it comes to leaving a lasting impression on my wife. With the sole intention of reveling in her captivating scent throughout the day, I sought out the perfect fragrance, and lo and behold, Calamity Jane came to the rescue! Aptly named, this scent embodies the essence of adventure and allure. Its sweet yet spicy nature is a delightful surprise, with a tantalizing blend of clove, cinnamon, and orange that sets the stage for an olfactory dopamine rush. The result? A truly irresistible and alluring aroma that never fails to captivate. Calamity Jane is not just a fragrance, but a powerful tool in the art of attraction!
Excellent soap! I absolutely love the scent...and the fact that it is all natural...no harsh chemicals...is just THE best! And...I love your marketing and the personal way Outlaw reaches out to it's customers!
Won't use anything else.
I "discovered" Outlaws brand products about 3 years ago. I have been using Calamity Jane ever since. Besides the amazing smell, I like the actual product of the soap. I have used many locally made soap products over the years, and I don't even bother buying them anymore because they just don't measure up. I feel clean after I shower, and there is no soap residue or dry skin feeling when I am done.
"This soap makes me want to wash my hands and shower constantly. But since there is a drought on I just walk by and sniff it every five minutes for a pick me up." — Cindy

"It smells like sunrise in the Makassar Strait, with just a slight swell, and enough wind in your sails to make Surabaya by dinner time. If you've never smelled this, you're missing out." — Ken

"Love the fresh orange and cinnamon smell. The bad thing is my 10 year old daughter smelled it and loves it.... therefore I must now share" — James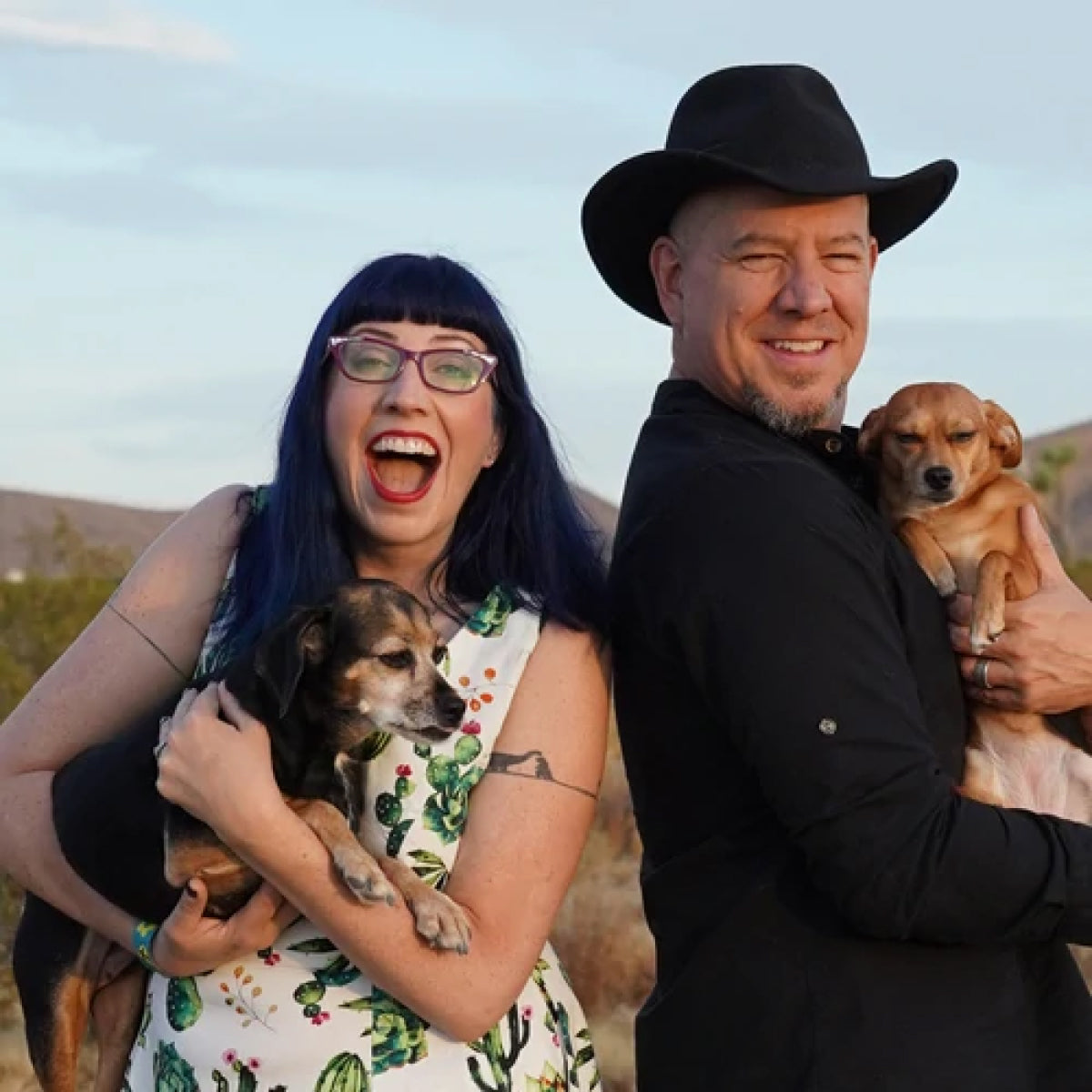 Who are the Outlaws?
We're Danielle & Russ Vincent, and we started Outlaw because we wanted to make a different kind of company.
We believe that good value doesn't mean cheaper, it means better quality, longer lasting, and more enjoyable to use.
We believe that good business practices don't have to be at odds with good social practices.
We believe that people do better when they feel better, and that good scents make people feel better.
We believe that a rising tide lifts all boats. We lift up other businesses every opportunity we get.
We believe that kindness costs nothing, but is worth more than gold.
We believe in the goodness of dogs.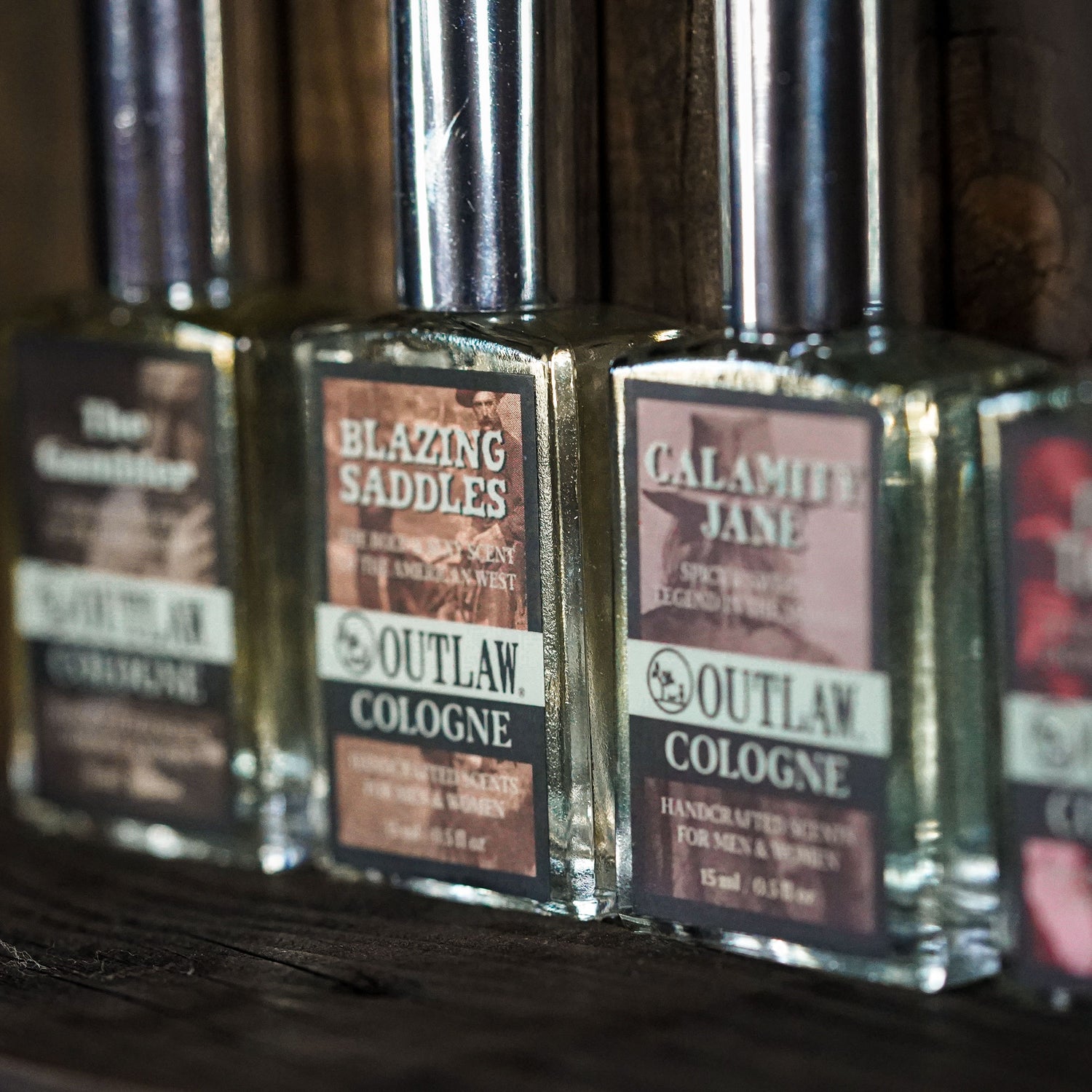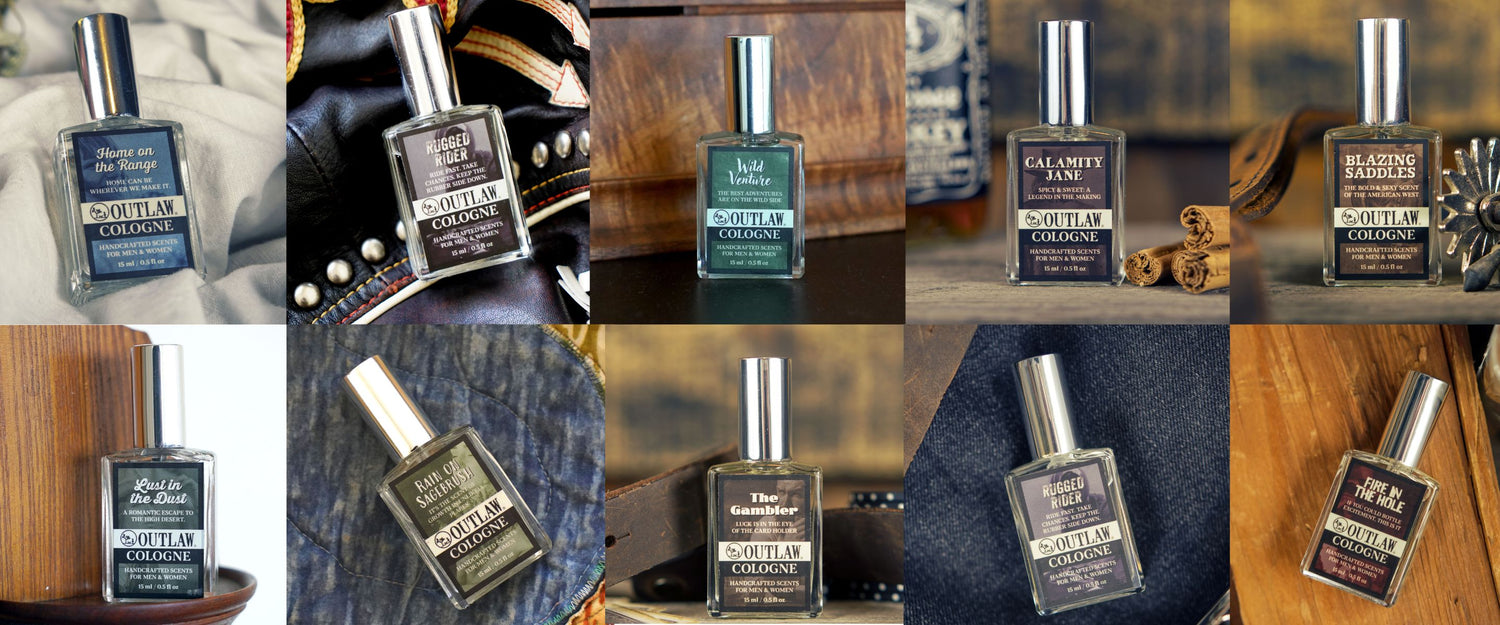 Do you love the smokey smell of campfire? How about the pungent scent of an aged whiskey? How about the peppery musk of gunpowder? Well, if you said hell yes to any of these three scents, then you need to look into the men's care products made by Outlaw.

Choosing a selection results in a full page refresh.