Smell like a Legend: Clove | Orange | Cinnamon | Whiskey
View Details
Show Me
Sale price
$15.00
Regular price
Unit price
per
Show Me
Sale price
$15.00
Regular price
Unit price
per
Sale
Sold out
Smell like a legend!
Smells of orange, clove, cinnamon, ginger, and a kick of whiskey.
Doesn't smell like the actual Calamity Jane (who was known to drink until she passed out in the stable).
Made with love and laughter.
Makes you want to rewatch all three seasons of Deadwood.
Perky, spicy, crisp scent.
"If a girl wants to be a legend, she should just go ahead and be one." - Calamity Jane
Maybe my favorite quote of all time, from the mouth of a whiskey-soaked, leather-clad, foul-mouthed ruffian. And also, by many accounts, she didn't bathe at all.
When some history buffs hear that we made a scent inspired by Calamity Jane, they worry. Justifiably. I don't think even whiskey-soaked, leather-clad, foul-mouthed ruffians wanted to smell like Calamity Jane... and yet, here she was, too legendary to let lie.
So when we were thinking of this company, and of the legends we pay tribute to, we knew we had to dedicate a special place in our collection to Calamity Jane.
Jack Crawford wrote, "She was simply a notorious character, dissolute and devilish, but possessed a generous streak which made her popular." And that's what inspired her scent: a little spicy, a little sweet.
Calamity Jane smells like clove, orange, cinnamon, and a kick of whiskey (of course!). It's quickly growing in popularity as one of our most beloved scents, and no question why: It's great for both men and women, it's sweet with a kick.
Our solid colognes are made in small batches right here in the USA. They come in very giftable and reusable kraft boxes that have an abbreviated version of the above description and contain one of a dozen different quotes. The 1 oz twist-top tin is perfect for carrying in your pocket all day.
All our scents are skin-safe and long-lasting. Because we feel like scent is a personal thing to be shared between you and those literally closest to you, these are subtle scents. They will not overpower a crowded elevator or make you "that guy with all the cologne." They're designed to create an ambiance, not an impact.
.25 oz of solid cologne goodness.
What does this kind of outlaw smell like?

+

-

An Outlaw smells like bold, rugged adventure.
How to use

+

-

Each sample is its own wonderous experience of a shifting blend of adventurous scents. We recommend that you use each for one day (so you don't get too far away from the first ones) and then order your favorite immediately!
Ingredients

+

-

0.25 oz - Castor Seed Oil (Ricinus Communis), Organic Coconut Oil (Cocos Nucifera), Yellow Beeswax, Organic Jojoba Seed Oil (Simmondsia Chinensis), Fragrance
Shipping & Returns

+

-

Most orders ship within a few business days and arrive within 5 business days. Situations outside of our control sometimes interfere, but we do our absolute best.

If you don't love what you ordered, please reach out to us and we'll either replace your product for free, or we'll give you a refund. If your items cost more than $100, we will issue a return label.
View full details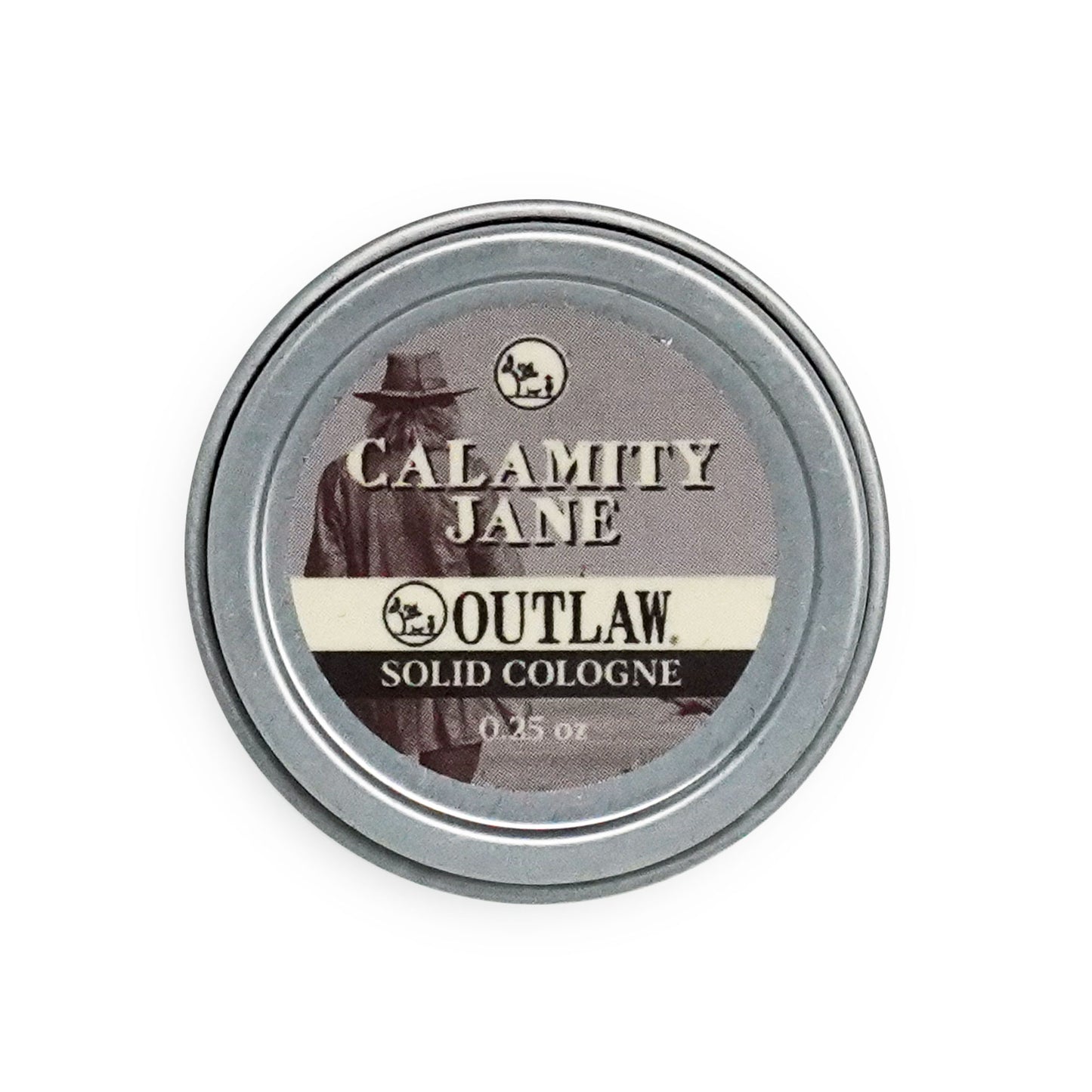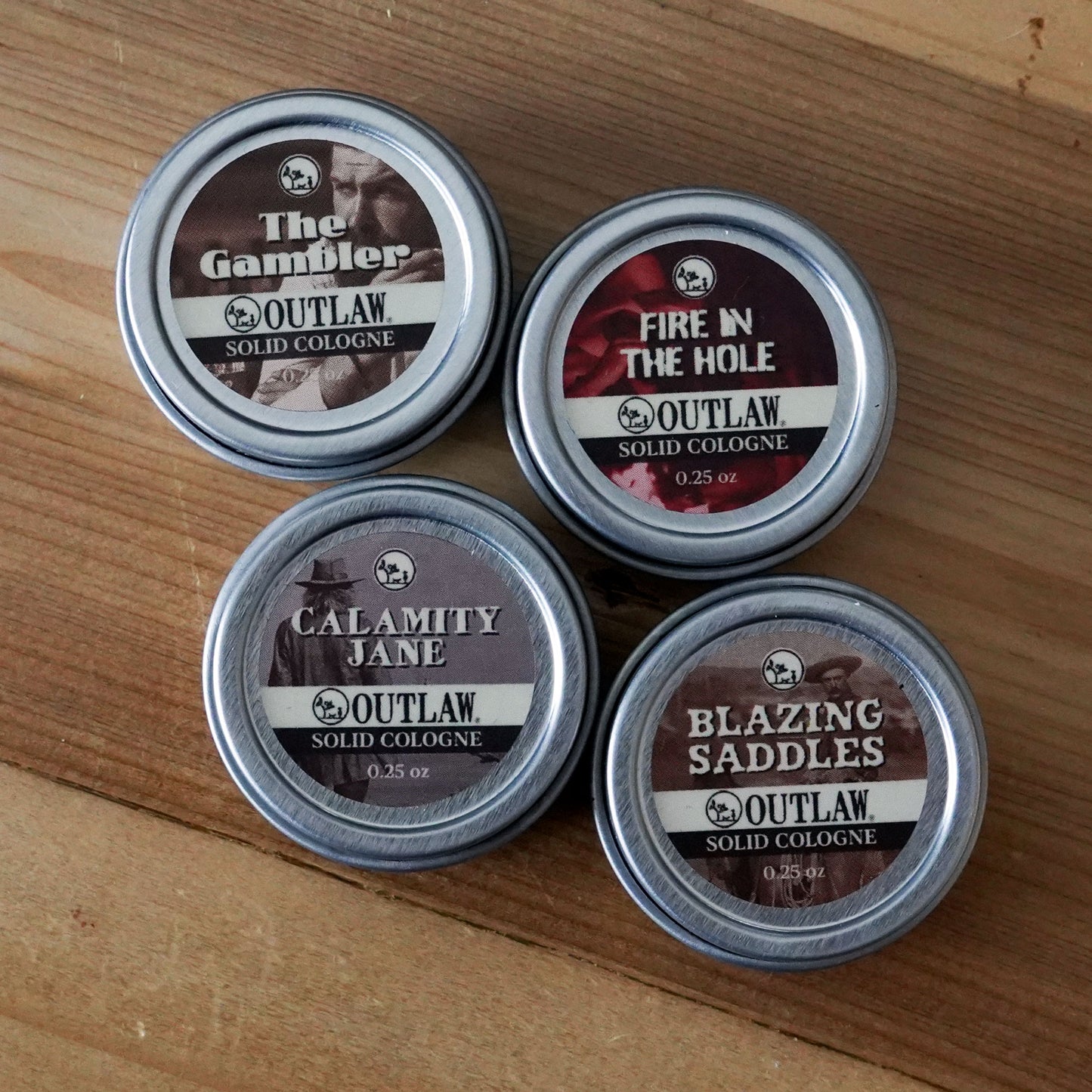 Man the amount of product you get is saddening for the price. Don't get me wrong, the scents are amazing, but for $15 I should get 2-3x the amount of what these come with. I wish they JUST sold the fragrance so I could mix up my own batch with shea butter, beeswax, coconut oil and castor seed oil. Honestly buying the cologne and making your own batch is probably what I will do moving forward as this is just ridiculous.
Good scent! That's all I can say.
Very great scent for something fruitier, yet still keeping it pretty androgynous on which way it leans! The warm woodsy smell from the clove really helps with the tang of the orange. Not my all time favorite scent as I've stated in other reviews (Lust In The Dust as of typing this), but I CERTAINLY recommend at least trying this. Got a nice scent without being overwhelming, the container makes it very travel friendly, and I just love the feel of twisting it open like the cowboys/cowgirls did in the past with old metal containers like these.
This smells absolutely amazeballs!!
I bought 4 samples,and this,so far,is the best
"I'm afraid I have created a monster! If I smell good my boyfriend is constantly smelling me. When he gets a Whiff of this calamity Jane I believe I'm going to be in big trouble!" — Debbie

"I really like how crisp it smells, and how long lasting it is. I apply it at about 1 in the afternoon and it's still going when my shift ends at midnight" — Eddie

"To me, 'Calamity Jane' evokes fresh autumn breezes coming across the prairie, mingled with the warm, happy scents of a nearby home." — Rebecca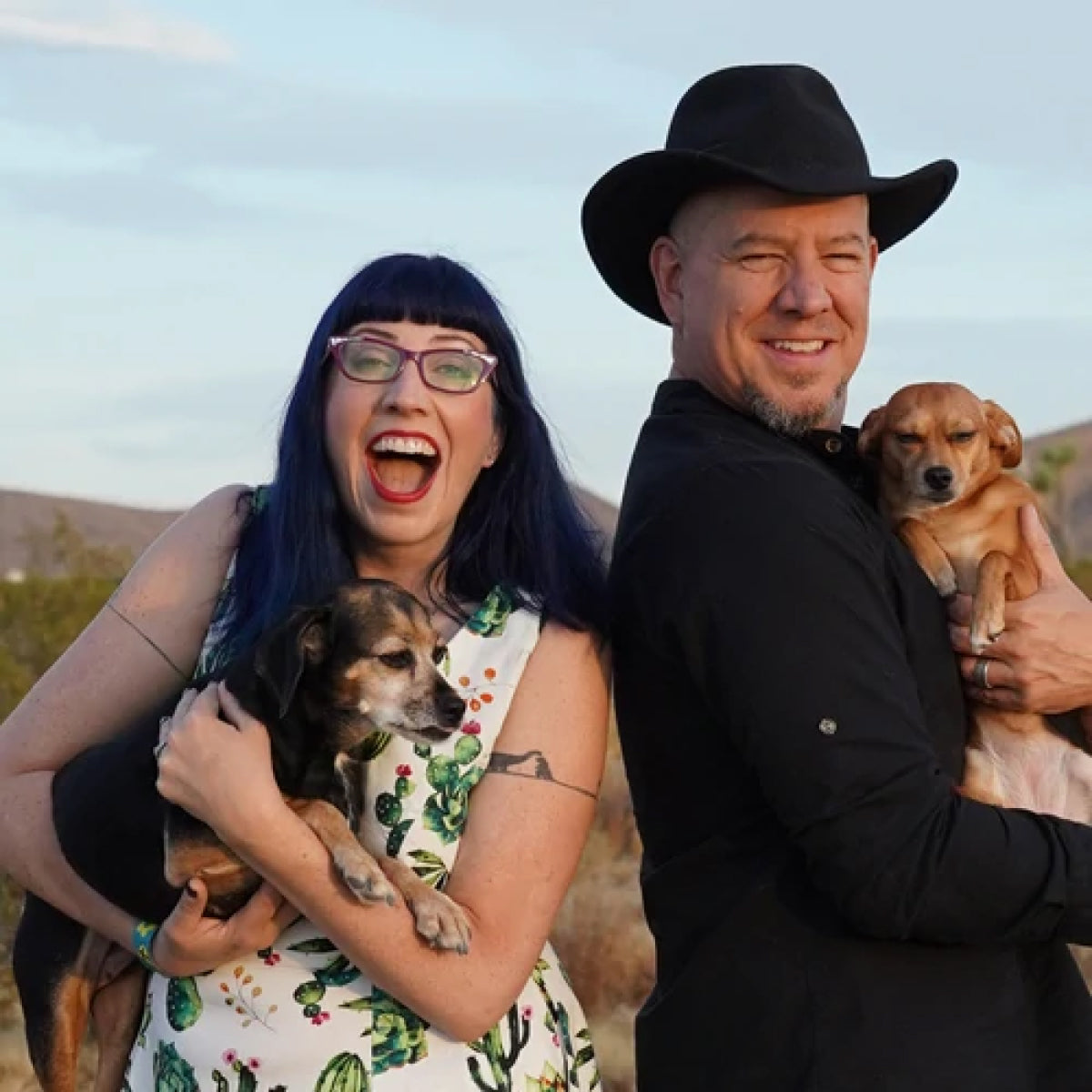 Who are the Outlaws?
We're Danielle & Russ Vincent, and we started Outlaw because we wanted to make a different kind of company.
We believe that good value doesn't mean cheaper, it means better quality, longer lasting, and more enjoyable to use.
We believe that good business practices don't have to be at odds with good social practices.
We believe that people do better when they feel better, and that good scents make people feel better.
We believe that a rising tide lifts all boats. We lift up other businesses every opportunity we get.
We believe that kindness costs nothing, but is worth more than gold.
We believe in the goodness of dogs.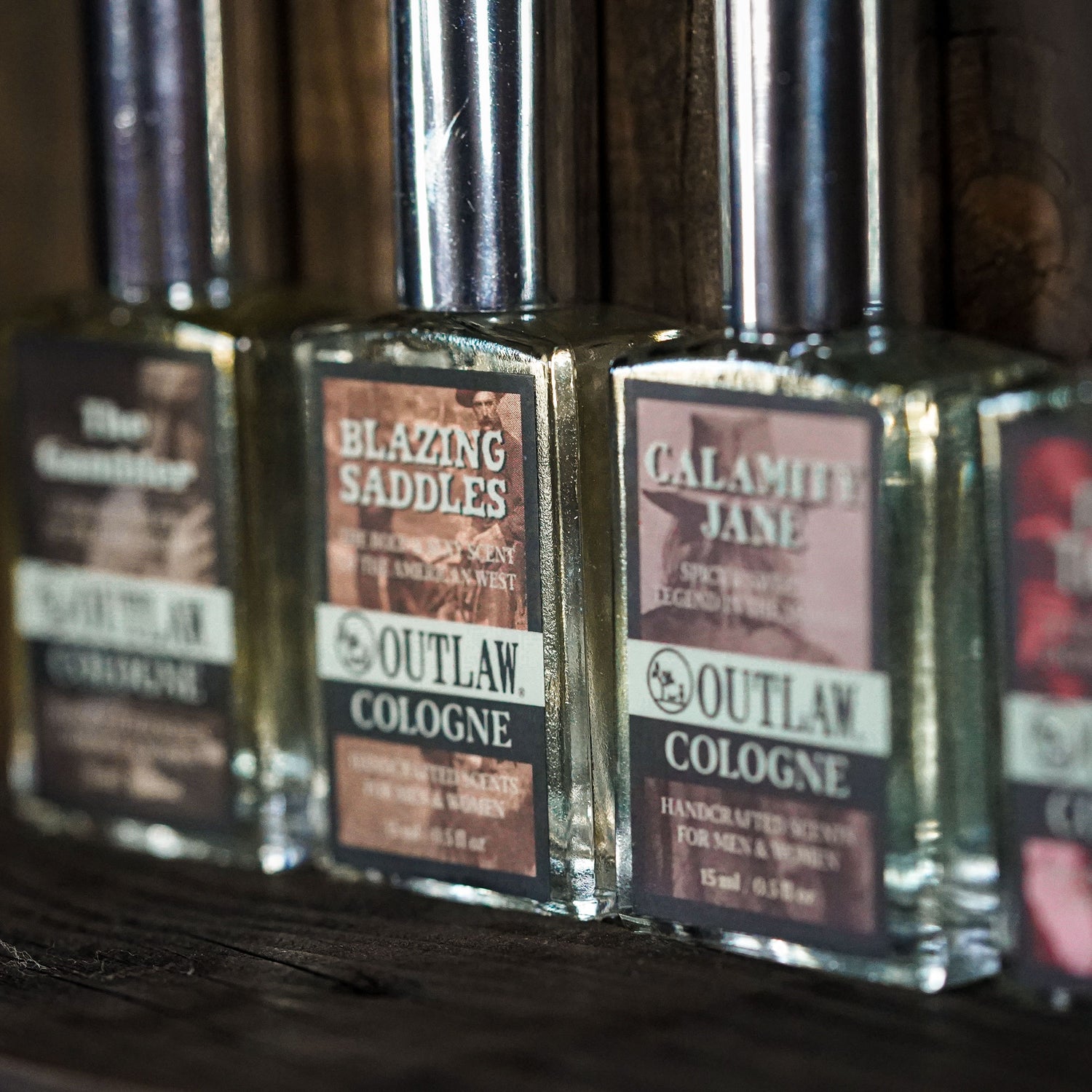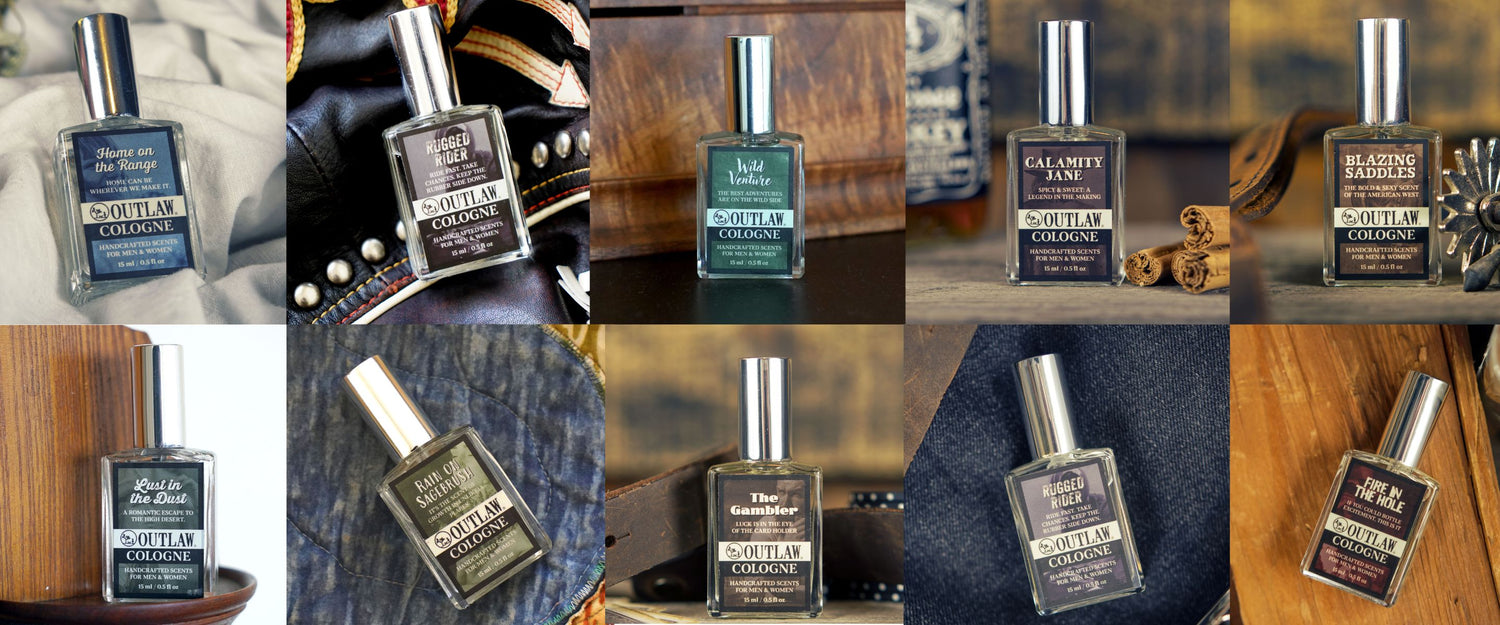 Do you love the smokey smell of campfire? How about the pungent scent of an aged whiskey? How about the peppery musk of gunpowder? Well, if you said hell yes to any of these three scents, then you need to look into the men's care products made by Outlaw.

Choosing a selection results in a full page refresh.