Smell like a Legend: Clove | Orange | Cinnamon | Whiskey
View Details
Show Me
$15.00
Sale price
$15.00
Regular price
$0.00
Unit price
per
Show Me
$15.00
Sale price
$15.00
Regular price
$0.00
Unit price
per
Sale
Sold out
Smell like a legend!
Smells of orange, clove, cinnamon, ginger, and a kick of whiskey.
Doesn't smell like the actual Calamity Jane (who was known to drink until she passed out in the stable).
Made with love and laughter.
Makes you want to rewatch all three seasons of Deadwood.
Perky, spicy, crisp scent.
"If a girl wants to be a legend, she should just go ahead and be one." - Calamity Jane
Maybe my favorite quote of all time, from the mouth of a whiskey-soaked, leather-clad, foul-mouthed ruffian. And also, by many accounts, she didn't bathe at all.
When some history buffs hear that we made a scent inspired by Calamity Jane, they worry. Justifiably. I don't think even whiskey-soaked, leather-clad, foul-mouthed ruffians wanted to smell like Calamity Jane... and yet, here she was, too legendary to let lie.
So when we were thinking of this company, and of the legends we pay tribute to, we knew we had to dedicate a special place in our collection to Calamity Jane.
Jack Crawford wrote, "She was simply a notorious character, dissolute and devilish, but possessed a generous streak which made her popular." And that's what inspired her scent: a little spicy, a little sweet.
Calamity Jane smells like clove, orange, cinnamon, and a kick of whiskey (of course!). It's quickly growing in popularity as one of our most beloved scents, and no question why: It's great for both men and women, it's sweet with a kick.
8 oz of silky goodness.
What does this kind of outlaw smell like?

+

-

A little spicy, a little sweet! Warm your senses with this combination of clove, orange, cinnamon, and, of course, whiskey! (We ARE talking about Calamity Jane, after all)
How to use

+

-

Pump a little of this thick, luxurious lotion in your hand. Spread it on your skin and generously work into your raw hide. Man oh man, that feels good. And it smells good, too. I think your day just got about 300% better. Not bad for a bottle of lotion, eh?
Ingredients

+

-

Water, Prunus Amygdalus Dulcis (Sweet Almond) Oil, Butyrospermum Parkii (Shea Butter), Emulsifying Wax NF, Persea Gratissima (Avocado) Oil, Stearic Acid, Phenoxyethanol, Caprylyl Glycol, Sorbic Acid, Fragrance.
Shipping & Returns

+

-

Most orders ship within a few business days and arrive within 5 business days. Situations outside of our control sometimes interfere, but we do our absolute best.

If you don't love what you ordered, please reach out to us and we'll either replace your product for free, or we'll give you a refund. If your items cost more than $100, we will issue a return label.
View full details
I love this lotion, everything about it!! The smooth texture, the way it slides along the skin and the wonderful smell. I always feel like I am ready for the day with my Calamity on!
Love the fragrance & consistency. No greasy film. Yay!
Relief at last
I got this bottle of body lotion from cracker barrell back in the spring. It was on the clearance table, the last bottle there. I opened to sniff because of the scents listed intrigued me. I have diabetes and my left leg is discolered and tight all the time. Most lotions sting when i use them. But this is so nice and i love the smell of it. Was happy to see the email address on the bottle so i can buy more. Thanks for still being available.
And this is a wonderful scent for autumn; or whenever!!!
I am in love with the smell of this lotion and body wash. Every morning when I am applying the lotion it brings a smile to my face. This company makes quality products. I will continue to purchase them.
I LOVE this company and their products. They are all made with quality in mind. The packaging is well done.
Calamity Jane Body Lotiom
Makes strangers swoon and says "what's that SMELL" (but in a good way).
"I ordered the Calamity Jane body lotion and love it! It is cinnamon, it is cloves, it is orange- very spicy, very comforting." — Sheri

"What a great company! They really do want you to be happy with your purchase and I am very happy with mine!" — Scott

"Love love love Calamity Jane! Spicy and sweet. Perfect fall/winter scent!" — Jen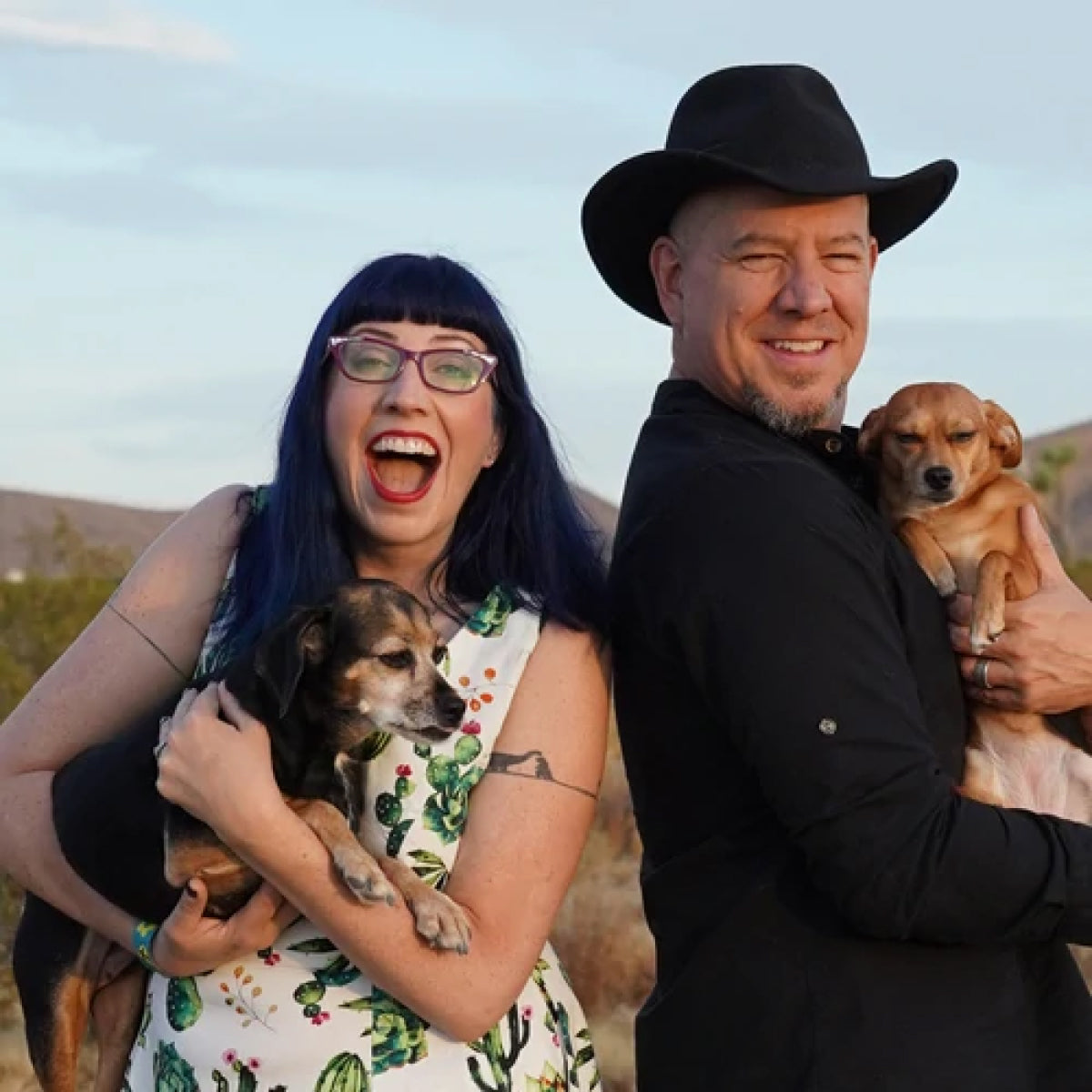 Who are the Outlaws?
We're Danielle & Russ Vincent, and we started Outlaw because we wanted to make a different kind of company.
We believe that good value doesn't mean cheaper, it means better quality, longer lasting, and more enjoyable to use.
We believe that good business practices don't have to be at odds with good social practices.
We believe that people do better when they feel better, and that good scents make people feel better.
We believe that a rising tide lifts all boats. We lift up other businesses every opportunity we get.
We believe that kindness costs nothing, but is worth more than gold.
We believe in the goodness of dogs.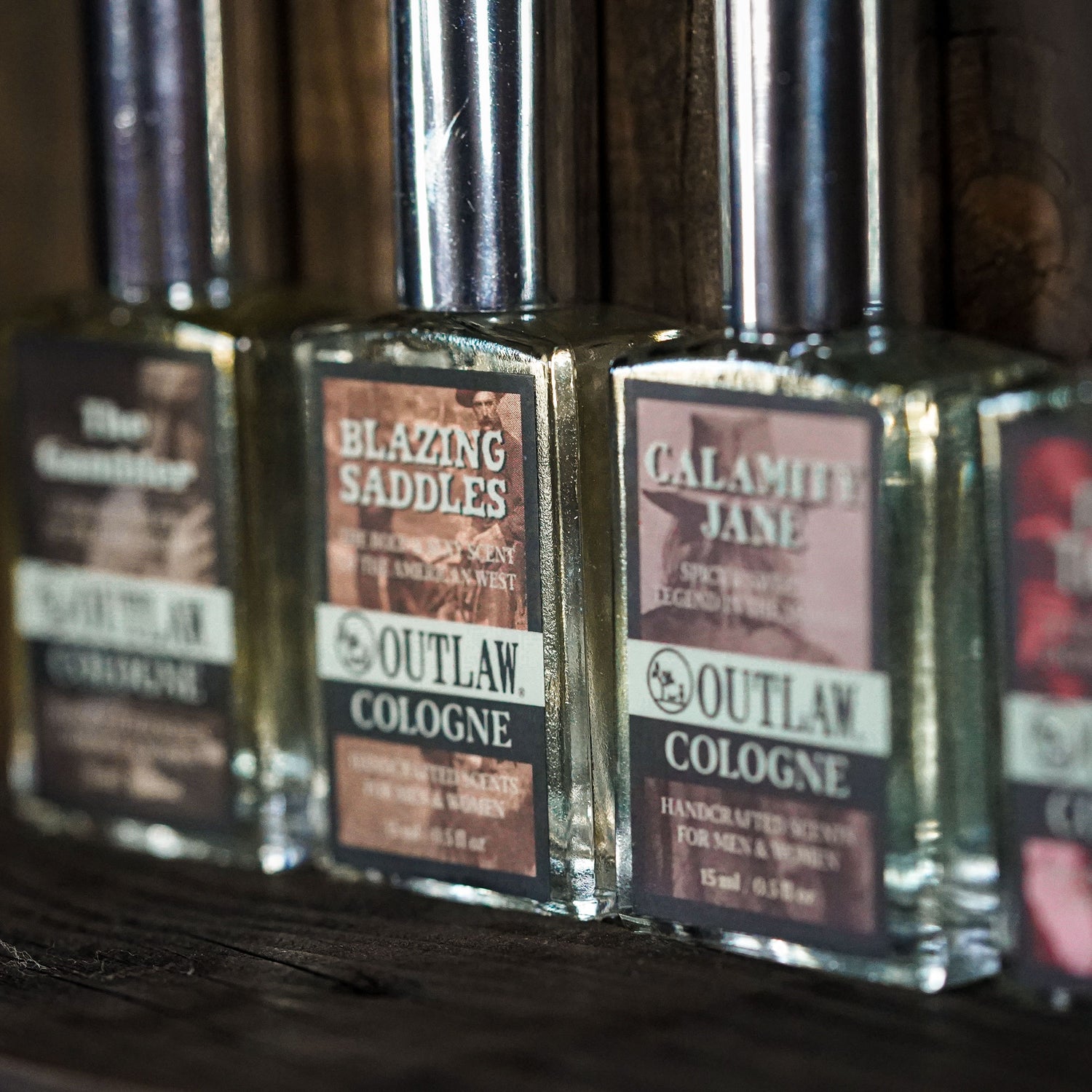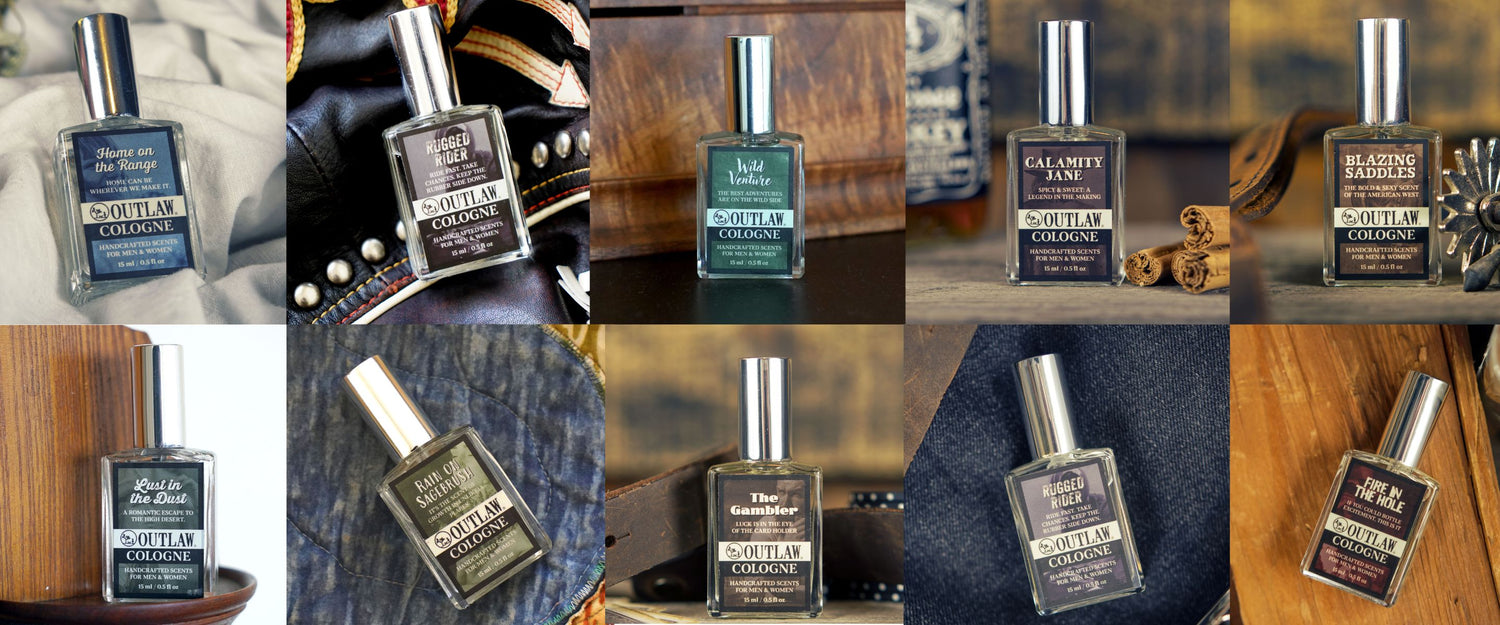 Do you love the smokey smell of campfire? How about the pungent scent of an aged whiskey? How about the peppery musk of gunpowder? Well, if you said hell yes to any of these three scents, then you need to look into the men's care products made by Outlaw.

Choosing a selection results in a full page refresh.