The legendary scent inspired by Calamity Jane: Clove | Orange | Cinnamon | Whiskey
Smell like a legend!
What does it smell like?

 

This quick-absorbing oil suitable for hairs of all kinds

 smells of orange, clove, cinnamon, ginger, and a kick of whiskey.

You'll look practically tamed. This soothes even the wildest bird nest of scraggly beard while smelling absolutely divine.
Can be used as beard oil, but also makes a great hair oil for both women and men. It is the pinnacle of grooming products for all genders (pinnacle-ness not guaranteed.)
Handcrafted, with love and laughter, in small batches with high-quality ingredients for maximum amazingness by the fine folks at Outlaw, a tiny little company in the Silver State, Nevada, by people who love their jobs
Suitable gift for outlaws AND in-laws
"If a girl wants to be a legend, she should just go ahead and be one." - Calamity Jane
Maybe my favorite quote of all time, from the mouth of a whiskey-soaked, leather-clad, foul-mouthed ruffian. And also, by many accounts, she didn't bathe at all.
When some history buffs hear that we made a scent inspired by Calamity Jane, they worry. Justifiably. I don't think even whiskey-soaked, leather-clad, foul-mouthed ruffians wanted to smell like Calamity Jane... and yet, here she was, too legendary to let lie.
So when we were thinking of this company, and of the legends we pay tribute to, we knew we had to dedicate a special place in our collection to Calamity Jane.
Jack Crawford wrote, "She was simply a notorious character, dissolute and devilish, but possessed a generous streak which made her popular." And that's what inspired her scent: a little spicy, a little sweet.
Calamity Jane smells like clove, orange, cinnamon, and a kick of whiskey (of course!). It's quickly growing in popularity as one of our most beloved scents, and no question why: It's great for both men and women, it's sweet with a kick.
To say it is a "beard oil" vastly under-selling its charms. It can be used on any hairs. Yes, it will delightfully smooth and condition even the crinkliest beards... but why does it have to stop there?
My hair is a matted disaster from years of bleaching and coloring. This jojoba and hempseed oil-based elixir sooths and smooths my angry, frizzy mess.
Take a walk on the wild side with this savage beast. Our magic combination of oils, mixed with our spicy scent of orange, clove, cinnamon, and a kick of whiskey, will kick you into high gear for a day of trail riding or subway riding.
3 oz of handmade oily goodness.
What does this kind of outlaw smell like?

+

-

A little spicy, a little sweet! Warm your senses with this combination of clove, orange, cinnamon, and, of course, whiskey! (We ARE talking about Calamity Jane, after all)
How to use

+

-

Put a few drops in your hand. A little goes a long way. Rub your hands together like a villain hatching a plan. Work your fingers through your beard and/or hair with bold yet sincere appreciation for your lovely God-granted locks. Savor the brilliant scent of your hatch-primed plan. Hatch plan.
Ingredients

+

-

Simmondsia Chinensis (Jojoba Oil), Cannabis Sativa (Hemp) Seed Oil, Cocos Nucifera (Coconut) Oil, Persea Gratissima (Avocado) Oil, Essential & Fragrance Oil.
Shipping & Returns

+

-

Most orders ship within a few business days and arrive within 5 business days. Situations outside of our control sometimes interfere, but we do our absolute best.

If you don't love what you ordered, please reach out to us and we'll either replace your product for free, or we'll give you a refund. If your items cost more than $100, we will issue a return label.
View full details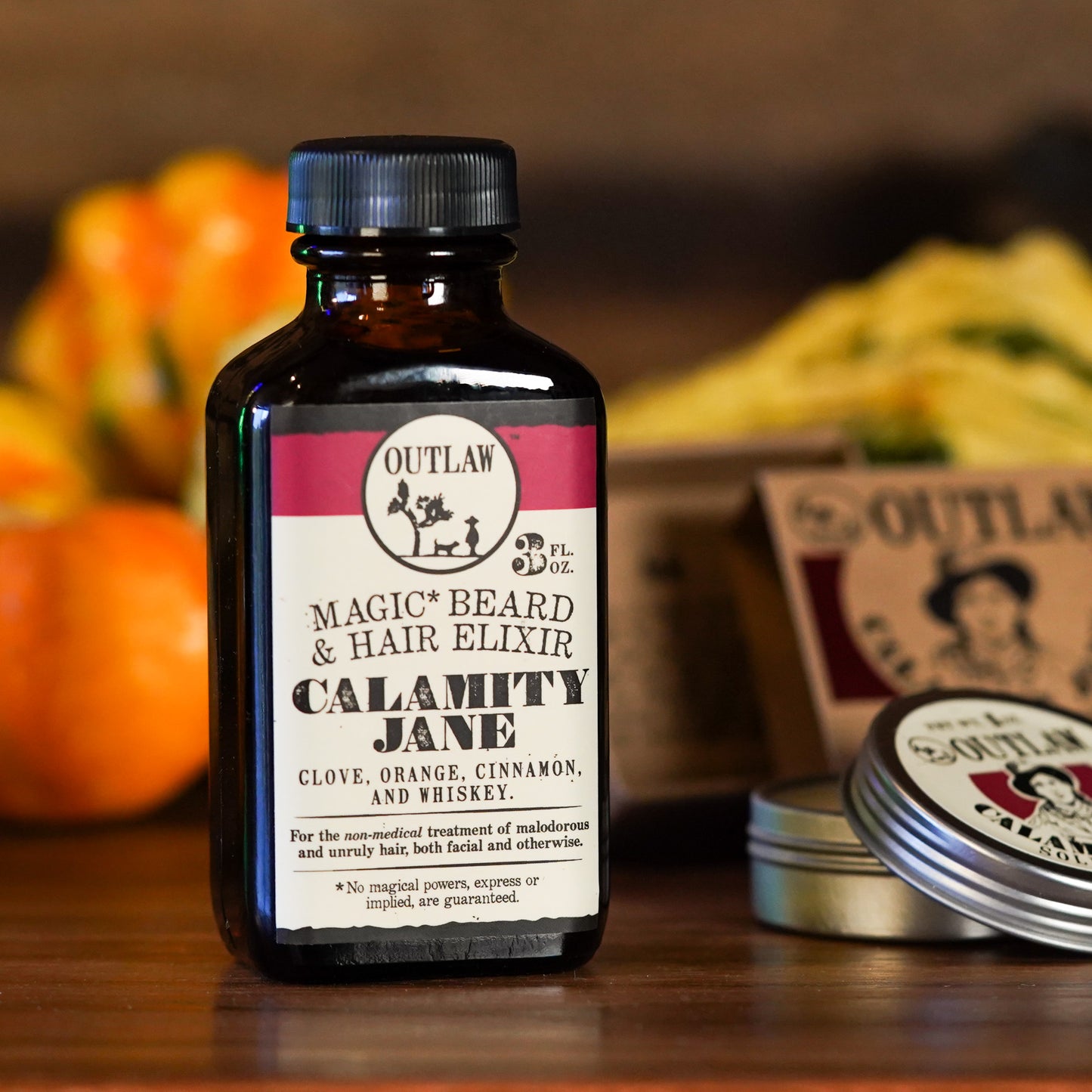 Great scent!
I first discovered Outlaw soaps in the gift shop of Spring Mountain Ranch State Park in Nevada. I saw a bar of Calamity Jane soap and bought it as a fun gift for a friend--more or less as a joke, as we both have a thing for the history of the Wild West. However, when I was getting ready to mail the soap to my friend, I took a good whiff of the soap and thought gee--I really like this scent, and I wished I had bought a bar for myself. But then I thought well, they probably have a website, and indeed--I now had the opportunity to get a bar of Calamity Jane soap for myself! I have ordered a few other bars of the company's other scents along with a package of soap samplers, but I've been so hooked on the Calamity Jane soap that I just keep using that one! I have also ordered the Calamity Jane sampler cologne as well as the hair and beard oil and the body wash. The cologne is a bit too strong and sweet for me (I think it would have a greater appeal for women?), but I like the body wash and love the hair and beard oil. I rub a little of the oil in my hair before putting my hair product on, and it smells terrific. If this scent came in a solid deodorant, I would buy that too! it's hard to explain, but there is something really unique about the Calamity Jane scent. In my opinion, it is great for men or women, and it does somehow evoke the Wild West to me in a very pleasant way. While using it, there seems to be something both refreshing and soothing about the scent--yet it's not overbearing either. I don't think I'll get tired of it, but I do hope to try some of the other scents Outlaw offers!
Beard and hair elixir.
This particular product is amazing. But so are all their products!!! Looked for a long time and I love Calamity Jane. And by the way…they are a great people to shop from.
Really like it
I bought this to put in my hair after I take my shower a when I get home from work.The next morning I combined it with my pomade,and it left my hair soft and still kept it's shape.And it smells great also
Works great to manage damaged hair!
Has helped manage my split ends. Great value! A little goes a looooooong way;
Calamity Jane Deodorant
I ordered and received my second purchase of Calamity Jane Solid Deodorant. Love the scent, and it lasts! I love ALL the Calamity Jane products I have purchased...deodorant, body wash, body lotion and solid cologne.
Not just for beards and hair!
Wow. this product is amazing. It makes for a wonderful hair dressing, and better yet, it is an amazing cuticle treatment. Being jojoba based, it absorbs into your skin quickly. Great for dry chapped hands, elbows and feet!!!
I hope Outlaw will continue to offer this product!
LOVE THIS STUFF
I'm sad to hear this product is going away. I mix an ounce or two into a 6-pound bag of epsom salt, then add two cups of salt to my soaking tub. I wish I had known in time to replenish my stash; apparently, it is already out of stock. I will explore your other scents, but fear they will be too "manly" for my tastes.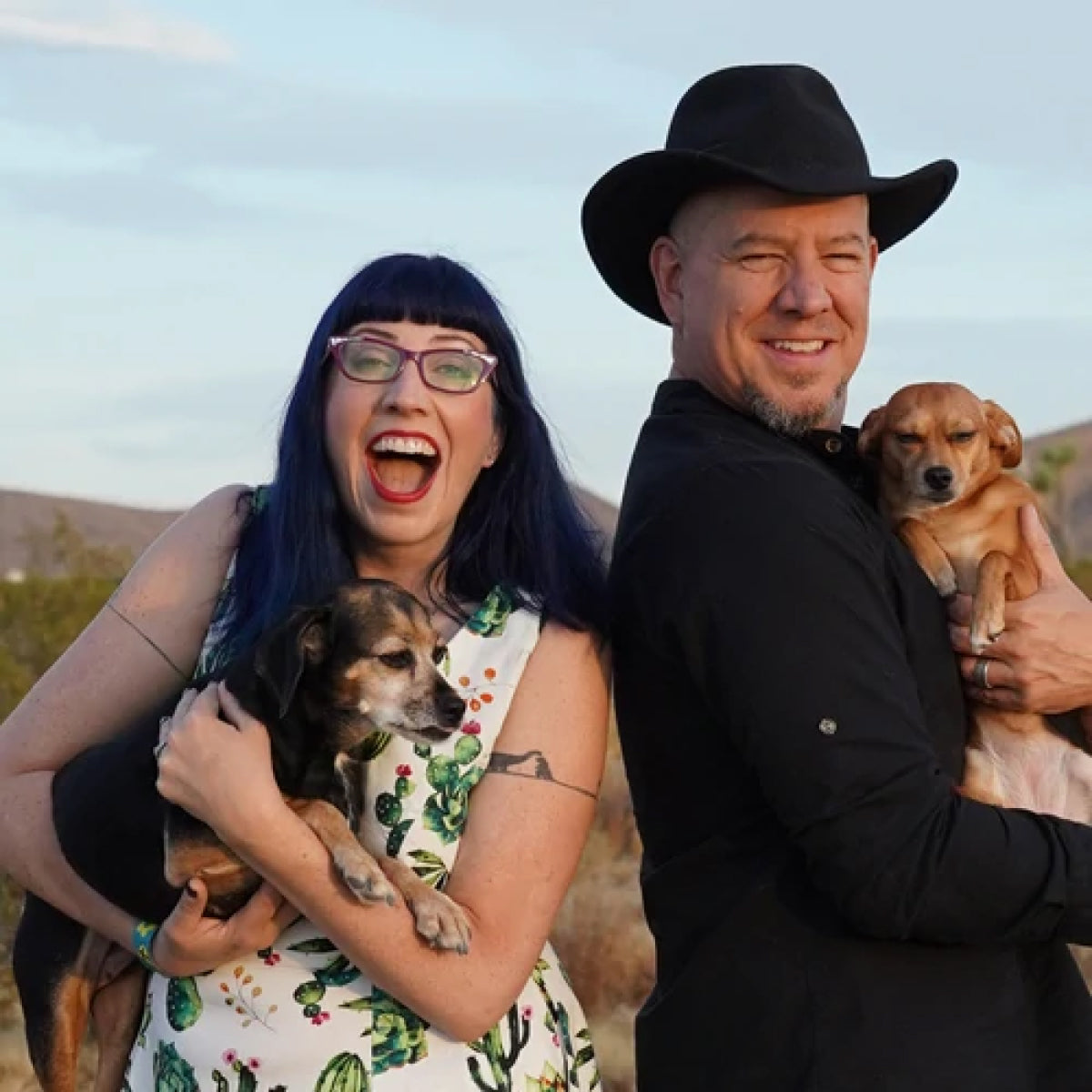 Who are the Outlaws?
We're Danielle & Russ Vincent, and we started Outlaw because we wanted to make a different kind of company.
We believe that good value doesn't mean cheaper, it means better quality, longer lasting, and more enjoyable to use.
We believe that good business practices don't have to be at odds with good social practices.
We believe that people do better when they feel better, and that good scents make people feel better.
We believe that a rising tide lifts all boats. We lift up other businesses every opportunity we get.
We believe that kindness costs nothing, but is worth more than gold.
We believe in the goodness of dogs.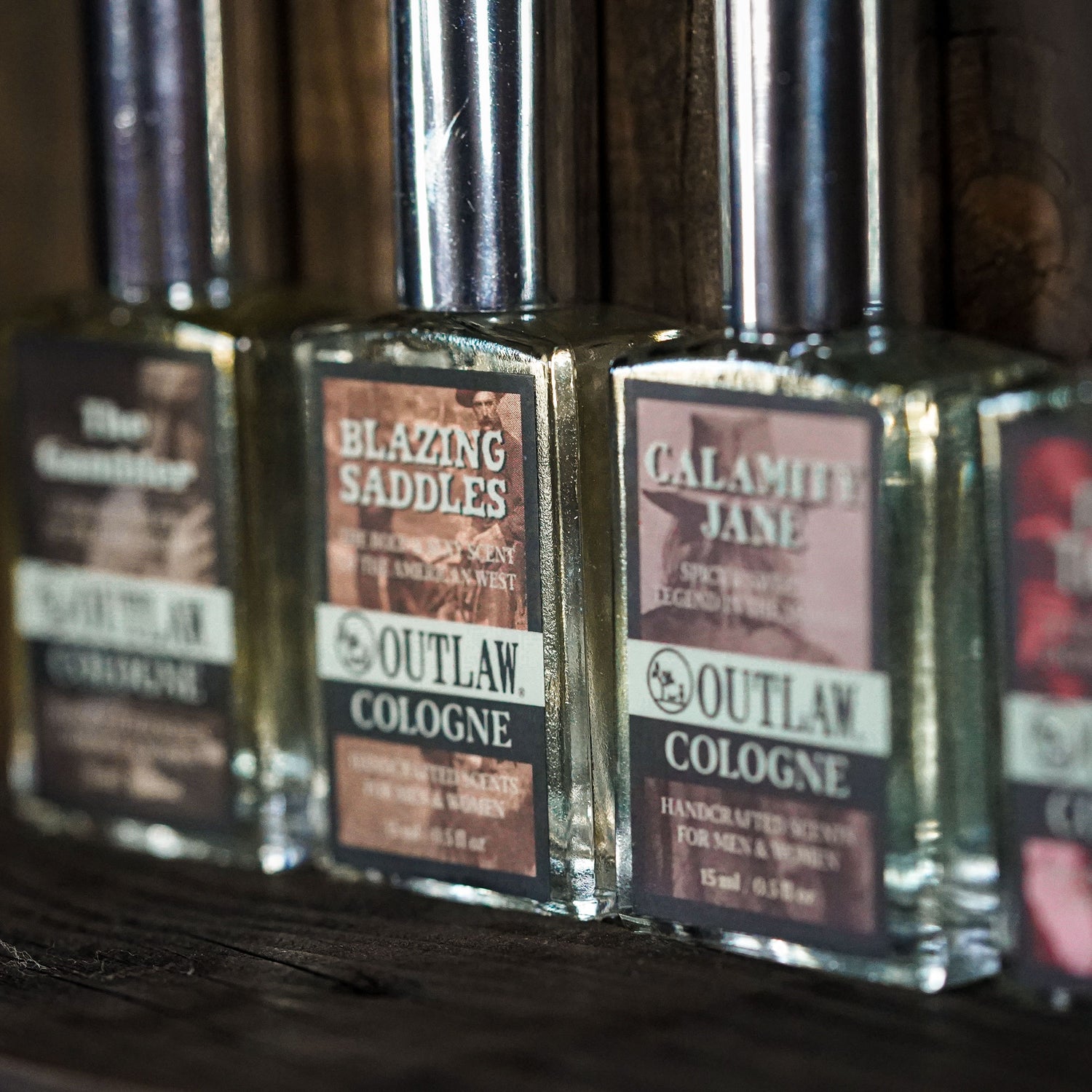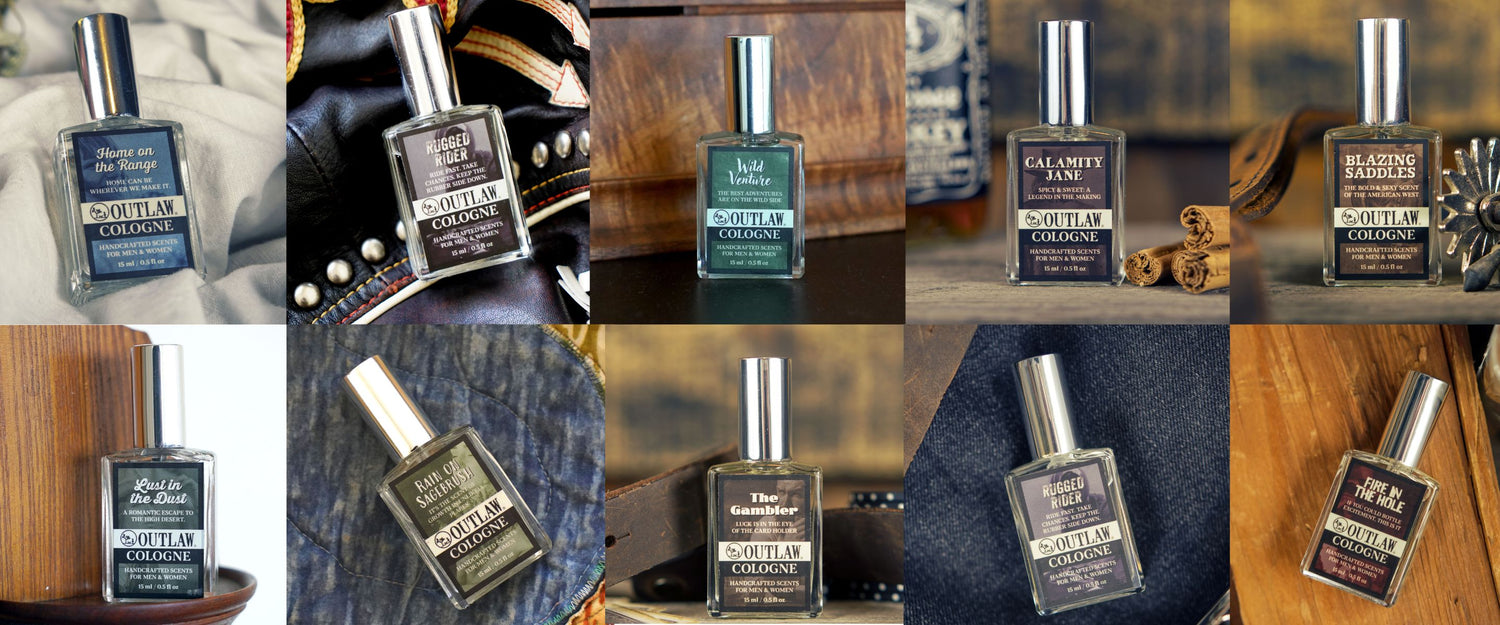 Do you love the smokey smell of campfire? How about the pungent scent of an aged whiskey? How about the peppery musk of gunpowder? Well, if you said hell yes to any of these three scents, then you need to look into the men's care products made by Outlaw.

Choosing a selection results in a full page refresh.