Pocket-perfect Travel Cologne
View Details
Show Me
Sale price
$15.00
Regular price
Unit price
per
Show Me
Sale price
$15.00
Regular price
Unit price
per
Sale
Sold out
"Starts out with that fantastic, clean leather smell. It opens up after applying to skin and the soft sandalwood has a chance to come through. Really brilliant stuff!" - Stephen, Outlaw on the Run
Walk into a room with the confidence of a rugged, roguish cowboy accompanied by eagles carrying pearl-grip six-shooters filled with bullets made of sheer animal magnetism.
What does it smell like? This travel-ready, wax-based cologne will bring a blend of leather, gunpowder, sandalwood, and sagebrush to your daily adventure. If you wonder what it feels like to be an American Hero, this cologne is your answer.
What is this cologne? This natural, solid cologne is a concentrated balm of cologne.
How do I use it? It's so easy to use solid cologne (and you never have to worry about over-application!). Just open the top and rub a little on your pulse points. Want a video on how to use solid cologne? We got ya!
Is it amazing? Yes indeed, my friend! Outlaw's line-up of natural solid cologne is inspired by real-life scents like leather & gunpowder. If you don't love it, we'll help you find a scent that works better for you, or give you a full refund: Running with Outlaws is risk-free with our satisfaction guarantee!
If you'd like to know the difference between spray (traditional) cologne and solid cologne, we have fully geeked out in our blog.
What does an Outlaw smell like?
An Outlaw is a gosh darn American hero. An Outlaw transcends the common law of the land and is governed by a higher authority: Personal Integrity (which is also an aphrodisiac in the right circles).

An Outlaw smells like leather, sandalwood, gunpowder, sagebrush, and a little dirt.
An Outlaw smells like the essence of badassery.
This cologne is the scent of the cowboys of legend... and makes you such a legend.
If your romantic entanglement stands downwind, you might be late for work.
See all of Outlaw's Blazing Saddles Western-inspired sundries, including cologne, soap, lotion, and more
All our scents are skin-safe and long-lasting. Because we feel like scent is a personal thing to be shared between you and those literally closest to you, these are subtle scents. They will not overpower a crowded elevator or make you "that guy with all the cologne." They're designed to create an impression, not an impact.
.25 oz of solid cologne goodness.
What does this kind of outlaw smell like?

+

-

An Outlaw smells like bold, rugged adventure.
How to use

+

-

Each sample is its own wonderous experience of a shifting blend of adventurous scents. We recommend that you use each for one day (so you don't get too far away from the first ones) and then order your favorite immediately!
Ingredients

+

-

0.25 oz - Castor Seed Oil (Ricinus Communis), Organic Coconut Oil (Cocos Nucifera), Yellow Beeswax, Organic Jojoba Seed Oil (Simmondsia Chinensis), Fragrance
Shipping & Returns

+

-

Most orders ship within a few business days and arrive within 5 business days. Situations outside of our control sometimes interfere, but we do our absolute best.

If you don't love what you ordered, please reach out to us and we'll either replace your product for free, or we'll give you a refund. If your items cost more than $100, we will issue a return label.
View full details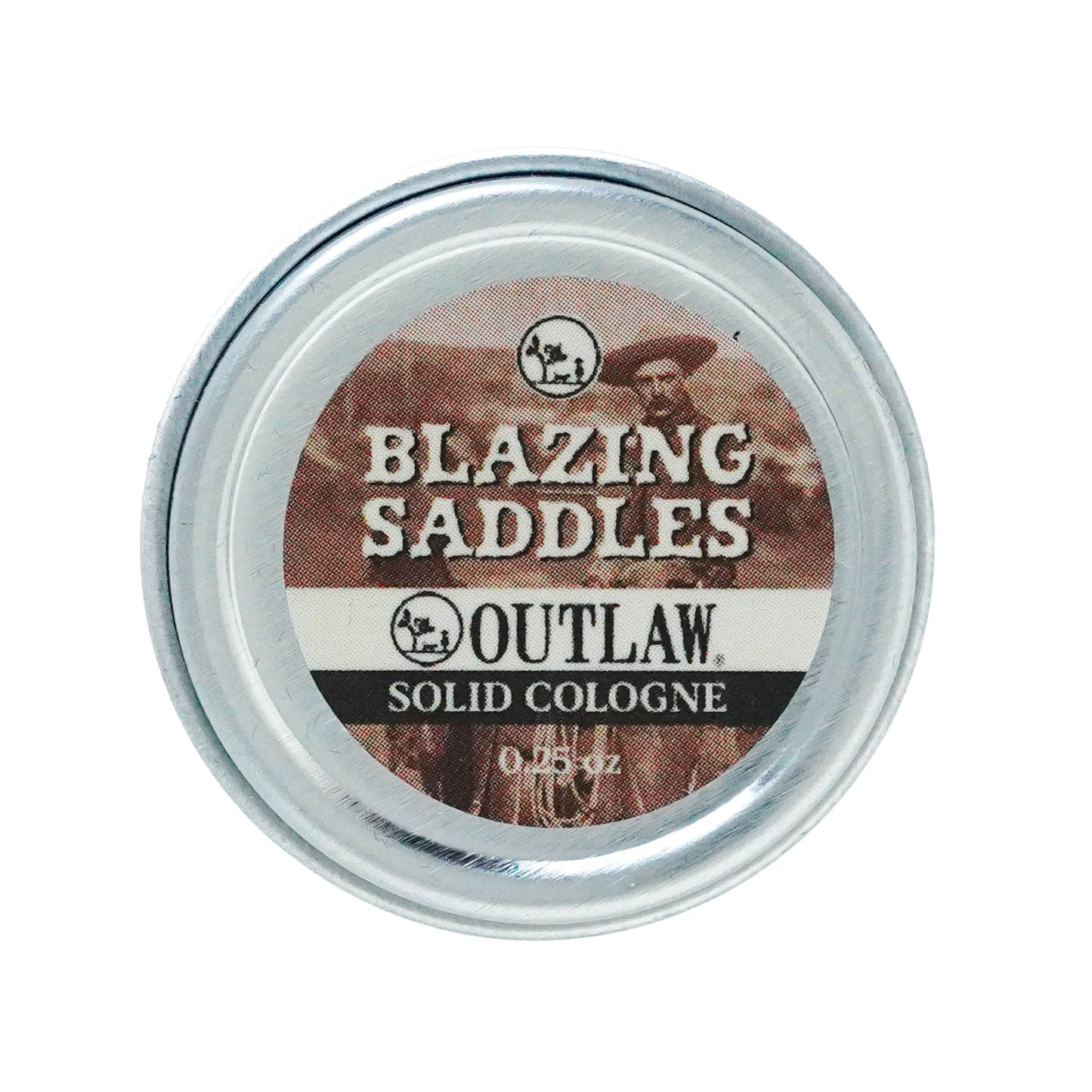 One of the best!
My personal favorite scents is Lust In The Dust (Sandalwood/Sagebrush/Campfire), and this very much reminds me of that! Imagine LITD is when you get out of the shower, while Blazing Saddles is LITD when you spend time at a campfire right after your shower. A very good scent, and I certainly recommend getting it in the 4 or $24! Definitely a sweeter cologne, so look out if that's not something you want in your cologne profile.
I got the cologne samplet
Based upon receiving the cologne sampler, I will certainly be ordering more Outlaw products. - I am especially interested in the handmade soaps.
"This scent smells like *real* warm leather, with some notes of gunpowder if you're paying attention." — John

"This is actually my first 'solid' cologne and it is great. Smells of old leather, sage, and spicy wood." — Eric

"It smells just as it describes! It also reminds me back in the day stacking square bales in the barn, the alfalfa, and leather gloves." — Jared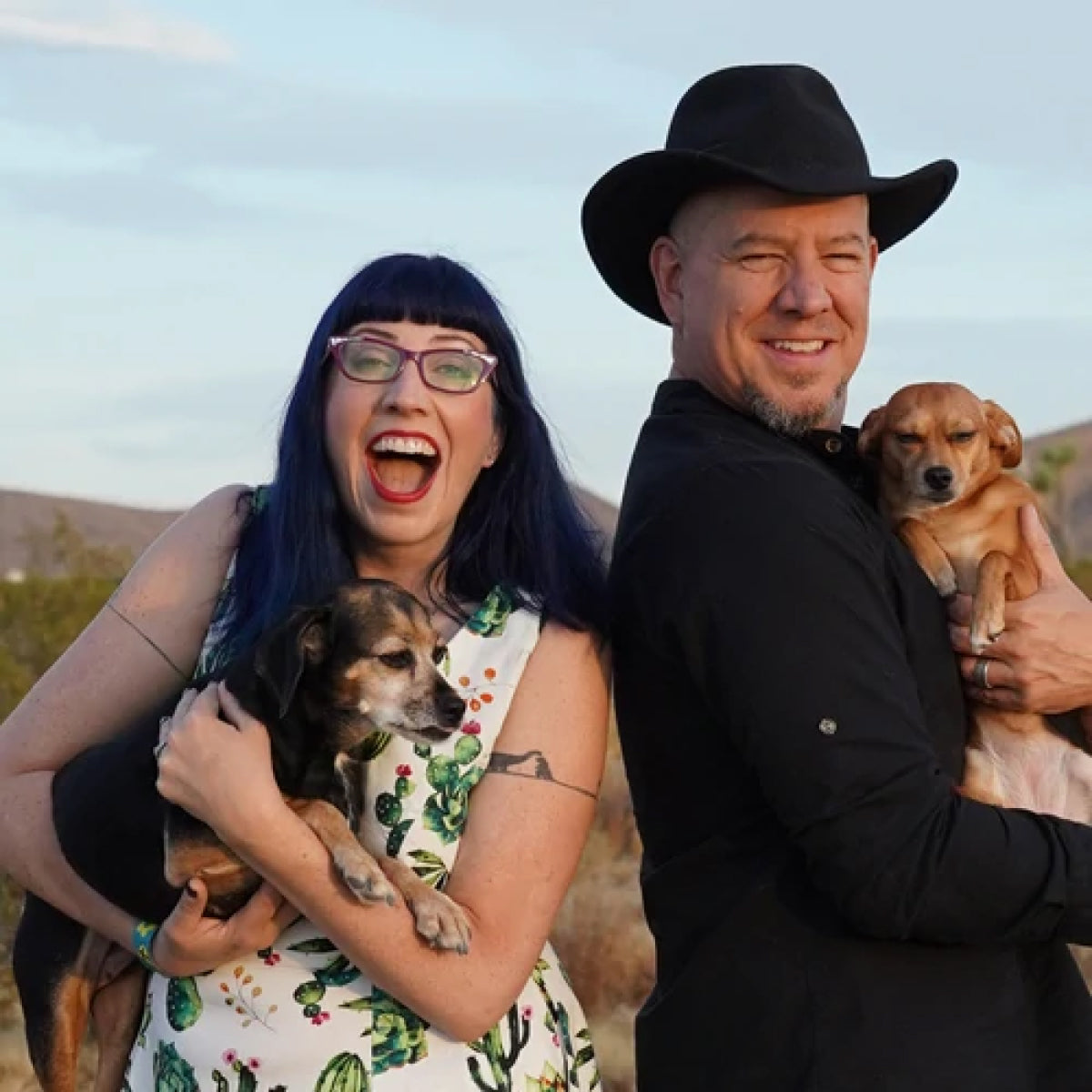 Who are the Outlaws?
We're Danielle & Russ Vincent, and we started Outlaw because we wanted to make a different kind of company.
We believe that good value doesn't mean cheaper, it means better quality, longer lasting, and more enjoyable to use.
We believe that good business practices don't have to be at odds with good social practices.
We believe that people do better when they feel better, and that good scents make people feel better.
We believe that a rising tide lifts all boats. We lift up other businesses every opportunity we get.
We believe that kindness costs nothing, but is worth more than gold.
We believe in the goodness of dogs.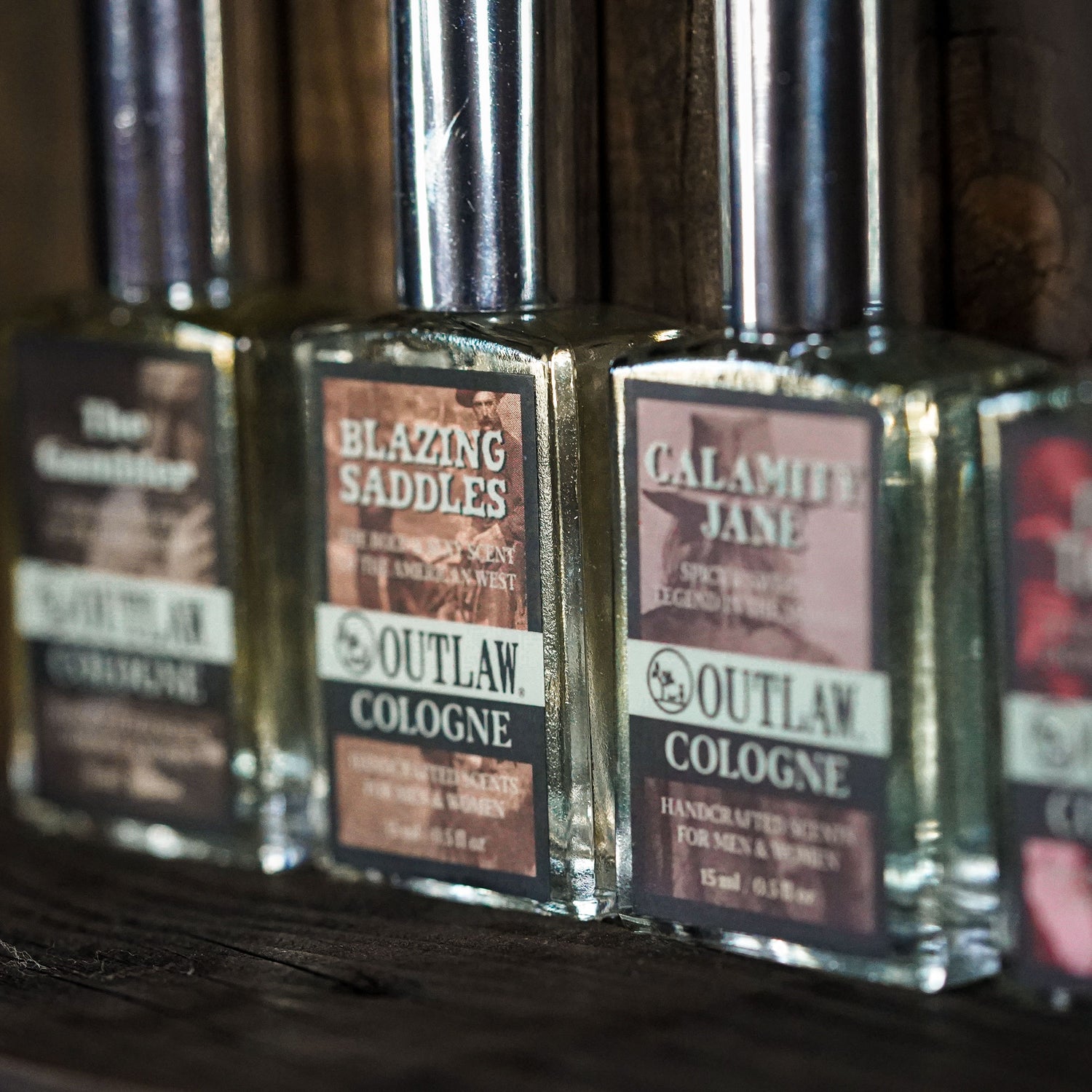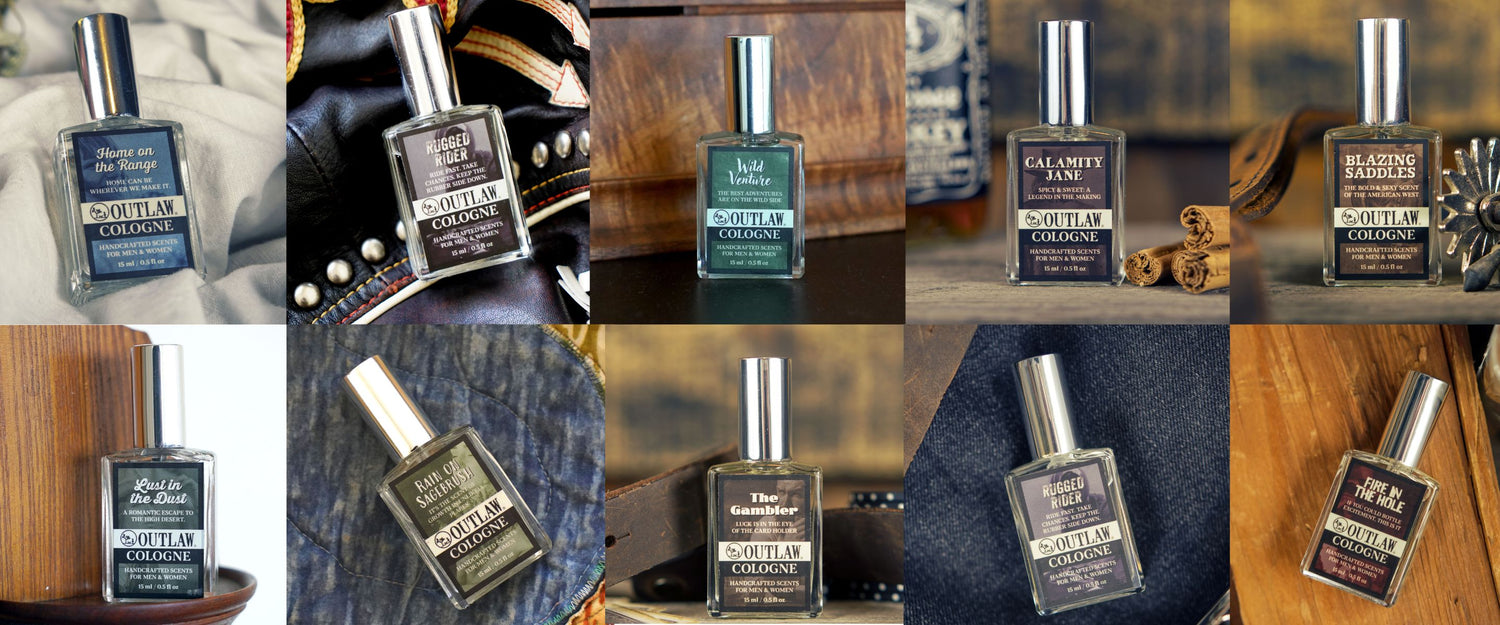 Do you love the smokey smell of campfire? How about the pungent scent of an aged whiskey? How about the peppery musk of gunpowder? Well, if you said hell yes to any of these three scents, then you need to look into the men's care products made by Outlaw.

Choosing a selection results in a full page refresh.