THE SEXIEST SOAP EVER
View Details
Show Me
$8.50
Sale price
$8.50
Regular price
Unit price
per
Show Me
$8.50
Sale price
$8.50
Regular price
Unit price
per
Sale
Sold out
"I bought this as a gift for my boyfriend and both he and I are enjoying it thoroughly! It smells like hope for the triumphant return of exploration." - Victoria, Candidate for Girlfriend of the Year
Walk into a room with the confidence of a rugged, roguish cowboy accompanied by eagles carrying pearl-grip six-shooters filled with bullets made of sheer animal magnetism.
What does it smell like? This soap smells just like the bold and unmistakable scents of leather, gunpowder, sandalwood, and sagebrush — like Ennio Morricone wrote the soundtrack of your life.
What is this soap? This cold process, handmade soap is made from sustainably produced natural oils, natural colors, and a blend of natural and lab-made scents. It's packaged in a delightful, recyclable box with all the character you'd expect from Outlaw.
Is it amazing? YES!!! It's a satin of suds for your shower that brings an elevated showering celebration! The best bar of soap you've used or your money back.
4ish oz of this cold process, natural, handmade soap lasts a few weeks (depending on your body hair).
Breaking all records of shower-filled enjoyment can be your personal victory for a mere $0.47/day, or just 0.0002380952381% of the cost of a single thoroughbred horse.
All of our soaps are handmade and, as a result, may have some minor cosmetic and weight differences.
What does this kind of outlaw smell like?

+

-

An Outlaw smells like a gosh darn American hero. An Outlaw transcends the common law of the land and is governed by a higher authority: Personal Integrity (which is also an aphrodisiac in the right circles).

An Outlaw smells like leather, sandalwood, gunpowder, sagebrush, and a little dirt.

An Outlaw smells like the essence of badassery.

The Blazing Saddles Collection brings the scent of the cowboys of legend to your every day... and makes you such a legend.

If your romantic entanglement catches you after using this lotion, you might be late for work.

This bold, rugged Western scent invigorates the Outlaw within and inspires you to GET. IT. DONE.
How to use

+

-

Work yourself into a lather. No, really! That's how you use it! These handmade soaps are specifically designed to produce a fun, bounteous lather, while also having a stable lather worthy of shaving. And they're gentle enough to use in your hair!
Ingredients

+

-

Cocos Nucifera (Coconut) Oil, Water, Olea Europaea (Olive) Fruit Oil, Persea Gratissima (Avocado) Oil, Sodium Hydroxide, Ricinus Communis (Castor) Seed Oil, Fragrance (Parfum), Natural Color.
Shipping & Returns

+

-

Most orders ship within a few business days and arrive within 5 business days. Situations outside of our control sometimes interfere, but we do our absolute best.

If you don't love what you ordered, please reach out to us and we'll either replace your product for free, or we'll give you a refund. If your items cost more than $100, we will issue a return label.
View full details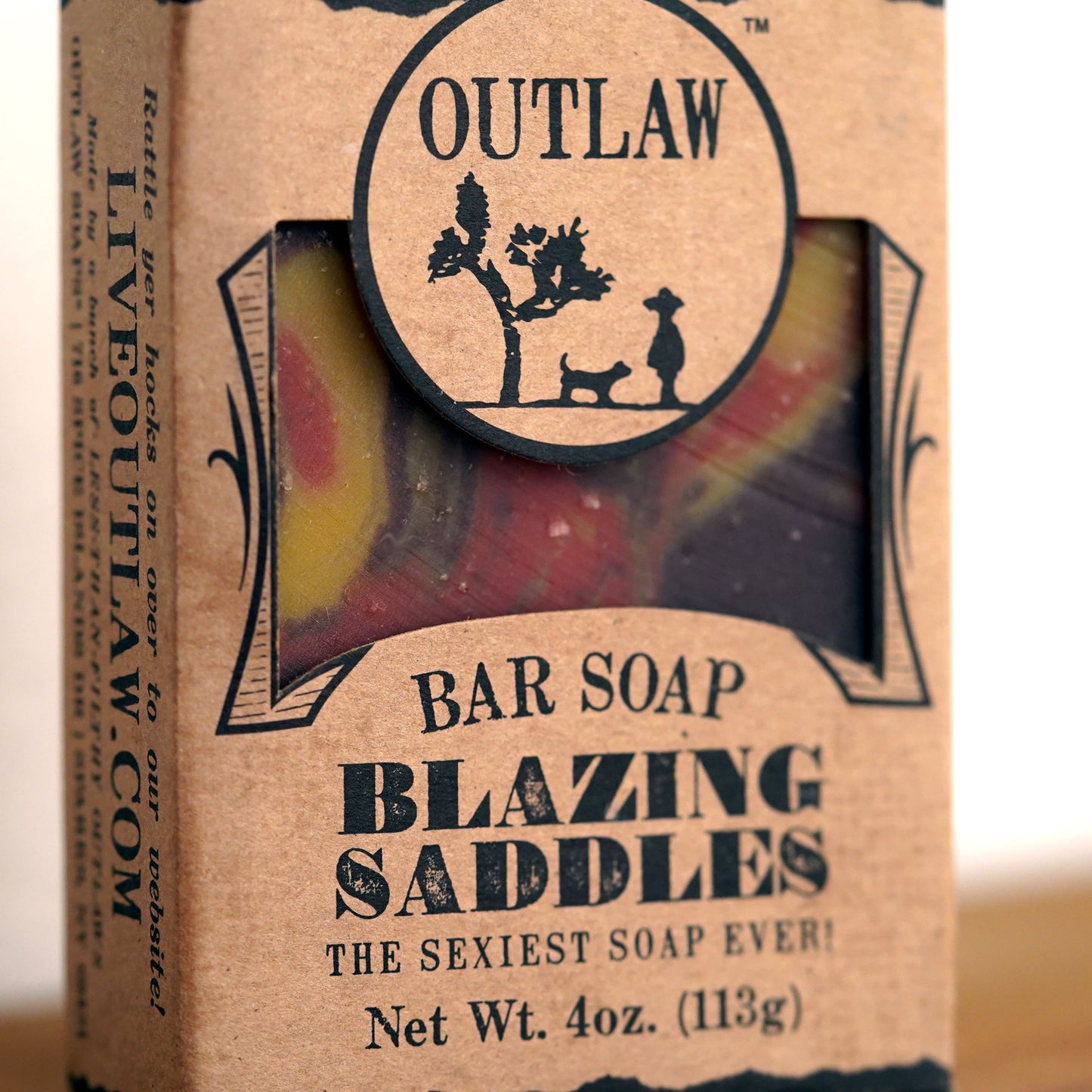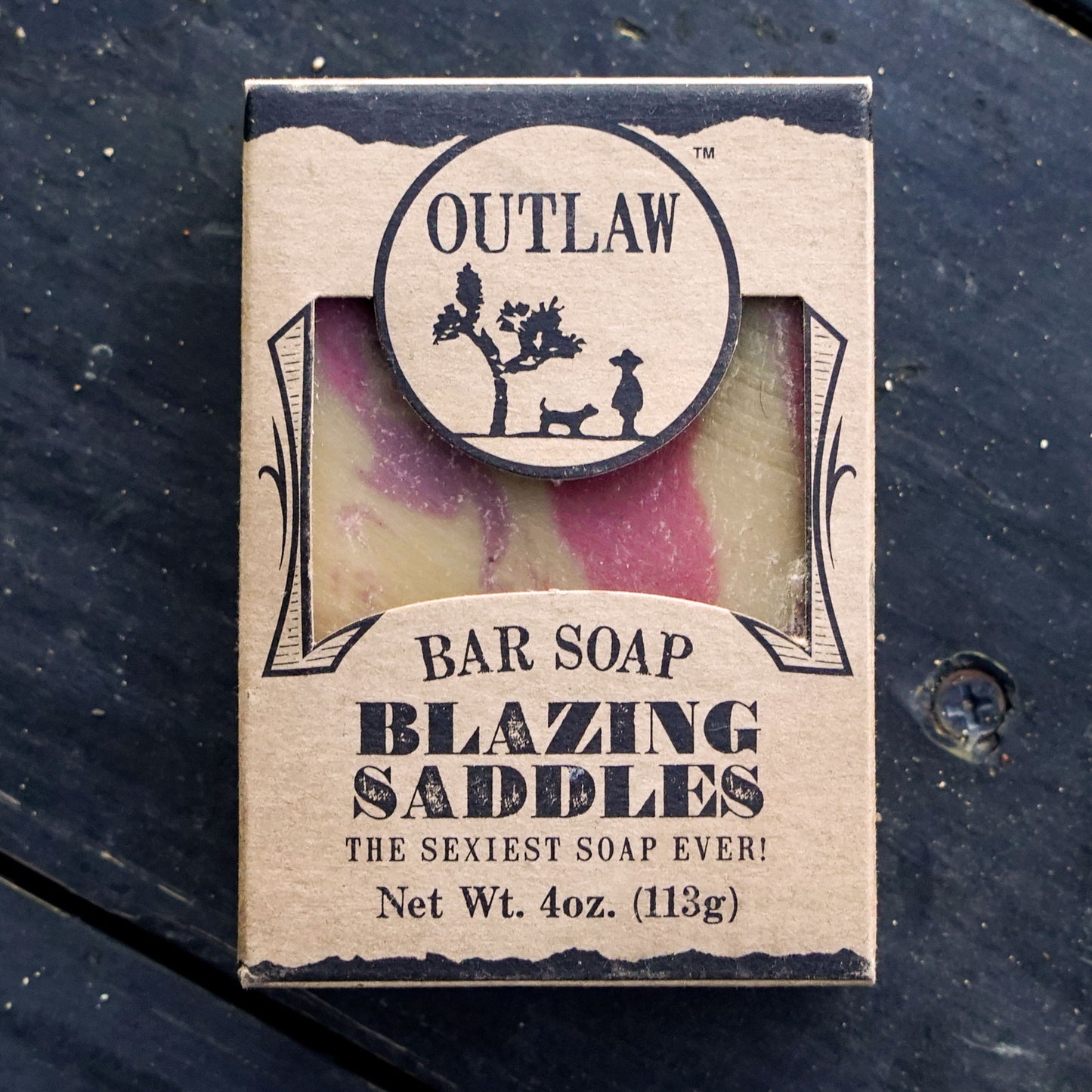 A Scented Journey of Discovery!
My quest for a fresh olfactory adventure led me to the world of the Shop App, where I stumbled upon a promotional offer for the fragrance of Blazing Saddles. Having previously relied on Bath and Body Works for my scented needs, I yearned for a whole new experience. Intrigued by the description of this fragrance, I took the plunge and purchased it, only to be swept away by the intoxicating blend of gunpowder, leather, sandalwood, and sagebrush. This unique combination proved to be an absolute revelation, igniting a newfound passion within me to explore the entire range of scents offered by this remarkable company. Blazing Saddles was just the beginning of an aromatic odyssey that has left me craving more!
I love this
Please make a fragrance oil in this! I need my whole house to smell like it! Got it as a gift for my guy and I absolutely love it.
Saddle Up For Some
The more I use it and the deodorant the more close folks and I like it... If you want a scent that don't smell like a bottle of Pine Sol or rose bushes, try it... Most folks do , when they're around me
Smells like the West
A family friend of mine runs Kings Ropes in Sheridan, Wyoming and this soap smells exactly like it. Good leather scent and gunpowder isn't overwhelming. Top of the cowboy scents.
Leather and campfire
I gave this soap a go. Amazing!
Smell is fantastic and rugged.
Will buy again.
Great product and great service
I love dealing with this company.produts are as advertised and products arrive quickly.i love Blazing Saddles, best soap I have ever used. Great scent last all day and the product last much longer than I thought. I will continue to do business with this company
Very nice quality.
Does not disappoint. A Flagship scent in my opinion.
"It was as if Wyatt Earp's ghost had been released and pistol-whipped me across the face with his smoke wagon." — Nick

"You'll have to fight off bald eagles after opening the package!" — Austen

"Blazing Saddles bar soap smells amazing! It lasts all day and every morning you'll be 'wanting' to shower up with Blazing Saddles to get ready for your day - I know I do." — Kyle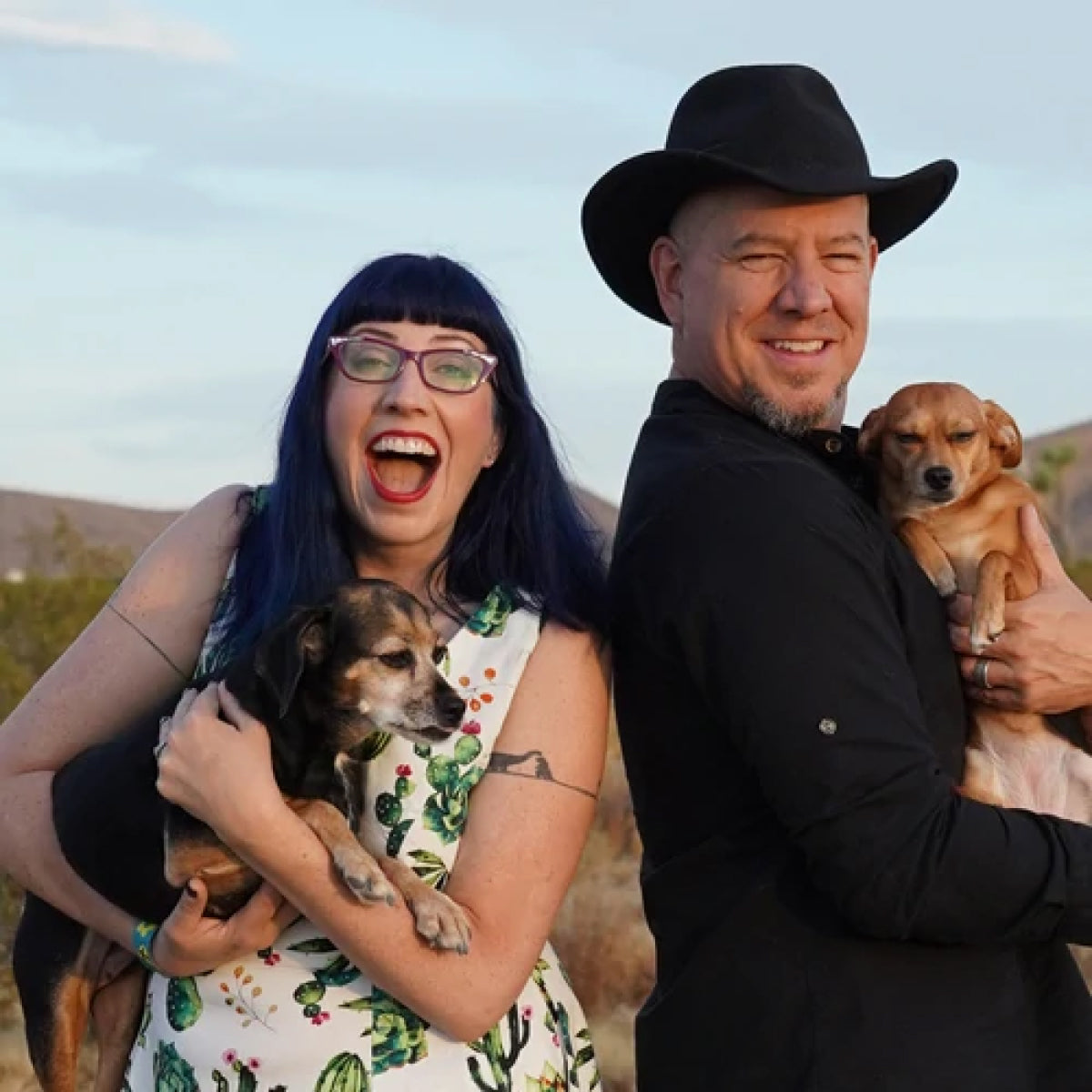 Who are the Outlaws?
We're Danielle & Russ Vincent, and we started Outlaw because we wanted to make a different kind of company.
We believe that good value doesn't mean cheaper, it means better quality, longer lasting, and more enjoyable to use.
We believe that good business practices don't have to be at odds with good social practices.
We believe that people do better when they feel better, and that good scents make people feel better.
We believe that a rising tide lifts all boats. We lift up other businesses every opportunity we get.
We believe that kindness costs nothing, but is worth more than gold.
We believe in the goodness of dogs.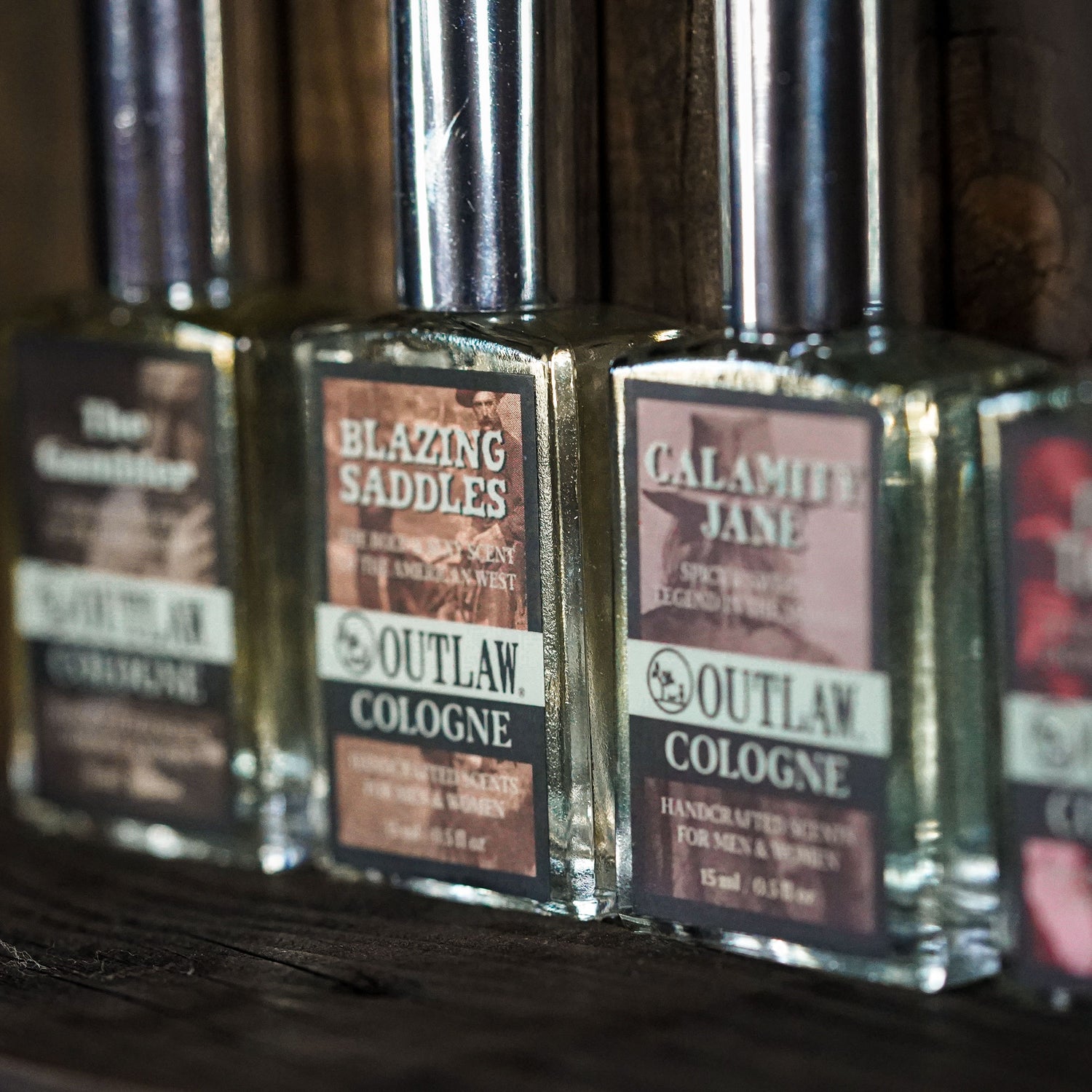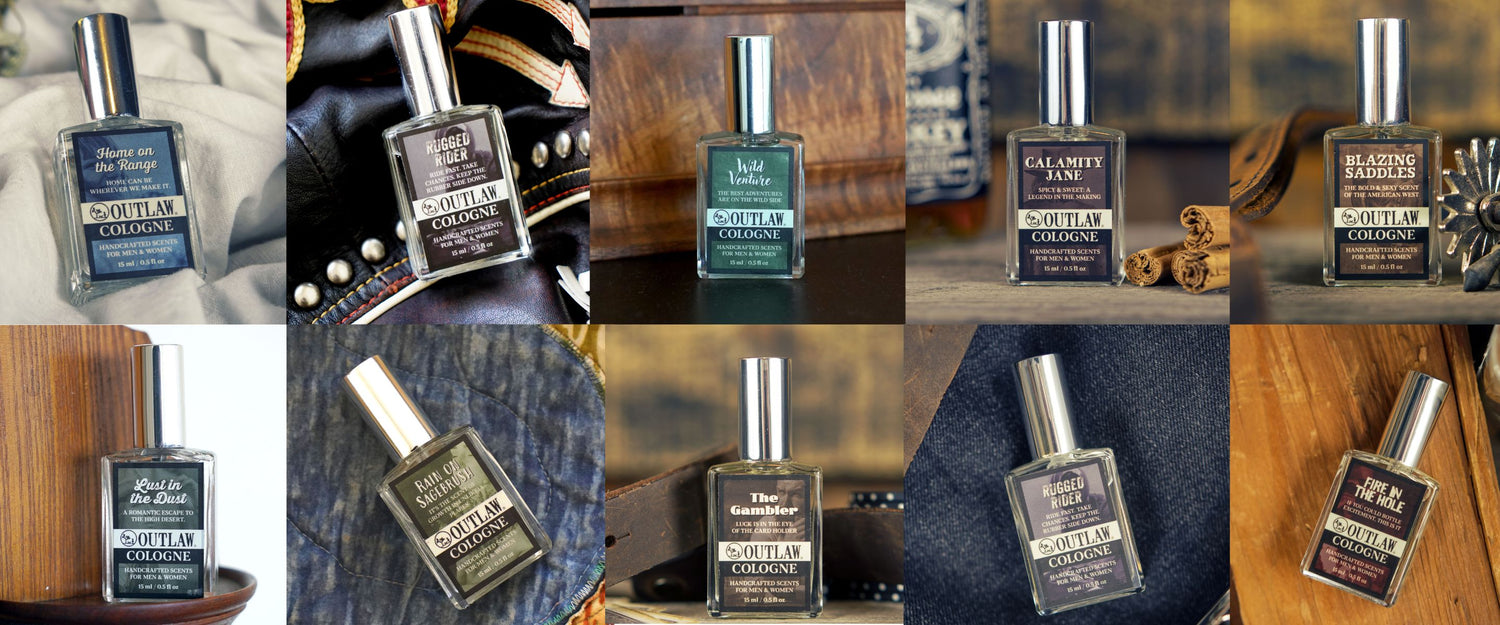 Do you love the smokey smell of campfire? How about the pungent scent of an aged whiskey? How about the peppery musk of gunpowder? Well, if you said hell yes to any of these three scents, then you need to look into the men's care products made by Outlaw.

Choosing a selection results in a full page refresh.