The Sexiest Scent Ever: Warm Leather | Gunpowder | Sagebrush | Sandalwood
View Details
Show Me
$20.00
Sale price
$20.00
Regular price
Unit price
per
Show Me
$20.00
Sale price
$20.00
Regular price
Unit price
per
Sale
Sold out
Saunter that coiffure into a room with the confidence of a rugged, roguish cowboy accompanied by eagles carrying pearl-grip six-shooters filled with bullets made of sheer animal magnetism.
What does it smell like? This quick-absorbing  bottle of badassery rides shotgun with the scent of leather, gunpowder, sandalwood, and sagebrush. It smells like you just walked off the set of A Fistful of Dollars or like Ennio Morricone wrote the soundtrack of your life.
What is this beard elixir? Soothes even the wildest bird nest of scraggly beard, while smelling absolutely divine.

Is it good for head hairs? YES!!! Can be used as beard oil, but also makes a great hair oil for both women and men. It is the pinnacle of grooming products for both genders (pinnacle-ness not guaranteed.)
It's the scent that cowboys write poetry about, cowgirls sing songs about, and crickets' fiddle about all night long.
What if I don't love it? All our products are 100% satisfaction guaranteed. We're emphatic about your happiness. All scents are different, and they interact with your personal body chemistry, so what smells great on one person might smell like a hot mess on another person. If you don't love it, we'll offer you another scent or give you a refund. All we ask is that you give it a try.
Can I get "insert favorite scent" in your Magic Beard & Hair Elixir? This is a darn fine question and one we get a lot. And because we LOVE our customers we sometimes bend to demand, especially for such a dang fine scent as Blazing Saddles, get it while it's here.
Is this oil worth it? Ultimately, as with everything, it comes down to your personal preference and how you want to live your life... and I can't tell you that, my friend. Only you know how to live your life. But I will say that if you decide you made a mistake, don't sweat it, just write our customer satisfaction enthusiasts.

Who are we and what are we doing in your bullet points? We are Outlaw, a tiny little company in Sparks, Nevada, in the foothills of the Sierra Nevada Mountains. We live fast and take chances but keep our rubber sides down. And we wanted to make your life better, so we started this company dedicated to unique scents in peerless products.
This beard and hair elixir is truly a miracle oil.
To say it is a "beard oil" is vastly under-selling its charms. It can be used on any hairs. Yes, it will delightfully smooth and condition even the crinkliest beards... but why does it have to stop there?
My hair is a matted disaster from years of bleaching and coloring. This jojoba and hemp seed oil-based elixir soothes and smooths my angry, frizzy mess.
This siren song of sexiness will subtly introduce you to a board room before you even open your mouth. Our magic combination of oils, mixed with our sexy Blazing Saddle scent of leather, gunpowder, sandalwood, and sagebrush will bring your next meeting to the next level.
3 oz of handmade beardy goodness.
What does this kind of outlaw smell like?

+

-

An Outlaw smells like a gosh darn American hero. An Outlaw transcends the common law of the land and is governed by a higher authority: Personal Integrity (which is also an aphrodisiac in the right circles).

An Outlaw smells like leather, sandalwood, gunpowder, sagebrush, and a little dirt.

An Outlaw smells like the essence of badassery.

The Blazing Saddles Collection brings the scent of the cowboys of legend to your every day... and makes you such a legend.

If your romantic entanglement catches you after using this lotion, you might be late for work.

This bold, rugged Western scent invigorates the Outlaw within and inspires you to GET. IT. DONE.
How to use

+

-

Put a few drops in your hand. A little goes a long way. Rub your hands together like a villain hatching a plan. Work your fingers through your beard and/or hair with bold yet sincere appreciation for your lovely God-granted locks. Savor the brilliant scent of your hatch-primed plan. Hatch plan.
Ingredients

+

-

Simmondsia Chinensis (Jojoba Oil), Cannabis Sativa (Hemp) Seed Oil, Cocos Nucifera (Coconut) Oil, Persea Gratissima (Avocado) Oil, Essential & Fragrance Oil.
Shipping & Returns

+

-

Most orders ship within a few business days and arrive within 5 business days. Situations outside of our control sometimes interfere, but we do our absolute best.

If you don't love what you ordered, please reach out to us and we'll either replace your product for free, or we'll give you a refund. If your items cost more than $100, we will issue a return label.
View full details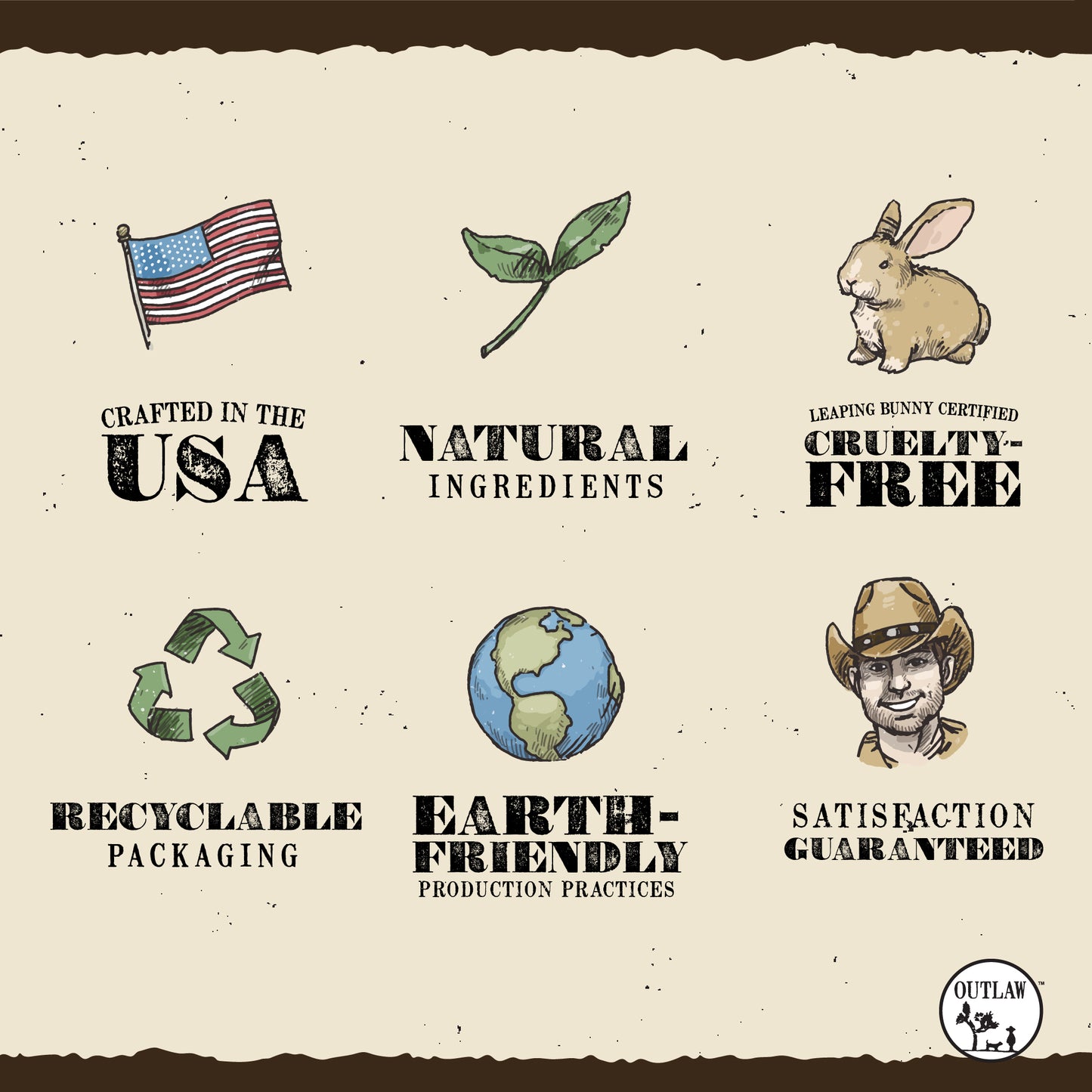 AWESOME!!!!!
Love these products. Blazing saddles is by far my favorite. Beard oil, lotion, solid cologne, & soap all are freaking awesome. Tried the deodorant but for some reason it kept breaking. Maybe try making it in a soft solid or roll on. 10 out of 10!
Smells great
Bought for my husband. He likes the smell. Seems to work really well. He likes that it doesn't make his beard look too shiny, he's not a shiny guy.
Feel like a real cowboy
I love the scent and "somebody else "
Nice smelling beard
Makes my beard glisten and smells manly. Love it
TLC for your facial follicles!
Smells awesome. Softens, conditions and helps style your whiskers. This has been my favorite scent after trying a few. I made a stack of some Blazing Sadlles products and now I'm walking taller and smelling badder. (in a good way)!
Good oil overpowering sagebrush
The oil is good makes my beard feel great, I feel though the sagebrush overpowers every other scent. No hints of leather or gun powder the sage overpowers it. Not a bad oil by any means just not my favorite.
"I don't have a beard, but I do use this on my head. Love the smell and how soft my hair/head feels. It's a bottle of gold in my opinion." — John

"I've never used a beard/hair oil before and decided to give it a shot since Outlaw is my go-to for personal products. I feel like this is what Arthur Morgan smelt like." — Chris

"Keeps my beard hydrated and I've had no itching or dryness since using. I'm very satisfied and will be ordering again." — Eric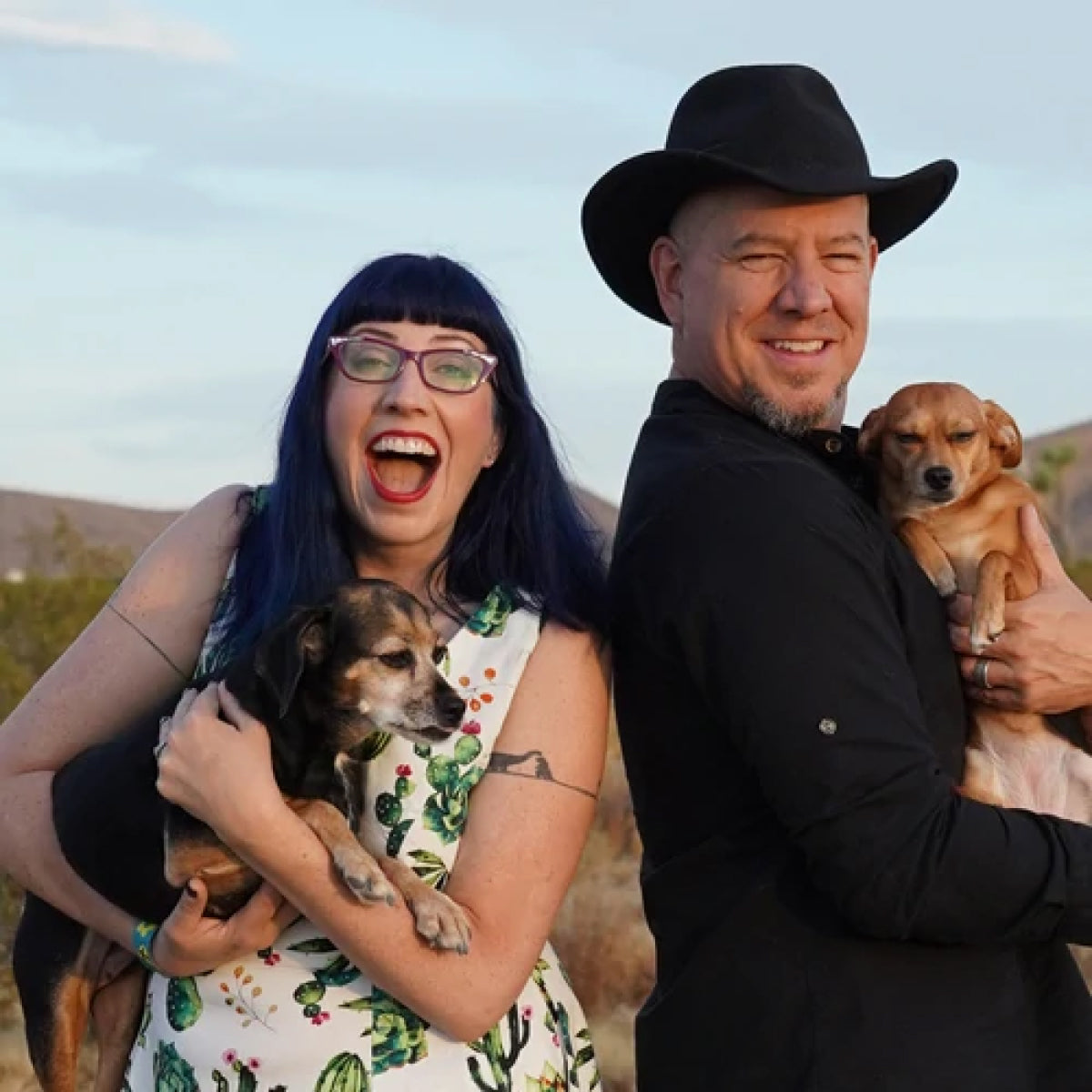 Who are the Outlaws?
We're Danielle & Russ Vincent, and we started Outlaw because we wanted to make a different kind of company.
We believe that good value doesn't mean cheaper, it means better quality, longer lasting, and more enjoyable to use.
We believe that good business practices don't have to be at odds with good social practices.
We believe that people do better when they feel better, and that good scents make people feel better.
We believe that a rising tide lifts all boats. We lift up other businesses every opportunity we get.
We believe that kindness costs nothing, but is worth more than gold.
We believe in the goodness of dogs.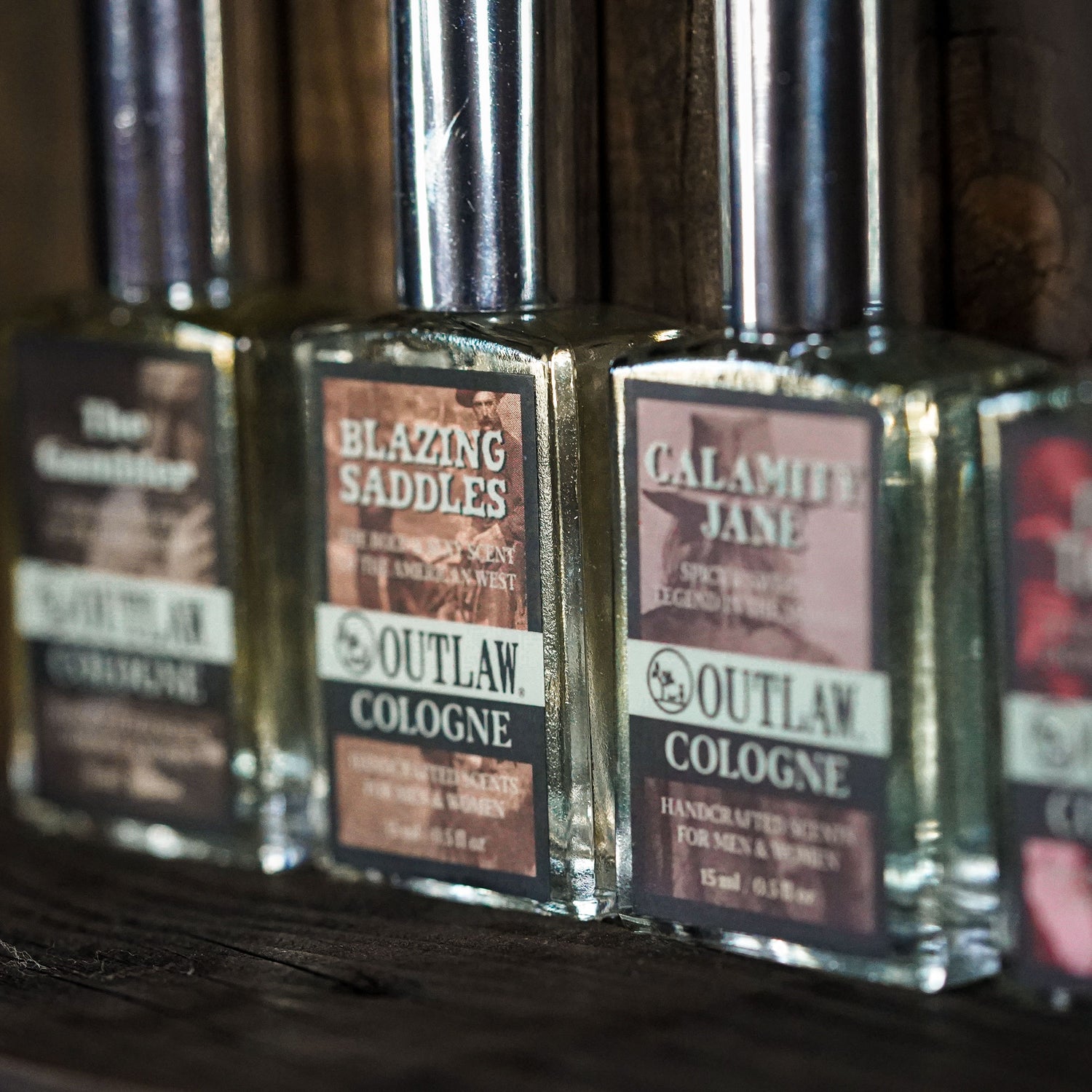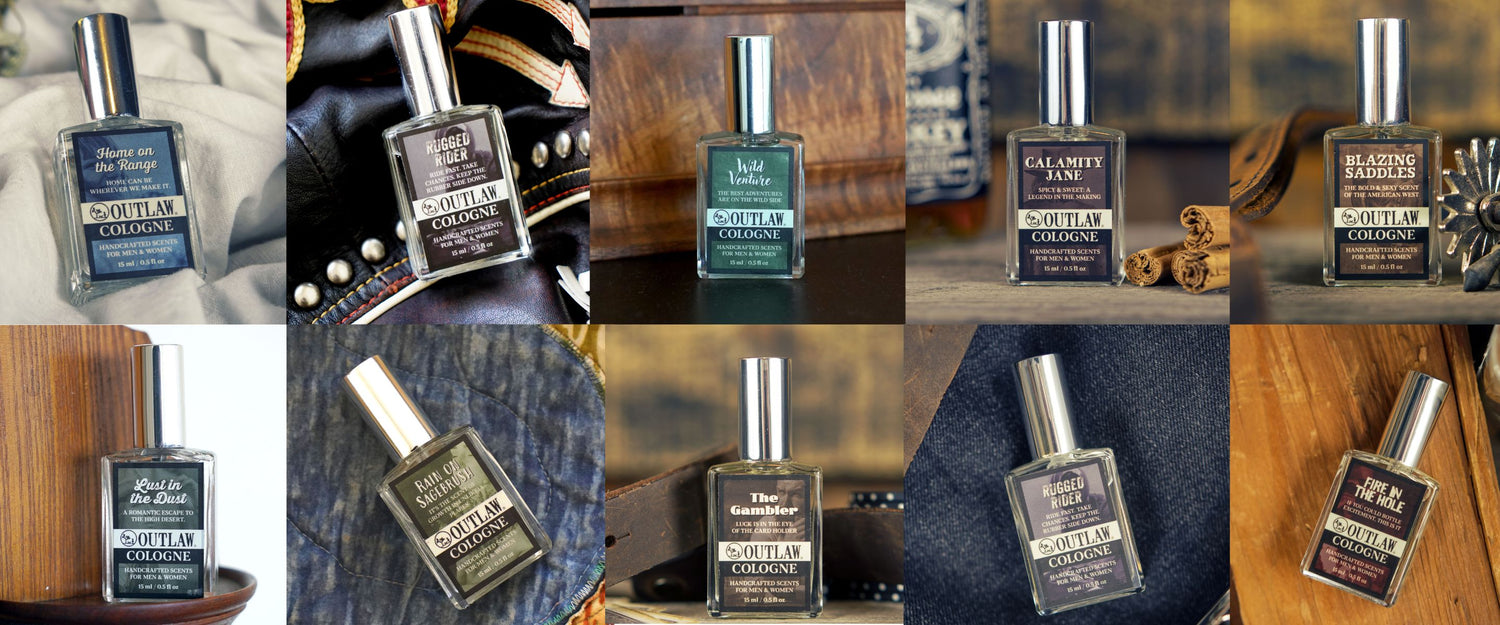 Do you love the smokey smell of campfire? How about the pungent scent of an aged whiskey? How about the peppery musk of gunpowder? Well, if you said hell yes to any of these three scents, then you need to look into the men's care products made by Outlaw.

Choosing a selection results in a full page refresh.