Spending an inordinate amount of time indoors watching the flashing box? Us too! We asked the helpful folks on the Outlaw Facebook page what movies they thought were the BEST WESTERN MOVIES OF ALL TIME, and Y'ALL DELIVERED.
Westerns have a close place in our hearts, and it was hard to pick...
"My mom loved westerns. Her favorite author was Louis L'amour. I grew up watching westerns with her (at the time was like 🙄 this again...??) But this year marked 10 years since she has passed. Watching westerns is like comfort food. When I'm missing her, I watch a western, and I feel like she's there again." - Dena

"This is too hard, because there are so many. Dead Man was genius in its filming and plot. Two Mules for Sister Sarah. They were such an unlikely pair, but such a great story." - Katherine
It's my distinct honor to present to you THE ULTIMATE WESTERN MOVIE GUIDE. Amazon links provided for convenience, not as an endorsement or affiliate of Amazon.
BLAZING SADDLES
How could we not start with Blazing Saddles? Where the rest of these films will just get a quick description, shamelessly pilfered from Amazon, I HAVE TO talk a little about Blazing Saddles.
There are so many things to love about this movie... the comedy of the legendary Mel Brooks, the acting of Cleavon Little and Gene Wilder, the world's first fart joke in any movie (f'realz!), and the story of an under-estimated hero who, through his goodness and intelligence, warms the hearts of some small-minded townsfolk who initially hate him, and ultimately triumphs over the greed of a bunch of phony baloney politicians... SO MANY THINGS TO LOVE!
But my favorite thing about the movie is the friendship between Bart and the Waco Kid. That's real friendship: you have each other's backs, you help the other achieve the best, you laugh, you snore, and you triumph over evil, against all odds.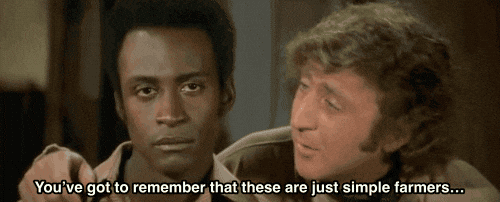 "As appreciated as it is, I think it's STILL one of the most under-appreciated movies ever." - Danielle

"The #1 movie of all time, BLAZING SADDLES." - Bill
Blazing Saddles on Amazon (probably not included in Prime)
ONCE UPON A TIME IN THE WEST
Henry Fonda stars as Frank, a ruthless assassin working for the railroad. Charles Bronson plays The Man, a harmonica wielding loner who will never forget how his brother was savagely tortured. The Man joins forces with Cheyenne (Jason Robards), a desperado, to put an end once and for all to Frank's reign of terror. (stolen from Amazon)
"I love westerns but this has to be the best of all time. And Henry Fonda going against the grain and being the bad guy. The scope and scale of it is amazing, plus Bronson and Fonda are perfect casting choices." - Steve

"I love the intensity and persistence of the characters. When I'm watching it, and things in my own life are pretty rough, I think, 'Well, at least a bunch of land-grabbing, ruthless, blood-thirsty bandits aren't shooting my family and trying to run me off my land.' It really puts things in perspective." - Danielle
Once Upon A Time In the West on Amazon (included with Prime)
HIGH NOON
Classic western tale of a lawman whose retirement plans go awry when a revenge-seeking gunman and his gang arrive in town - will anyone stand with the marshal? Winner of four Oscars, including Gary Cooper for Best Actor. (stolen from Amazon)
"The classic tale of one man standing up for what's right, against the odds. Courage is not being unafraid, it's being afraid and doing the right thing anyway." - Ken
High Noon on Amazon (not included with Prime)
HOW THE WEST WAS WON
Academy Award-winning epic follows the trials and tribulations of three generations of a frontier family as they embark to tame the wild American West.
"My dad (your grandpa) took us to our first movie at the Martin Cinerama Theater in Seattle. The theater opened in 1963 with a huge curved screen and innovations in sound technology. It had an All-Star cast! It was so great at the time!" - Nancy (my real-life aunt!)
How the West was Won on Amazon (not included with Prime)
THE OUTLAW JOSEY WALES
Josey Wales is a simple farmer in Missouri. When a vicious band of Union Red Legs, led by Terrill, burns his home to the ground, killing his wife and son.
"Aside from the fact that it has the best lines ever written into any western, it's as relevant today as it was when it first released. The story of a man returning from war who feels like he no longer fits in society. Just brilliant." - Eddie

"I love the part with the old woman 'you can pay me next time you see me Josey' knowing full well he wasn't coming back. Was the realest acting I've ever seen." - Doc
The Outlaw Josey Wales on Amazon (not included with Prime)
TREASURE OF THE SIERRA MADRE
Three ill-fated prospectors who set out across the Mexican desert in search of gold but instead find mistrust, betrayal, and death.
"[I love it] because we don't need no stinkin' badges! But seriously, it's a great commentary on the pitfalls of avarice and greed. Humphrey Bogart is on his game in this one." - Matthew
Treasure of the Sierra Madre on Amazon (not included with Prime)
TOMBSTONE
The story of Wyatt Earp and Doc Holliday leading-up-to and during the conflict in the OK Corral.
"Wyatt Earp and Doc Holliday personified 'badass'!" - James
Tombstone on Amazon (not included with Prime)
RIO BRAVO
There's a showdown at Rio Bravo when courageous Sheriff John T. Chance throws the brother of evil cattle baron Nathan Burdette in jail for murder.
"#1: John Wayne #2: Walter Brennan #3: Story and humor keeps me watching it again and again if I can't decide what to watch. I've watched it countless times and it's just as good as the first time I watched it." - Ashley
Rio Bravo on Amazon (not included with Prime)
CONAGHER
Evie, a widow after coming West, is forced to prove her mettle in many ways. Conagher, a cowhand who, drifts in & out of Evie's life. But can Evie ever keep him from drifting out again?
"The Shadow Riders and The Sacketts because of Sam Elliot and Tom Selleck, and because all three movies are based on my favorite author ever, Louis L'amour. Who was among the first authors I really wanted to read everything and own all the books he wrote. If I can't decide what to read next, I pick a book of his at random and read it." - Ashley
Conagher on Amazon (not included with Prime)
Ok... and to be honest, I'd better publish this or it'll sit in my draft folder forever. As you've noticed, this is PART 1, because the list was way too long for just one blog post. Stay tuned for the next parts... however many may come!
Thank you to everyone who contributed your pieces to this awesome movie guide. I know what Russ and I are doing tonight!