Get what you want at the frequency you need!
View Details
Show Me
Sale price
$11.20
Regular price
$0.00
Unit price
per
Show Me
Sale price
$11.20
Regular price
Unit price
per
Sale
Sold out
Do you adore the rugged and awesome smell of badassery present in our satin of suds body wash? Do you wish you could get a sustained delivery of this liquid escape?
Your days of fruitless pining are OVER, my friend!
Sign up for our Badass Body Wash subscription service and we'll send you a bottle of our badass body wash every darn month, rain or shine.
In this fantastically delightful subscription, you'll receive one body wash (yes, really, you can get whichever one you want to be shipped to you monthly, like clockwork).

Your first shipment will be sent out immediately and will then ship each month on the same day you originally signed up.
IMPORTANT: We can't cancel orders once they've shipped. If you would like to cancel your subscription, you can do so at any time (before it ships) by going into your account or contacting us.
What does this kind of outlaw smell like?

+

-

A wild adventure, and we are all eager for you to EMBARK!
How to use

+

-

Sit back and relax in the knowledge that you're the smartest hombre on your block. All these Outlaw goods make their way to you automagically. A fricken' miracle!
Ingredients

+

-

Aloe Barbadensis (Aloe) Leaf Juice, Cocos Nucifera (Coconut) Oil, Potassium Hydroxide, Olea Europaea (Olive) Fruit Oil*, Glycerin, Helianthus Annuus (Sunflower) Seed Oil*, Cyamopsis Tetragonoloba (Guar) Gum, Rosmarinus Officinalis (Rosemary) Leaf Extract, Butyrospermum Parkii (Shea Butter)*, Citric Acid, Fragrance. 
Shipping & Returns

+

-

Most orders ship within a few business days and arrive within 5 business days. Situations outside of our control sometimes interfere, but we do our absolute best.

If you don't love what you ordered, please reach out to us and we'll either replace your product for free, or we'll give you a refund. If your items cost more than $100, we will issue a return label.
View full details
Outlaw made good on their promise as usual. So far this subscription is in fact "badass". Thanks outlaws.
Great product
Body soap is refreshing and the scents are amazing love it!!
Love all the variety, top notch quality
I first tried the Outlaw bar soaps, and they're definitely great: great scents, great lather, interesting colors, ideal size. But I'm not actually a bar-soap person, so I was very happy to get and try their body washes, and now this variety subscription is a dream come true for me. (I still occasionally get the bar soaps to keep in my closet and dresser drawers, I love the whiff of scent from that!)
I don't like floral or sweet fragrances, my sister says I like manly or outdoorsy fragrances, and she's exactly right, which makes Outlaw a great fit for me. I love the woodsy scents, and the smoky ones, and pretty much every new scent of body wash they've sent me has been an instant hit (I think so far only 1 of 5 isn't a perfect bullseye for me, in my experience.)
The best part about Outlaw scents is that even if a scent isn't my favorite, I only just mildly dislike it, NONE of them ever give me migraines the way artificial scents normally do to me like mainstream store candles and body wash. I used to spend so long smelling all the body washes in the grocery store aisle and choosing one of the guy-scents, or something neutral or odorless, but it was always a hassle and I was only ever barely content with the scents I found, not happy or done searching.
Somehow Outlaw just works for me, and I never have to waste the time or risk the migraine by shopping for scents anymore. They mail me a top-quality, incredible-smelling body wash is a sturdy metal container on a regular schedule, and I happily move on with my life and showers!
Body wash/soaps
The soaps and body wash are great. I signed up for the surprise me (rotating) subscription on the body wash. It has helped me with finding out which fragrances that I like the most
Awesome stuff!
I really do love this box. It's a different body wash every time I get it (I may get a double here and there, but from month to month it is different for each shipment). I love the scents and use them for body wash for the shower (as advertised) as well as hand soap. It is pretty affordable and a great product to boot! Thanks Outlaw!
I have the subscription expecting a different scent each month as advertised but received Heck's Angel's twice in a span of a few months. Not a fan of this scent. The others have been good.
Great product!
I really enjoy the scents and supporting such a good brand, Outlaw soaps! Thank you for your business!!!
"The outlaw soaps gang has some very phenomenal and unique scents you cant find anywhere else." — Mark

"It makes shower time as exciting as a train heist!" — Patrick

"Like a birthday and Christmas in a box." — Beth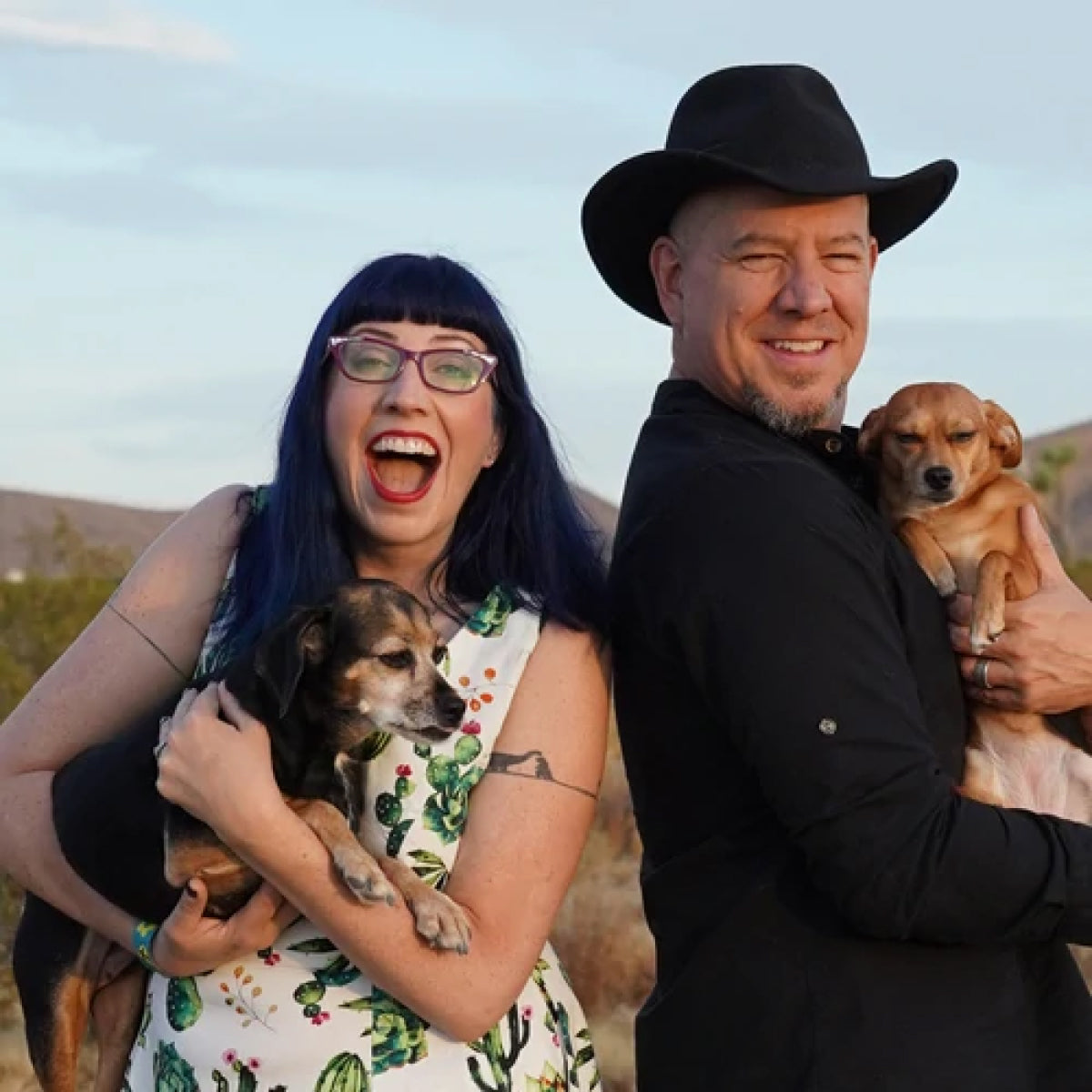 Who are the Outlaws?
We're Danielle & Russ Vincent, and we started Outlaw because we wanted to make a different kind of company.
We believe that good value doesn't mean cheaper, it means better quality, longer lasting, and more enjoyable to use.
We believe that good business practices don't have to be at odds with good social practices.
We believe that people do better when they feel better, and that good scents make people feel better.
We believe that a rising tide lifts all boats. We lift up other businesses every opportunity we get.
We believe that kindness costs nothing, but is worth more than gold.
We believe in the goodness of dogs.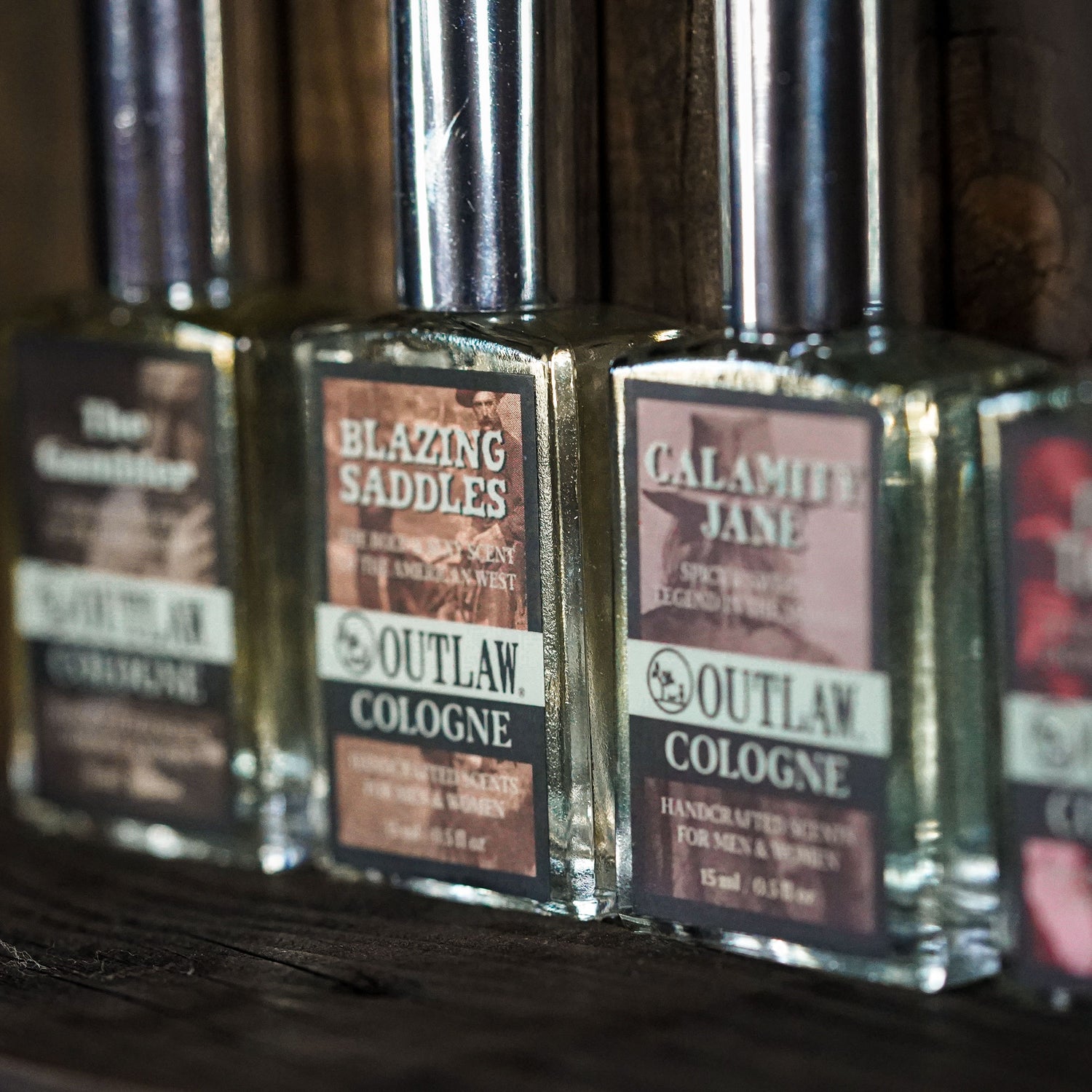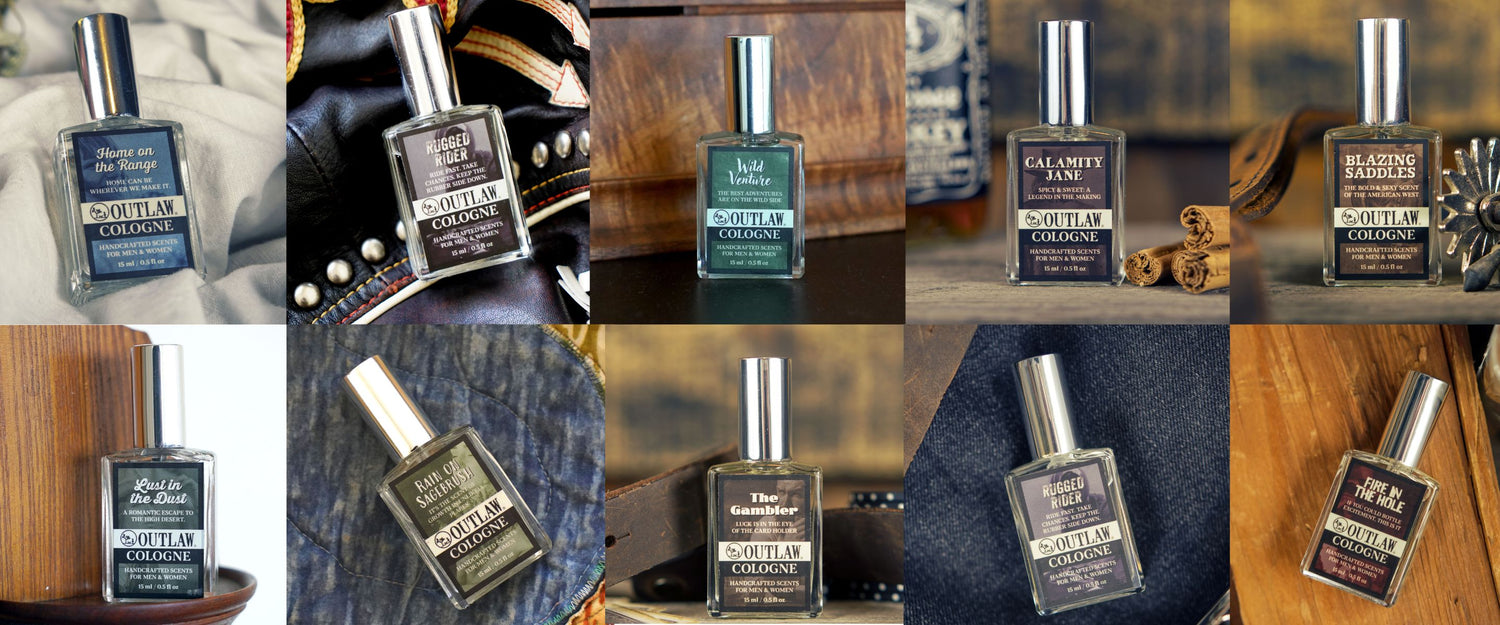 Do you love the smokey smell of campfire? How about the pungent scent of an aged whiskey? How about the peppery musk of gunpowder? Well, if you said hell yes to any of these three scents, then you need to look into the men's care products made by Outlaw.

Choosing a selection results in a full page refresh.