A subscription box of exactly what you need, in a variety of Outlaw scents
View Details
Show Me
$42.75
Sale price
$42.75
Regular price
Unit price
per
Show Me
$42.75
Sale price
$42.75
Regular price
Unit price
per
Sale
Sold out
Not sure which Outlaw scent will be your favorite?
Yearning for a variety of scents to act as the scent soundtrack to your life (scenttrack? olfactorytrack? Well, you know what we mean...)?
Look no further than this fearless foray into the moderately-known! You get a gang of products (a different variety every time) delivered to your door...
There will be Blazing Saddles, the true scent of the Wild West (leather, gunpowder, sandalwood, and sagebrush)?
The Gambler, a lucky concoction of bourbon, tobacco, and leather?
Fire in the Hole, with its affection for campfire, gunpowder, sagebrush, and whiskey?
Or Calamity Jane, sassy and sweet, with a touch of clove, orange, cinnamon, and a kick of whiskey?
Whatever arrives at your door, it's backed by our 100% satisfaction guarantee. We may be Outlaws, but we're no bandits!
What's this whole subscription box thing?
On your preferred schedule you'll get:
We send it to you like clockwork, so you never have to be bothered with that pesky reordering nonsense.
The Essential Outlaw's Subscription Box is the perfect gift!
If you know someone who could use a steady supply of their favorite Outlaw scent (or a combination of scents), sign them up for a prepaid gift subscription and they'll think of you fondly every day (whereas you only really have to think of them one time, when you're making this purchase).

It's literally the gift that keeps on giving!
The big ol' fine print
We're straight shooters here at Outlaw. If you don't like your Essential Subscription Box, canceling or changing your subscription is as easy as logging into your account and managing your subscription (there's a link on your account page), or, if you prefer, you can just reply to any previous order confirmation and we'll settle up over email. No problem at all. We're not in the business of ropin' unwitting folks into complicated schemes... after all, we're Outlaws, not bandits!
What does this kind of outlaw smell like?

+

-

A wild adventure, and we are all eager for you to EMBARK!
How to use

+

-

Sit back and relax in the knowledge that you're the smartest hombre on your block. All these Outlaw goods make their way to you automagically. A fricken' miracle!
Ingredients

+

-

A mix of natural and artificial ingredients.
Shipping & Returns

+

-

Most orders ship within a few business days and arrive within 5 business days. Situations outside of our control sometimes interfere, but we do our absolute best.

If you don't love what you ordered, please reach out to us and we'll either replace your product for free, or we'll give you a refund. If your items cost more than $100, we will issue a return label.
View full details
Love me a little surprise scent
Gah! the limited edition soap (Diggin Deep) in this box is my new favorite! I can't even describe it but I love the smell so much--like, weirdly love it. I'm hoping this one rides regular with the Outlaws!
Outstanding
One of the best out there, and I've tried them all…. Definitely shame the samscrantch soaps lololol.. will purchase again for sure
Lives up to the hype!
Can't find anything negative to say about the company or the products. Soaps smell fantastic, Clucky has become a great travel partner, and I absolutely have no regrets with the decision to be an Outlaw. Thank you for a great product!
A "surprise" for myself 🤠
I love getting my subscription box and smelling all the lovely smells. I also enjoy trying out the new scents and seeing what magic y'all come up with! And the chicken.🐔 I know they irritate some people and I get it, but they totally entertain me, making me smile before I take it to join its chicken friends in my office.
Subscription box to me: the gift that keeps on giving.
Rootin tootin!
Loved the package it arrived in. Masculine scents. I wish the solid cologne lasted longer fragrance wise tho!
Essential Box
Nice box. Right now the only "issue" I have is over supply of Calamity Jane. Was expecting more variety. Otherwise, it's wonderful.
Danny S
Very addictive, great smell. I spend more time in the shower now than I did during puberty!
"This by far was and is one of the best decisions I've made in a while! It's like my own little box of happiness. Seriously, if you're on the fence about trying this out, DO IT!" — Donna

"I've put my deputy star swag from the clean getaway box on my navy pea coat and I am getting ALL THE COMPLIMENTS on it. Anyone who's getting close enough to smell me, is complimenting me on the soap too." — Ernesto

"I use and LOVE virtually all of the Outlaw soaps that I purchase and receive through the subscription. LOVE 'EM!! I'd write a review DAILY but I'm afraid I'd be ID'd as a scammer!!" — Ken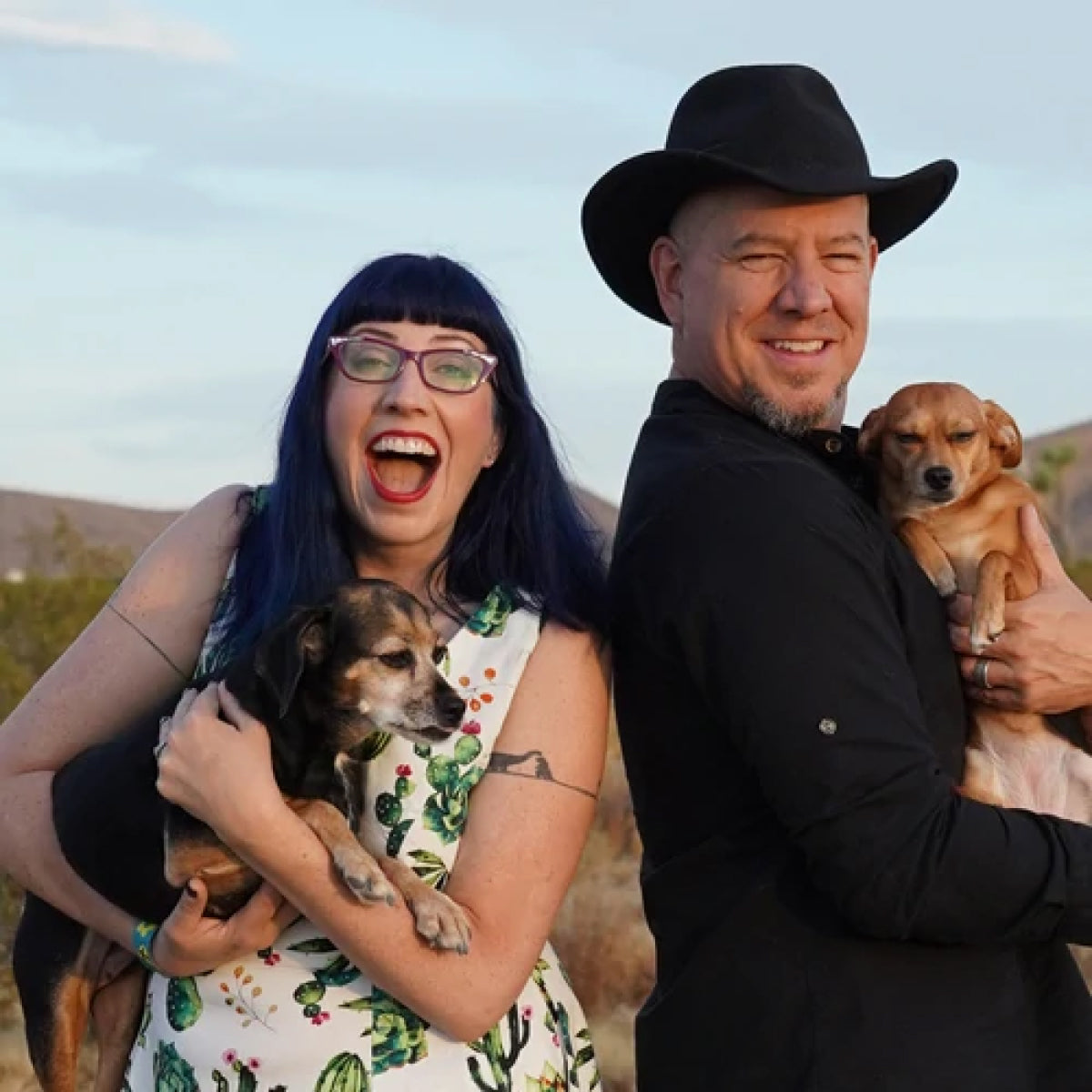 Who are the Outlaws?
We're Danielle & Russ Vincent, and we started Outlaw because we wanted to make a different kind of company.
We believe that good value doesn't mean cheaper, it means better quality, longer lasting, and more enjoyable to use.
We believe that good business practices don't have to be at odds with good social practices.
We believe that people do better when they feel better, and that good scents make people feel better.
We believe that a rising tide lifts all boats. We lift up other businesses every opportunity we get.
We believe that kindness costs nothing, but is worth more than gold.
We believe in the goodness of dogs.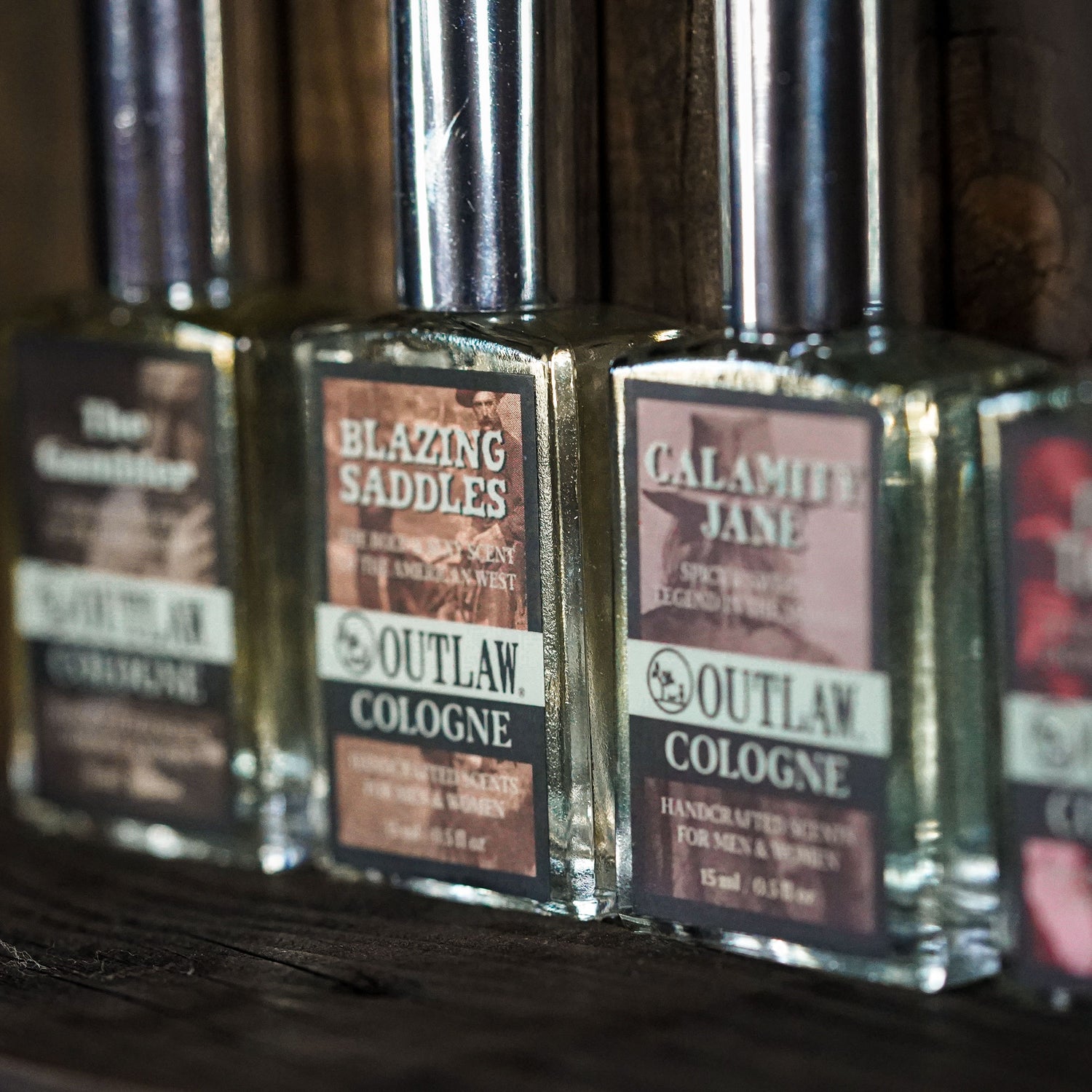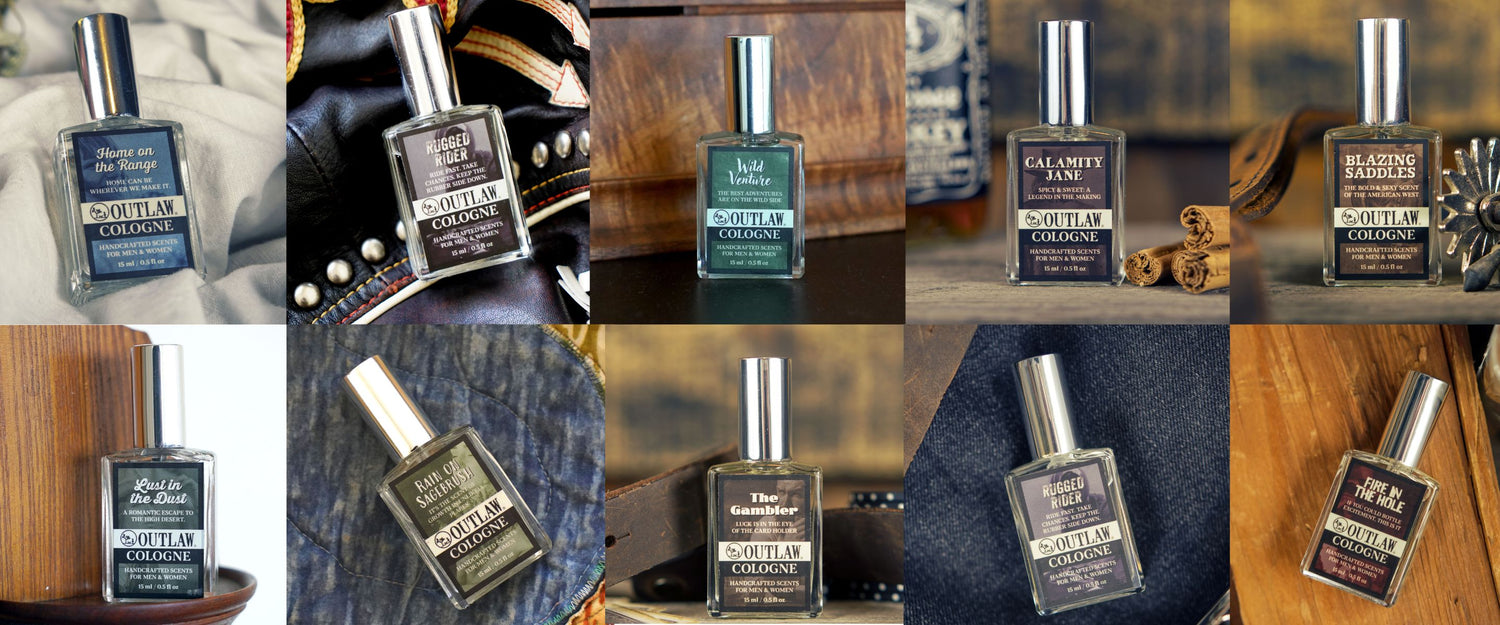 Do you love the smokey smell of campfire? How about the pungent scent of an aged whiskey? How about the peppery musk of gunpowder? Well, if you said hell yes to any of these three scents, then you need to look into the men's care products made by Outlaw.

Choosing a selection results in a full page refresh.