Blazing Saddles | Fire in the Hole | Hair of the Dog
View Details
Show Me
Regular price
From

$25.00
Sale price
From

$25.00
Regular price
Unit price
per
Show Me
Sale price
$25.00
Regular price
Unit price
per
Sale
Sold out
Three full-size Outlaw handmade soap bars in a gift box is perfect for the rugged outlaw in your life.
Includes Blazing Saddles Soap (leather, gunpowder, sandalwood, and sage), Hair of the Dog Soap (whiskey, tobacco, and coffee), and Fire in the Hole (campfire, gunpowder, and whiskey).
The Wild Life Western Soap Set is about variety, challenge, and depth of experience. And so are you. Game recognizes game.


These are full-sized bars of Outlaw Soaps, packaged together (in recycled & recyclable packaging) for supreme amazingness.

It's a complicated blend of shifting whiffs that make up a really amazing adventure. The perfect gift for the Western Cowboy in your life (especially if that's you).

Formulated with an all-vegan combination of oils that is both delightfully sudsy in the shower and leaves your skin silky smooth and, if you wish, sooooo kissable (though we're not getting all up in your boundaries).
Your life isn't just one soap.
It's a complicated blend of shifting whiffs that make up a really amazing adventure.
Start your day by showering with your bar of Hair of the Dog whiskey, tobacco, and coffee soap, enjoy washing your hands with Blazing Saddles leather, sandalwood, gunpowder, sage, and adrenaline soap, and carry Fire in the Hole campfire soap with you throughout the day to transport you to the trail anytime you need it. These are full-sized bars of Outlaw soaps, packaged together for supreme amazingness.
And now, add the Outlaw variety of inspirational quotes to your round-up
If you'd like to include a wonderful "Wake Up, Kick Ass, Repeat" mug (see photo), you can add that on for just $9 extra (regularly $12).
If you'd like to include a durable "Wake Up, Kick Ass, Repeat" travel bag (see photo), you can add that on for just $15 extra (regularly $20).
If you'd like to add both the mug and the travel bag (hey! they go together like a wink and finger guns), you can add that on for just $22 (regularly $32).
All our soaps are handmade and, as a result, may have some minor cosmetic and weight differences.
MONEY BACK GUARANTEE DETAILS: Yeah, we totally will 100% guarantee that our soaps will change your life. It's a bold claim, but we've heard from enough people that we feel confident in ourselves here. This policy may change at any time for any reason, but any product bought after April 12 and before whatever time we end the policy will have this guarantee.
Life change is a tricky thing to quantify. Since it is so tricky, life change or not, if you are in any way dissatisfied with your purchase, we will refund you your purchase price, including shipping. We may request the remainder of the soap or the packaging, so please don't throw that away if you'd like a refund. But don't worry, we'll send you a prepaid postage return if we do need it back.
So seriously, this has ZERO risk, and 100% chance of upside. What are you waiting for?
Made with Persea Gratissima (Avocado) Oil, Olea Europaea (Olive) Fruit Oil, Cocos Nucifera (Coconut) Oil, Ricinus Communis (Castor) Seed Oil, Water, Sodium Hydroxide, Fragrance (Parfum), Natural and Artificial Color.
What does this kind of outlaw smell like?

+

-

A wild adventure, and we are all eager for you to EMBARK!
How to use

+

-

What a lucky Outlaw indeed! These gift sets are suitable for gifting to your favorite Outlaw (even if that favorite Outlaw is yourself)!
Ingredients

+

-

A mix of natural and artificial ingredients.
Shipping & Returns

+

-

Most orders ship within a few business days and arrive within 5 business days. Situations outside of our control sometimes interfere, but we do our absolute best.

If you don't love what you ordered, please reach out to us and we'll either replace your product for free, or we'll give you a refund. If your items cost more than $100, we will issue a return label.
View full details
The cleanest and best smelling "cowhand" in Orange County.
Very nice selections, but they do not last very long, even when "air dried' until my next shower, which is at least once a day.
Soap set
Can't go wrong with this set
Birthday gift for Dad
From what my Dad said everything was great with the soap. From my end with the order everything was great. They were very fast to respond and fix the mix up I made with the order. Will buy from again. Thank you
Wildlife soap review
Loved the soap . Will be more in the future
Great!
Smells great, arrived great, feels great! Keep it up! I prefer it to smell stronger but the person I ordered it for loved it.
A great gift.
My husband loves them. And I live how my husband smells wearing them.
This is the BOMB!
Great variety at a great value!
"No other soap will ever be used again." — Thomas

"A handful of Soaps... And, all Aces!🤠" — Westworlder

"Just walking past our shower room, you catch a whiff of the old west." — Miriam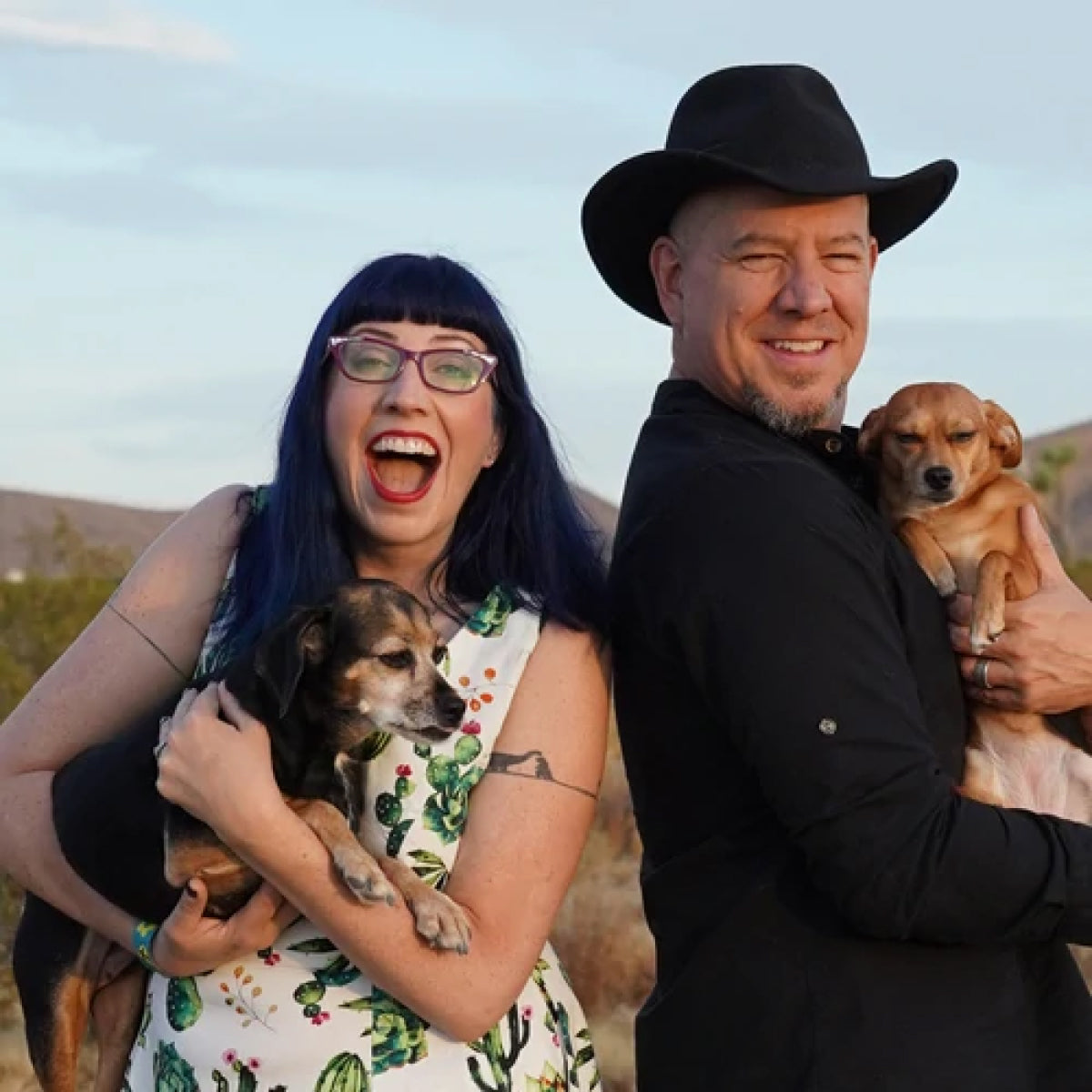 Who are the Outlaws?
We're Danielle & Russ Vincent, and we started Outlaw because we wanted to make a different kind of company.
We believe that good value doesn't mean cheaper, it means better quality, longer lasting, and more enjoyable to use.
We believe that good business practices don't have to be at odds with good social practices.
We believe that people do better when they feel better, and that good scents make people feel better.
We believe that a rising tide lifts all boats. We lift up other businesses every opportunity we get.
We believe that kindness costs nothing, but is worth more than gold.
We believe in the goodness of dogs.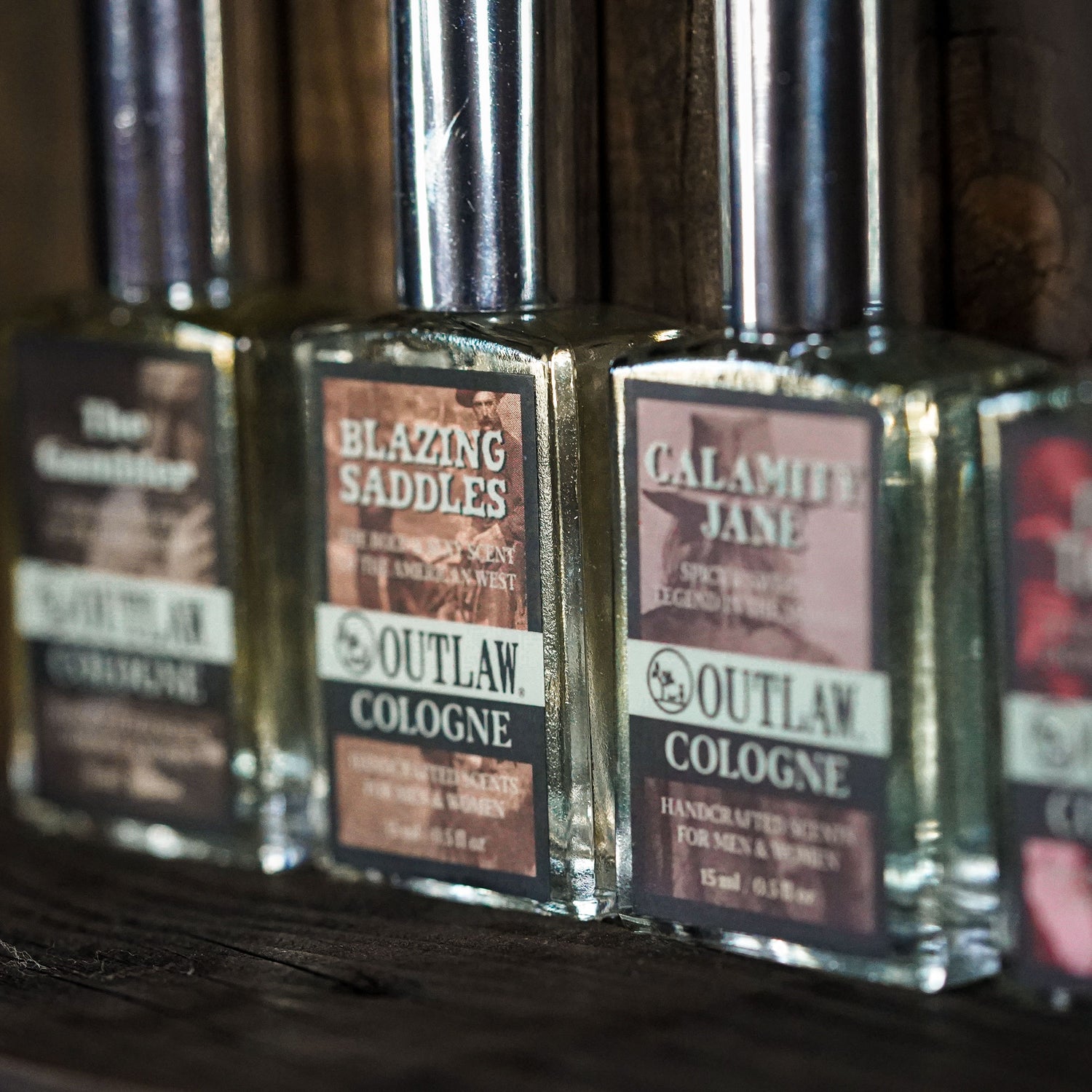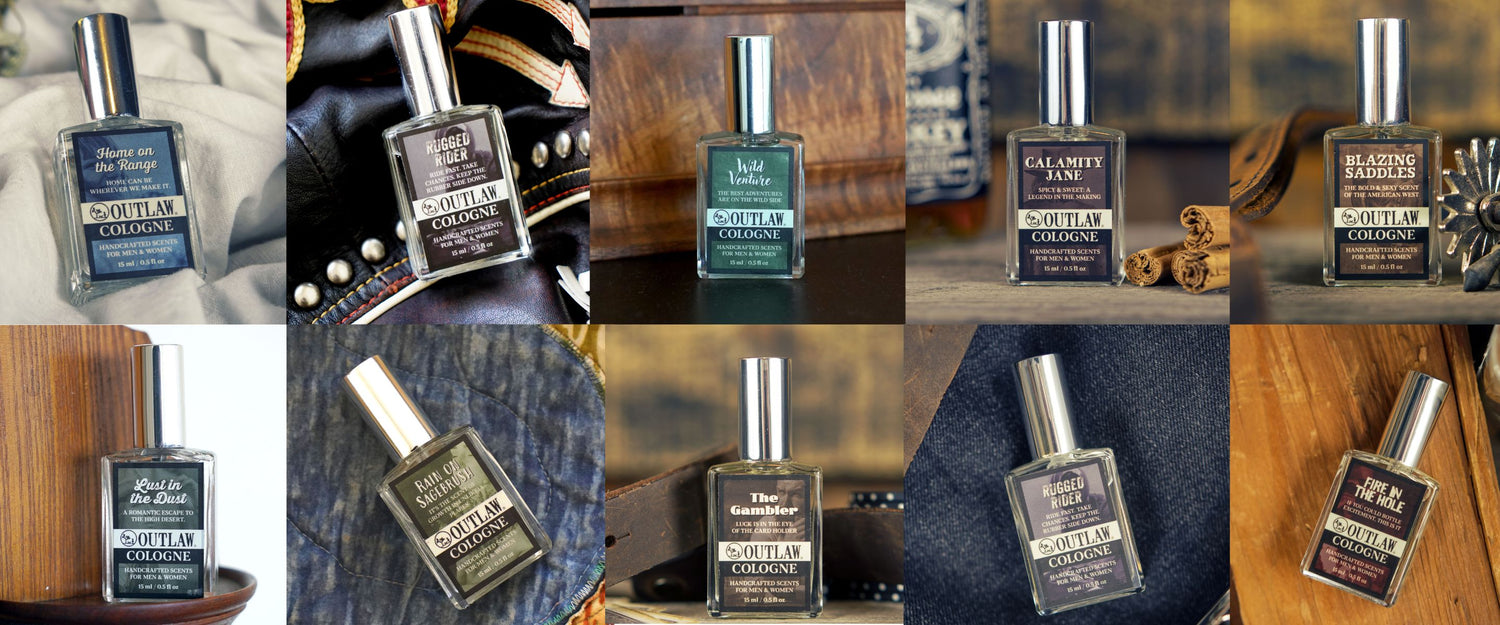 Do you love the smokey smell of campfire? How about the pungent scent of an aged whiskey? How about the peppery musk of gunpowder? Well, if you said hell yes to any of these three scents, then you need to look into the men's care products made by Outlaw.

Choosing a selection results in a full page refresh.