The Luckiest Scent Around: Bourbon | Tobacco | Leather
View Details
Show Me
$18.00
Sale price
$18.00
Regular price
Unit price
per
Show Me
$18.00
Sale price
$18.00
Regular price
Unit price
per
Sale
Sold out
It feels so natural in your hand...
...and slides perfectly into your pocket
⭐️⭐️⭐️⭐️⭐️ "Smells Like a Winner!
The best thing about Gambler Whiskey Solid Cologne is how you come out smelling like a winner even if you haven't risked a thing. I love the slightly smoky and rich warmth of this cologne. Believe me, your partner will, too!" - Rachel T

Is it a coincidence Outlaw solid cologne's about the same size and shape as a poker chip?
⭐️⭐️⭐️⭐️⭐️ "Perfect scent for any occasion
This scent is an absolute perfect combination. Wear it for a nice motorcycle ride on a beautiful day? Check. To a fancy dinner? Check. When I want to go to the casino and lose $5k playing blackjack? Damn right that's a check and at least I smelled nice while doing it!" - Cord S

(losing $5K not guaranteed, thank goodness!)

You might pour yourself a tumbler of good bourbon. With every sip, you feel yourself slipping deeper into smoky, rich reflection.
And yet, your head is still clear as ever.
Cunning and resourceful, you're quite familiar with wheelin' and dealin' to get exactly what you want. And what you want is to smell down-to-the-bone authentic — exuding the rugged scents of bourbon, tobacco, and leather — unlike the others in the room who are sweatin' bullets from your undeniable charm.
No need to take your chances here — it's the secret trick to smelling sharp that you'll never give away.
Our solid colognes are made in small batches right here in the USA.
If you'd rather have a bolder (yet still not loud) scent of The Gambler, we recommend The Gambler Spray Cologne.
Want to know the difference between spray and solid cologne? We wrote about it!
All our scents are skin-safe and long-lasting. Because we feel like scent is a personal thing to be shared between you and those literally closest to you, these are subtle scents. They will not overpower a crowded elevator or make you "that guy with all the cologne." They're designed to create an ambiance, not an impact.
0.5 oz of solid goodness.
What does this kind of outlaw smell like?

+

-

You'll smell down-to-the-bone authentic — swaggering with the rugged scents of bourbon, tobacco, and leather — unlike the others in the room who are sweatin' bullets from your undeniable charm. No need to take your chances here — The Gambler's your secret trick to smelling sharp (that you'll never give away).
How to use

+

-

Rub your fingers along the top of the wax cologne to get some on your fingers. Wipe your fingers on your wrists and neck (pulse points). Strut around like the sexy beast you are.
Ingredients

+

-

Castor Seed Oil (Ricinus Communis), Organic Coconut Oil (Cocos Nucifera), Yellow Beeswax, Organic Jojoba Seed Oil (Simmondsia Chinensis), Fragrance
Shipping & Returns

+

-

Most orders ship within a few business days and arrive within 5 business days. Situations outside of our control sometimes interfere, but we do our absolute best.

If you don't love what you ordered, please reach out to us and we'll either replace your product for free, or we'll give you a refund. If your items cost more than $100, we will issue a return label.
View full details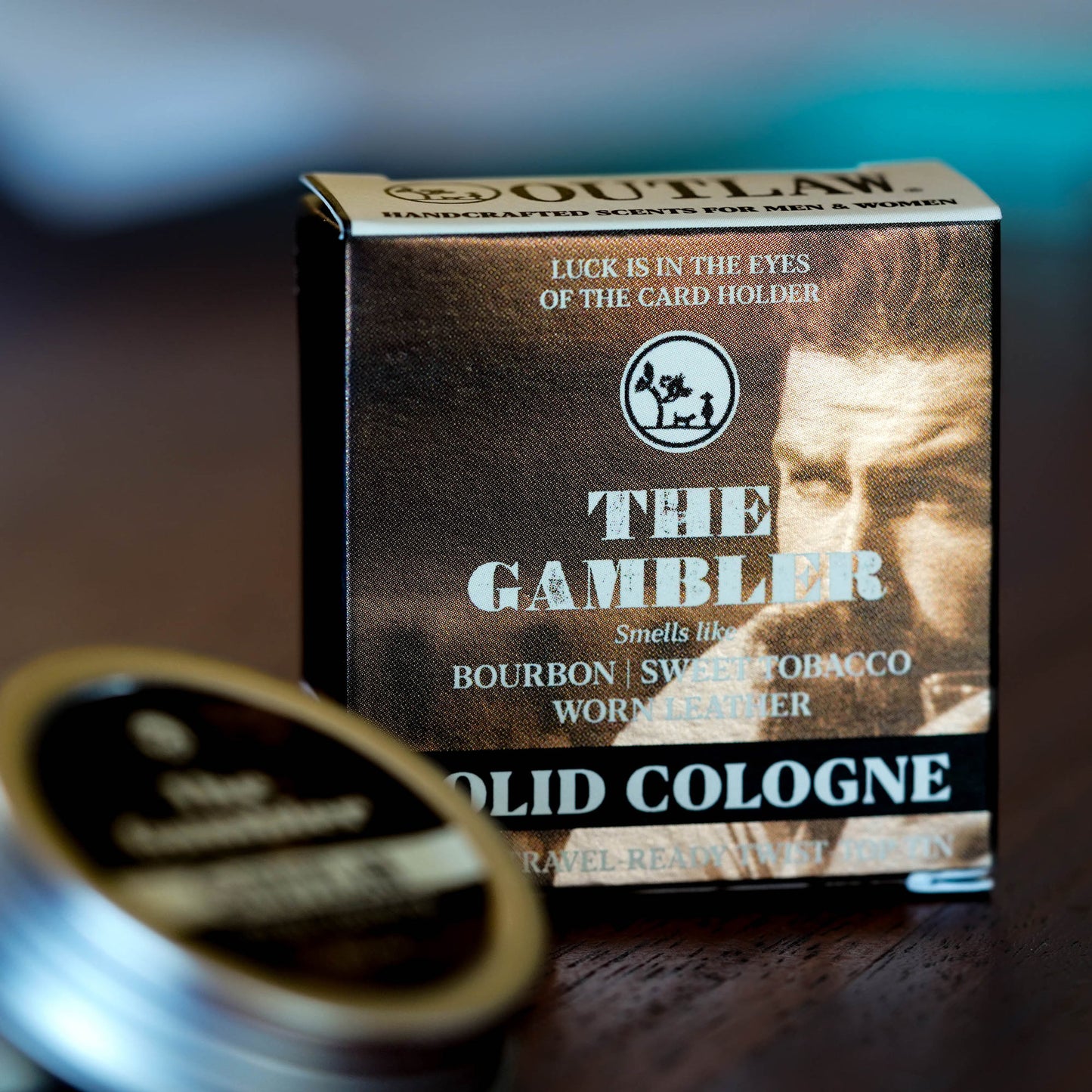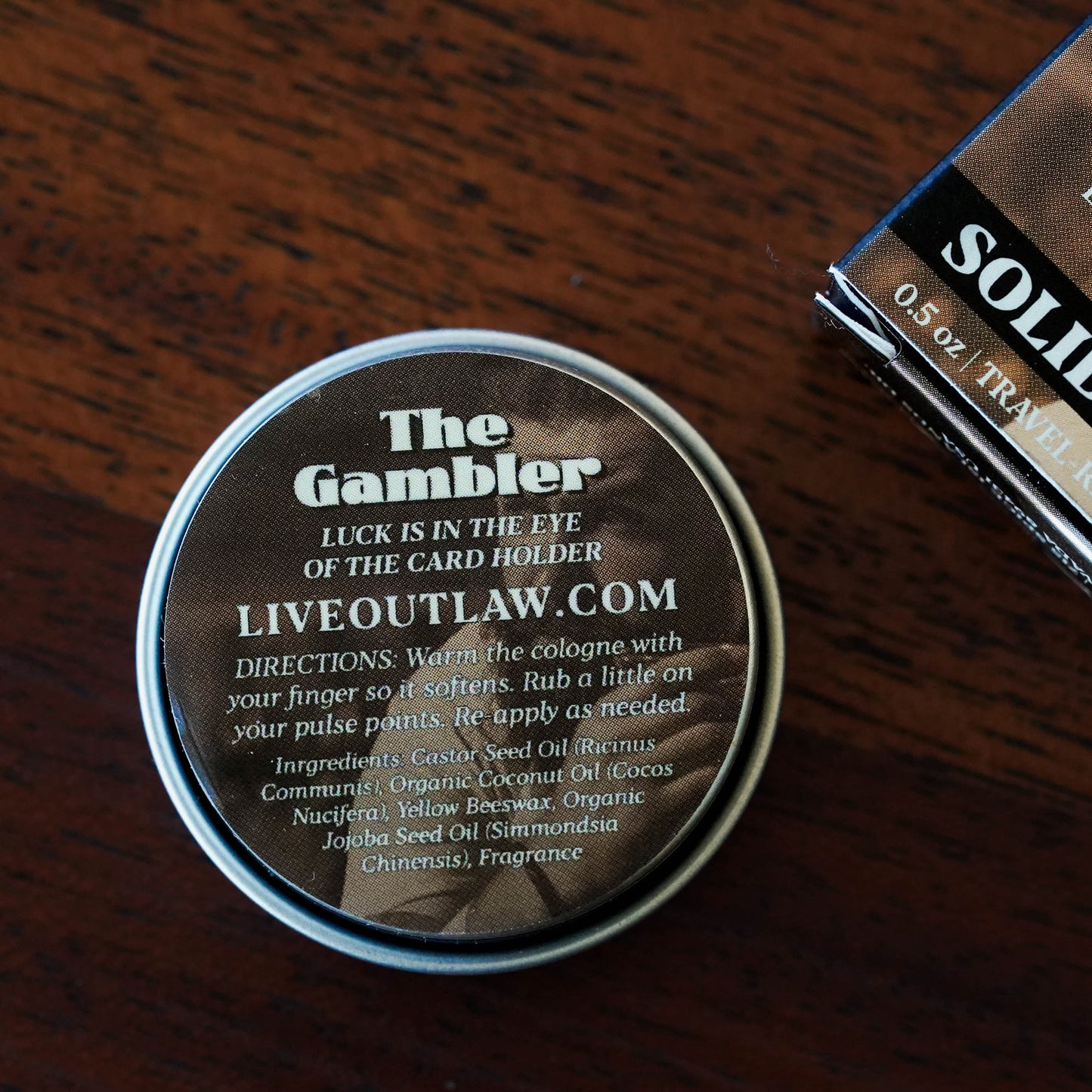 The cologne is amazing. As if the metal tin wasn't small enough, it is now only available in 1/2 the size as before. Men have big hands. This is ridiculous.
outlaw : gambler review
listen … by all means it pounds you in the face with an old western smell , something that i ain't quite smelled since i was young . it's very much interesting, i wouldn't say that you can intrigue any woman by this nowadays because it's such a rugged scent , also depends where you live … i could never see someone in NYC wearing this , i wear like fancy colognes like creed , psa i live in the middle of bum fu** no where . it's honestly a great smell for someone who around punchy woman and men , it's not for everyone but i recommend to no one but country folk.
The smell and ease of application was on point. Downside is that it maybe lasted an hour at best.
Winner winner!
Outstanding product and service ! You will not be disappointed! Customer for life!!
Gambler review
I dont wear cologne much but love this. I've been wearing it daily just because I enjoy it that much. I have one other but forget the name. Love it too. Ill be getting more.
A great scented cologne
My last order was the second time ordering The Gambler Solid Cologne. The scent is fanstastic. The order was processed quickly and it arrived fairly quick. The only difference I noticed was "shrinkflation". The cannister was a little smaller, but, given that a little goes a long way, it isn't as big of a deal. Will order again.
Bought the sample, warranted the full deal
One of my two favorite scents from the sample pack. Starts off with a punch then progresses and mellows as you wear it through the day.
"The Gambler still tops the list of my favorite way to smell like an outlaw while I'm digging up bones." — Terry

"We decided to order The Gambler body wash, deodorant, and solid cologne to see if they were everything we hoped they would be. We were not disappointed! The scent is subtle and clean smelling! Not perfumey at all." — Irene

"It's as smooth as a gambler with an ace up his sleeve and smells twice as nice!!" — Lisa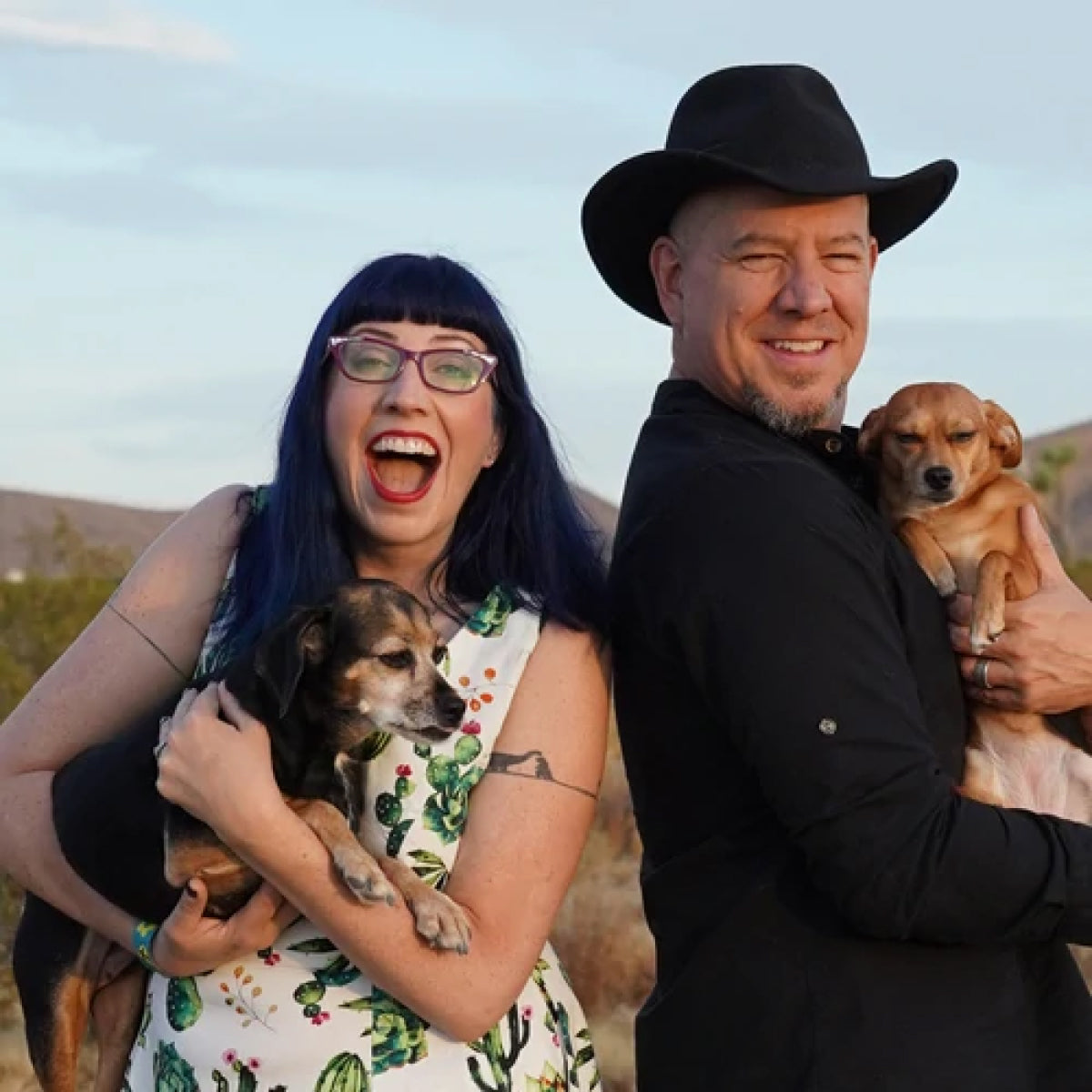 Who are the Outlaws?
We're Danielle & Russ Vincent, and we started Outlaw because we wanted to make a different kind of company.
We believe that good value doesn't mean cheaper, it means better quality, longer lasting, and more enjoyable to use.
We believe that good business practices don't have to be at odds with good social practices.
We believe that people do better when they feel better, and that good scents make people feel better.
We believe that a rising tide lifts all boats. We lift up other businesses every opportunity we get.
We believe that kindness costs nothing, but is worth more than gold.
We believe in the goodness of dogs.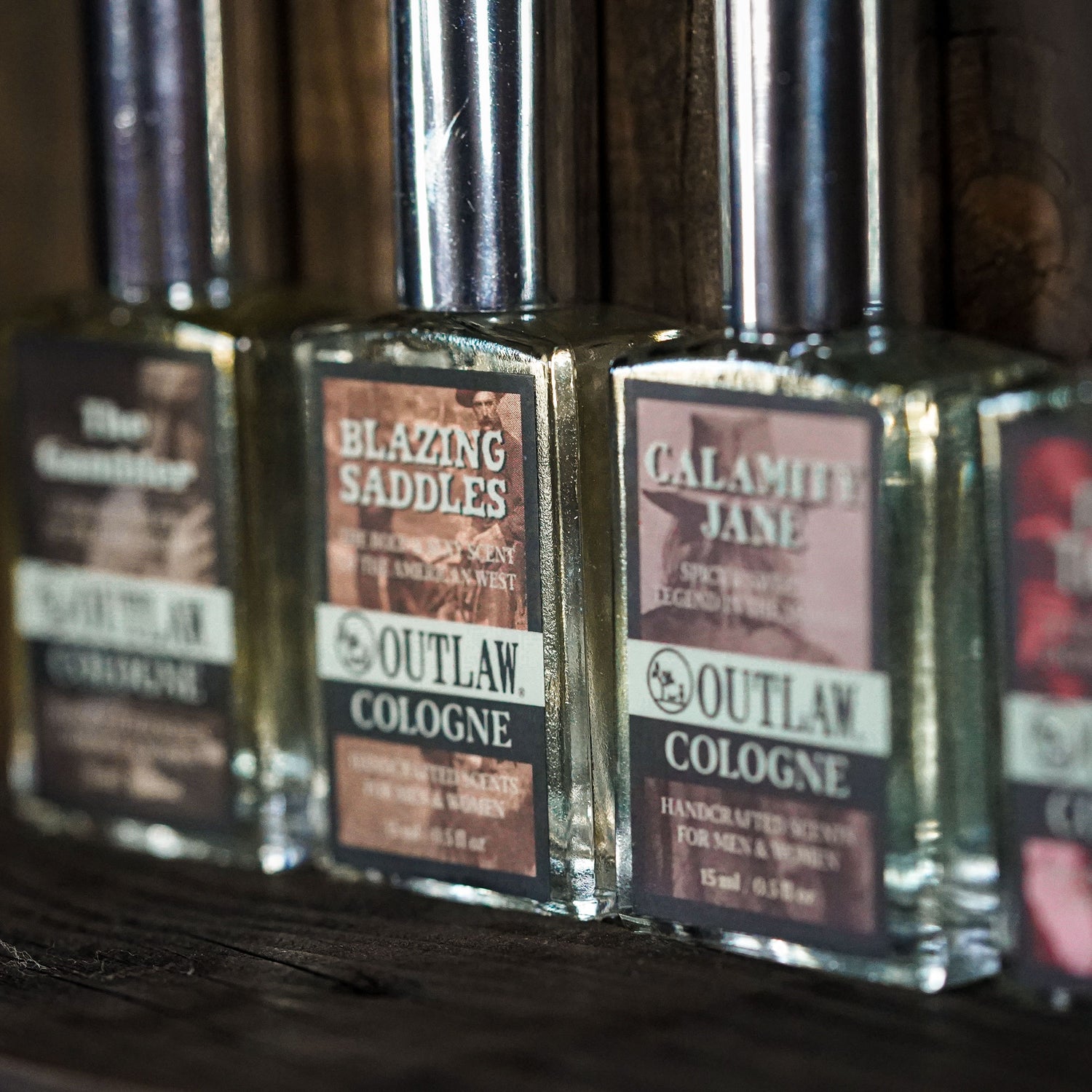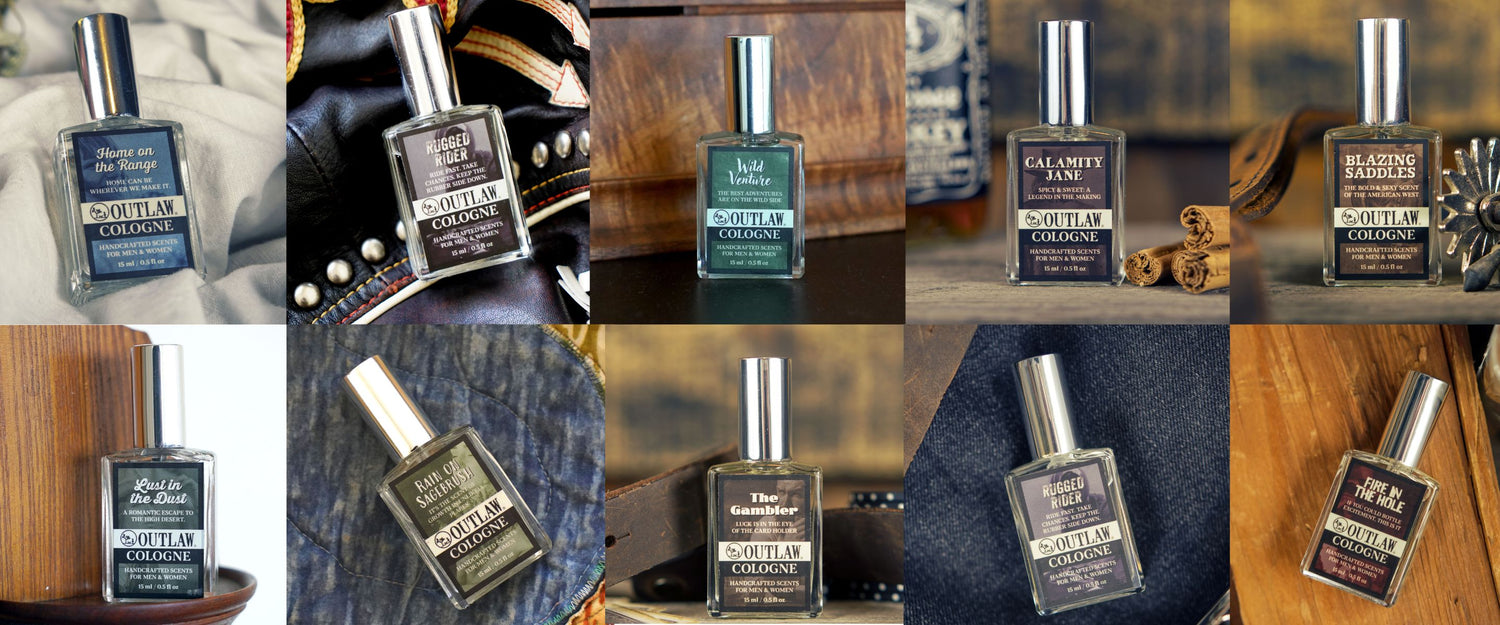 Do you love the smokey smell of campfire? How about the pungent scent of an aged whiskey? How about the peppery musk of gunpowder? Well, if you said hell yes to any of these three scents, then you need to look into the men's care products made by Outlaw.

Choosing a selection results in a full page refresh.