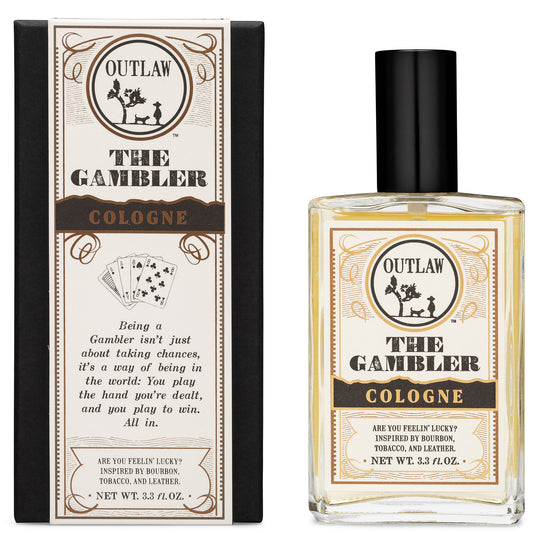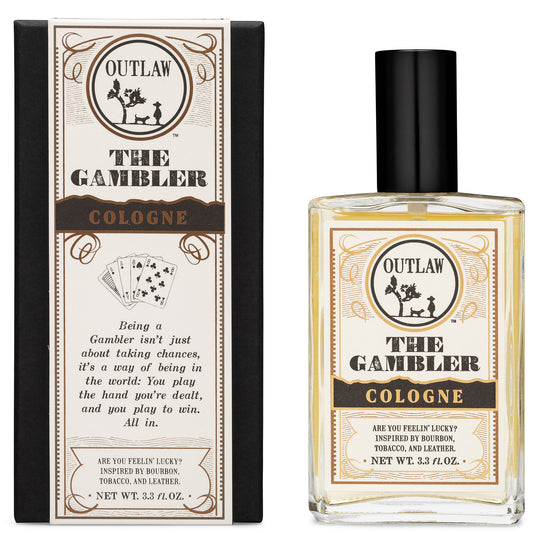 The Luckiest Scent Around: Bourbon | Tobacco | Leather
View Details
Show Me
$60.00
Sale price
$60.00
Regular price
Unit price
per
Show Me
$60.00
Sale price
$60.00
Regular price
Unit price
per
Sale
Sold out
If life's a game, you're about to get lucky...
⭐️⭐️⭐️⭐️⭐️ "I have finally found my forever cologne." - Chris S
⭐️⭐️⭐️⭐️⭐️ "The cologne continues to offer that wonderful earthy smell of tobacco, the sweetness of whiskey, and the warm smell of leather." - James M
You might pour yourself a tumbler of good bourbon. With every sip, you feel yourself slipping deeper into smoky, rich reflection.
And yet, your head is still clear as ever. Cunning and resourceful, you're quite familiar with wheelin' and dealin' to get exactly what you want. And what you want is to smell down-to-the-bone authentic — exuding the rugged scents of bourbon, tobacco, and leather — unlike the others in the room who are sweatin' bullets from your undeniable charm. No need to take your chances here — it's the secret trick to smelling sharp that you'll never give away.

⭐️⭐️⭐️⭐️⭐️ "Rugged and Sophisticated
This is my new signature scent. It is the perfect combination of some of my favorite things put into a single long-lasting fragrance." - Ethan O
If you're not sure you'd like to commit to a full-size bottle of Gambler cologne, try our sample set:

This collection is inspired by the American West – the quintessential things that make the Western landscape what it is: leather and gunpowder, campfire and sagebrush, everything beautiful and romantic about the Western experience.
Includes:
Blazing Saddles: Leather, gunpowder, sandalwood, and sagebrush
The Gambler: Bourbon, tobacco, and leather
Lust in the Dust: Sagebrush and sandalwood
Calamity Jane: Clove, orange, cinnamon, and whiskey
All our scents are skin-safe and long-lasting. Because we feel like scent is a personal thing to be shared between you and those literally closest to you, these are subtle scents. They will not overpower a crowded elevator or make you "that guy with all the cologne."
They're designed to create an impression, not an impact.
3 oz of liquid goodness.
What does this kind of outlaw smell like?

+

-

You'll smell down-to-the-bone authentic — swaggering with the rugged scents of bourbon, tobacco, and leather — unlike the others in the room who are sweatin' bullets from your undeniable charm. No need to take your chances here — The Gambler's your secret trick to smelling sharp (that you'll never give away).
How to use

+

-

Spray on your pulse points and enjoy your amazing life. WARNING: don't spray in yer eyes like a darn fool
Ingredients

+

-

Made with Organic Alcohol & Natural and Artificial Fragrance.
Shipping & Returns

+

-

Most orders ship within a few business days and arrive within 5 business days. Situations outside of our control sometimes interfere, but we do our absolute best.

If you don't love what you ordered, please reach out to us and we'll either replace your product for free, or we'll give you a refund. If your items cost more than $100, we will issue a return label.
View full details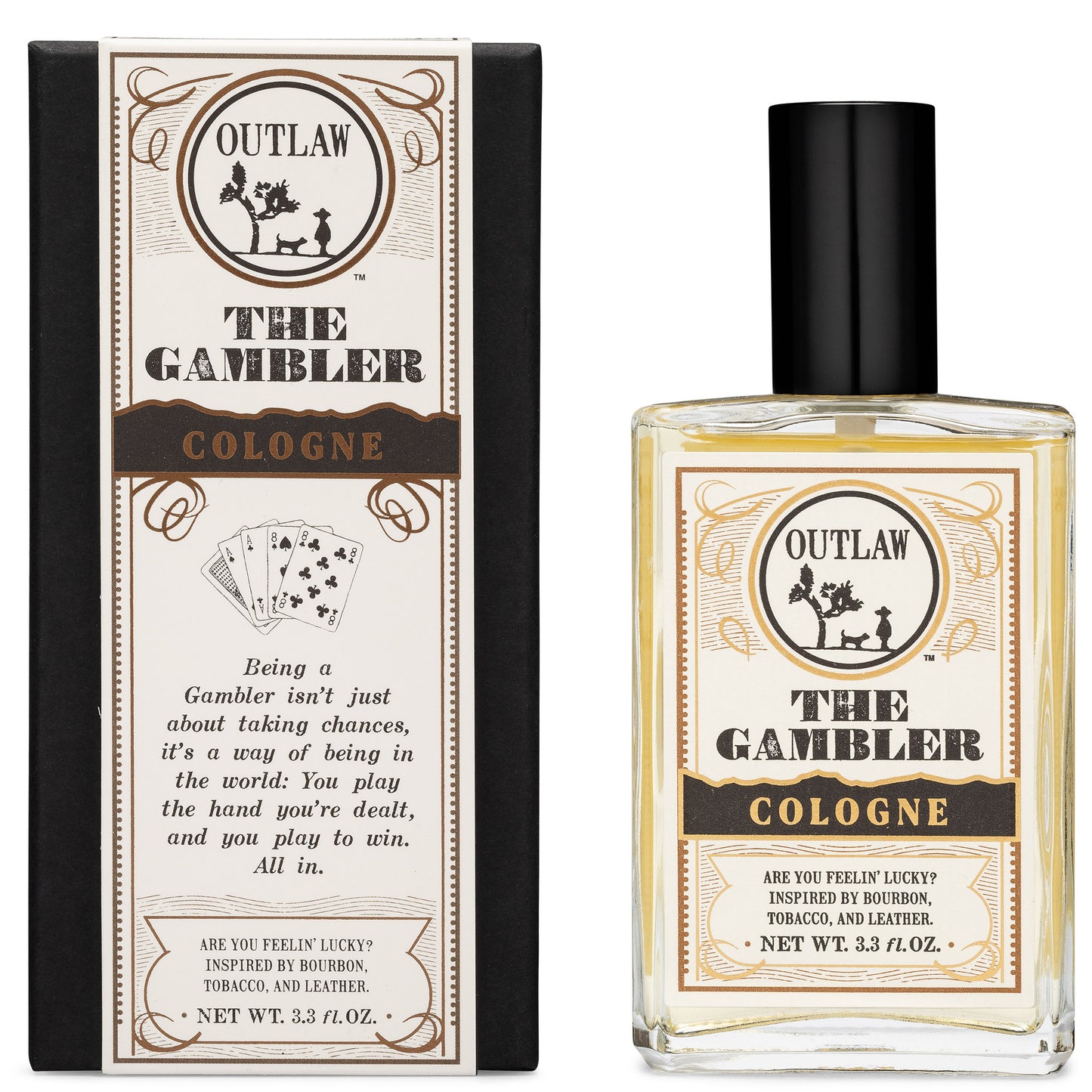 Gambler cologne
I've tried most of the solid colognes, and like em very much. Purchased the sampler sprays, and decided to go with the Gambler, great smell, not overpowering, and lasts a fairly long time
The good stuff
I'd actually seen an ad for some of the colognes somewhere, some 2 years ago probably. Somewhere, in the deep recesses of my memory, I remembered the brand a few months ago and decided to roll the dice (pun intended) on an order of The Gambler sample solid colognes. Loved the Gambler specifically! While Fire In the Hole and Blazing Saddles are quite rugged smelling, nothing tells my tale quite like the Gambler!
The Gambler smells like well maintained leather (I personally have this in my vehicle all the time).
Fire in the Hole smells like slightly smokey with a hint of herb, if you will.
The Badlands, well, imagine a musky saloon - the oak-like scent is quite on the nose and
Blazing Saddles is The Badlands's cousin: but cleaner, and more fragrant - like it ran a comb through its hair and washed its beard.
Calamity Jane perfectly describes what an authentic Cow-Girl™ would smell like. She's fun, fresh and fruity. Sharp as a whip and stands out in a crowd.
Honestly such a wide selection, you can go anywhere with these. They're sure to turn heads. This isn't for the boys, this is for the MEN.
The kindhearted folks at the store even threw in some stickers, the good ol' rubber chicken (Clucky) and a complimentary soap for my troubles (I live down in South Africa) - here's hoping they will again!
5/5 will recommend.
Great product
Remember those old "dogs playing poker" pictures? The gambler smells exactly like you'd imagine those pictures smelling like.
Great scent, long lasting. Goes on strong so a little goes along way.
Ruben's review.
Love it! Have gotten many compliments on how good it smells on me.
You can bet on it!
Okay, so I like every Outlaw scent, starting years ago with the 3 solid colognes I bought on a mega online retailer... Gambler definitely hits on all points for me. I think maybe it's my favorite? Lasts a good while, and the scent develops nicely. There are some unique similarities shared by all the Outlaw colognes, in my opinion, but each one still holds its own.
Gambler Cologne is a Winning Hand
This is one of my favorite scents from Live Outlaw. I have all the the products available in this scent. How can you possibly go wrong with the combination of bourbon, tobacco and leather!
Holy Mole
Just when I thought Calamity Jane was the best scent… this cologne strolled into the saloon, looking proper but mysterious. Love the smell, it's just amazing!
"I was extremely pleased with the spray and it is a great compliment to the other Gambler products I use daily." — Chris

"OMG it is delish! I have now gone back for a big solid cologne and a deodorant. I smell SO GOOD! (And I miss my horses. But not as much, smelling like this.)" — Space Cowgirl

"Best damn cologne I've ever worn. PERIOD!" — Jeff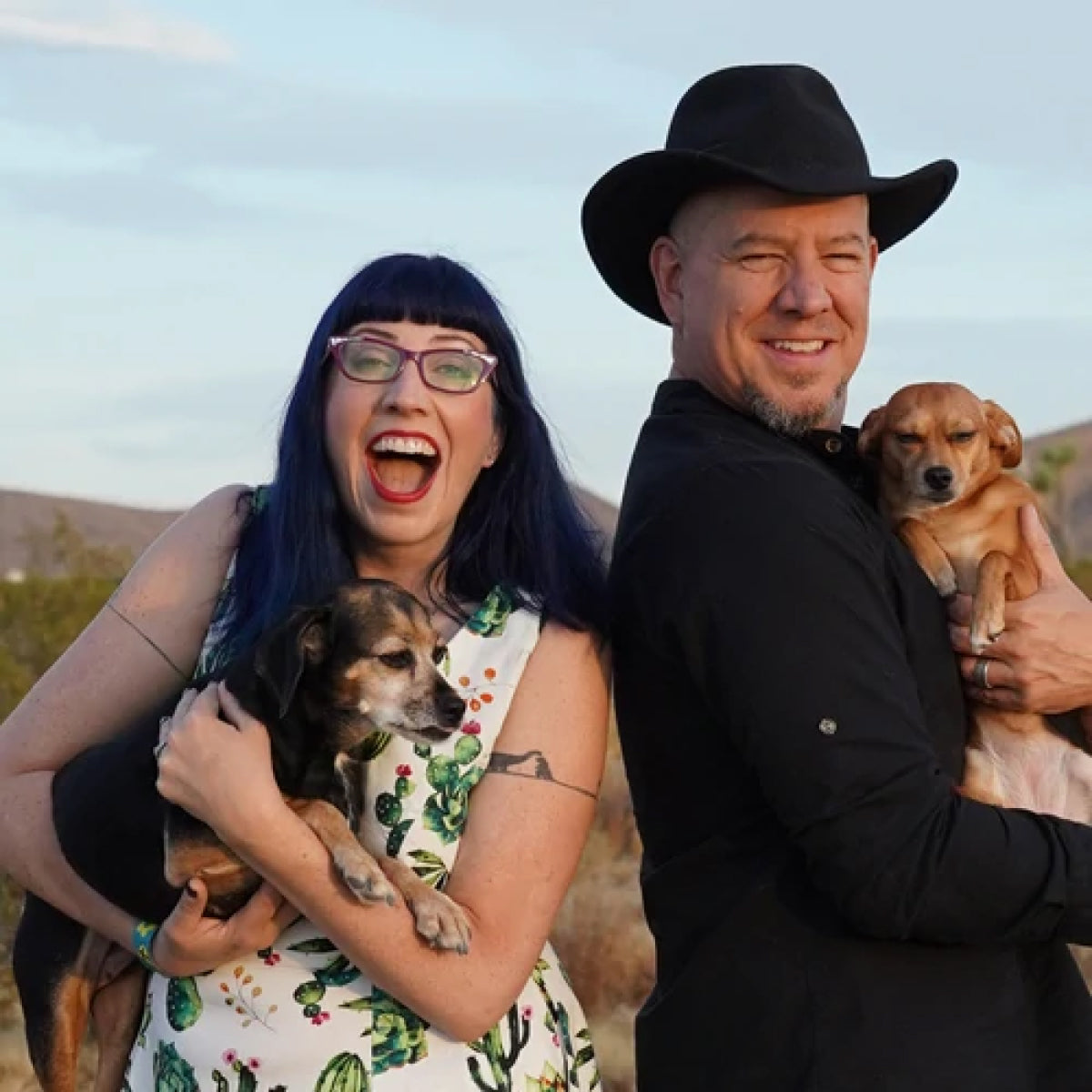 Who are the Outlaws?
We're Danielle & Russ Vincent, and we started Outlaw because we wanted to make a different kind of company.
We believe that good value doesn't mean cheaper, it means better quality, longer lasting, and more enjoyable to use.
We believe that good business practices don't have to be at odds with good social practices.
We believe that people do better when they feel better, and that good scents make people feel better.
We believe that a rising tide lifts all boats. We lift up other businesses every opportunity we get.
We believe that kindness costs nothing, but is worth more than gold.
We believe in the goodness of dogs.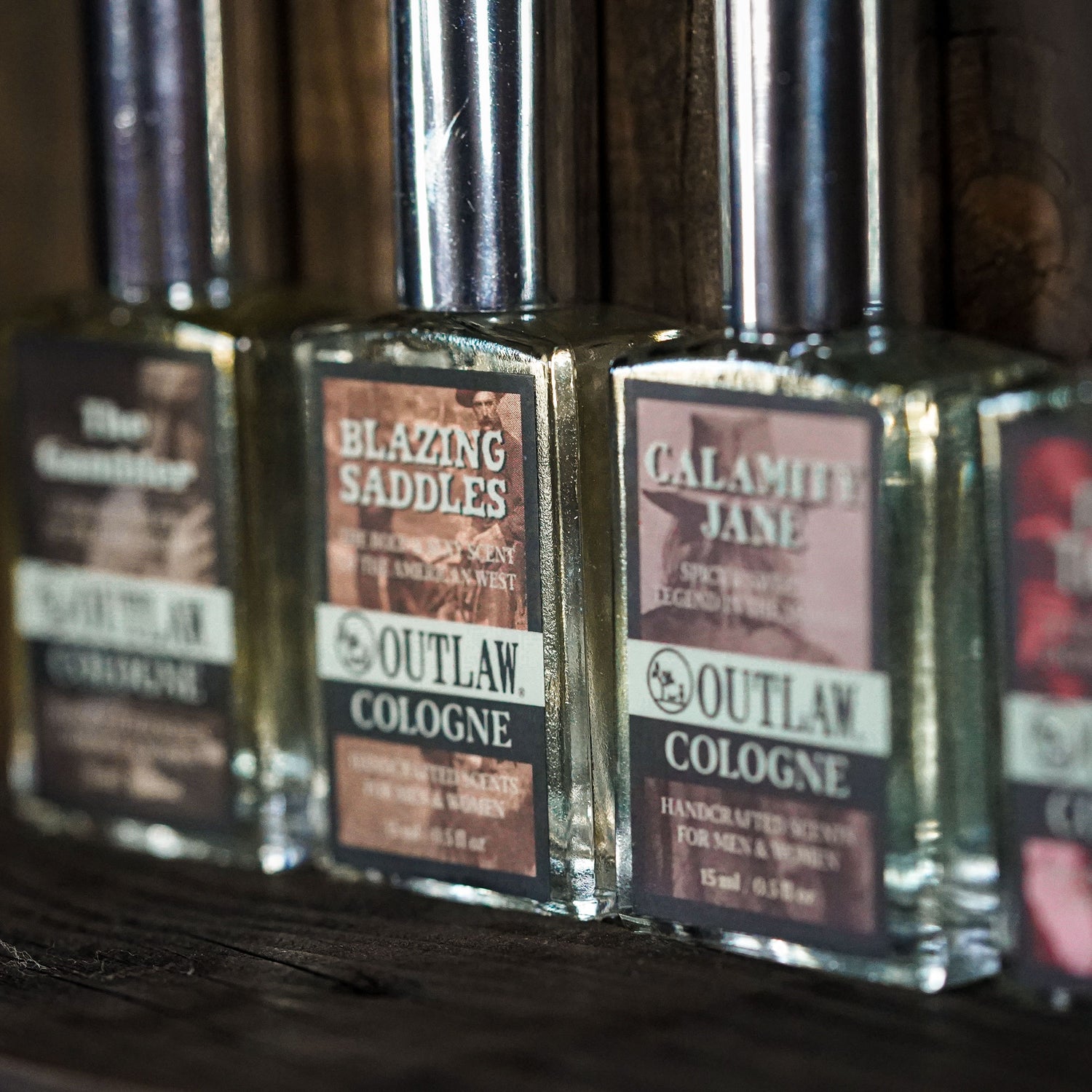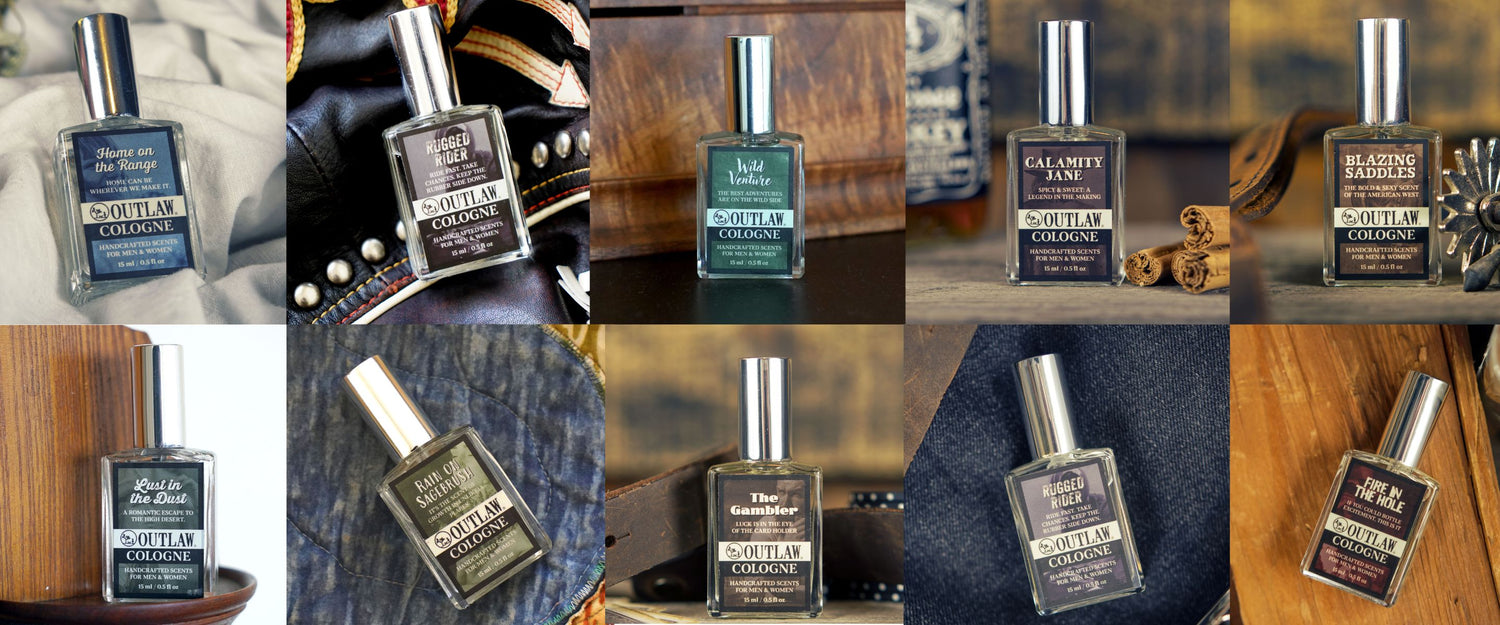 Do you love the smokey smell of campfire? How about the pungent scent of an aged whiskey? How about the peppery musk of gunpowder? Well, if you said hell yes to any of these three scents, then you need to look into the men's care products made by Outlaw.

Choosing a selection results in a full page refresh.