A Smoky and Woodsy Scent: Campfire | Cedar
View Details
Show Me
$24.00
Sale price
$24.00
Regular price
$0.00
Unit price
per
Show Me
$24.00
Sale price
$24.00
Regular price
$0.00
Unit price
per
Sale
Sold out
The twilight huddles close to the sleepy fire, its embers blinking at you in the dark. Smoke follows beauty, and it's a beautiful night. You lay back and look at the infinite sky above and watch the smoke trails drift their waves into the darkness.
And that's the magic of this tin of solid cologne.
It's a pocket full of long shadows, sleepy campfire, and night sounds all around you. It's all the points of light against the blue backdrop of a dusky sky.
It smells like campfire and cedar... a little smoky, a little sweet. Just right.
Our solid colognes are made in small batches right here in the USA. They come in very giftable and reusable kraft boxes that have an abbreviated version of the above description and contain one of a dozen different quotes. The .5 oz tin is perfect for carrying in your pocket all day.
All our scents are skin-safe and long-lasting. Because we feel like scent is a personal thing to be shared between you and those literally closest to you, these are subtle scents. They will not overpower a crowded elevator or make you "that guy with all the cologne." They're designed to create an ambiance, not an impact.
.5 oz of solid goodness.
What does this kind of outlaw smell like?

+

-

Inspired by a campfire's glowing embers in the twilight, The Badlands is a beautiful blend of campfire and cedar. Handcrafted in small batches in the USA, this is the perfect cologne if you want to smell like you spent the night stargazing outside.
How to use

+

-

Rub your fingers along the top of the wax cologne to get some on your fingers. Wipe your fingers on your wrists and neck (pulse points). Strut around like the sexy beast you are.
Ingredients

+

-

Theobroma Cacao (Cocoa) Seed Butter, Cera Alba (Beeswax), Vitis Vinifera (Grape) Seed Oil, Ascorbic Acid (Vitamin C), Alpha Tocopherol (Vitamin E), Rosemary Seed Extract, and Fragrance Oil.
Shipping & Returns

+

-

Most orders ship within a few business days and arrive within 5 business days. Situations outside of our control sometimes interfere, but we do our absolute best.

If you don't love what you ordered, please reach out to us and we'll either replace your product for free, or we'll give you a refund. If your items cost more than $100, we will issue a return label.
View full details
Great for travel
I took this cologne and the solid gambler with me on a trip traveled well. I did put them in my liquids bag they fit so well and didn't take up much room.
Cologne to go…. Yummy
The Badlands Cologne tin is super convenient…. Love the smell of a campfire in a little can. This smell makes me smile and relax. I had to buy a second one so my son will stay out of mine.
Got the sample, then came back for more.
My favorite out of the sample pack, let's face it they're all great. Nice and smokey, but not gross like a rotten campfire.
Smokey and Rich
This is the first solid cologne I've tried from Outlaw so I can't say it's my favorite yet,but I'm loving the smokey scent with just that hint of sweetness mixed in there. It's packaged well and easy to apply and the smell lingers just long enough through my day without overstaying its welcome. The overall smell isn't very strong and transitions between a smokey wood smell into a kind of vanilla(that can be good or bad depending on your preference)
My favorite Outlaw scent!
While I also love the spray version that lasts all day, I really love that this solid cologne is more versatile. I can apply it in the morning and then have a choice to reapply or not in the evening.
Badlands is badass!
Fell in love with this scent in the sample pack. The solid cologne is definitely one of the best I've ever used. Not too late. Not too powerful. Stays around for a while, doesn't fade off easy. Definitely buy it again when I run out
Blazing Saddles
I conquered fear and I conquered hate,
I turned my night into day.
I made my blazing saddle
a torch to light the way.
I ordered Badlands Solid Cologne, but I
refer to Blazing Saddles Solid Cologne because that's what I received instead.
"I'm going to be buying this stuff for the rest of my life, it makes me feel like my true self and also incredibly confident. And the packaging is so above and beyond!" — Clementine

"I love the smoky, spicy scent of this solid cologne. I keep it in my car or in my bedroom, it's so handy to take anywhere with its cool little tin." — Jeff

"Subtle smoky campfire smell when you put it on and blends into an aromatic cedar / redwood smell. I have to say, this company rocks!" — Douglas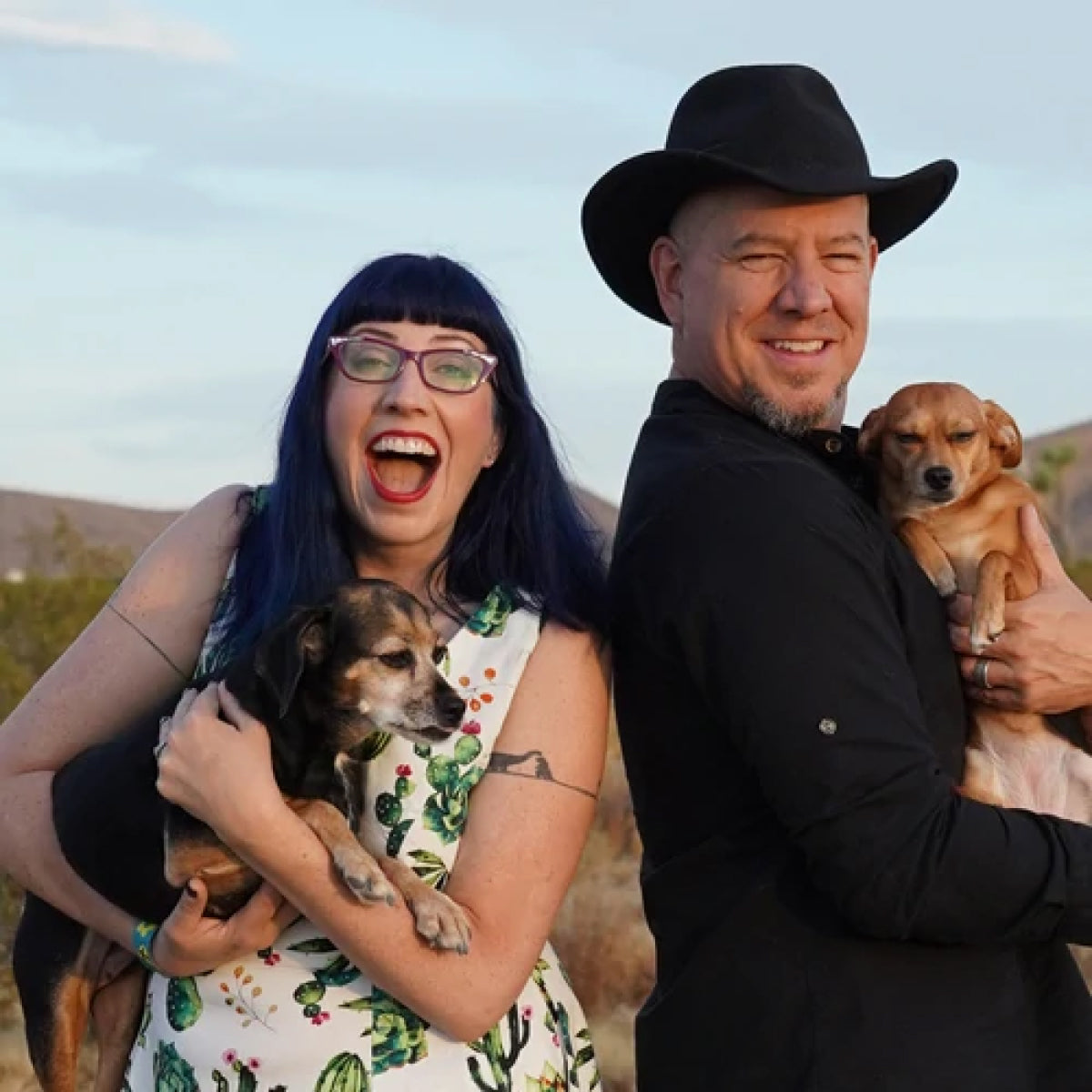 Who are the Outlaws?
We're Danielle & Russ Vincent, and we started Outlaw because we wanted to make a different kind of company.
We believe that good value doesn't mean cheaper, it means better quality, longer lasting, and more enjoyable to use.
We believe that good business practices don't have to be at odds with good social practices.
We believe that people do better when they feel better, and that good scents make people feel better.
We believe that a rising tide lifts all boats. We lift up other businesses every opportunity we get.
We believe that kindness costs nothing, but is worth more than gold.
We believe in the goodness of dogs.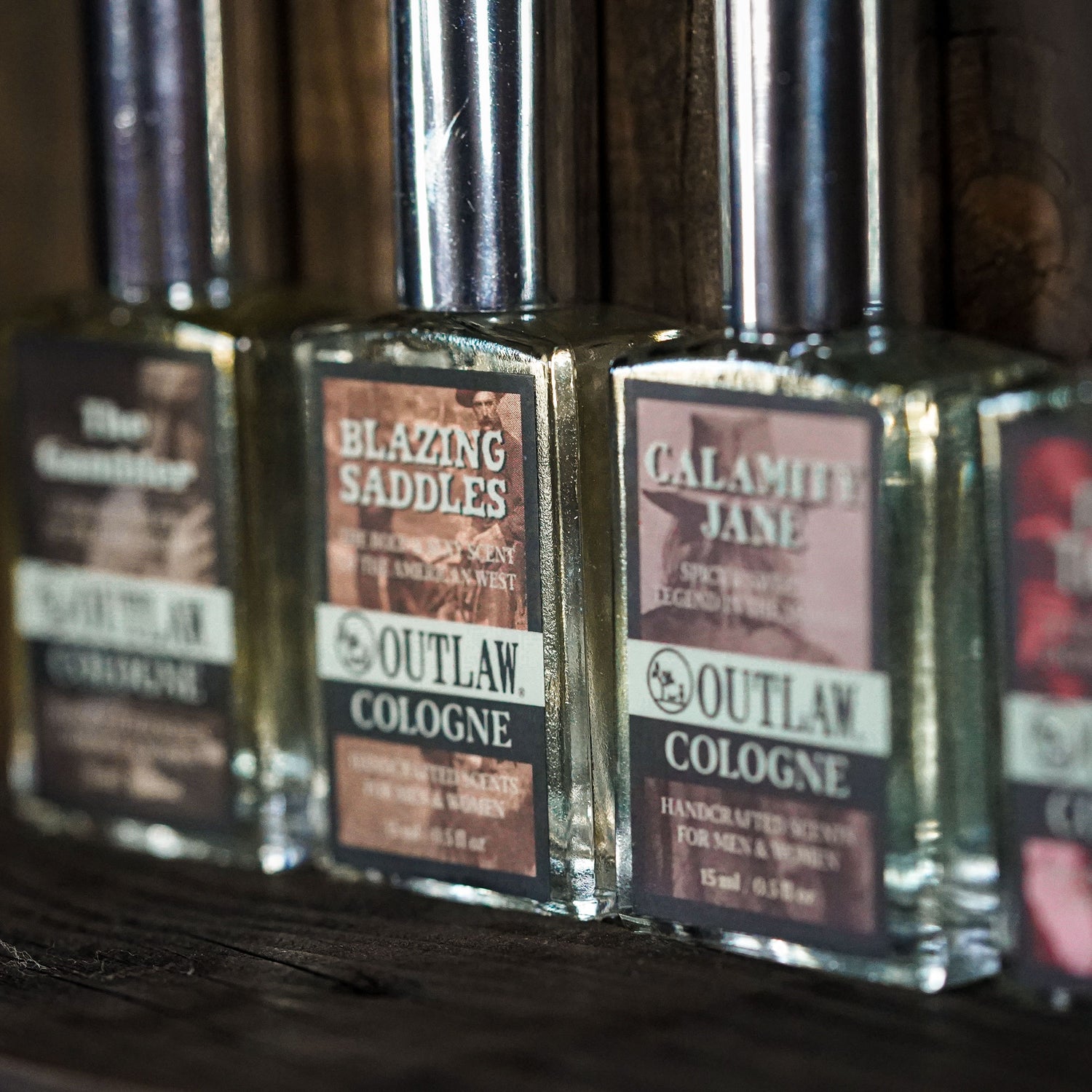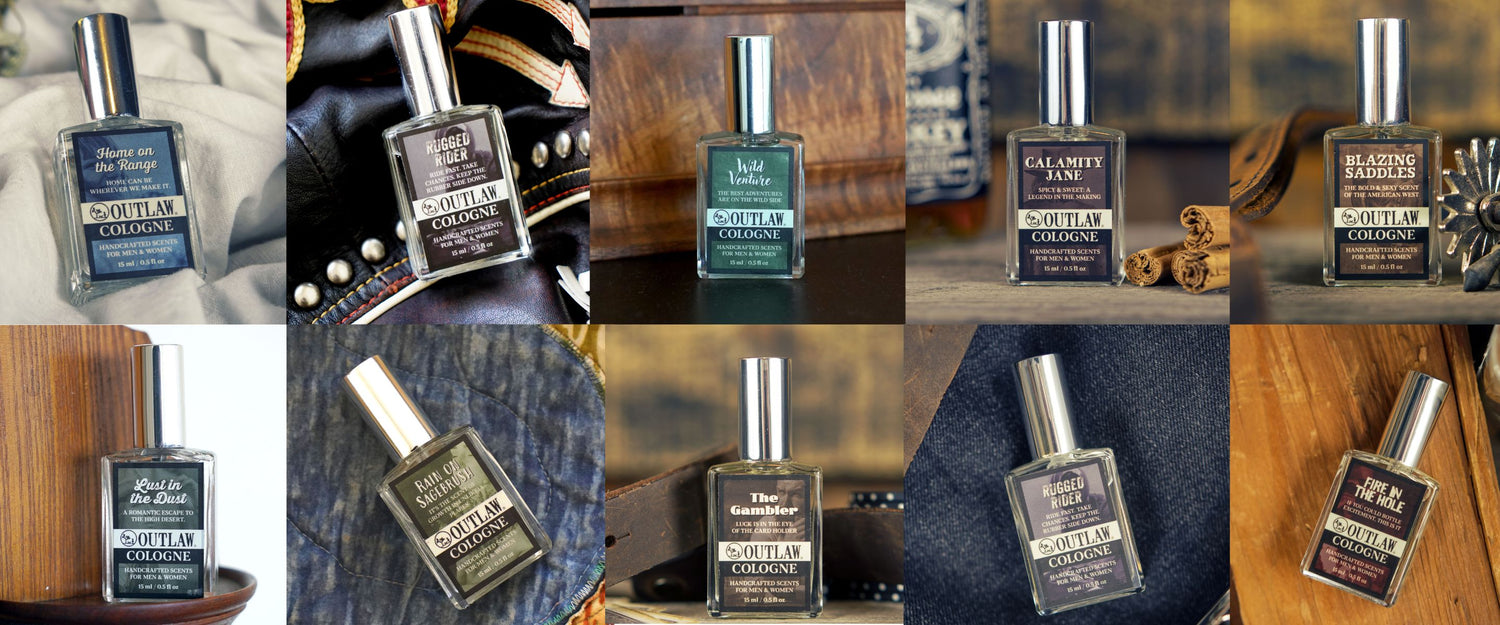 Do you love the smokey smell of campfire? How about the pungent scent of an aged whiskey? How about the peppery musk of gunpowder? Well, if you said hell yes to any of these three scents, then you need to look into the men's care products made by Outlaw.

Choosing a selection results in a full page refresh.