Try all the scents in all their amazing variety!
View Details
Show Me
Sale price
$20.00
Regular price
Unit price
per
Show Me
Sale price
$20.00
Regular price
Unit price
per
Sale
Sold out
If you're looking for a taste of each of our milled soaps, look no further than this sample pack!
All Magnificent Seven of our supremely sudsy solid milled soap, in a travel-friendly 1-ounce package.

Formulated with an all-vegan combination of oils that is both delightfully sudsy in the shower and leaves your skin silky smooth and, if you wish, sooooo kissable (though we're not getting all up in your boundaries).
May make you late to work if your partner catches you coming out of the shower.
What a fricken' amazing way to shower your morning to a brilliant start.
Your life isn't just one scent, it's a combination! Why pick, when you can have all seven of our solidly sudsy milled soap scents:

Give it a try, satisfaction 100% guaranteed that you'll love it.
7 1-oz of solid sudsers.
What does this kind of outlaw smell like?

+

-

An Outlaw smells like bold, rugged adventure.
How to use

+

-

Work yourself into a lather. No, really! That's how you use it!
Ingredients

+

-

Made with Vegetable Soap Base, Glycerine, Butyrospermum Parkii (Shea Butter), Theobroma Cacao (Cocoa) Seed Butter, Olea Europaea (Olive) Fruit Oil, Vitis Vinifera (Grape) Seed Oil, Fragrance.
Shipping & Returns

+

-

Most orders ship within a few business days and arrive within 5 business days. Situations outside of our control sometimes interfere, but we do our absolute best.

If you don't love what you ordered, please reach out to us and we'll either replace your product for free, or we'll give you a refund. If your items cost more than $100, we will issue a return label.
View full details
Smells wonderful
Very nice. My son loves them.
They Smell Terrific!
Haven't tried them as of yet - But if they're anything like the other ones? Definitely #1!
Perfect size
They are the perfect size for guests - if my son doesn't grab them first!
Fantastic gift
Got these for my brother for christmas, he loves them!
a gift for a real man
This was a gift for a strong silent manly friend. He loved all the scents. I'm hoping that he'll start shopping with you after this excellent introduction to your products.
Fantastic Soap set!
These are so awesome! I'm making gift bags, so these beautifully individually wrapped soaps are perfect!
Amazing products!
I ordered 3 of these for my husband and his friends and they are amazing! Excellent customer service and quick delivery. Highly recommended and will be ordering again!
"The name 'outlaw' suits these soaps perfectly! The smell is strong, full of character, and far from mundane." — Dennis

"I've had this small bundle of soaps for a few weeks but I've only used two of the small tester bars. Know why? They actually LAST in the damn shower." — Megan

"I ordered the sample pack because I was not sure on which soap I wanted. So far I like them all and can't decide on just one scent I'll probably keep ordering the sample pack every time." — Levi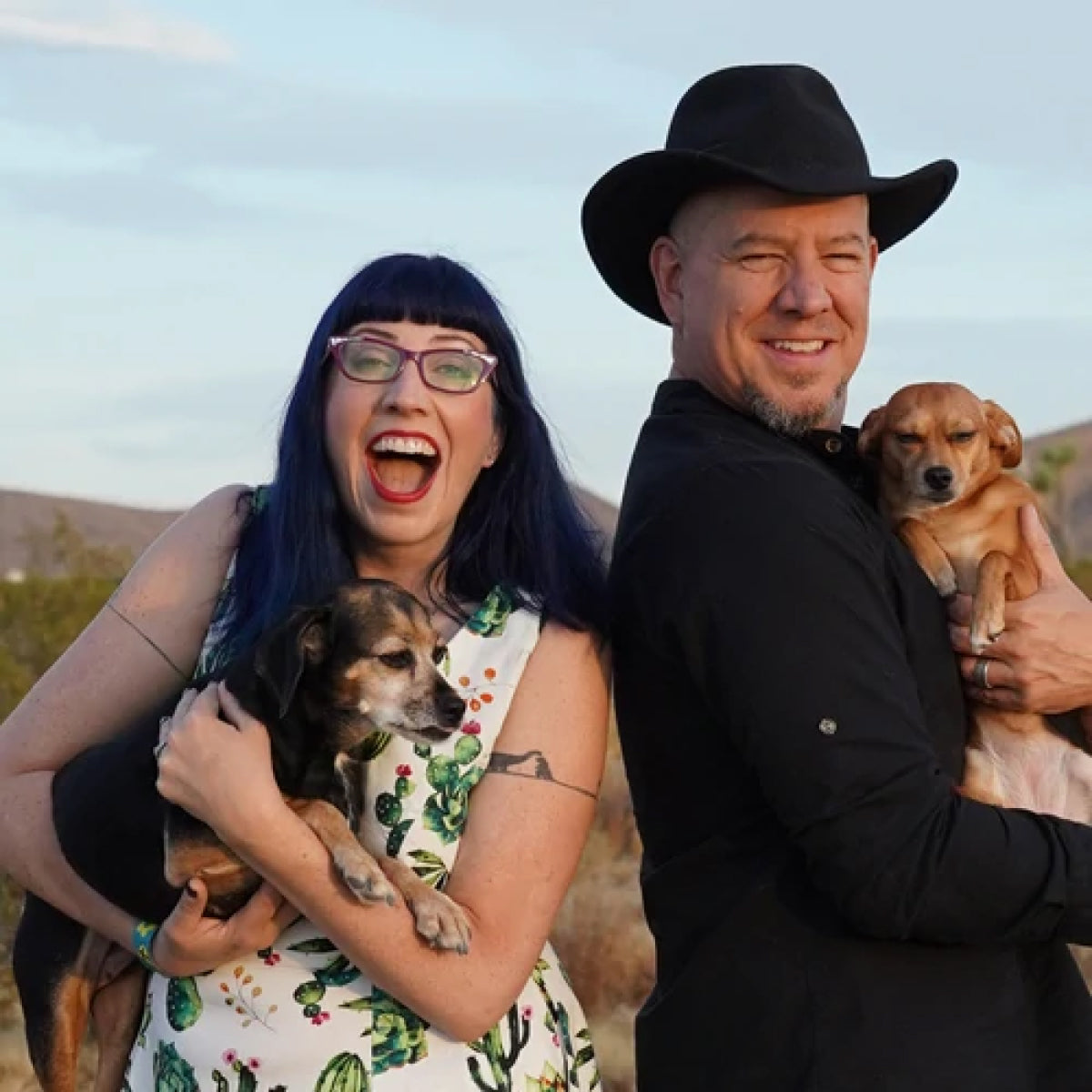 Who are the Outlaws?
We're Danielle & Russ Vincent, and we started Outlaw because we wanted to make a different kind of company.
We believe that good value doesn't mean cheaper, it means better quality, longer lasting, and more enjoyable to use.
We believe that good business practices don't have to be at odds with good social practices.
We believe that people do better when they feel better, and that good scents make people feel better.
We believe that a rising tide lifts all boats. We lift up other businesses every opportunity we get.
We believe that kindness costs nothing, but is worth more than gold.
We believe in the goodness of dogs.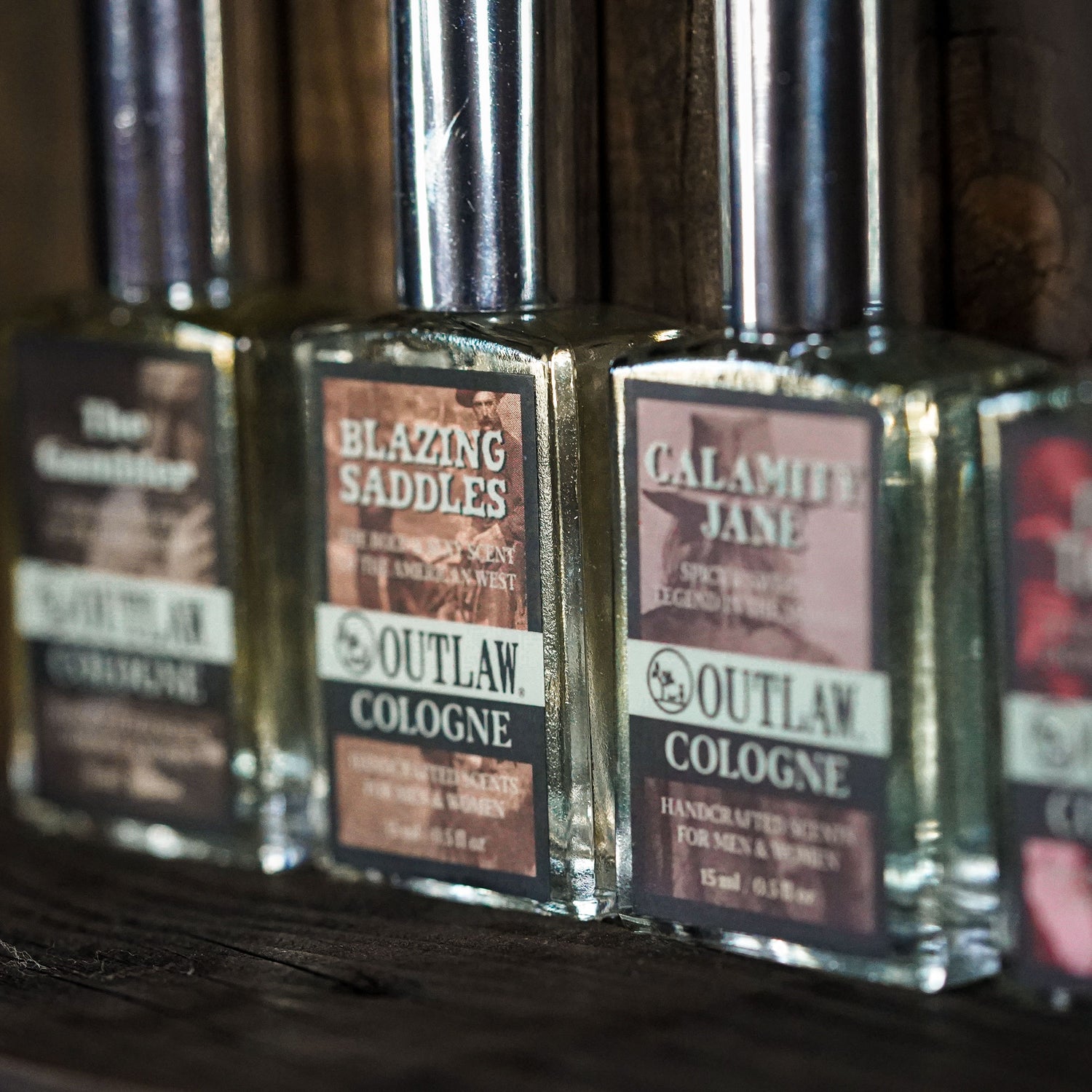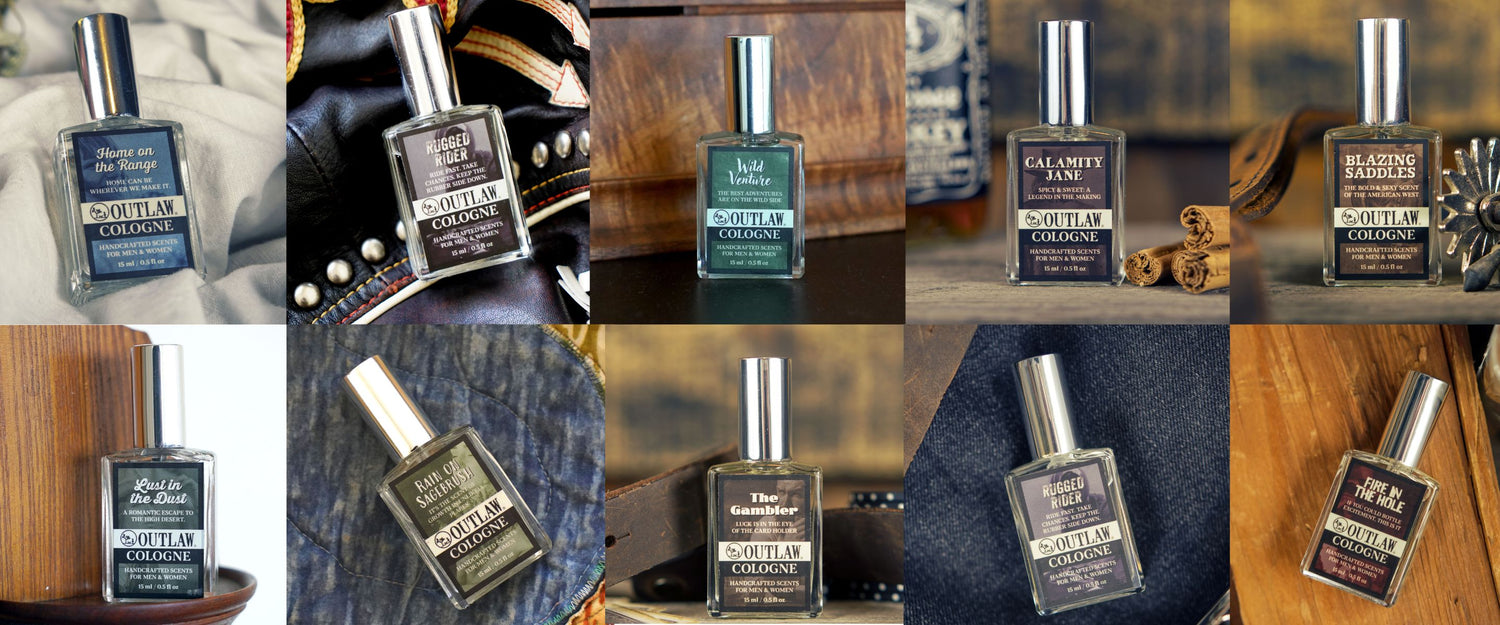 Do you love the smokey smell of campfire? How about the pungent scent of an aged whiskey? How about the peppery musk of gunpowder? Well, if you said hell yes to any of these three scents, then you need to look into the men's care products made by Outlaw.

Choosing a selection results in a full page refresh.