The Smell of Peace: Juicy Blackberries | Sun-Dried Laundry | Fresh-Cut Grass | Liquid Happiness
View Details
Show Me
Sale price
$8.00
Regular price
Unit price
per
Show Me
Sale price
$8.00
Regular price
Unit price
per
Sale
Sold out
Lather up your locks with Home on the Range Natural Shampoo! This shampoo is the bee's knees - natural, sulfate and paraben free, so it's gentle on your tresses. Get ready to lasso in those gorgeous head hairs! 
And, even better, it's TRAVEL READY! Sick of using the miscellaneous assortment of strange fluids in hotels, or wanting to take your favorite scents cross-country? We think these little bottles of joy can fix ya riiiight up...
There's no place like home, until now.

Smells of juicy blackberries, fresh laundry, and just-cut grass.
No paperwork!
Actualize your true human potential!
Made with love and laughter (and all-vegan oils).
Could change your life!
Handmade shampoo made with high-quality natural oils
Your boots in the grass. A light breeze guides you on your way. And yet there's nowhere in particular to be. The comforting scent of laundry wafts across the yard. You pick some late-season berries, so ripe and juicy you have to lick your fingertips like a kitten lapping up milk.
It's your day.
It's where you belong.
And it's all okay. 
2 fl oz of sudsy goodness.
What does this kind of outlaw smell like?

+

-

Bright and fresh, Home on the Range will bring happiness and peace to your world. All is right when you're home with Home on the Range. It smells like laundry hanging in the sunshine, freshly mown grass, and ripe blackberries.
How to use

+

-

Trust your instincts. You're wiser than you've been led to believe.
Ingredients

+

-

Shampoo: Aloe Barbadensis (Aloe) Leaf Juice, Cocos Nucifera (Coconut) Oil, Potassium Hydroxide, Olea Europaea (Olive) Fruit Oil, Glycerin, Helianthus Annuus (Sunflower) Seed Oil, Cyamopsis Tetragonoloba (Guar) Gum, Rosmarinus Officinalis (Rosemary) Leaf Extract, Butyrospermum Parkii (Shea Butter), Citric Acid, Fragrance.
Shipping & Returns

+

-

Most orders ship within a few business days and arrive within 5 business days. Situations outside of our control sometimes interfere, but we do our absolute best.

If you don't love what you ordered, please reach out to us and we'll either replace your product for free, or we'll give you a refund. If your items cost more than $100, we will issue a return label.
View full details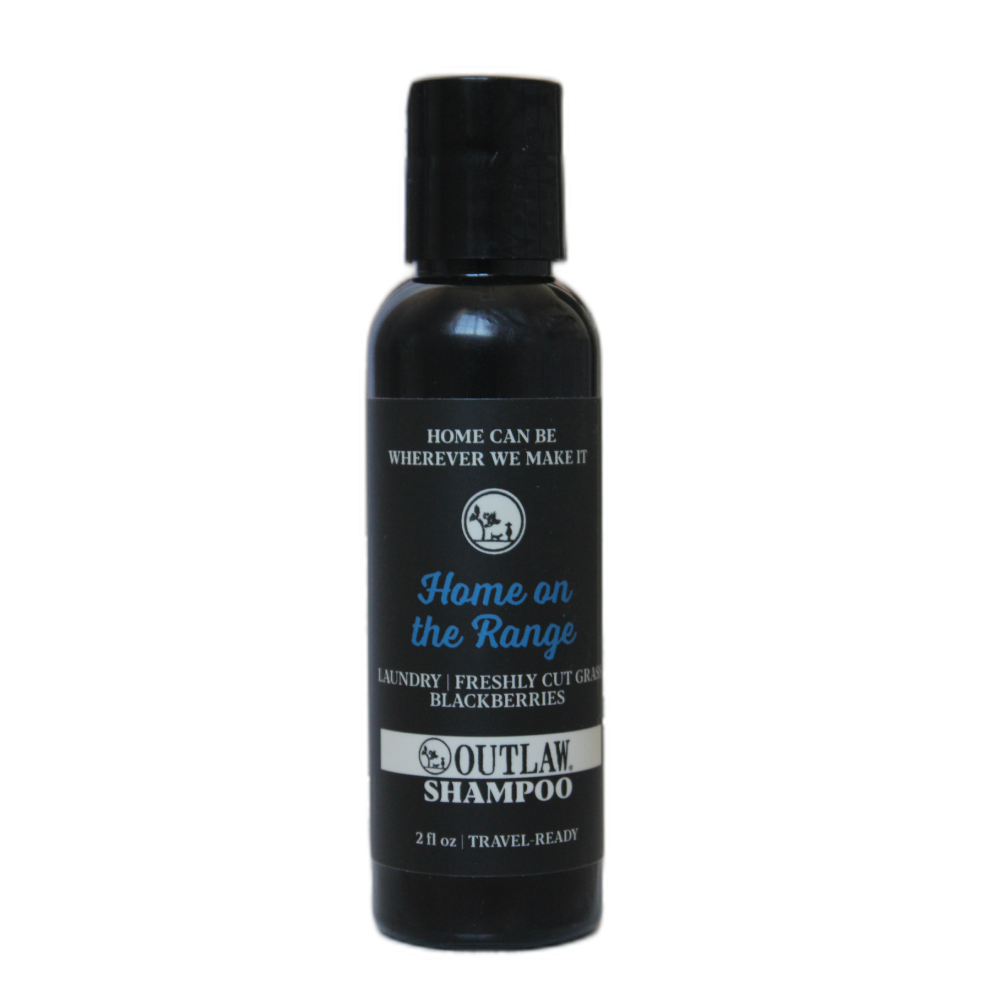 "I'm super stoked that the 'Home on the Range' comes in body wash! I was already addicted the bar soap." — Erin

"I love this scent. It really does smell like grass, blackberries, and laundry. Don't get wrong, I love smelling like campfire and whisky, but sometimes you just want to smell like summer." — Sean

"I work in an office by myself and I think I smell good enough to date myself." — Adam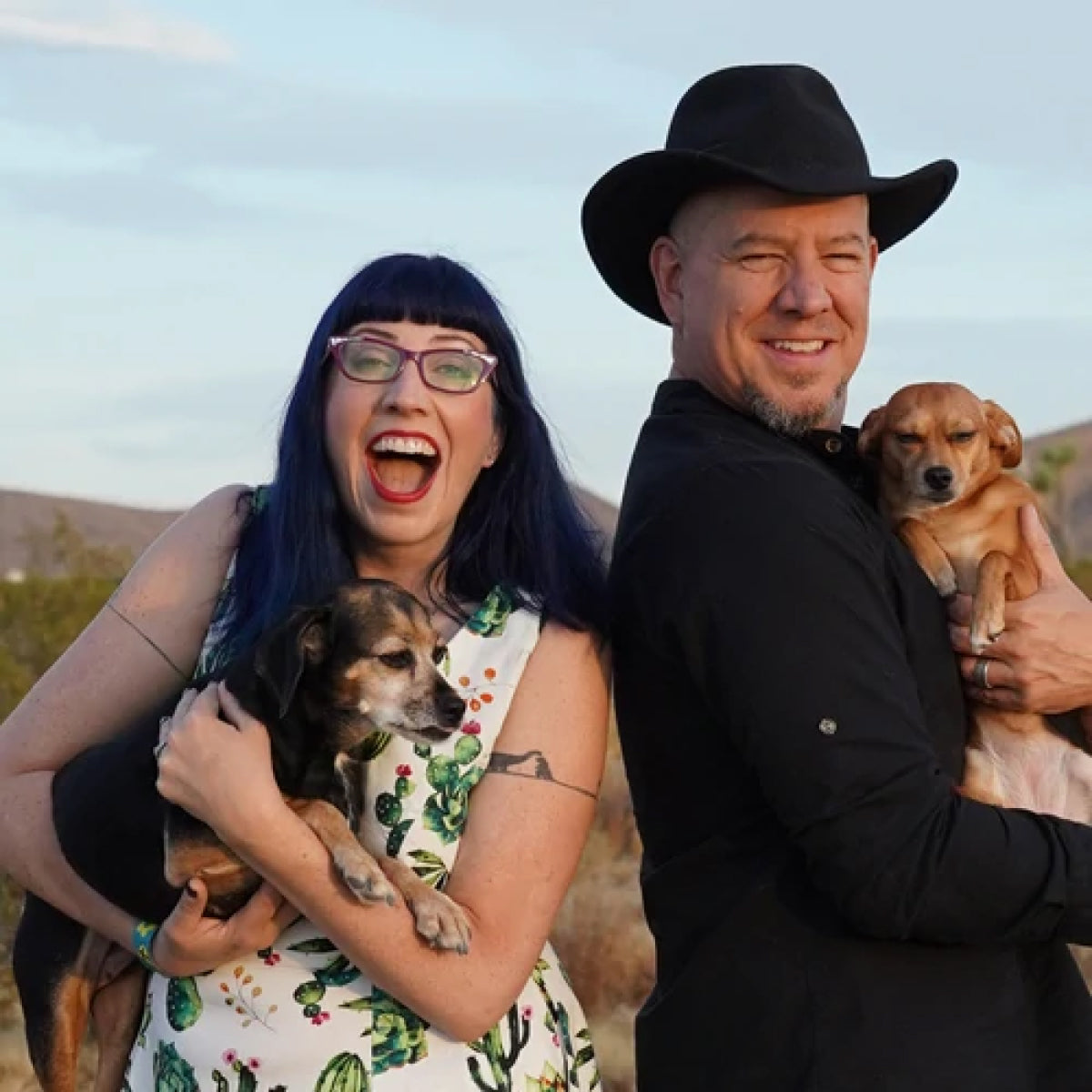 Who are the Outlaws?
We're Danielle & Russ Vincent, and we started Outlaw because we wanted to make a different kind of company.
We believe that good value doesn't mean cheaper, it means better quality, longer lasting, and more enjoyable to use.
We believe that good business practices don't have to be at odds with good social practices.
We believe that people do better when they feel better, and that good scents make people feel better.
We believe that a rising tide lifts all boats. We lift up other businesses every opportunity we get.
We believe that kindness costs nothing, but is worth more than gold.
We believe in the goodness of dogs.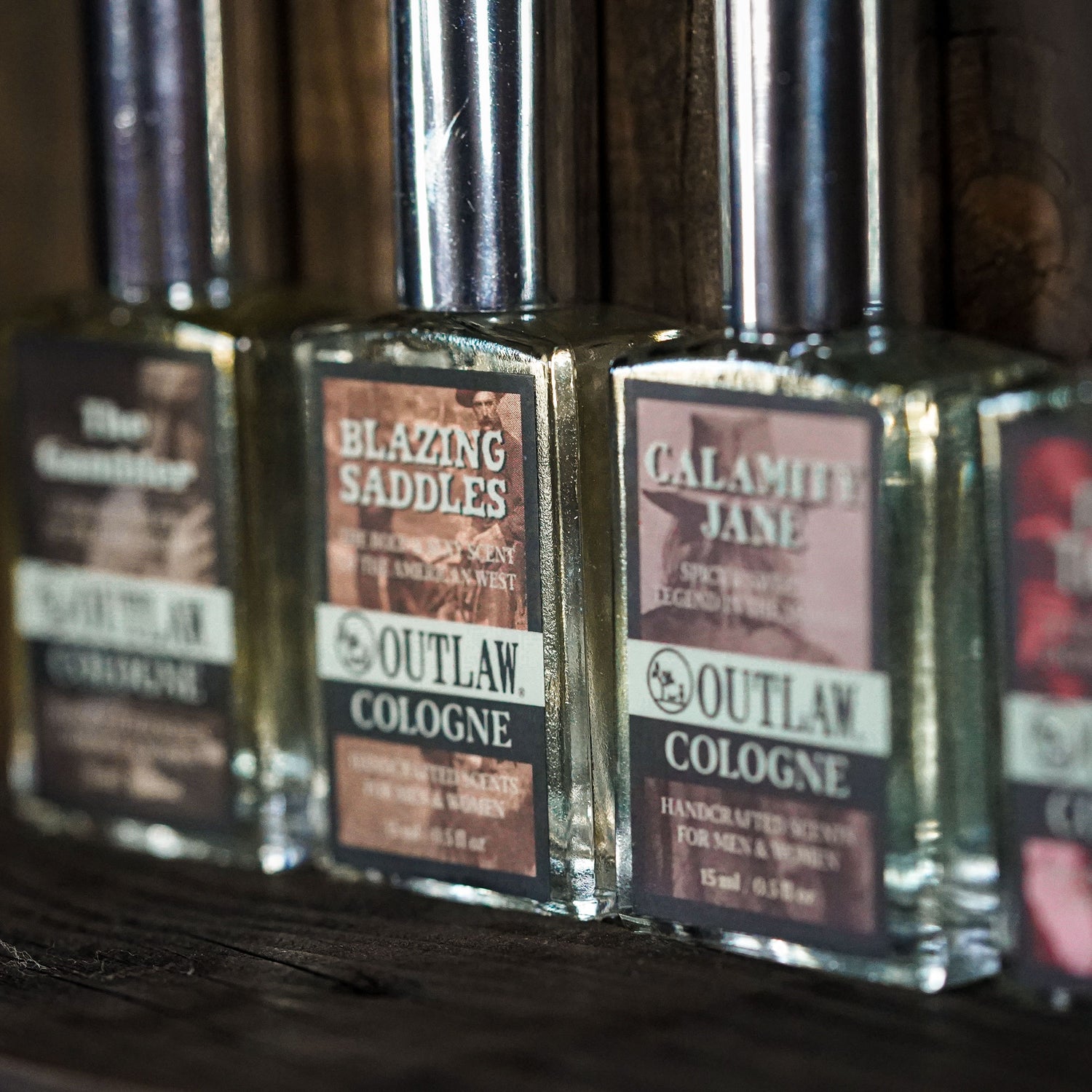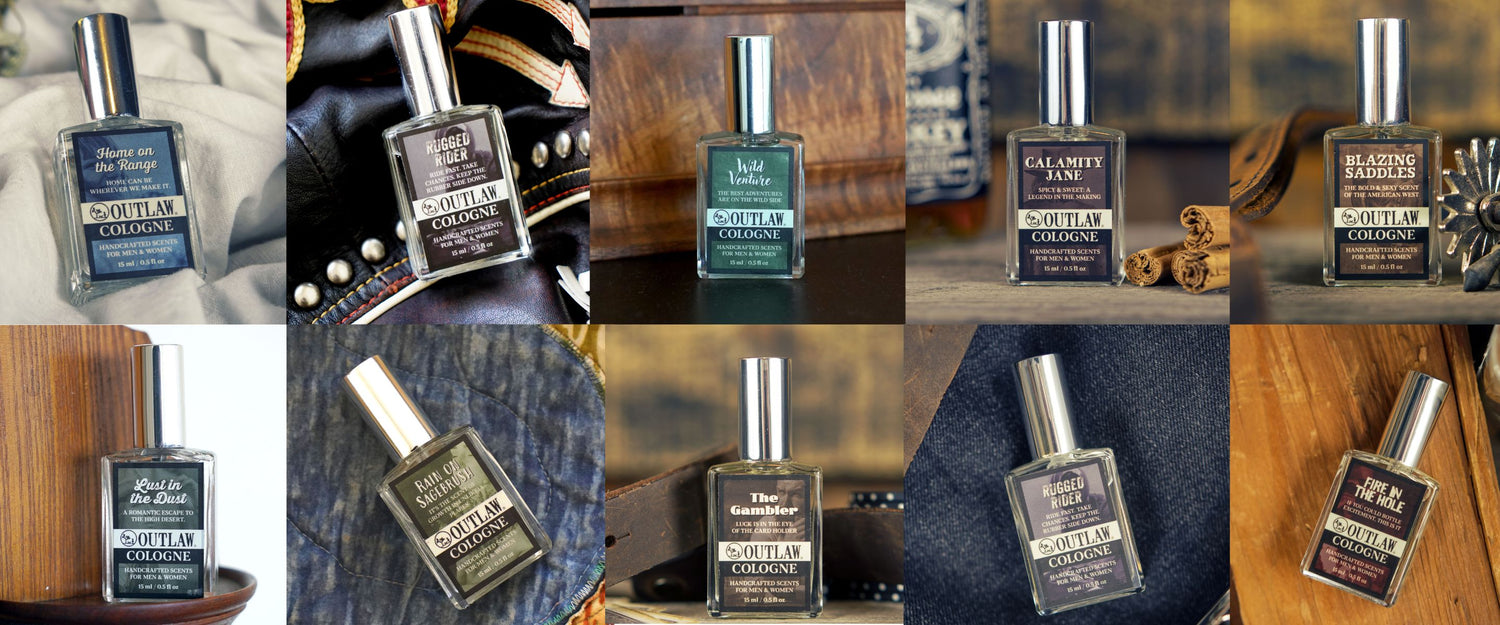 Do you love the smokey smell of campfire? How about the pungent scent of an aged whiskey? How about the peppery musk of gunpowder? Well, if you said hell yes to any of these three scents, then you need to look into the men's care products made by Outlaw.

Choosing a selection results in a full page refresh.