Campfire, gunpowder, whiskey, and sagebrush: The perfect gift
View Details
Show Me
Sale price
$51.30
Regular price
Unit price
per
Show Me
Sale price
$51.30
Regular price
Unit price
per
Sale
Sold out
Explosively Awesome!
Smells of campfire, gunpowder, sagebrush, whiskey, and more.
Made with love and laughter (and all-vegan oils.)
Safer than nitroglycerin.
No explosives training necessary.
Feels like you're camping (without the nighttime wombat attacks.)
Kaboom!
Know what that sound is? It's the sound of beginning your amazing day layering on the gorgeous, earthy scents of campfire, whiskey, and the outdoors. Fire in the Hole bar soap lets you go camping without even leaving the bathroom. (Which will remind you how much you like to go camping, and then increase the number of times you go camping.)
So imbibe freely, light some fireworks, and suds up with the scent collection that smells like campfire.
The Fire in the Hole Campfire Gift Set is a bonanza of brilliance with all the amazing campfire goodness you can want:
What does this kind of outlaw smell like?

+

-

Kaboom! Know what that sound is? It's what you'll yell in your bathroom when you sniff this rowdy and rambunctious Fire in the Hole collection (maybe not literally, but it sure makes us jubilant). One of our most treasured scents, this mixture of campfire, whiskey and the good ol' outdoors will set your mornings ablaze, giving you that fiery kick we all need to send us booming throughout our days. This scent is truly a celebration of our favorite camping trips and our most wild adventures. So, imbibe freely, light some fireworks, and dare to pair that burning spirit with Outlaw's Fire in the Hole Campfire scent!
How to use

+

-

Each deliriously wonderful item in this bundle is worthy of its own celebratory instruction manual... but we're not the kind of folks to RTFM, so we'll just leave it to you to figure it out. Look at you, smarty pants!
Ingredients

+

-

Fire in the Hole Solid Cologne - Made with Theobroma Cacao (Cocoa) Seed Butter, Cera Alba (Beeswax), Vitis Vinifera (Grape) Seed Oil, Ascorbic Acid (Vitamin C), Alpha Tocopherol (Vitamin E), Rosemary Seed Extract, and Fragrance Oil. Fire in the Hole Lotion - Made with Water, Prunus Amygdalus Dulcis (Sweet Almond) Oil, Butyrospermum Parkii (Shea Butter), Emulsifying Wax NF, Persea Gratissima (Avocado) Oil, Stearic Acid, Phenoxyethanol, Caprylyl Glycol, Sorbic Acid, Fragrance. Fire in the Hole Body Wash - Made with Aloe Barbadensis (Aloe) Leaf Juice, Cocos Nucifera (Coconut) Oil, Potassium Hydroxide, Olea Europaea (Olive) Fruit Oil, Glycerin, Helianthus Annuus (Sunflower) Seed Oil, Cyamopsis Tetragonoloba (Guar) Gum, Rosmarinus Officinalis (Rosemary) Leaf Extract, Butyrospermum Parkii (Shea Butter), Citric Acid, Fragrance. Fire in the Hole Handmade Soap - Made with Persea Gratissima (Avocado) Oil, Olea Europaea (Olive) Fruit Oil, Cocos Nucifera (Coconut) Oil, Ricinus Communis (Castor) Seed Oil, Water, Sodium Hydroxide, Fragrance (Parfum), Natural and Artificial Color.
Shipping & Returns

+

-

Most orders ship within a few business days and arrive within 5 business days. Situations outside of our control sometimes interfere, but we do our absolute best.

If you don't love what you ordered, please reach out to us and we'll either replace your product for free, or we'll give you a refund. If your items cost more than $100, we will issue a return label.
View full details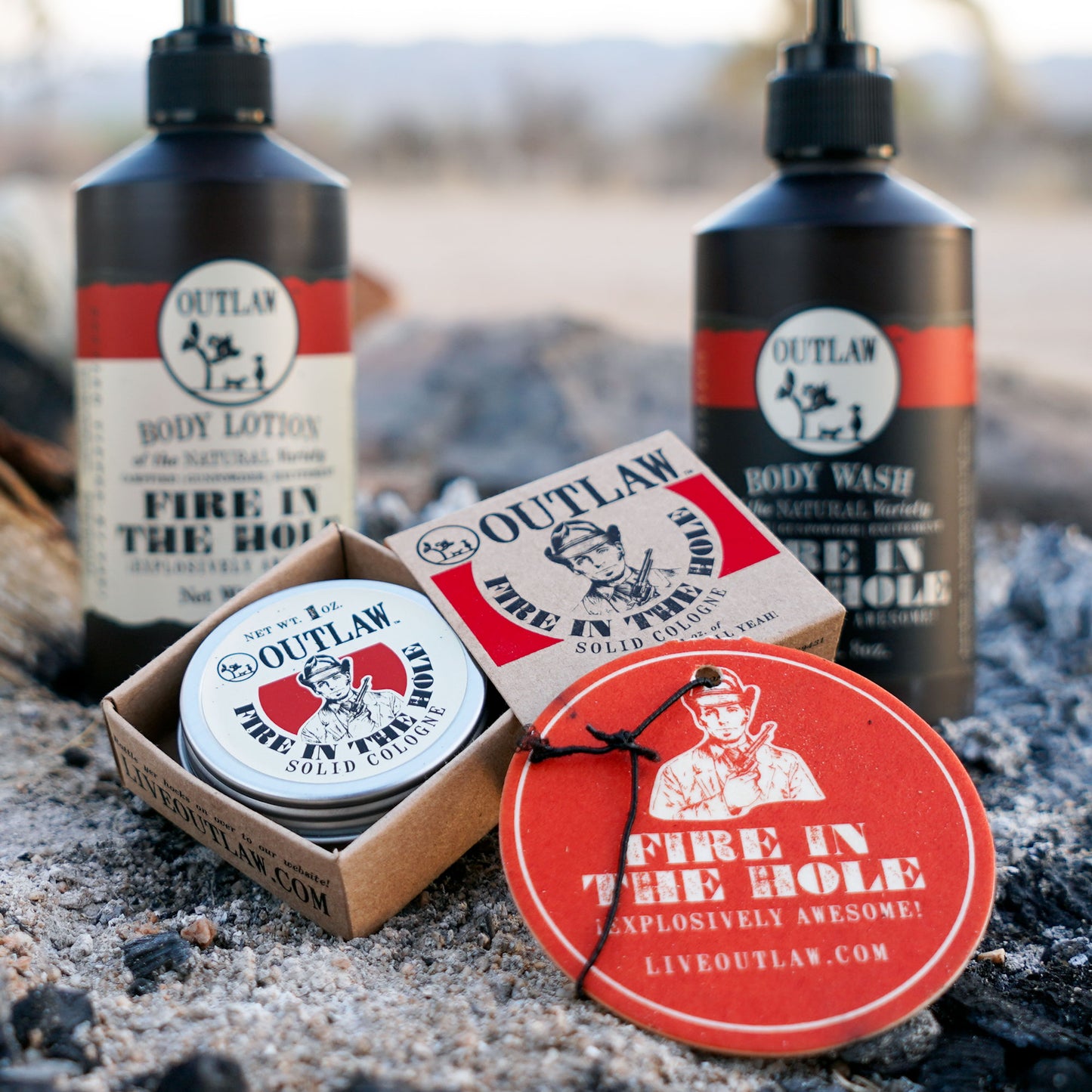 Gift to myself
We all know that scent is very much linked to moods and emotions, memories and how we want to feel.
This is that for me.
I purchased it for myself.
Very powerful mood enhancer.
A bit stronger than I anticipated but use a little less and it's perfect!
Awesome product!
Shipping was so fast! My son loves the Fire In The Hole!
The olfactory masterpiece that is Fire in the Hole.
Congratulations! You've succeeded admirably at replicating, synthesizing, and amplifying the scent that I have spent years perfecting by sitting next to the campfire, swilling Jack Daniel's, and indiscriminately firing .45 caliber rounds into the air. You are going to save me a small fortune on firewood, alcohol, and ammunition not to mention my neighbors are going to be very grateful as well.
Amazing product, top notch service
Have no complaints, absolutely love the scent!
Soap is lasting quite well, the cologne and the lotion are equally as great. 100% would recommend!
No idea what to expect.. and was totally blown away
I really didn't have an idea on what this "Fire in the Hole" smell was going to be, so I threw caution to the wind and ordered it. not only did it arrive quickly, but was well informed by the gang all along the process, and once I opened up the bottle, turned on the water and lathered up, all I can say is WOW... not to make a pun on the "Explosive Awesomeness" but I was totally BLOWN AWAY!!!! already building my next order to try out the other scents that they have.
More than expected
It's really an explosive of smells really loved it
"Fire in the hole is the best scent, reminding me of warm summer nights outdoors." — Aaron

"Right before he introduced them to their maker he would answer, 'Fire in the Hole.'" — David

"I'm as outlaw today as I could possibly be! I always said if I could find a scent that was gun powder, I'd wear it." — Donna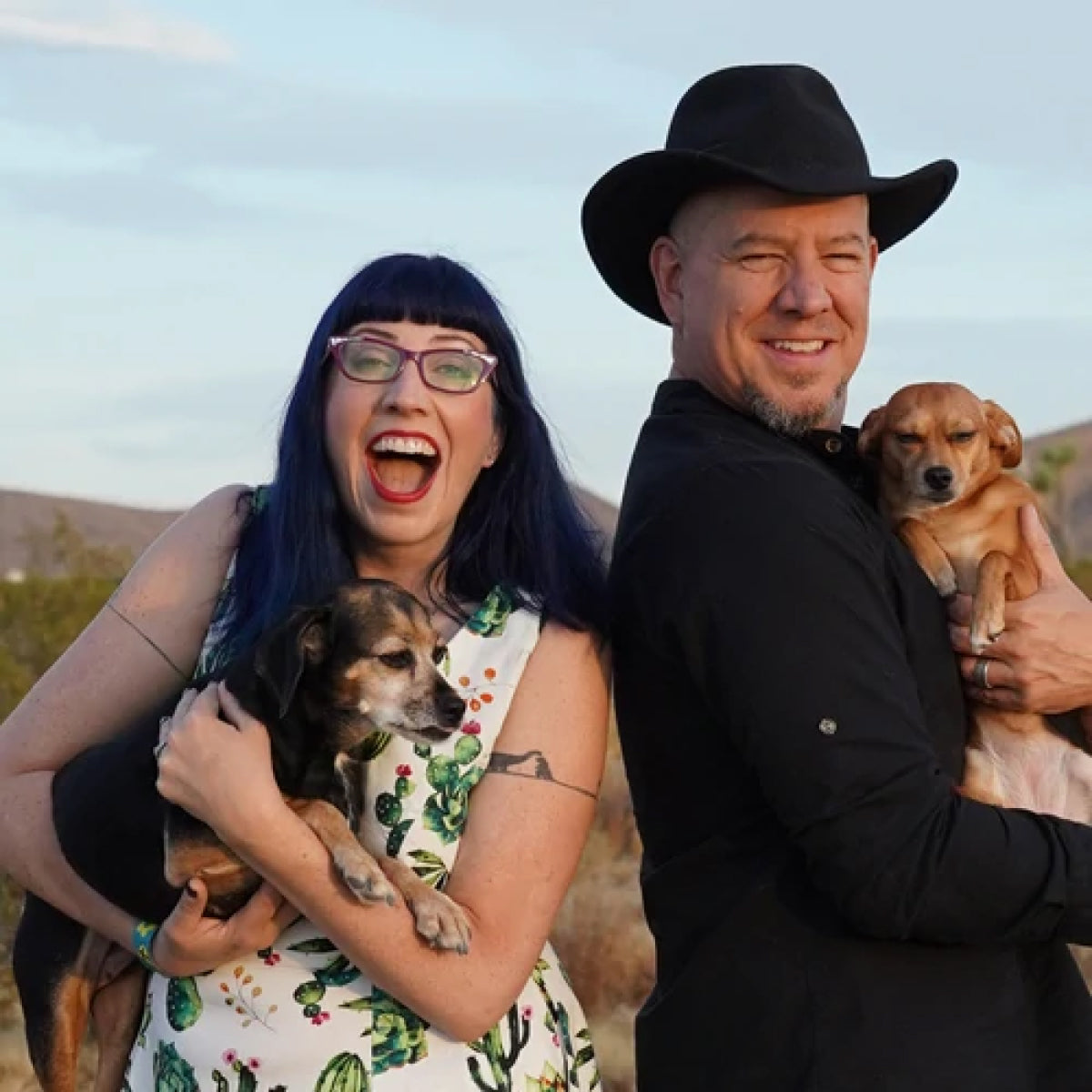 Who are the Outlaws?
We're Danielle & Russ Vincent, and we started Outlaw because we wanted to make a different kind of company.
We believe that good value doesn't mean cheaper, it means better quality, longer lasting, and more enjoyable to use.
We believe that good business practices don't have to be at odds with good social practices.
We believe that people do better when they feel better, and that good scents make people feel better.
We believe that a rising tide lifts all boats. We lift up other businesses every opportunity we get.
We believe that kindness costs nothing, but is worth more than gold.
We believe in the goodness of dogs.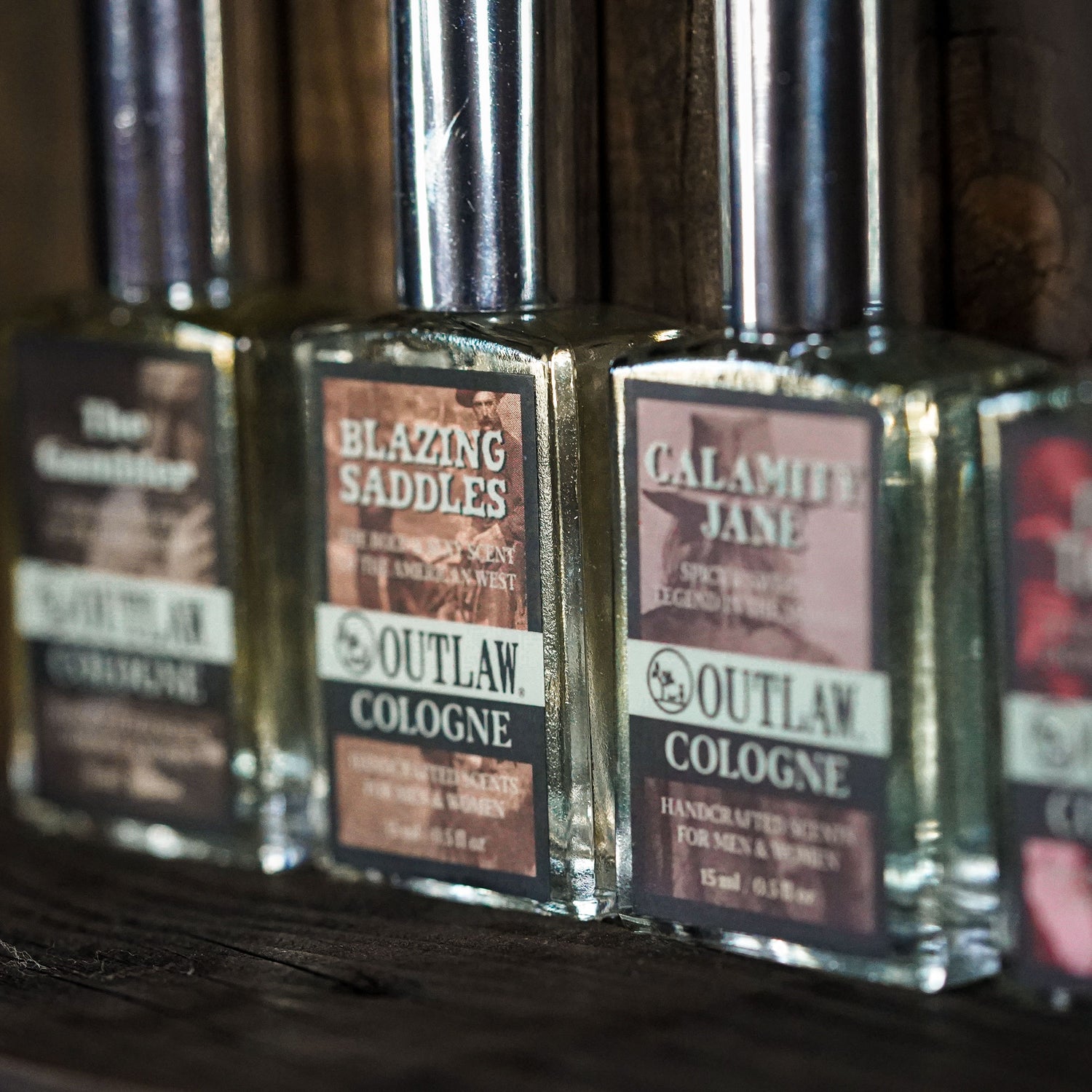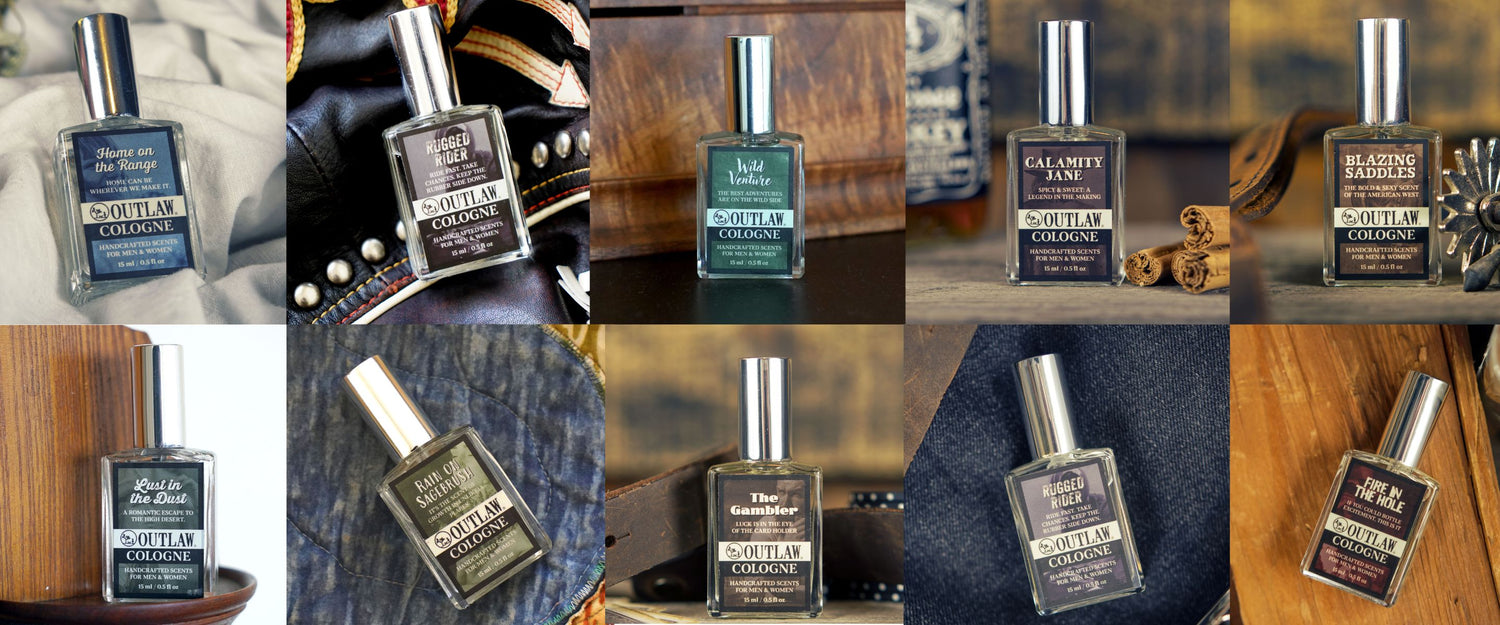 Do you love the smokey smell of campfire? How about the pungent scent of an aged whiskey? How about the peppery musk of gunpowder? Well, if you said hell yes to any of these three scents, then you need to look into the men's care products made by Outlaw.

Choosing a selection results in a full page refresh.