| by Danielle Vincent
Featured Outlaw Customer #10: Holly Rose of the Valley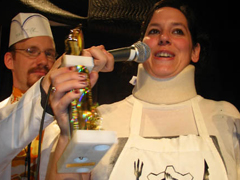 How did you hear about Outlaw Soaps? 
I met Mrs. Outlaw Soaps through our old friend, The Grilled Cheese Invitational.
Which of our products is your favorite?
Pine Mountain and Sage Copper Canyon
Where were you born and what was your favorite thing about that place?
I was born in Pittsburgh, and my favorite thing about that place, besides the rivers and all the many shades of green that grace it every spring and summer, is the culture: Pittsburghers support their sports teams like rabid maniacs, but they are equally accepting and celebratory of their weirdos, wackos, and freaky artists, like Andy Warhol and Lady Miss Kier.

How many places have you lived?
cities: 3 domiciles: 22

If you could pick anything to do and be absolutely assured financial security, but you had to commit to doing it for five years, what would it be and why?
Going back to school to learn conservation work. Being a conservator is like being Indiana Jones, which is everyone's dream life, isn't it??? Either that, or racing cars professionally.
What is something that you have done at any point in your life that you think is interesting and you'd like to tell people about?
I am a retired go-go dancer for a funk band, and now I'm a librarian. People usually find that to be pretty interesting. The only country I've visited besides the U.S. is Hong Kong. I'm currently an audio archivist, preserving reel-to-reel tapes from public radio in America, including the Black Panther Party meetings, the SLA tapes, and more.
What do you like about Outlaw Soaps?
I love the unique scents--smells that I prefer to all of the overpowering floral or cleaning-product-type scents that are so popular on the market today. I also love that the products are cruelty-free and environmentally friendly. I am extremely concerned about the health of the planet and have committed to living as clean a life as I can (pun intended!).
FIND US ON
Categories
SIGN UP FOR NEWS & UPDATES
Shop By Category